A world record holder, traveler, radiologist, and WSOP Circuit gold ring winner, Lara Eisenberg is now a World Series of Poker gold bracelet winner.
On Thursday night in Las Vegas, Eisenberg emerged victorious in Event #22: Ladies Championship to earn her first WSOP gold bracelet and $115,694 in prize money. She did it in front of a dozen or so supporters who cheered her on to victory as she played under the bright lights and cameras of the PokerGO WSOP feature table stage. In the end, Eisenberg defeated Debora Brooke in heads-up play and was the last player standing from the 644-entry field.
Event #22: Ladies Championship Final Table Results
Place
Name
Country
Prize
1st
Lara Eisenberg
United States
$115,694
2nd
Debora Brooke
United States
$71,507
3rd
Mikiyo Aoki
United States
$50,525
4th
Diane Cooley
Belgium
$36,269
5th
JJ Liu
Spain
$26,458
6th
Qing Lu
United States
$19,619
7th
Marle Cordeiro
United States
$14,791
8th
Cherish Andrews
United States
$11,341
9th
Tiffany Lee
Turkey
$8,847
Rewatch Lara Eisenberg's victory with the archived live broadcast on PokerGO.com. Use code "WSOP2021" for $20 off an annual PokerGO.com subscription now!
Eisenberg's world record comes from her time as a skydiver. According to an October 2019 interview with the World Poker Tour, Eisenberg has more than 4,500 jumps under her belt and she did it for 24 years. For the world record, Eisenberg was part of a 400-person skydive formation. The team set the record in February 2006 in Thailand, exiting the plane at more than 25,000 feet and holding formation for 4.3 seconds.
When it comes to her normal line of work, Eisenberg's day job is that of a radiologist, working out of Silver Spring, Maryland. As if being a radiologist isn't impressive enough, Eisenberg was named the best consulting physician at Suburban Hospital in 2016. She works as a radiologist every other week, which allows her time to play poker quite often.
When she does play, Eisenberg takes her poker as seriously as anyone. She was quick to point out the strong support group she had behind her, including experienced coaches that have helped her develop her game.
"One thing now in poker is just that the educational resources are there," Eisenberg said. "So as long as I still have a day job, I won't be able to put in the same amount of time studying as a full-time professional, but that's OK. I'm doing what I can do. I work every other week, so I do have more time off than most people who are still working, and the stuff that's available at BBZ Poker with
is unmatched and that alone can take you to a higher level.
"I've had just great experiences with mental coaching from Elliot Roe and Jared Tendler's work is really amazing. There's lots of great content. Jonathan Little's work, Alexander Fitzgerald — there's so much out there."
Coming into the final day of play, five players remained and Eisenberg had the least amount of chips.She quickly got to work and began to move up the leaderboard. With four players remaining after JJ Liu went out in fifth place, Eisenberg found a key double up through Mikiyo Aoki when her ace-king held against Aoki's ace-queen. That put Eisenberg in the driver's seat and she held the chip lead from there.
Eisenberg extended her lead when she knocked out Diana Cooley in fourth place, making a flush on the turn before all of the money went in. Shortly thereafter, Eisenberg busted Aoki with king-queen to queen-eight.
Entering heads-up play against Brooke, Eisenberg had about double the chips. She won a sizable pot to push Brooke to fewer than 20 big blinds and then sealed the door not long after. On the final hand, Eisenberg moved in on the river of a king-high board holding king-queen. Brooke called with king-eight for a weaker kicker and was eliminated in second place.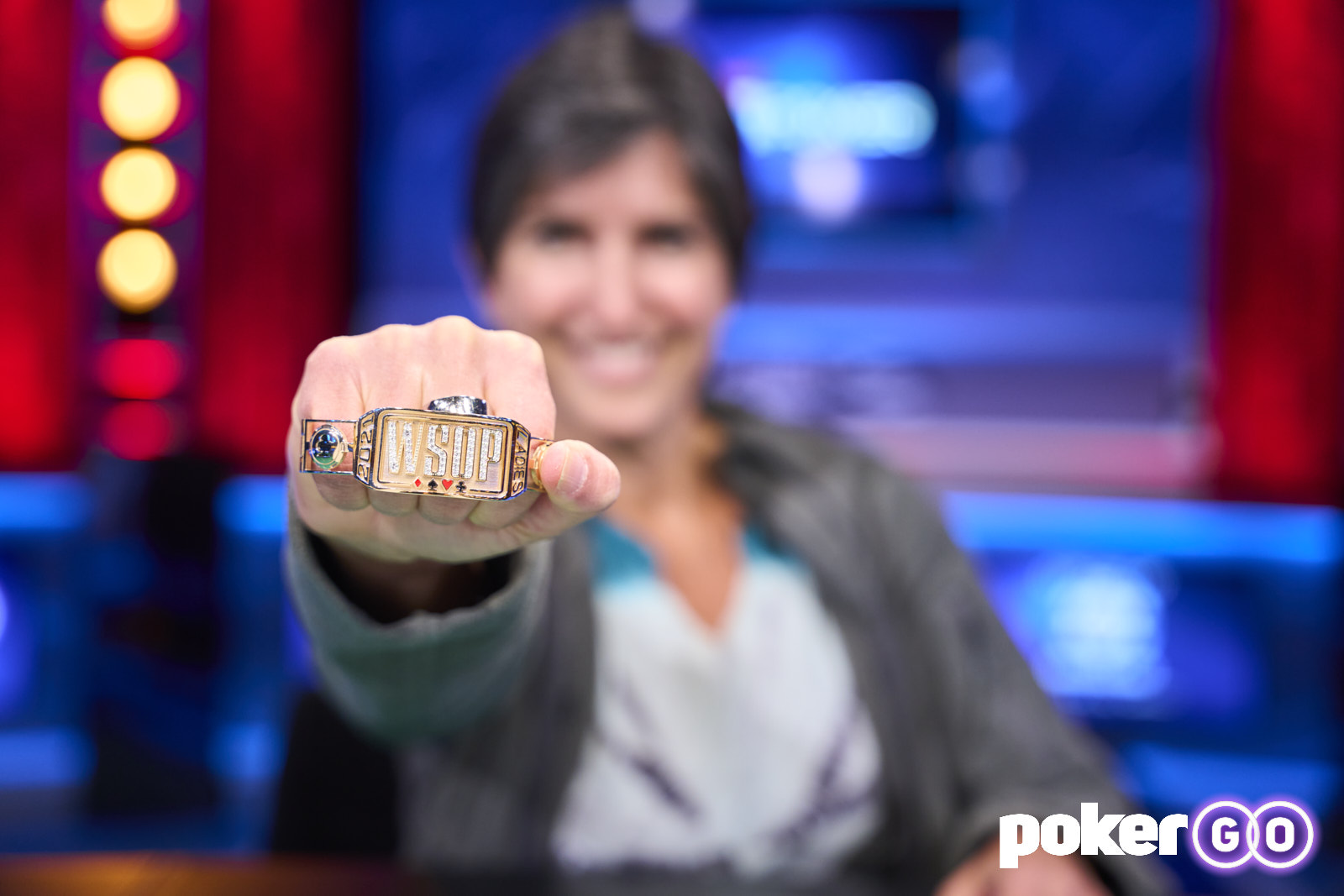 "I think everybody will say that they wanted to pick their spots, but I did have a couple of friends who were running some simulations for me and helping me plan for different scenarios," Eisenberg said of her approach to the final table. "That really helped a lot, trying to mainly stay out of the traps as best as I could."
In addition to her gold bracelet from this event, Eisenberg is a WSOP Circuit gold ring winner. She captured that ring, and the $28,199 in first-place prize money, in April 2019 at the WSOP Circuit stop in Council Bluffs, Iowa.
"Probably just keep doing what I'm doing," Eisenberg said of where she hopes to take her poker career. "It's going to be hard to pass my day job up entirely, but I'm going to continue to play, and when I retire I'll probably be playing a little bit more."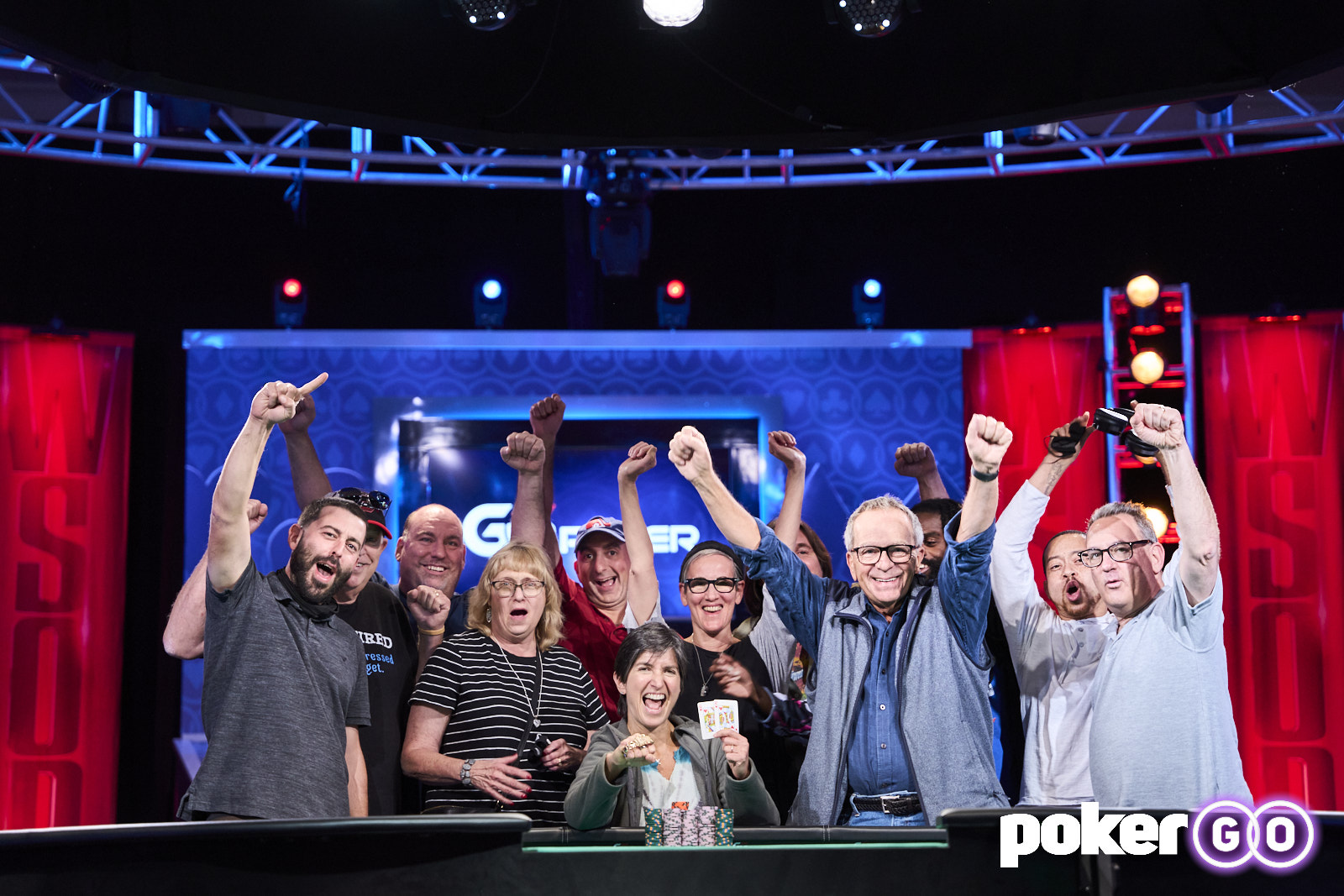 As for this World Series of Poker, Eisenberg said she'll be back out to play the WSOP Main Event. She's got work in between that she'll be attending to, then she'll be back out in Las Vegas to compete in Day 1d of the WSOP Main Event. Eisenberg now has five WSOP cashes, including this one, and her next goal is to find her first WSOP Main Event cash.
Connect with PokerGO.com on Facebook, Twitter, and Instagram. Use code "WSOP2021" for $20 off an annual PokerGO.com subscription now!