Tony G is one of the most iconic poker players of the last two decades but in the last few years, we didn't see him much as he focused on a career in politics. From 2014 until 2019, Antanas Guoga was a member of the European Parliament, first as part of the Liberal Movement and later for the European Peoples Party, but recently fans have been able to enjoy his antics at the tables again as he played the partypoker MILLIONS series as well as Super High Roller Bowl Bahamas.
This morning, we caught up with Tony Guoga to talk about the epic cash game he's been seen playing with Phill Ivey, Tom Dwan, Paul Phua, and Danny Tang at Casino Olympic Vilnius. Flying on Paul Phua's private jet from the Bahamas, the four legends of the game played high stakes on the plane before continuing the fun at the felt in Lithuania's capital, Guoga's home country.
Watch poker player Tony G be up to his usual antics during Super High Roller Bowl Bahamas on PokerGO right here!
Tony G told us he played a mix of two games with Ivey, Dwan, Phua, and Tang as they switched between 5+ Hold'em, a variety of Short Deck where the sixes are also removed, as well as Short Deck Pot-Limit Omaha.
"We played a $1,000,000 HKD buy-in and I ended up being a small winner, we had an amazing time," Guoga told us. This buy-in converts to $127,000 US.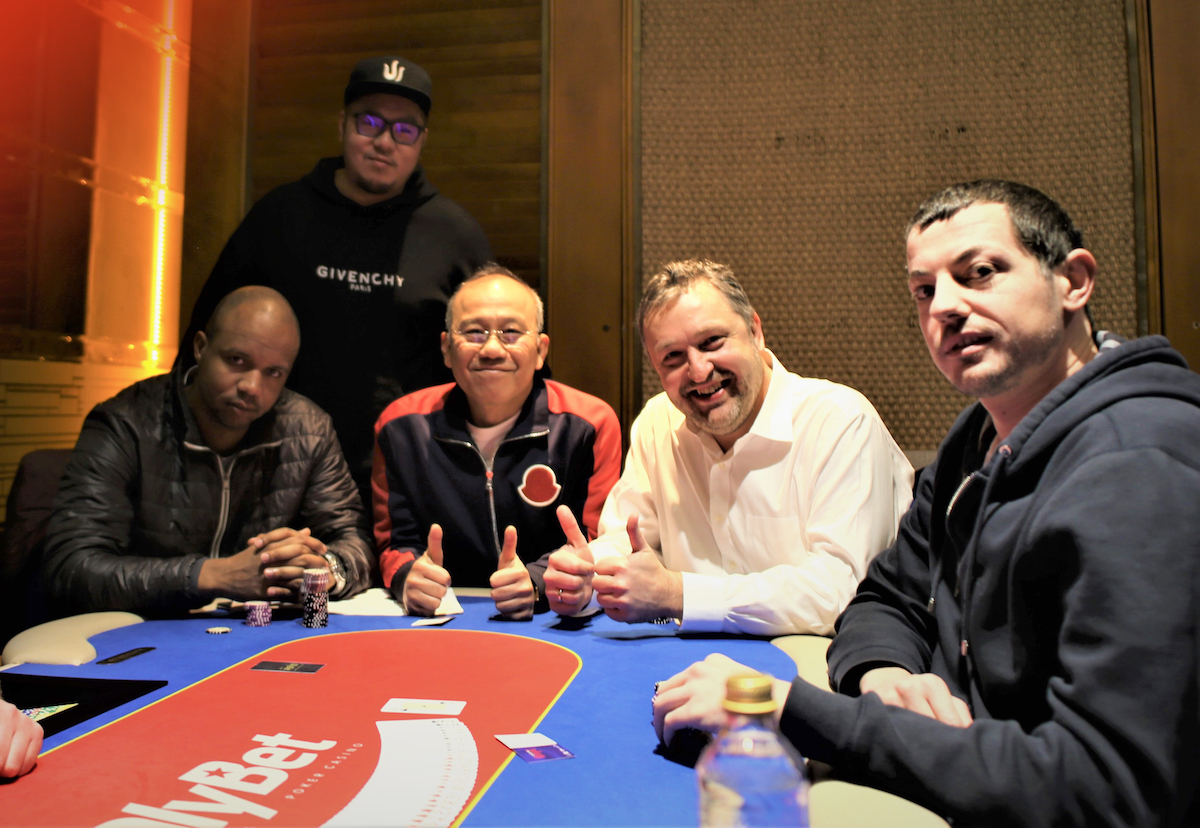 Guoga continued by expressing that he fell back in love with poker recently in part due to Paul Phua and other players he's recently played more with.
"Paul is generous and great for poker, he supports so many people and without him, the high stakes scene would be very limited."
"Paul has helped me fall in love with poker again, just like people such as Lauren Roberts and her wonderful husband, Bob Bright, and many others."
Delivering a serious jab, the way only Tony G can, he calls out players that go against the way he loves to play the game.
"'Being around nice people who make money elsewhere is great. These nit high stakes pros need to play amongst themselves like hunger games," Guoga said, suggesting that there should be yellow and red cards for high stakes pros if they aren't part of the fun and entertaining nature of the game. 
So what about Phil Ivey and Tom Dwan, arguably two of the best to ever do it?
"Tom Dwan and Phil Ivey are both super special and super talented. They are the older generation of poker at this point, and like fine wine, they get better with age and are a lot of fun to play with."
https://www.instagram.com/p/B5R_0WeALW1/
With recent results, winning the partypoker MILLIONS Europe €25,000 Short Deck event and finishing fourth in the €250,000 Super High Roller which you can watch on PokerGO here, it's safe to say that Tony G poker is back on the menu for many years to come! The antics and sharp opinions haven't gone anywhere and you can see him in action next at the Triton Poker event in Manilla at the start of 2020.
New to PokerGO? Subscribe right now to watch Tony G play poker as well as all your other favorite players. Follow Tony G on Twitter right here.