Dear Phil,
First off, I'm so happy you're back. Second off, I don't want Phil Hellmuth to be the record-holder for most World Series of Poker bracelets. That should be you, and we all know it.
I'll never forget it. It was my first World Series of Poker as a reporter back in 2009. I walked into the Rio for the very first time with only one thing on my mind: Finding you.
The 40th Anniversary $40,000 No Limit Hold'em event kicked things off and there you were, at a table with Scott Seiver and David 'The Dragon' Pham. We had already made eye contact during the EPT Grand Final in Monaco just a few weeks prior, but I just couldn't wait to see you in action in the place where you became Phil Ivey.
Strangely enough, you becoming the Phil Ivey that we, the poker fans, love to watch play had not as much to do with you being the best in the world as it had to do with you bubbling the 2003 Main Event final table. Sure, your reputation is built on being one of the most fearless and successful competitors in the game, but I think that you became Phil Ivey when Chris Moneymaker dealt you one of the toughest blows of your poker career.
Did you ever thank that dealer for the ace of spades on the river?
It's nearly 15 years ago to the day, when Norman Chad said, "An incredible knock-out blow for probably the best player left in the tournament!" and you, wearing a Steve Francis Houston Rockets jersey, politely shook Chris' hand before darting for the exit.
I'm sure that in the moment it hurt, but Chris goes on to win the Main Event, collects $2,500,000, and awakens the dream in people all over the world of competing at the World Series of Poker. You would go on to shatter those dreams time and time again in the years that followed, expanding your collection of bracelets from four to ten, making the 2009 Main Event final table, and taking your career tournament earnings from just $2,000,149 to $26.1 million.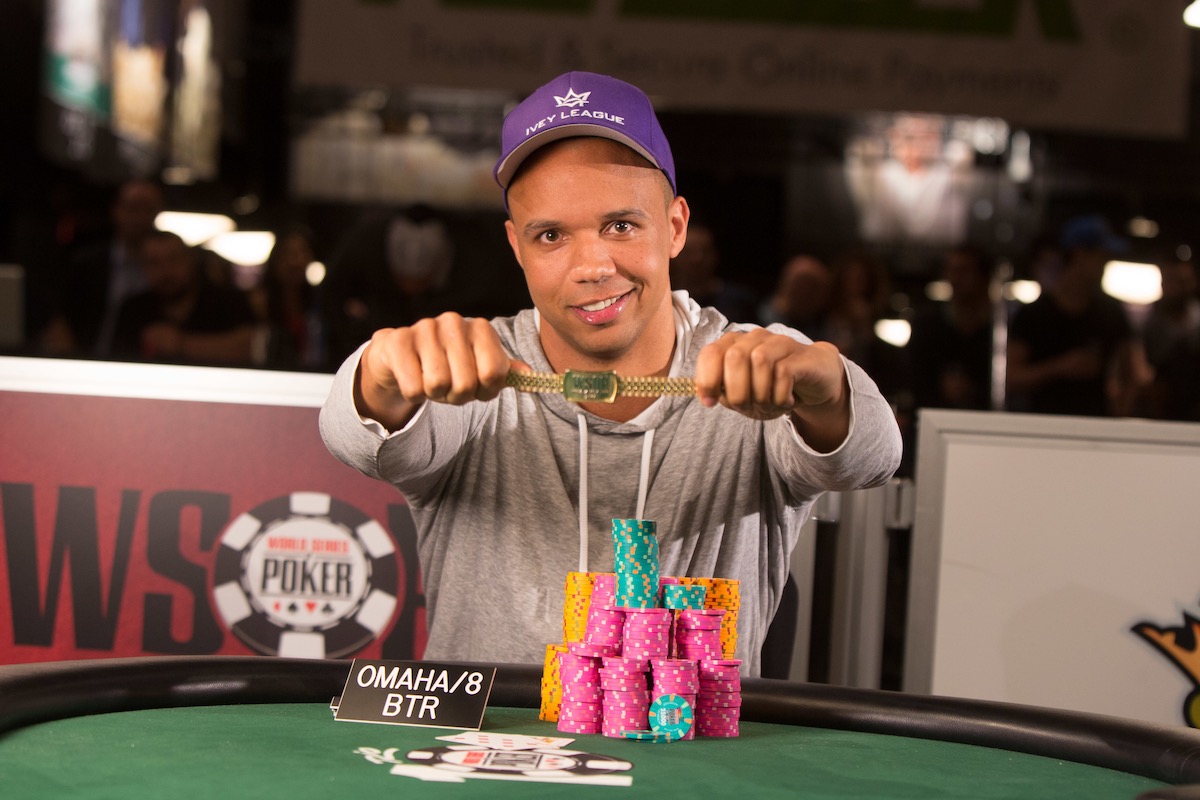 No. 10 and Your Departure
In 2014, when you won your 10th career bracelet. Shaking like a leaf I was tasked with interviewing you. Our series of videos titled "Ivey Stories" had caught your attention, and while you said all the right things with that "just another day at the office" swagger that only you possess, you wanted to set the record straight on the stuff Raymond Davis said.
After that interview, I told everyone and their mom how close we had gotten. You shook my shaking hand, we chatted for 140 seconds on camera, and I basically felt as though I could retire from reporting on tournaments.
I thought you were always going to be there. Bracelet bets, chasing history, getting inducted into the Hall of Fame and showing to Phil Hellmuth that you were the only one worthy of having the most bracelets. I thought you really cared despite your ice-cold, yet laid back, table presence. After that interview, I thought that your eleventh, twelfth and thirteenth bracelet were just a matter of time, but something changed.
Let's Talk Legacy
We thought we'd lost you for good, and that made me sad.
The mainstream media can write and say whatever they want, and so can the supreme court, but all we, the poker fans, wanted was for you to return to the felt. And by 'returning to the felt' I don't mean those Rounders-esque looking billionaire basement games in Manilla and Macau. Sure, short-deck is an appealing format, but let's not kid ourselves here; money is only money, and I know you love putting it all on the line, but your name, your reputation as the game's best all-around player, and those gold bracelets, they'll last forever. It's your legacy we're talking about here, Phil!
We just wanted you to return to that green felt inside the Rio. That felt where, if you show up, the rail is 10 rows deep with dozens of people line up for photos and autographs, or just to catch a glimpse of your greatness. That same felt that you scurry away from through the back hallways, avoiding the fans and media, and in a strange way, I love that about you.
You don't care for the attention, you don't want to be at the feature table, and you sure as hell would probably never be on my podcast, but I'm fine with all of that as long as you play. After winning your tenth bracelet, we saw you in perhaps a total of 5 events out of a possible 211 World Series of Poker events in Las Vegas alone. Let's not do that again, shall we?
Your Unexpected Return
It was over lunch that one of my good friends and colleagues, Brent Hanks, shared the news: Phil Ivey is playing in the 2018 Super High Roller Bowl. My ears perked up, a chill ran down my spine, and the most exciting tournament of the year just became that much more exciting.
Seeing you in action during the Super High Roller Bowl made it feel as though you'd never left. You yawned your way through the biggest tournament of the year, wore headphones when nobody else was allowed to, told everyone who wanted an interview that you'd do it "on the next break" and tipped the right people to keep that streak alive of never bagging your own chips at the end of the night.
It was good to have you back, but I had my reservations. However, along with my reservations, I had hope. When Daniel Negreanu told me that you're coming out to play WSOP events, that hope grew, and I was willing to lay it all on the line to draft you in the $25,000 Fantasy League, only to get outbid by Negreanu's team.
But while my hope grew, I know that the games in Asia have gotten so big that I assumed only a $300,000 buy-in would get your juices flowing. Even when you registered the $100,000 WSOP High Roller at the last possible second, I still wasn't convinced of your return.
But then something changed. It sounded so trivial reading, "Monnette, Ferguson, Ivey Among Late Arrivals" in the $2,500 Mixed Triple Draw event, a buy-in level that probably averages out to be less than the big blind you're used to posting in cash games, but I think it's a very big deal.
I don't know what your motivations are, and I frankly don't care. Whether you really care about bracelets again, miss playing tournament poker, or need to rebuild after getting dealt some tough blows in the last three years, I'm just happy that you're back.
While I enjoyed the rise of the German machines, I didn't want to believe that I'd never again see you break the heart of my good friend Lex Veldhuis with five-deuce offsuit, four-bet shove queen-high on a jack-jack-seven flop versus Paul Jackson, or miss out on a chance to follow in Chip Reese's footsteps by winning the $50,000 Player's Championship.
I missed you. The poker world missed you. Welcome back, Phil.
Sincerely,
Remko Rinkema
P.s. Let me know if you need any help with this GTO stuff. I might know a guy that can help.
Want to watch Phil Ivey play? This is the perfect time to Get in the Game. Subscribe to PokerGO right now and watch all WSOP streams live and on-demand. The PokerGO library also includes every single episode of Poker After Dark that Phil Ivey played on, as well as his appearances on the Super High Roller Cash Game, and in the 2015 and 2018 Super High Roller Bowl. 
Looking to play against Phil Ivey? The PokerGO WSOP Sweepstakes is still open! Sign up now for a chance to win your way into the 2018 WSOP Main Event and $1,500 towards your travel. Registration closes on June 15th.