Phil Hellmuth has won his ninth match in High Stakes Duel history following his defeat of Scott Seiver on Tuesday night from inside the PokerGO Studio at ARIA Resort & Casino in Las Vegas, Nevada. Tom Dwan backed out of the Round 4 match against Hellmuth last week, before Seiver was announced as Hellmuth's newest challenger, and fifth overall to sit across from Hellmuth on the High Stakes Duel table.
It would be unprecedented stakes for both players as High Stakes Duel history was being made with a Round 4 seeing $800,000 on the line. Regardless of the result, there will be a Round 5 scheduled unless no challenge is made to the winner, and when it is scheduled, the match will be for $1.6 million in prize money. If Hellmuth can win Round 4 and 5, he will have the option to cash out and win his third consecutive High Stakes Duel championship belt, while Seiver would also need to win two consecutive matches to be crowned the High Stakes Duel III champion.
"This program has been a must-watch event each episode so far and I wanted an opportunity to be a part of the action and hopefully add my own mark on it," Seiver told PokerGO about the opportunity to face Hellmuth.
High Stakes Duel is a PokerGO.com original series that begins with each player posting the $50,000 buy-in. The winner progresses through to Round 2 where the loser has the first option to challenge. If the loser declines, the challenger seat is open for 30 days. The stakes will double each round where a potential $12.8 million prize pool would be reached by Round 8.
"It is impossible to not respect Phil Hellmuth's poker game because the results speak for themselves," Seiver said of Hellmuth. "Where his talent lies is probably most misunderstood by the general public as opposed to those with a more nuanced view."
Nick Schulman Hosts The Weigh-In
Nick Schulman returned to host The Weigh-In prior to the Round 4 match as Schulman and Seiver sat across from each other to discuss playing each other for $800,000 in prize money.
Schulman immediately turned to Hellmuth and asked his opinion of his upcoming opponent to which Hellmuth responded by saying that Seiver is one of the greatest players in the world. Hellmuth then reiterated that he doesn't get to choose his opponent and it was actually between Schulman and Seiver as the potential Round 4 challenger.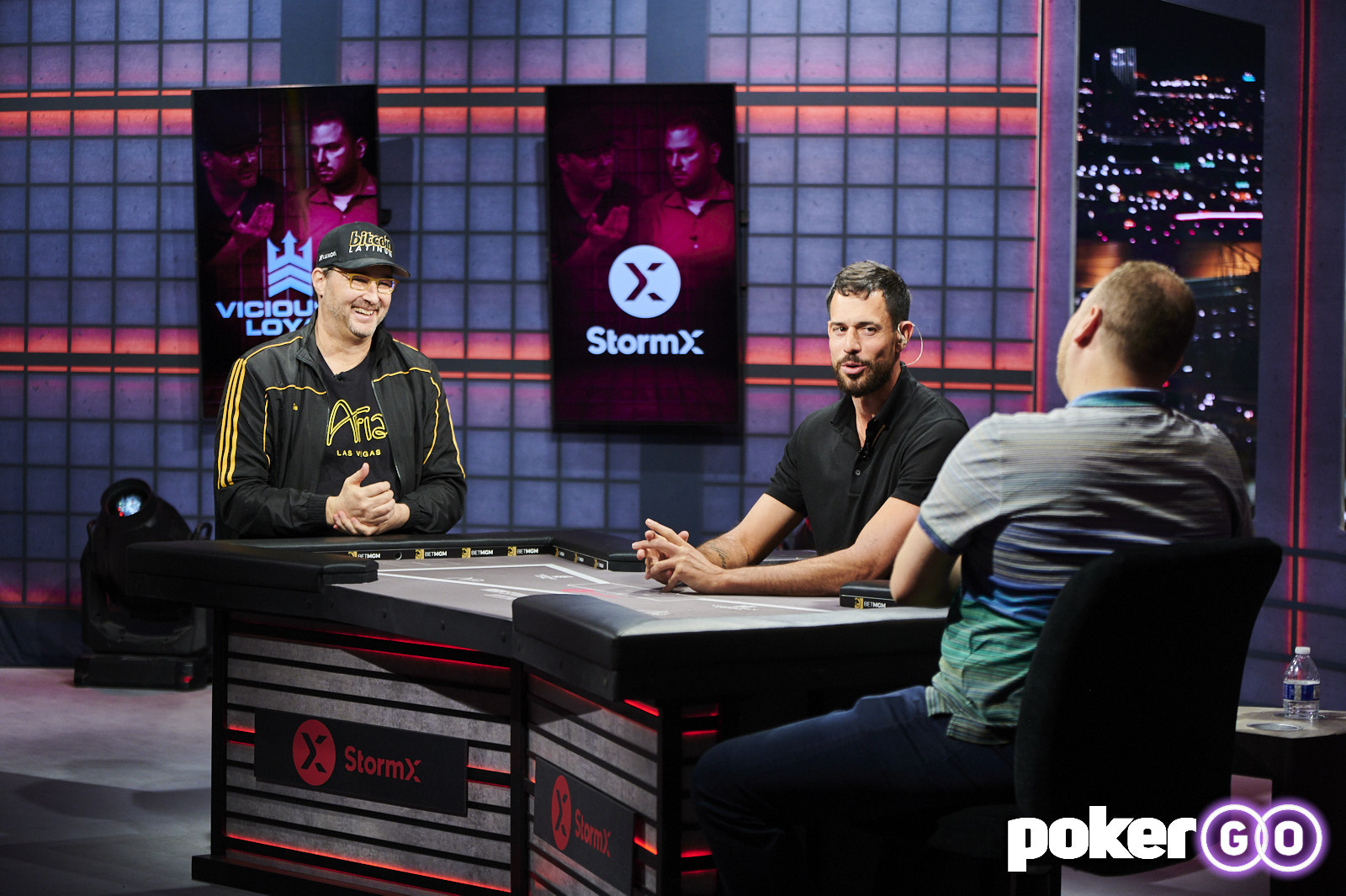 "It absolutely is," Seiver said when Schulman asked if the draw to appear on High Stakes Duel III was to be Hellmuth's challenger. "Hellmuth is the most famous, and most accomplished poker player of all time. To get this opportunity to play with him is something that I want as a person that is maximally competitive and always wanting to prove myself against the best. This is Phil Hellmuth. It's that simple to me"
The discussion then turned to Hellmuth's behavior against other poker players as Hellmuth brought it back to his bad habits as a child playing games with his family members. Seiver responded by turning the table on Hellmuth and how his reactions are used to directly benefit his game. Schulman then closed The Weigh-In by saying, "All we have left to do is play some cards."
Round 4 Underway
It would be Hellmuth taking the early advantage against Seiver before he pushed his starting stack of 400,000 out to over 450,000 when he picked off a Seiver ace-high bluff with two pair. Hellmuth would look to execute his own bluff with ten-high, but Seiver turned trips before the river checked through and Seiver now pushed into the lead.
Each player took their turns bluffing the other before a pot would see them both flop top pair. Fortunately for Seiver, he turned two pair to take the lead in the hand and managed to get value from Hellmuth on the river after he bet-called Seiver's raise. Another sizeable pot would go Seiver's way when he flopped a set against Hellmuth's top pair. Hellmuth turned two pair and called bets on both the turn and river to sink back again to a disadvantage in the match. An ugly board for Hellmuth's trip kings would see him fold the river to Seiver's bet with just nine-high as play entered level six with the average stack now at 100-big blinds.
Hellmuth managed to grind back his disadvantage and surge into the lead before Seiver rivered trips to trim his lead. Seiver then flopped top set against Hellmuth's second pair and improved to quads on the river as Hellmuth paid Seiver's river bet and dropped to his lowest point of the match.
After clawing his way back to being just shy of starting stack, Hellmuth would run a huge bluff holding just nine-high. Hellmuth three-bet the big blind and Seiver called with his suited ace. Both players checked a paired board as Hellmuth turned a gutshot and bet just over half pot. Seiver wasn't a believer and called with ace-high as the river landed the three to complete a diamond draw. Hellmuth announced a bet of 120,000 from his 300,000 chip stack, and before needing to use a time extension, Seiver mucked the best hand.
Hellmuth was back in the lead and soon began to extend it at the expense of Seiver. Fortunately for Seiver, he was dealt pocket queens against the pocket jacks of Hellmuth, and after all the chips entered the middle and a dry board ran out, Seiver now held the lead. It was now the challenger's time to apply the pressure as he pushed forwarded to his highest point of 561,000 after turning trips to outdraw Hellmuth's pocket pair as The Poker Brat dropped to 239,000.
A tough run of cards for Hellmuth would eventually see him run yet another bluff. Holding ace-king, Seiver rivered a pair and bet. Hellmuth made a big check-raise leaving himself just 10 big blinds behind. With Seiver folding the best hand, Hellmuth had new life as he mounted a comeback all the way to surge into the lead before pushing out to a better than four-to-one advantage. Seiver managed to find a double when Hellmuth shoved with king-three and Seiver called all-in with ace-nine suited for 12 big blinds. Seiver's hand held, and he was now at a deficit of just 24 big blinds to Hellmuth's 43 big blinds.
However the final hand would play out shortly after when he flopped top pair and was all-in on the flop against Hellmuth's bottom two pair. The board blanked out for Seiver, and he would be Hellmuth's Round 4 victim as The Poker Brat extending his High Stakes Duel win streak to nine total victories in ten matches.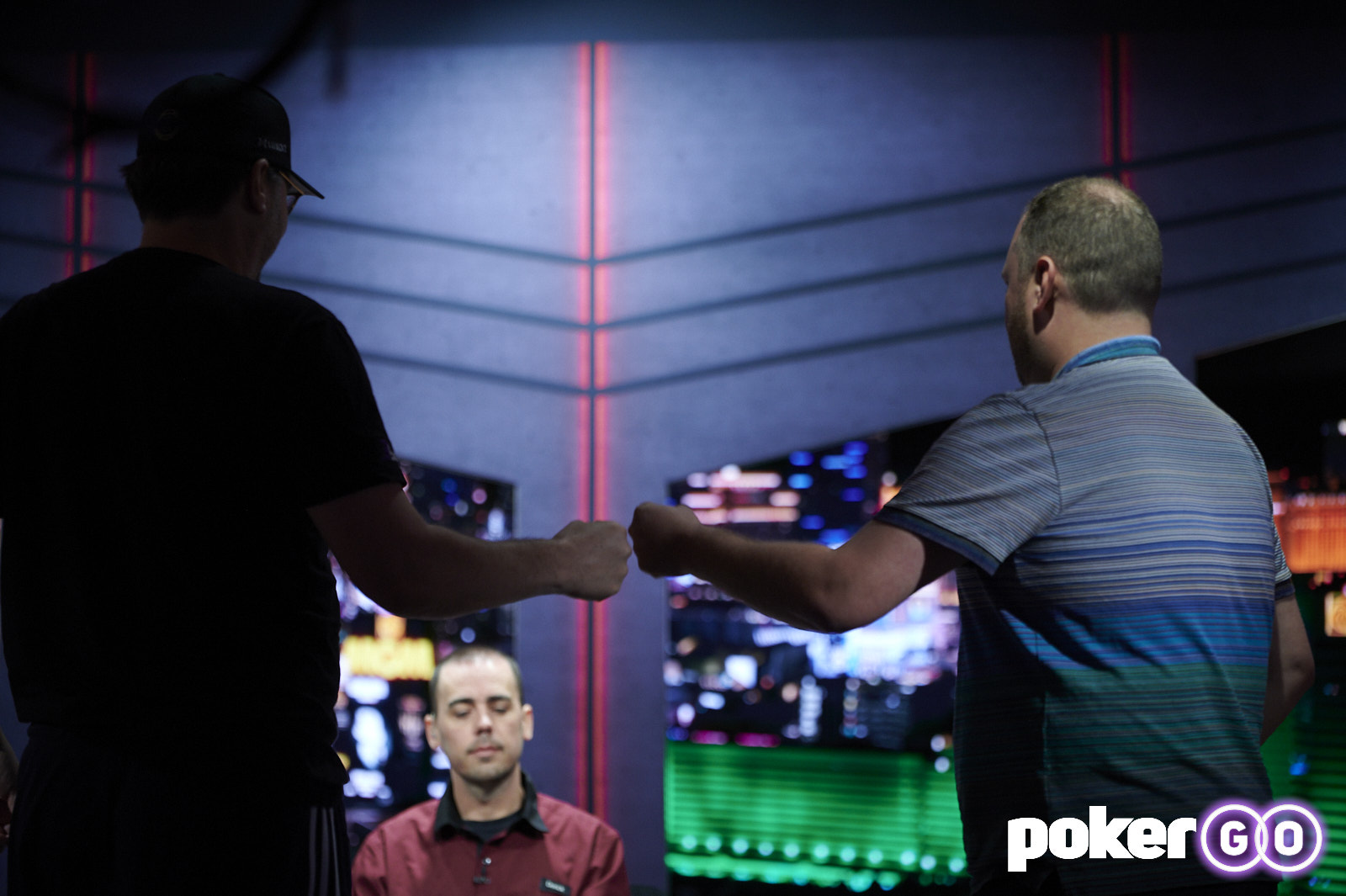 Phil Hellmuth Wins His 9th High Stakes Duel Match
"He was just tough and that's what I was expecting," Phil Hellmuth said following his victory over Scott Seiver. "He's one of the greatest players in the world and also one of the best of his generation. I knew it was going to be a tough match, and I enjoyed it. I enjoyed playing against him."
The key hand in this High Stakes Duel III match was when Hellmuth check-raised bluffed the river with ace-high and Seiver folded his rivered pair.
"A lot of these matches I've played, I've put it on the line with a bluff. A big bluff," Hellmuth said about the hand where he bluffed leaving himself just 80,000 at 2,000/4,000 blinds and 800,000 chips in play. "A lot of the time, my opponent is super strong, and so far, they've made these folds. Everyone criticizes them, 'how could you fold? How could you fold?' because I don't bluff very often. So, when I'm finally putting in big money, I usually have it. I'm also aware that they think I usually have it. But I put it on the line in that hand, and he almost called."
Hellmuth now improves to a 9-1 record on High Stakes Duel with sweeps of Antonio Esfandiari and Daniel Negreanu, along with wins against Fox Sports 1's Nick Wright, Tom Dwan, and now Seiver.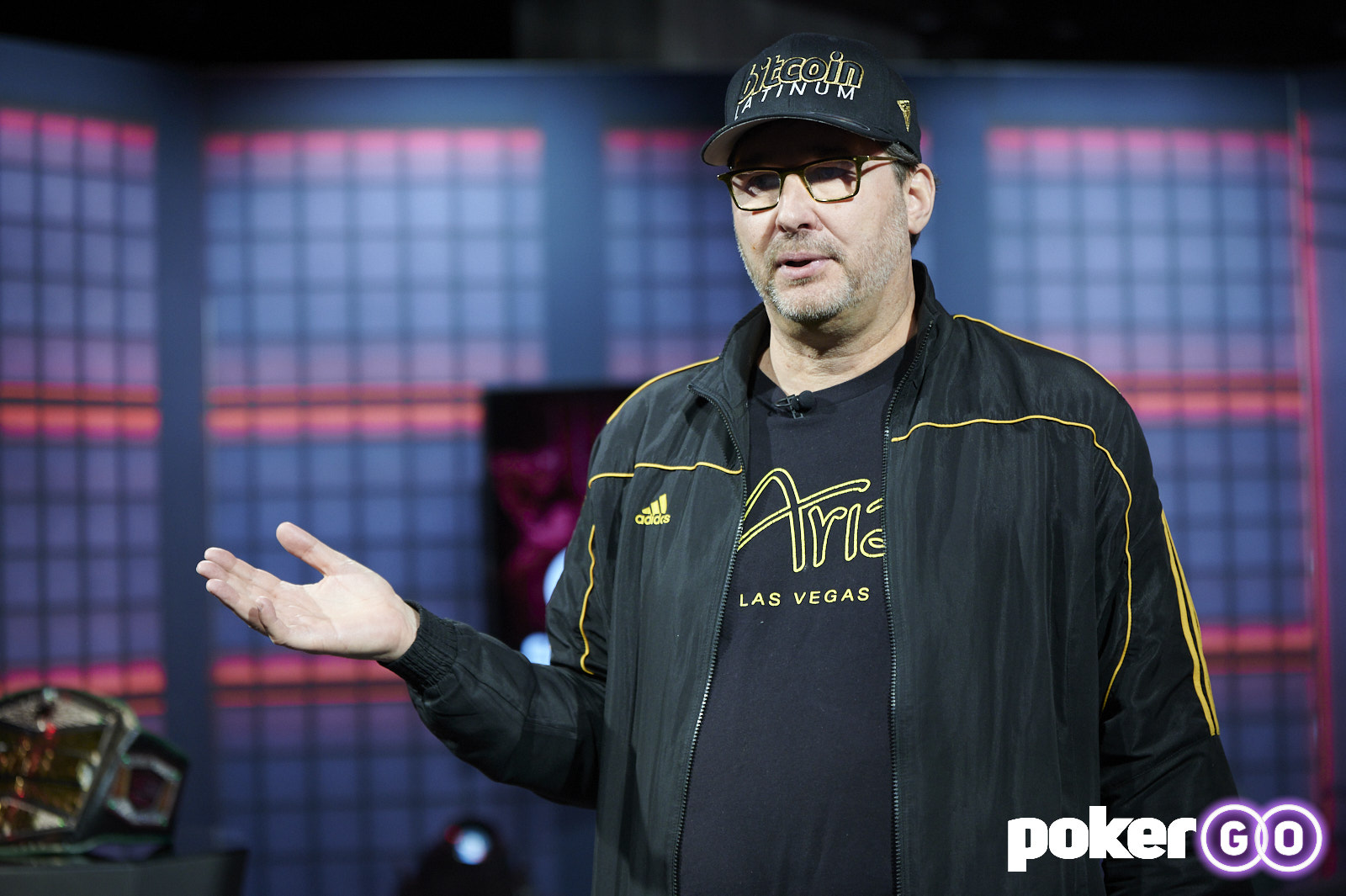 Hellmuth has advanced into Round 5 where he and his opponent will play for an unprecedented $1.6 million. Following the final river card, a congratulatory handshake, and an exchange of kind words from Hellmuth to Seiver, there was no confirmation of a rematch from Seiver. When Seiver spoke to PokerGO prior to Round 4, he said, "I'm not really thinking about losing, but I expect to rematch if it happens."
With the 2022 World Series of Poker just two weeks away, it seems inevitable that High Stakes Duel will go on a break as Hellmuth looks to add to his WSOP bracelet collection that now stands at 16. Seiver will also be striving to add to his WSOP bracelet collection which stands at three. Regardless if it is Seiver, or a new challenger, Round 5 of High Stakes Duel III will take place where the winner will capture the $1,6 million prize. If it is Hellmuth that emerges victorious for the tenth time, he will have the option to cash out and claim his third consecutive High Stakes Duel championship. But if the challenger can win, then a historic Round 6 will be on the schedule where a heads-up match for $3.2 million will be available exclusively on PokerGO.com.
Connect with PokerGO.com on Facebook, Twitter, and Instagram. Use code "HSD3R4" for $20 off an annual PokerGO subscription now!