Doyle Brunson is a living part of poker history, and just when poker fans had accepted to not see him participate at the World Series of Poker, the 'Godfather of Poker' showed that he has some tricks left up his sleeve.
Tonight, Brunson reached the final day of the $10,000 2-7 No Limit Championship event, along with his son Todd and nine other hopefuls. The final 11 players return to action on PokerGO at 6:00 pm ET as Doyle goes for his 11th bracelet, 13 years after his last win at the World Series of Poker.
Retirement from Poker
The day started with an announcement from Doyle, stating, "I'm planning on retiring after the summer. My wife is not in very good health, and I will stay with her for the duration of either her life or mine."
Married since 1962 with his beloved Louise, Doyle decided to give it one last shot at the Rio after some encouragement from his son Todd who convinced him to play in this event.
About Doyle's retirement, longtime rival and Poker Hall of Fame member Phil Ivey said, "He's an icon. He's one of the best to have ever done it." Read more about Phil Ivey's sentiments right here, as he elaborated on Doyle's career and legacy.
Honest Praise from Volpe
Doyle started the day with a quick double up, knocking out Cary Katz and Nick Schuman, before going on a big run that put him in the chip lead midway through the day. As the night went on, Doyle held steady along with Todd, and after a lengthy bubble, it was German soccer star Max Kruse who was left empty-handed.
Three-time bracelet winner Paul Volpe was one of the first to bust after the bubble burst, finishing in 14th place for $14,691.
"It was amazing being able to play with him, especially knowing that it was his last ever tournament," Volpe said after collecting his payout.
Volpe was seated with Doyle for the majority of the day, and he admitted that four-time World Poker Tour champion Darren Elias and himself took quite a few photos of this historic moment.
"I think everyone coming up in poker looks at Doyle as 'the man'. He's been playing high stakes for decades, anyone who's ever watched poker on TV has seen him, and on top of that, he's also a likable guy."
Similar to how Doyle himself stated that he felt as though is in mind he's still 30 years old, Volpe said, "It's like playing against a 30-year old guy, and I'm being honest. This is a moment I'll always remember, and it will be amazing to tell people years from now that I was a part of this event and played the entire day with him."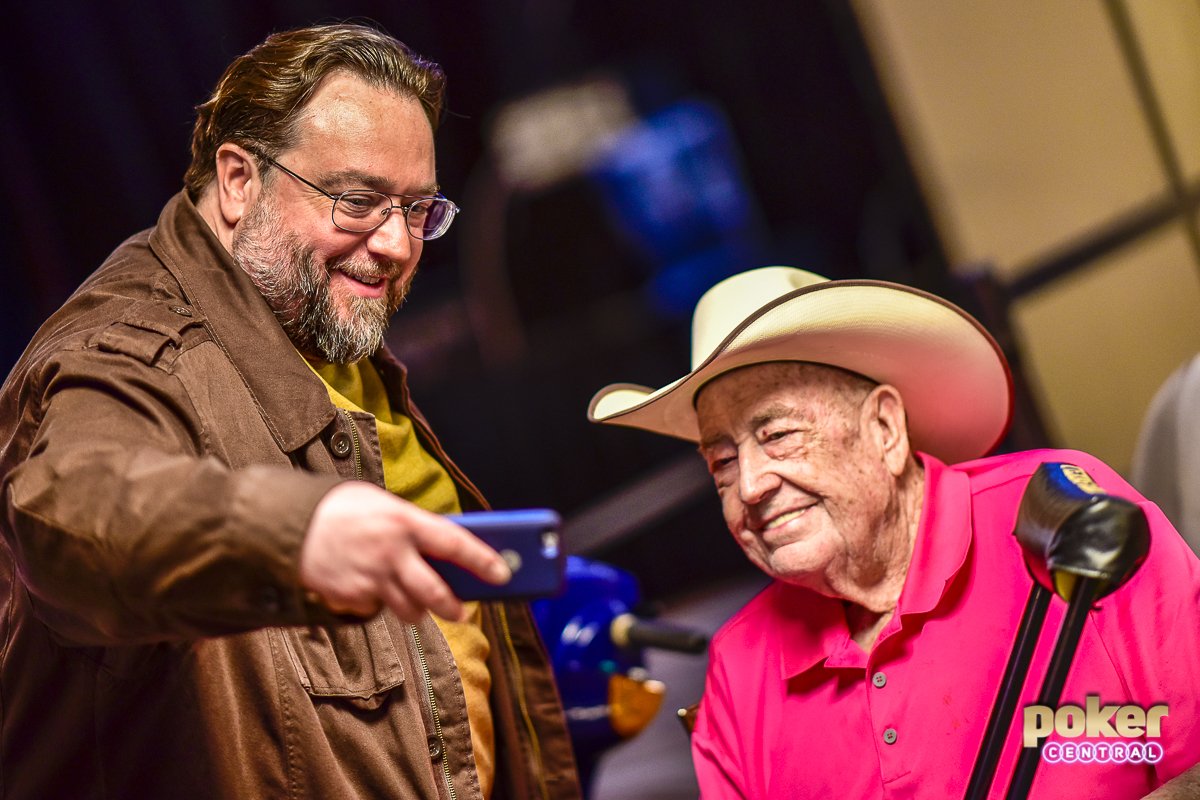 Brian Rast and Dario Sammartino Speak Highly of Texas Dolly
After Rob Mizrachi busted in 13th followed by Ilya Trincher in 12th, players went on a short break. During the break it was agreed upon to return with the final 11 players, giving Doyle a chance to rest up and for PokerGO to show one of the icons of the game on the feature, and potentially final, table.
"Well, see ya'll tomorrow," Doyle said as he took off on his scooter, finding himself fifth on the current standings.
As the chips were being bagged up, Italian pro Dario Sammartino, said, "Today was amazing, because this was the first time ever for me playing with him. To me, he's a legend. It makes things even more special that this is his last event, I'm very excited about tomorrow, and I hope I get to make the final table with him."
"This is a dream come true. Ten years ago I was in Naples, watching poker on TV, and in my mind, I never could've thought that I would be playing with him. To be here now, playing with him, is truly amazing."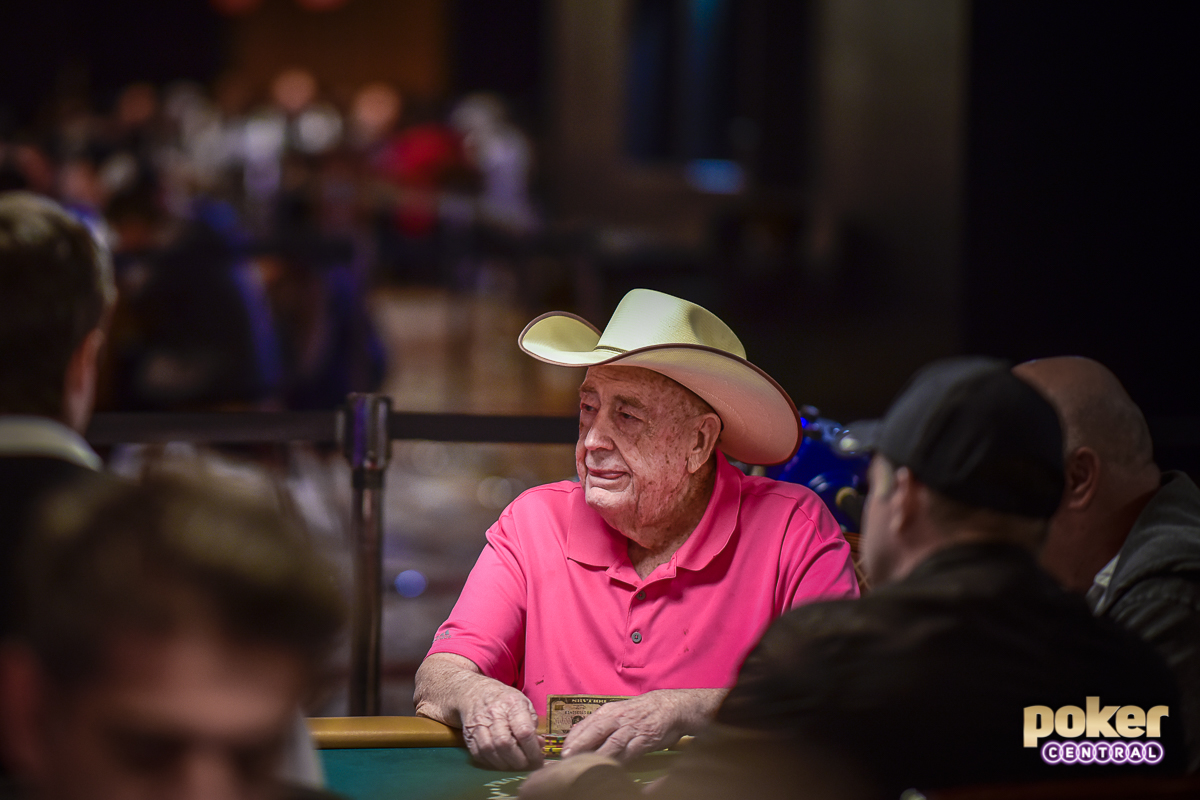 Brian Rast, a regular competitor of Doyle in Bobby's Room, shared Sammartino's sentiments, "It's obviously amazing, that at age 84, he can still compete at this level, and play all the games. There's nobody within 20 years of him that comes even close to his level, and it's amazing to see how he's aged and stayed on top of the game."
"Doyle's an icon. Everyone knows who he is," Rast said.
About his retirement from not only the tournaments but also the cash games, Rast said, "It's sad, sad that his wife is in such poor health, and I'm sad that I won't be playing against him anymore after the summer. I really enjoy playing with him, and it's not as though the Bobby's Room community is that big, so he'll be missed."
"My wife and I have only been married for seven years now, but one day I also hope to be that old, still married to my wife and playing poker. Doyle is definitely someone I look up and respect, and I hope things will improve for him and his wife."
In summary of the day, and looking ahead at tomorrow, here are the chip counts at the start of the final day.
| | | | | |
| --- | --- | --- | --- | --- |
| Pos. | Name | Chip Count | Bracelets | Tournament earnings |
| 1 | Mike Wattel | 1,293,000 | 2 | $2,791,321 |
| 2 | Shawn Sheikhan | 645,500 | 0 | $1,473,314 |
| 3 | Galen Hall | 517,000 | 0 | $4,229,416 |
| 4 | Brian Rast | 477,000 | 3 | $20,870,265 |
| 5 | Doyle Brunson | 470,500 | 10 | $6,132,773 |
| 6 | Farzad Bonyadi | 440,500 | 3 | $4,147,354 |
| 7 | Dario Sammartino | 394,000 | 0 | $7,253,338 |
| 8 | Ray Dehkharghani | 195,500 | 1 | $1,665,235 |
| 9 | Todd Brunson | 185,000 | 1 | $4,342,568 |
| 10 | John Hennigan | 87,000 | 4 | $6,823,797 |
| 11 | James Alexander | 21,000 | 0 | $567,345 |
Tune in tomorrow to watch history be made on PokerGO, as head producer Mori Eskandani closed things out with the following.
"Doyle playing the tournament, and playing poker every day, is an encouragement to all. He carries the flag forward at age 84, and being able to compete at this level, this late at night, is very impressive. He's sitting there, smiling, having a good time, and playing like he just started out today. Seeing that enthusiasm on his face, that's amazing. It's always good to have Doyle around."
Given his statement from earlier in the day, tomorrow might be the very last time we see Brunson in action on a televised table. PokerGO will be live with commentary by Ali Nejad and Phil Galfond at 6:00 pm ET. Don't miss a minute of the action and watch history be made.