Eight World Series of Poker events took place on Day 7, with three WSOP bracelets won and five more events getting closer to the final stages of their tournaments. There were first-time bracelet wins for Chad Eveslage, Amnon Filippi and Alex Livingston as events across a variety of formats came to a close.
Eveslage Captures First Bracelet Live on PokerGO
Chad Evesalge won his maiden WSOP bracelet after a thrilling heads up victory against Jake Schindler to claim a career-high top prize of $1,415,610. At an exciting final table, WSOP Main Event world champion Koray Aldemir departed in sixth place for $241,791 before three-handed play saw last year's WSOP Player of the Year Josh Arieh miss out in unfortunate circumstances.
Arieh's pocket jacks lost to Schindler's pocket deuces with all the money in pre-flop. Watch how Eveslage got the better of Schindler right here on PokerGO.
WSOP 2022 Event #8 $25,000 8-Max High Roller Final Table Results:
Place
Player
Country
Prize
1st
Chad Eveslage
U.S.A.
$1,415,610
2nd
Jake Schindler
U.S.A.
$874,915
3rd
Josh Arieh
U.S.A.
$616,047
4th
Chris Brewer
U.S.A.
$442,213
5th
Brek Schutten
Germany
$323,730
6th
Koray Aldemir
U.S.A.
$241,791
7th
Antonio Lievano
U.S.A.
$184,324
8th
Ognyan Dimov
Bulgaria
$143,480
Alex Livingston Goes Wire-To-Wire to Win First Bracelet
Alex Livingston become another first-time bracelet winner as he took down the $1,500-entry Seven Card Stud event for a top prize of $103,282. Dominating the final day's play. Livingston barely lost the lead through five hours of play as stars of the felt such as Brad Ruben, Daniel Weinman and John Racener fell just short of glory.
The final table began with a huge hand, as early on, Ruben and Racener both fell to the eventual winner in the same hand, with Livingston holding kings and sixes to skittle both players and make his lead all the more unassailable.
With one his opponents, Daniel Weinman, multi-tabling a solid stack in The Housewarming, too, Livingston began heads-up against his final opponent with 6.7 million to Weinman's 1.5 million. When Livingston made three nines, the title was his to lose and he closed it out moments later for his first-ever win in a World Series of Poker event.
WSOP 2022 Event #9 $1,500 Seven Card Stud Final Table Results:
Place
Player
Country
Prize
1st
Alex Livingston
Canada
$103,282
2nd
Daniel Weinman
U.S.A.
$63,835
3rd
Thomas Taylor
Canada
$44,112
4th
Hojeong Lee
U.S.A.
$31,083
5th
Kenny Hsiung
U.S.A.
$22,344
6th
John Racener
U.S.A.
$16,391
7th
Brad Rubin
U.S.A.
$12,276
8th
John Evans
U.S.A.
$9,391
Filippi Latest to Break Through for First Bracelet
Amnon Filippi managed to overcome Matt Vengrin in a rearranged heads-up match that spilled over from yesterday's events into a conclusion today. The $1,500-entry Omaha Hi-Lo 8 or Better Event #7 saw Filippi come into play with a 3:1 chip lead and he wasted no time in making that superiority count, besting Vengrin despite the latter leading at one point.
Initially, Vengrin got the better of his opponent and took a slim lead after the opening exchanges. Filippi, however, who last reached a final table back in 2007 in a $50,000-entry H.O.R.S.E. event, managed to outlast 1,085 for his debut bracelet. After retaking the lead and making nines and kings on the final hand, Filippi took the title 15 years later to send his fans on the rail into wild celebrations.
WSOP 2022 Event #7 $1,500 Omaha Hi-Lo 8 or Better Final Table Results:
Place
Player
Country
Prize
1st
Amnon Filippi
U.S.A.
$252,718
2nd
Matt Vengrin
U.S.A.
$156,198
3rd
Paul Zappulla
U.S.A.
$111,501
4th
Murilo Figueredo
Brazil
$80,671
5th
Matt Glantz
U.S.A.
$59,166
6th
David Funkhouser
U.S.A.
$43,997
7th
Rami Boukai
U.S.A.
$33,178
8th
Mel Judah
Australia
$25,377
Dan Smith On Course for Second Bracelet in $50,000 High Roller
 It took Dan Smith 14 years since his first ranking cash to win his first WSOP gold bracelet. Having topped the leaderboard after Day 1 of the latest High Roller to take place in this year's World Series of Poker, Event #12, he may only have to wait a week to bag a second.
With a total field of 83 entries, just 23 players remained at the close of play as Smith, who ended play with a monster stack of 2,035,000, booked a narrow lead from Michael Rocco (1,990,000).  Other big names to make the top 10 included David Peters (1,910,000), Dario Sammartino (1,890,000), Chance Kornuth (1,545,000) and Erik Seidel (1,200,000).
While many stars of the game survived, three times as many departed and there was no place in the Day 2 seat draw from players such as Sam Grafton, Koray Aldemir, Nick Petrangelo, Daniel Negreanu, Ryan Riess or Jeremy Ausmus, although Day 2 permits one re-entry to take place before play begins, with many of those names expected to jump back into the mix.
WSOP 2022 Event #12 $50,000 High Roller Top 10 Chipcounts:
Place
Player
Country
Chips
1st
Dan Smith
U.S.A.
2,035,000
2nd
Michael Rocco
U.S.A.
1,990,000
3rd
David Peters
U.S.A.
1,910,000
4th
Dario Sammartino
Italy
1,890,000
5th
Mikita Badziakouski
Belarus
1,780,000
6th
Chance Kornuth
U.S.A.
1,545,000
7th
Chris Hunichen
U.S.A.
1,400,000
8th
Andrew Lichtenberger
U.S.A.
1,200,000
9th
Erik Seidel
U.S.A.
1,200,000
10th
Brekstyn Schutten
U.S.A.
1,190,000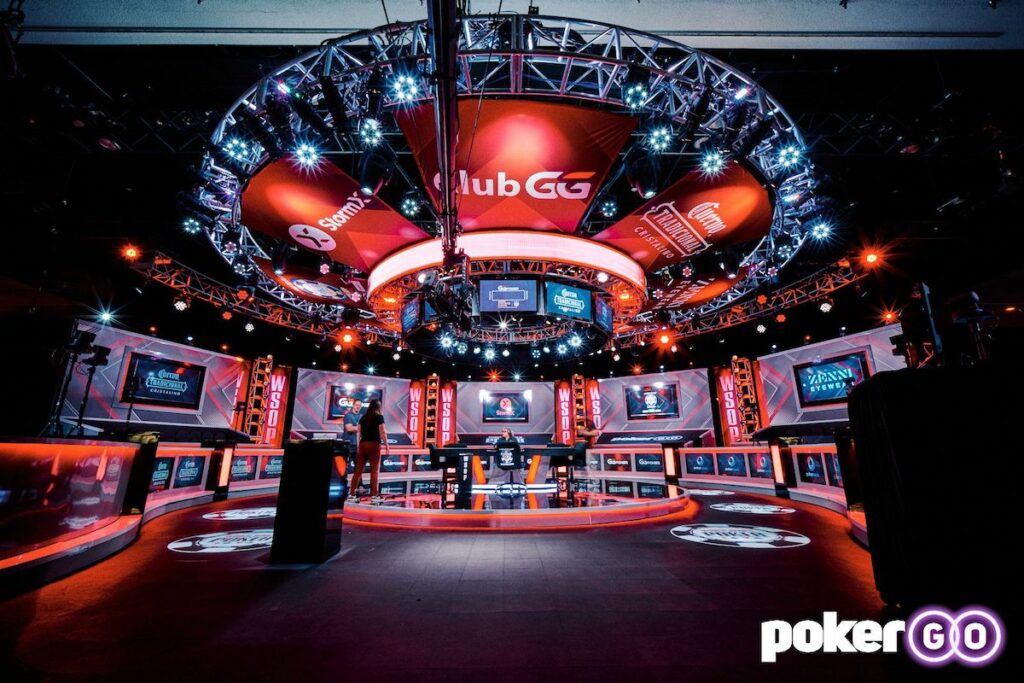 Housewarming Event Reaches Final Dozen, One Bracelet Winner Remains
With the total field of 20,080 across four Day 1 flights trimmed to 899 players at the start of Day 2, just a dozen players remain in the hunt for the bracelet and top prize of $701,215 top prize in the $500-entry The Housewarming Event #5.
After over 14 hours of poker action across the longest Day 2 of any event so far this series, Christian Taylor top-scored with 221.3 million chips heading into the final day. With only ninth-placed Jordan Hufty (42.9 million) having been a WSOP bracelet winner before, it could be a debut winner that scoops the biggest result of their poker career when the final day of the event takes place tomorrow.
With players such as Kathy Liebert, Scott Baumstein, Ryan Depaulo, Will Failla, and Brandon Cantu all busting on the penultimate day of the event, just 12 players are left as they race towards the line on Tuesday night.
WSOP 2022 Event #5 $500 The Housewarming Top 10 Chipcounts:
Place
Player
Country
Chips
1st
Christian Taylor
U.S.A.
221,300,000
2nd
Isidro Martinez
U.S.A.
155,000,000
3rd
Orez Mokedi
U.S.A.
125,450,000
4th
Henry Acain
U.S.A.
108,425,000
5th
Darnell White
U.S.A.
76,975,000
6th
Jen-Yue Chiang
U.S.A.
74,775,000
7th
Yavine Brewer
U.S.A.
70,325,000
8th
Sridhar Sangannagari
U.S.A.
67,875,000
9th
Jordan Hufty
U.S.A.
42,925,000
10th
Jared Kingery
U.S.A.
30,825,000
Ohel Tops Stellar Field in $10k Dealer's Choice Event
Randy Ohel ended Day 2 on top of the $10,000-entry Dealer's Choice event, otherwise known as Event #10 on the 2022 WSOP schedule. There were an appropriate 10 entries on Day 2 to add to the field, and from 61 players as play kicked off, just 15 remain.
Ohel has the lead with 1,101,000 chips, but he is being pursued by some superstars of the game, with former WSOP bracelet winners Naoya Kihara (927,000) and Nick Schulman (904,000) the only two players within decent range of runaway leader Ohel.
With players such as Brian Rast (574,000) and Jeff Madsen (573,000) both having tasted WSOP glory before, though, the competition will be fierce as we play down to a winner on Tuesday.
WSOP 2022 Event #10 $10,000 Dealer's Choice Top 10 Chipcounts:
Place
Player
Country
Chips
1st
Randy Ohel
U.S.A.
1,101,000
2nd
Naoya Kihara
Japan
927,000
3rd
Nick Schulman
U.S.A.
904,000
4th
Tuan Le
U.S.A.
635,000
5th
Brian Rast
U.S.A.
574,000
6th
Jeff Madsen
U.S.A.
573,000
7th
Christopher Claassen
U.S.A.
521,000
8th
Joao Vieira
Portugal
440,000
9th
Greg Mueller
Canada
377,000
10th
Ben Diebold
U.S.A.
325,000
Two Other Events Close Out Day 1 Flights
There were a massive 5,720 entries in the $600-entry Event #11, the NLHE Deepstack, wit Femi Fashakin (3,215,000) building an incredible lead after the action ceased for the day. With almost a million more chips than his nearest challenger, Roberto Bendeck (2,230,000), Fashakin will have tremendous power on Day 2 as just 289 players remained in seats at the close of play.
Wit players such as, Anson Tsang (705,000), Ankush Mandavia (605,000) and Yuri Dzivielevski (540,000), Kevin MacPhee (510,000), Vanessa Kade (240,000), and Barny Boatman (210,000) all surviving, it promises to be quite the day's action when play resumes for a fast-paced race to the line, with the top prize awarded tomorrow. Players such as Michael Mizrachi, Kathy Liebert and double bracelet winner from 2021 Daniel Lazrus all failed to make the deciding day.
WSOP 2022 Event #11 $600 NLHE Deepstack Top 10 Chipcounts:
Place
Player
Country
Chips
1st
Femi Fashakin
U.S.A.
3,215,000
2nd
Roberto Bendeck
Japan
2,230,000
3rd
Todd Carlson
U.S.A.
1,800,000
4th
Kfir Nahum
U.S.A.
1,555,000
5th
Erik Cajelais
U.S.A.
1,400,000
6th
Nicole Limo Greene
U.S.A.
1,355,000
7th
Will Tinoco
U.S.A.
1,305,000
8th
Sasa Ikac
Portugal
1,300,000
9th
Trey Brabham
Canada
1,250,000
10th
Michael Lim
U.S.A.
1,195,000
Finally, Kenny Hsiung leads the remaining field of 160 players in the $1,500-entry Limit Hold'em event, with 522 entries taking part in this mixed game event.
Hsiung bagged up 248,500 chips, with Venkata Tayi (238,000) not far behind. WSOP bracelet winner Tom Schneider (157,500) is also in the top 10, with players such as Daniel Negreanu, Eli Elezra, Adam Friedman, Ben Yu and Barry Greenstein all failing to make the chipcounts.
WSOP 2022 Event #13 $1,500 Limit Hold'em Top 10 Chipcounts:
Place
Player
Country
Chips
1st
Kenny Hsiung
U.S.A.
248,500
2nd
Venkata Tayi
U.S.A.
238,000
3rd
Unknown
U.S.A.
208,000
4th
David Gee
U.S.A.
188,000
5th
Frank Yakubson
U.S.A.
173,000
6th
Jon Kyte
Norway
168,500
7th
Wendy Freedman
U.S.A.
164,000
8th
Brian Nichols
U.S.A.
163,000
9th
Thanh Cao
U.S.A.
158,000
10th
Tom Schneider
U.S.A.
157,500
PokerGO is available worldwide on all of your favorite devices, including Android phone, Android tablet, iPhone, iPad, Apple TV, Roku, and Amazon FireTV. You can also stream PokerGO on any web or mobile browser by going to PokerGO.com. For a limited time, you can save $30 off an annual subscription by using the code "WSOP30" at checkout.
Connect with PokerGO.com on Facebook, Twitter, Instagram, and TikTok. Watch daily poker clips on the PokerGO YouTube channel. Join the conversation on the PokerGO Discord server.