Two players won their fourth WSOP bracelets on Day 4 of the 2022 World Series of Poker, as Scott Seiver and Brad Ruben both won gold. With three other bracelet events in action, there was drama throughout as the $25,000 Heads Up Championship saw Dan Smith, Dario Sammartino, Kevin Rabichow and Christoph Vogelsang reach the semifinals, with each of the four shooting for their first-ever WSOP bracelet win tomorrow.
Seiver Claims Title in Freezeout Event #3
The action was back in the Thunderdome on Day 4 as Scott Seiver won his fourth WSOP bracelet inside Bally's amid celebratory scenes in Las Vegas. Seiver, who came into the final day's play with a commanding chip lead, but a rollercoaster final table made Seiver's win anything but simple. Over the course of seven hours, Seiver demonstrated all his skills as he negotiated his way to a heads-up battle that lasted 30 minutes before he bettered Alexander Farahi to take the $320,059 top prize.
You can watch all the action as Seiver made it four bracelets in his first NLHE event win since 2008 right here.
WSOP 2022 Event #3 $2,500 Freezeout NLHE Final Table Results:
Place
Player
Country
Prize
1
Scott Seiver
U.S.A.
$320,059
2
Alexander Farahi
U.S.A.
$197,806
3
David Goodman
U.S.A.
$139,193
4
Steve Zolotow
U.S.A.
$99,483
5
Sergio Aido
Spain
$72,233
6
Nick Schulman
U.S.A.
$53,296
7
Lewis Spencer
United Kingdom
$39,970
8
Chris Hunichen
U.S.A.
$30,478
9
Aditya Agarwal
India
$23,634
Brad Ruben Claims Fourth Bracelet Win in Dealer's Choice Event
Brad Ruben denied Jaswinder Lally back-to-back bracelets at the last as he claimed a fourth WSOP in just two years at a stunned final table. Ruben, who later spoke of his keenness to donate 1% of his winnings to U.S. service veterans to raise awareness of their plight via a charity entitled Shields and Stripes, took the title after denying reigning event champion Jaswinder Lally the opportunity to go back-to-back after beating the Canadian heads-up for the $126,288 top prize.
It was Ruben's tournament to lose when he came into play as the chip leader, but there were still over a dozen players left at the start of play. When popular WSOP co-commentator Norman Chad busted in 13th for $5,993 in Badacey, he quipped: ""You get dealt a hand that you can pat? There's no skill in that. If you hadn't been born on the day you were born and entered this tournament, I would be sitting there right now. See how many times he needed to get lucky!" to much mirth from the table.
Chad was followed from the felt by Brian Rast, and with those two experienced players on the rail, Ruben had the chip lead and took a run at the title. When Ben Yu busted in fourth place for $35,793, the man who stood between Ruben was last year's winner of the same event, Canadian pro Jaswinder Lally. In the final hand, Ruben made a flush to oust his opponent at the last and claim an incredible fourth bracelet in two years, with two at the live felt in Las Vegas and two online.
WSOP 2022 Event #4 $1,500 Dealer's Choice Final Table Results:
Place
Player
Country
Prize
1st
Brad Ruben
U.S.A.
$126,288
2nd
Jaswinder Lally
Canada
$78,048
3rd
Naoya Kihara
Japan
$52,282
4th
Ben Yu
U.S.A.
$35,793
5th
Jorge Walker
U.S.A.
$25,056
6th
Charles Bransford
U.S.A.
$17,944
7th
Alfred Atamian
U.S.A.
$13,153
Smith, Sammartino, Rabichow and Vogelsang Chase Maiden Bracelet
Four players are left in the hunt for what would be their first-ever WSOP bracelet in the $25,000 buy-in Heads Up Championship. Of the four men, Dan Smith has the most money from tournament results without winning gold, but he will be joined by Italian Main Event runner-up Dario Sammartino, German high roller regular Christoph Vogelsang and underdog Kevin Rabichow in the semifinals of the star-studded event.
While Rabichow might be the least familiar name to poker fans, his route to the final four is perhaps the most impressive, with victories against Daniel 'Kid Poker' Negreanu and Phil Ivey on his way to a quarterfinal victory against Dylan Destefano. Rabichow, who won thorugh with a made straight against his opponent's trips, will be playing with no fear and a lot to win with the $509,717 top prize in his sights.
Dario Sammartino had enjoyed a smooth ride to the quarter-finals, dominating battles against Matthew Steinberg, Cary Katz and William Stanford before running into Chance Kornuth. Sammartino was behind early on, but battled back to take the win with pocket queens too good for Kornuth's pocket jacks.
Christoph Vogelsang made the semifinals after a titanic battle against his countryman Koray Aldemir in the Round of 16 set up a quarterfinal clash with Sean Winter. It was to prove the toughest match of the last eight, ending two hours after every other player had booked their place in the final four. Eventually, Vogelsang turned two pair to triumph against his fellow high roller regular and will meet Rabichow for a place in the final.
The highest-profile man to make the semifinals arguably had the toughest route there. Dan Smith may have $38 million in lifetime tournament winnings and a vastly successful poker career, founding the Double Up Drive on his way to 8t on the all time money list. But 'The Cowboy' has never lassoed a WSOP bracelet and with only two players standing between him and that goal may never have a better chance. Smith toppled Jake Daniels, Laszlo Bujtas, Alex Foxen and Jonathan Jaffe as he booked that semifinal clash with Sammartino.
While the four men who made it will have dreams of landing that first bracelet, others can forget that in this event. Stars such as the 10-time WSOP event winner Phil Ivey, reigning WSOP Main Event winner from 2021 Koray Aldemir, four-time bracelet winner Anthony Zinno and Alex Foxen all missed out on the money places as they failed in their latest quest for World Series gold.
Pace Races Into Day1b Housewarming Lead
Day 1b of the $500-entry The Housewarming event saw the prize pool swell to over $1.6 million on the day and over $3 million overall as the guarantee of $5 million looks increasingly likely to be exceeded by seven figures. A total of 162 players survived from 3,931 entries on Day 1b, joining 147 players from Day 1a in the Day 2 seat draw for Monday. There are, of course two more Day 1 flights to enjoy before that stage, but some big names have already booked a top-value seat in the next day of action.
Of the 162 players who made the cut, stars such as Jamie Kerstetter, Men Nguyen, Shaun Deeb, Kristen Bicknell and Chris Moorman all busted, but Gianluca Pace lived up to his name, building a monster stack of just over 4 million chips on 4,085,000. His nearest challenger at the close of play was Yavine Brewer on 3,705,000, with Will Failla on 3,700,000 just behind them.
Others to bag big included bracelet winners Justin Lapka (3,000,000), Anthony Denove (1,980,000), Joao Simao (1,385,000) and Ian Steinman (1,275,000), with fellow gold holders Michael Noori (580,000) and Valdemar Kwaysser (495,000) still in with a shout despite being short-stacked.
WSOP 2022 Event #5 $500 The Housewarming Final Table Results:
Place
Player
Country
Prize
1st
Gianluca Pace
U.S.A.
4,085,000
2nd
Yavine Brewer
U.S.A.
3,705,000
3rd
Will Failla
U.S.A.
3,700,000
4th
Justin Lapka
U.S.A.
3,000,000
5th
Riley Stahley
U.S.A.
2,995,000
6th
Spencer Champlin
U.S.A.
2,916,000
7th
Kyle Shigano
U.S.A.
2,900,030
8th
Lisa Taylor
U.S.A.
2,505,000
9th
Chad Yurkin
U.S.A.
2,500,000
10th
Daniel Weinman
U.S.A.
2,315,000
Hellmuth and Deeb Both Survive Day 1 of Omaha Hi-Lo 8 or Better Event
With 1,067 players, the seventh event of the 2022 World Series of Poker broke record for Omaha Hi-Lo 8 or Better event. With 31 more entries than the previous record attendance for the event in 2014, this year's Day 1 of the three-day event saw 425 players make the Day 2 cut,including players such as Benny Glaser (158,000), Phil Hellmuth (100,500), and Shaun Deeb (73,000). Of those three, it was perhaps Glaser who should be happiest, having been very short before clambering up the mountain not so far from the summit.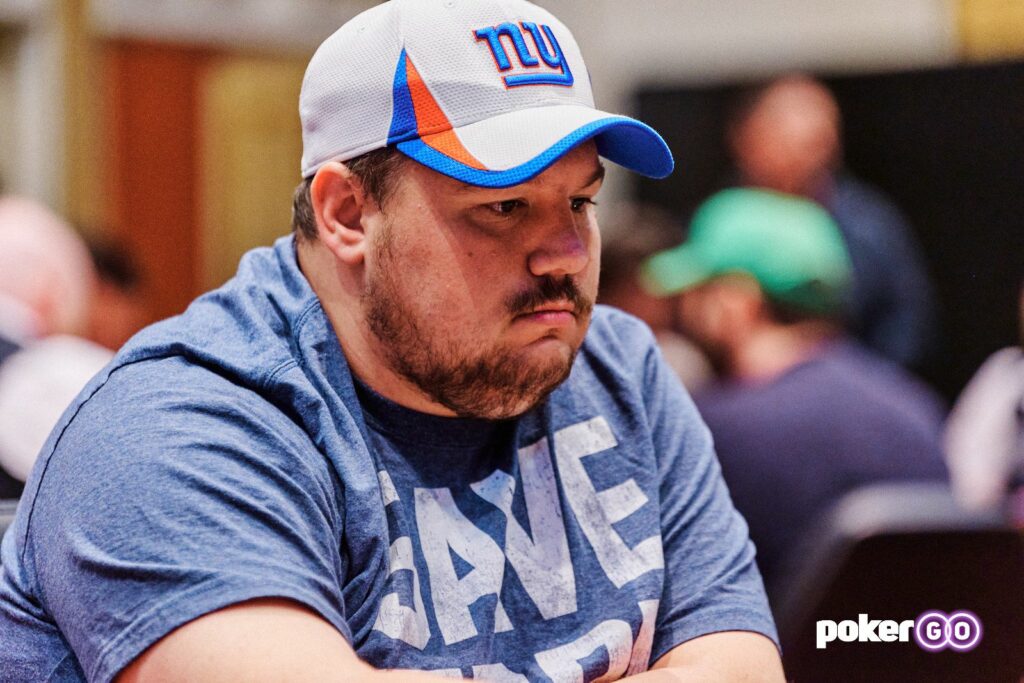 With a prize pool of over $1.45 million, there will be some very big names battling for the bracelet and with Day 2 reaching the final table, others such as Carol Fuchs (166,500), Nathan Gamble (166,000), John Esposito (160,000), Tom Franklin (155,000) and David 'Bakes' Baker (131,500) will be looking to add another bracelet to their collections.
Some well-known players to miss out included Ali Imsirovic, Ryan Laplante, Perry Friedman, Daniel Negreanu, Phil Ivey, Yuri Dzivielevski, Allen 'Chainsaw' Kessler and Ryan Depaulo.
WSOP 2022 Event #7 $1,500 Omaha Hi-Lo 8 or Better Top 10 Chipcounts:
Place
Player
Country
Prize
1
Yehuda Buchalter
U.S.A.
261,500
2
Amnon Filippi
U.S.A.
205,000
3
Robert Tanita
U.S.A.
187,500
4
David Flores
U.S.A.
182,500
5
Van Law
U.S.A.
180,500
6
Carol Fuchs
U.S.A.
166,500
7
Nathan Gamble
U.S.A.
166,000
8
Christopher Logue
U.S.A.
163,500
9
Bradley Smith
Canada
161,000
10
Anil Jivani
U.S.A.
161,000
PokerGO is available worldwide on all of your favorite devices, including Android phone, Android tablet, iPhone, iPad, Apple TV, Roku, and Amazon FireTV. You can also stream PokerGO on any web or mobile browser by going to PokerGO.com. For a limited time, you can save $30 off an annual subscription by using the code "WSOP30" at checkout.
Connect with PokerGO.com on Facebook, Twitter, Instagram, and TikTok. Watch daily poker clips on the PokerGO YouTube channel. Join the conversation on the PokerGO Discord server.