Two WSOP bracelets were won in the Thunderdome at the Rio as Ben Yu claimed his fourth bracelet in the $10,000-entry Six-Max No-Limit Hold'em Event and Robert McMillan won the Seniors Event for over half a million dollars.
Ben Yu won $721,453 as he triumphed in the six-handed NLHE Event #56, beating Nikita Kuznetsov heads-up in the Thunderdome and live on the PokerGO stream. With players such as Asi Moshe, Mike sowers and Ariel Mantel all making the final six, the action was fast and the showdowns were dramatic as Yu won his fourth gold bracelet in stunning style.
You can watch all the action as it played out on the final day right here:
WSOP 2021 Event #56 $10,000 Six-Handed NLHE 
Place
Player
Country
Prize
1st
Ben Yu
U.S.A.
$721,453
2nd
Nikita Kuznetsov
Russia
$445,892
3rd
Ariel Mantel
Argentina
$293,578
4th
Mike Sowers
U.S.A.
$198,205
5th
Steve Yea
South Korea
$137,303
6th
Asi Moshe
Israel
$97,660
It took four days of thrilling action to find a winner as Robert McMillan finally claimed victory in the $1,000-entry Seniors event, winning $561,060 as he beat Robert Davis heads-up to win a first-ever WSOP bracelet.
The action was fast and furious on a final day packed with drama as the overwhelming chip leader at the start of play, Christopher Cummings, fell short in his attempt to win the title. In fact, Cummings would crash out in fifth as he whiffed the win at the last. Going into the final table, he was still very much in control, but a series of small pots got past him while others really roared through the field.
In particular, Roberts McMillan and Davis both started wielding the axe, taking chances to put others to the test as they ploughed through the field on a collision course to a heads-up clash for the gold. When Daniel Stebbins busted in third place, the stage was set for an epic battle, but instead, fans were treated to one great hand to decide the title.
McMillan hit top pair on the queen-high flop but was put to the ultimate test for all of Davis' chips on the king turn, only to make a stunning correct call. Davis turned over pocket fours and after another king on the river, McMillan was crowned the winner. Proud of that impressive call, he had won over half a million dollars, with Davis consoled no doubt by the $346,743 second-place prize.
WSOP 2021 Event #52 $1,000 Seniors Event
Place
Player
Country
Prize
1st
Robert McMillan
U.S.A.
$561,060
2nd
Robert Davis
U.S.A.
$346,743
3rd
Daniel Stebbins
U.S.A.
$263,640
4th
Jonathan Ingalls
U.S.A.
$201,753
5th
Christopher Cummings
U.S.A.
$155,401
6th
Dennis Jensen
U.S.A.
$120,484
7th
Louis Cheffy
U.S.A.
$94,030
8th
Todd Hansen
U.S.A.
$73,873
9th
Daniel Lujano
U.S.A.
$58,425
In the $400-entry Colossus, 1,181 players on Day 2 played for so long that only 49 of them remained at the close of play, with Rafael Fernades top of them all with 23.3 million when play ended. Fernandes' stack was far ahead of both Jonth Trinh (18.85m) and Elad Kubi (18.67m) as three Israeli players made the top 10 chipcounts.
Elsewhere, Anatolii Zyrin (9.67m), Brett Apter (3m), Barbara Enright (1.9m) and Carlos Chang (1.77m) are the only remaining WSOP bracelet holders in with a chance of adding more gold to their collections, while yesterday's chip leader Frank Flowers wilted slightly but survived with 2.77m to progress to Day 3 still with a chance of victory.
WSOP 2021 Event #55 $400 Colossus
Place
Player
Country
Chips
1st
Rafael Fernandes
U.S.A.
23,300,000
2nd
John Trinh
U.S.A.
18,850,000
3rd
Elad Kubi
Israel
18,675,000
4th
Michael Lee
U.S.A.
16,900,000
5th
Avi Cohen
Israel
12,675,000
6th
Matthew O'Meara
U.S.A.
12,400,000
7th
Penh Lo
U.S.A.
12,175,000
8th
Yonatan Basin
Israel
12,000,000
9th
Lucas Kulbe
U.S.A.
11,925,000
10th
Alexandre Malod
France
11,900,000
In Event #57, the $10,000 Limit Lowball Triple Draw event, just eight players remain to chase the gold, with Danny Wong well clear of the rest on over 1.7 million chips. His nearest challenger is Brian Yoon (1.1 million), with no other player of the eight cracking seven figures for their chip stack. Wil Wilkinson sits third with 945,000, but everyone else has less than a third of Wong's stack, with Joao Vieira the most well-known shorter stack with just 300,000 chips.
Plenty of big names busted this event on Day 2, with players such as Daniel Negreanu, Jake Schwartz, Adam Owen and 16-time WSOP champion Phil Hellmuth all failing to cash. Others fared slightly better, with Mike Matusow (14th for $16,552), Shaun Deeb (13th for $16,552), Dan Zack (12th for $20,057), Nathan Gamble (10th for $20,057), and Dan Smith (9t for $24,910) all making money.
WSOP 2021 Event #57 $10,000 Limit 2-7 Lowball Triple Draw
Position
Player
Country
Chips
1st
Danny Wong
U.S.A.
1,755,000
2nd
Brian Yoon
U.S.A.
1,170,000
3rd
Wil Wilkinson
U.S.A.
945,000
4th
Don Nguyen
U.S.A.
565,000
5th
Jordan Siegel
U.S.A.
300,000
6th
Joao Vieira
Portugal
290,000
7th
Brandon Shack-Harris
U.S.A.
275,000
8th
Mike Thorpe
U.S.A.
110,000
In Event #58, the $1,000 Super Seniors Event, Doyle Brunson made a rare appearance in a World Series of Poker Tournament for the first time in three years since he took his seat inside the Rio pre-pandemic in what was believed to have been his final hurrah.
Though it was a thrill for players to see the 88-year-old return to the felt, 'Texas Dolly' didn't last long, shot down by Jana Vondach's pocket aces after just an hour of play. By the close of play, Farhad Davoudzadeh had the chip lead with 414,000, well clear of Steve Schneider in second place with 300,000.
Another surprise came with the arrival of 2003 WSOP Main Event runner-up Sammy Farha, who played all day and made 204,100 chips, part of our round-up of some of the highest stacks in the event below.
WSOP 2021 Event #58 $1,000 Super Seniors Event
Position
Player
Country
Chips
1
Farhad Davoudzadeh
U.S.A.
414,000
2
Steve Schneider
U.S.A.
300,000
3
Gary Bain
Canada
235,000
4
Ron Lemco
U.S.A.
231,600
5
Arthur Schiavo
U.S.A.
222,800
6
Randy Vee
U.S.A.
222,000
7
Hal Marcus
U.S.A.
220,000
8
Sam Farha
U.S.A.
204,100
9
Martin Yates
U.S.A.
175,000
10
Valerii Lubenets
Ukraine
175,000
In Event #59, there were strong performances from many 'Tag Team' players as the fun $1,000-entry event saw stars of the screen play poker along with regulars from this WSOP.
Top stack at the close of play was that shared by Mike Ruter and Samy Dighlawi (338,000), but our own Jeff Platt and Brent Hanks (166,500) finished sixth of the 127 teams who survived from the 641 entries as players dressed up for Hallowe'en.
WSOP 2021 Event #59 $1,000 Tag Team Event
Position
Players
Chips
1st
Mike Ruter – Samy Dighlawi
338,000
2nd
Haven Werner – Thomas Taylor
295,000
3rd
Keith Doering – Bill Schaeffer
235,500
4th
Nikita Luther – Kunal Patni
195,000
5th
Mike Watson – Sarah Goddard
169,500
6th
Jeff Platt – Brent Hanks
166,500
7th
Alexey Mishuk – Alon Eldar
160,000
8th
Alon Eldar – Unknown
160,000
9th
Melanie Weisner – Xuan Liu
159,000
10th
Nellie Park – Joey Weissman
144,500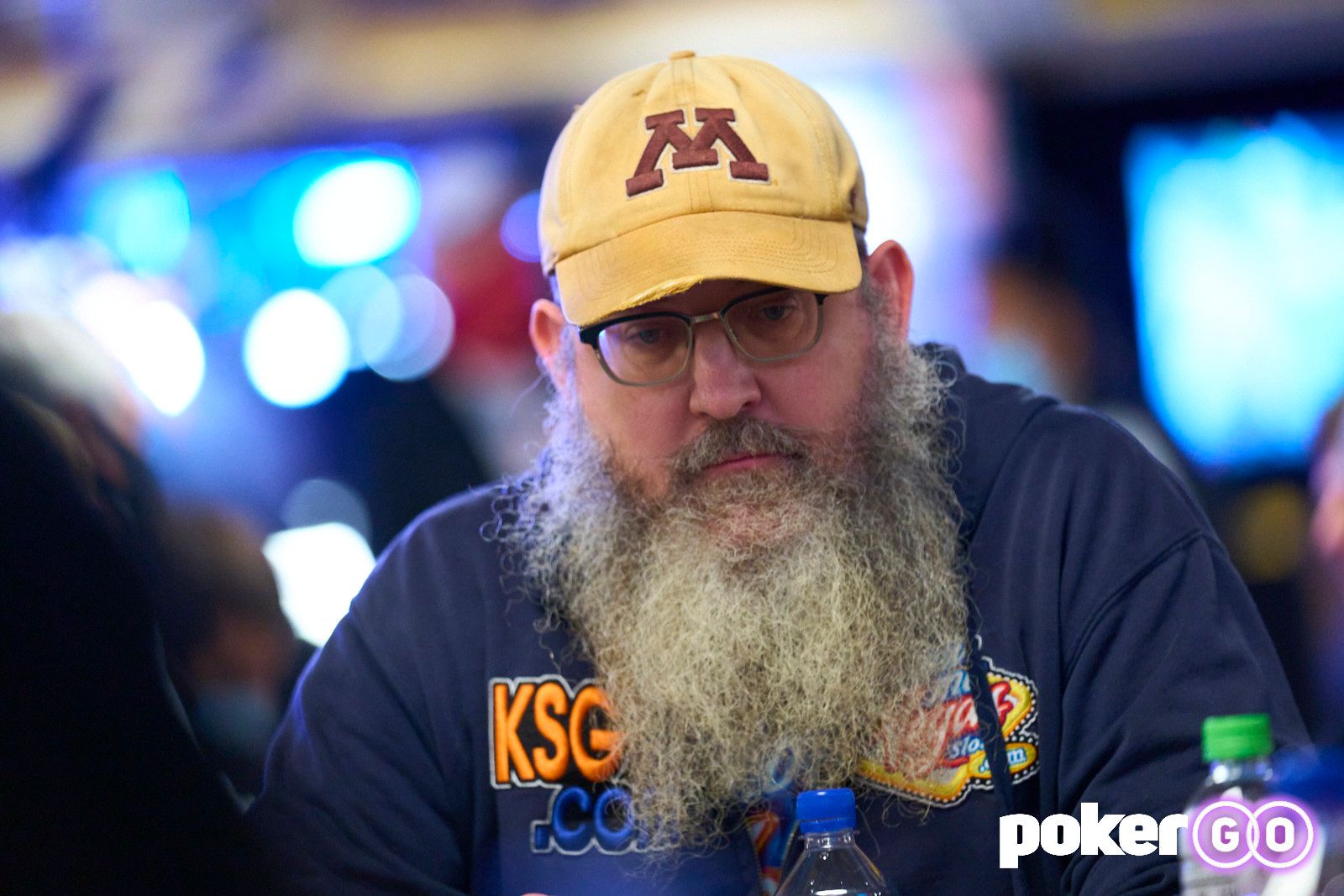 Finally, the $50,000-entry Poker Players Championship kicked off as one of the busiest days on this WSOP schedule was completed. With 43 entries on Day 1 – registration remains open until the end of the break following level 10 on Day 2 – just 39 of those players made the Day 2 cut, with Matt Ashton, Michael Noori, Albert Daher and Jake Schwartz ending the night on the rail instead of bagging chips.
Top of the leaderboard after the opening day was Bryce Yockey, who totalled 653,000 chips, some way clear of Italian WSOP 2019 Main Event runner-up Dario Sammartino (520,500) and Chris Vitch (504,500). As you'd expect, there were a host of major players in seats and strong first day showing from Eli Elezra (460,500), Shaun Deeb (448,500) and Brian Rast (437,000) all featured in the top 10, with Robert Mizrachi (423,000), Scott Seiver (366,000) and Felipe Ramos (320,000) not far back.
With no sign of players such as Phil Hellmuth or Phil Ivey as yet, Day 2 will clearly tell a lot more of the story, but one big name will need to get of the best possible start, with Daniel 'Kid Poker' Negreanu struggling on just 77,000 chips, and he will come into play only ahead of Bradley Berman (49,000).
WSOP 2021 Event #60 $1,000 $50,000 Poker Players Championship
Position
Player
Country
Chips
1st
Bryce Yockey
U.S.A.
653,000
2nd
Dario Sammartino
Italy
520,500
3rd
Chris Vitch
U.S.A.
504,500
4th
Eli Elezra
Israel
460,500
5th
Randy Ohel
U.S.A.
457,000
6th
Shaun Deeb
U.S.A.
448,500
7th
Yuval Bronshtein
Israel
440,500
8th
Chad Campbell
U.S.A.
439,000
9th
Brian Rast
U.S.A.
437,000
10th
Ryan Leng
U.S.A.
433,000
Connect with PokerGO.com on Facebook, Twitter, and Instagram. Use code "WSOP2021" for $20 off an annual PokerGO.com subscription now!