There's something deeply exciting and captivating about watching Chino Rheem sit behind a large stack in the WSOP Main Event. With a Top 10 stack and right around 350 players remaining, it would come as no surprise to see the seventh-place finisher from 2008 go on another big run.
When it comes to 'sitting' at the table, you need some imagination when it comes to Rheem's antics. The 2008 November Niner never sits still, switching from one to two knees on his chair to slouched down or even standing next to his seat, seemingly unable to contain himself within the excitement of this event.
"This moment feels so good, and I'm just trying to ride it out. It really feels like I'm playing good today after I gambled and was spewy yesterday. Today I'm feeling stone solid and the cards are coming my way, but at the same time this tournament can feel so torturous and nostalgic because, you know, it's the Main Event."
With raises more frequent than his never-ending chatter and a sensible ear and eye for some drama and controversy, Rheem truly is a one of a kind character in the game of poker. Having been open about his flaws in the past, and finding himself in trouble every now and again, a lot can be said about Rheem and his character, but he's most definitely not someone to give up on his dreams.
On Day 4 of the WSOP Main Event, Rheem is up to his swings of old, with a positive trend as a result to this point. The three-time World Poker Tour champion with nearly $9 million in career tournament earnings sits near the Top 10 of the counts and has only one thing on his mind.
"Winning it. Just winning it, that's it."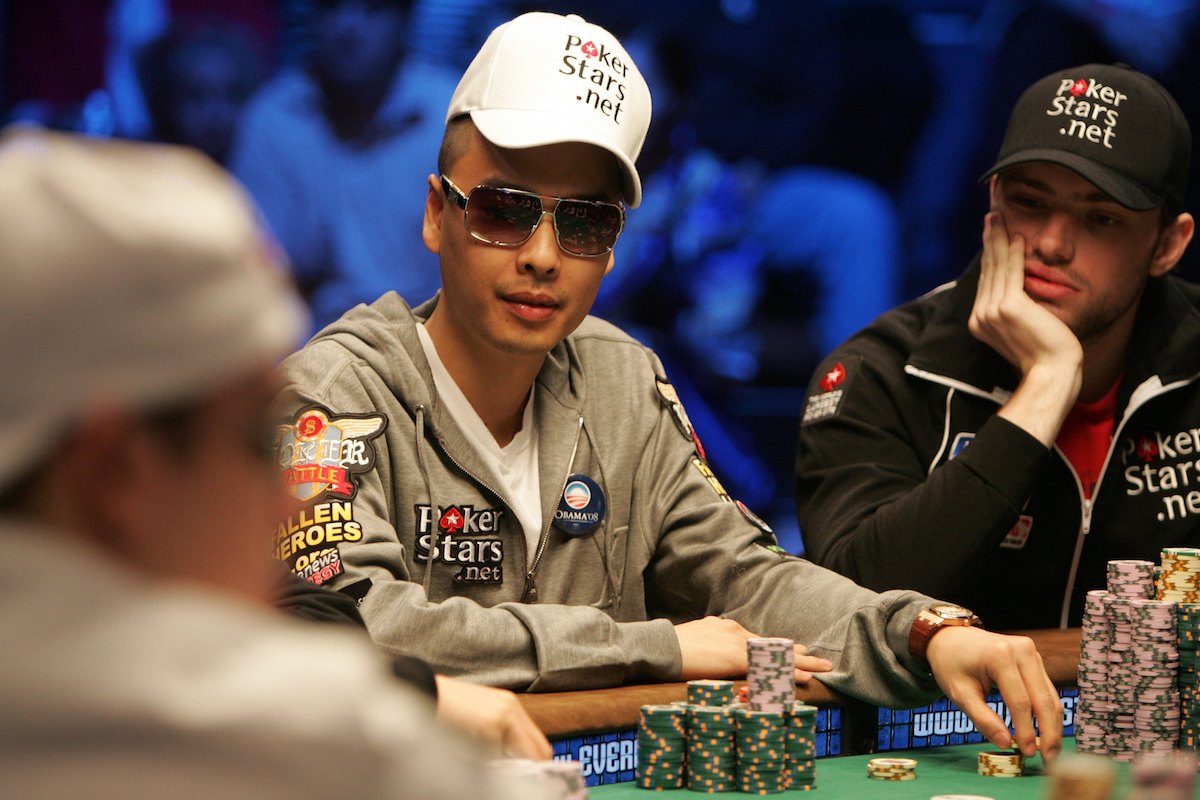 As he elaborated, Rheem admitted that making the final table would be a great accomplishment as well, as finishing seventh in 2008 for $1.7 million is still on his mind to this day.
"I can't stop thinking about it. All I want to do is to do better than seventh, that would be really cool."
Rheem's quick to admit that his mindset changes when the stage gets bigger, and on the biggest stage of all he feels locked in once again.
"I'll admit that I should try hard in every tournament, but once it's time for the Main Event I'll admit that I try harder. When I'm playing good and I'm in the zone in this event, it's really hard to get me out of it."
As we wrap up the interview and an ESPN producer gets ready to pull his sleeve for another interview, it becomes clear that the cameras are already all over his volatile play and personality despite it being only the fourth day of play, but Rheem doesn't mind. He's in the zone.
"The cameras and the attention? Right now, it means nothing. When we're playing for $8.8 million, then it will be cool."
Enjoy continued coverage of the WSOP Main Event on PokerGO and ESPN as the event slowly moves towards its final table. Catch Chino Rheem and your other favorite players again on Monday from 9:00 pm till 02:00 am ET on ESPN2 and from 2:00 am till 3:30 am ET on PokerGO with commentary provided by Ali Nejad and Nick Schulman.