"Walk with me, I've got a flight to catch," a gracious yet defeated Kevin Pollak said as he paced down the dreary Rio hallways after having been eliminated from the 2018 WSOP Main Event on Day 2.
Sporting an IMDB page with more listings than most tournament pros have on their HendonMob, Kevin Pollak is a heavy hitter in Hollywood with a deep passion for the game of poker. Today, Pollak saw his fourth shot at glory in the WSOP Main Event go up in flames, and we caught up with him to find out where it all went wrong.
Coming into this year's Main Event, Pollak's record in the world's biggest tournament was nothing short of impressive. Two runs into Day 3 without making the money and one in which he made the Top 2% of the tournament made sure the Usual Suspects star carried a good amount of experience and knowledge into today.
Pollak's run in 2012, where he ultimately finished in 134th place, can be relived on PokerGO as the entire Main Event of that year is available on-demand.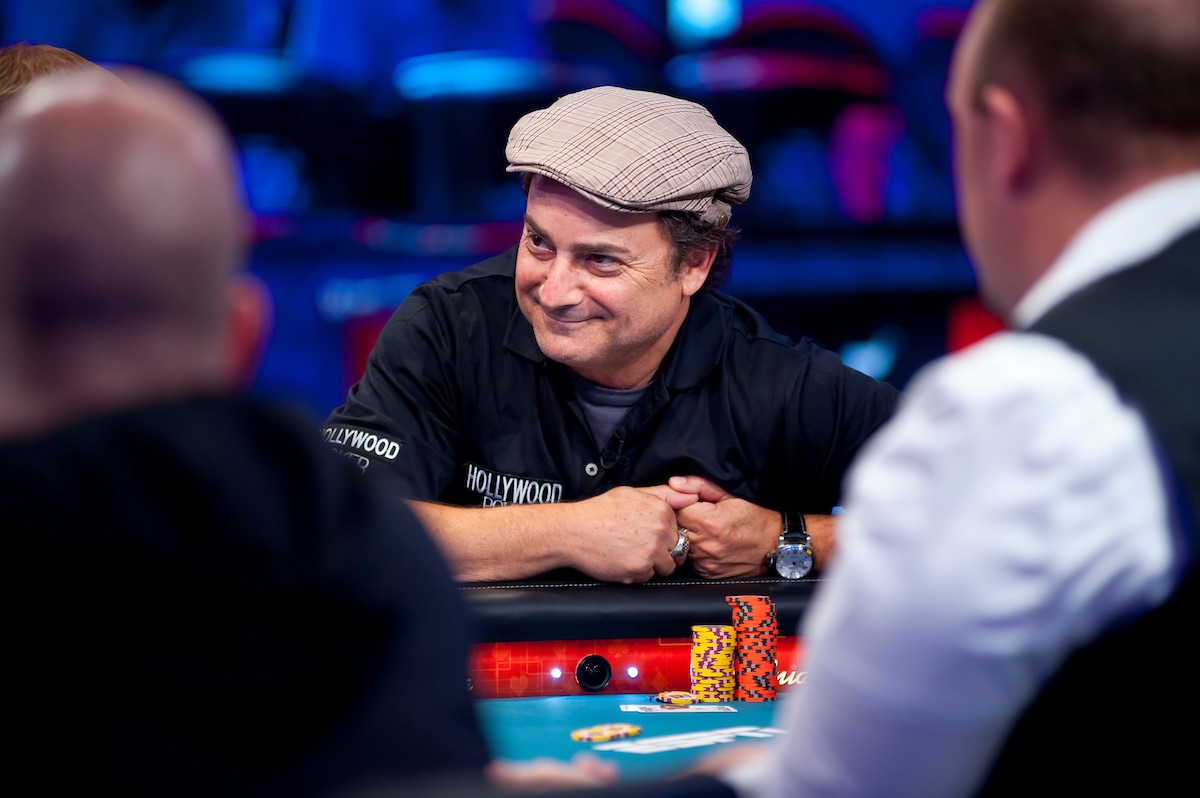 Starting the day with 71,300 chips, Pollak had plenty of room to play, seated at the feature table with his friend and colleague Ray Romano as well as all-time money list's No. 23rd, Tom Marchese.
"I felt really good until the first level after the dinner break, that's when things were starting to go down the shitter," Pollak said.
On the very first hand after the third break of the day the dream ended, as ace-king proved to be Pollak's downfall.
"I hate ace-king, and it did not serve me well today."
After a raise to 3,000, Pollak made it 11,000 and when the action folded back around to his opponent, he was put to the test for his entire stack worth right around 45,000 in the 600/1,200 level. Pollak's opponent had him covered by a large margin, and he had to decide for his tournament life.
"If there's one thing I know about ace-king in tournaments, it's that it's only good if you get it all in before the flop, otherwise it's a drawing hand with six outs."
"I said 'call' instantly, which is something I had honestly never done before in a tournament. Much to my chagrin, things got much worse when he showed me pocket kings."
The deck was not kind to Pollak, whose wishes for an ace were left unsatisfied.
As Pollak picked up the pace, swinging open the doors into the dry Las Vegas summer heat, he said, "Getting knocked out on Day 2 is a horrible feeling, I was playing so tight and I was cruising to Day 3 before this all in. It was my first all in of the tournament, and now I'm going home."
In the final steps before reaching the taxi to take him to the airport via his hotel, Pollak expressed his strong sentiments for this tournament and how 2019 can't come soon enough.
"This tournament is without question the one you look forward to the most. It's the most prestigious, has the biggest number of players and having made that deep run before, being on the cameras with Ray today, it all adds up to be very exciting times. I can't wait for next year."
With or without Kevin Pollak, the WSOP Main Event continues on ESPN and PokerGO until a winner is crowned on July 15th. Subscribe to PokerGO right now to enjoy more than 100 days of live poker every single year, as well as an extensive on-demand library that includes the Super High Roller Celebrity Shootout featuring Kevin Pollak, Norm MacDonald, Hank Azaria, Brad Garrett, and Jason Alexander.