Last week, reigning U.S. Poker Open champion Stephen Chidwick hit a big milestone by overtaking Sam Trickett as the No. 1 on England's all-time money list, cashing for a total of $21.2 million over the course of his decade-long career playing live tournaments. Overtaking Trickett has been a long time coming for Chidwick, who we spoke to about this accomplishment as well as looking back on the insane last 12 months that more than doubled his career tournament earnings.
"It's a cool milestone," Chidwick said about overtaking Trickett after having sat in second place for quite some time.
"I think it has been clear for a while that I would get there at some point just because I rack up way more in buy-ins than anyone else from the UK, but it certainly came faster than expected given I was over $10m away less than a year ago."
In 2018, Chidwick was the only player to make the final table in all three Super High Roller Bowls, finishing seventh in May, sixth in Macau in March and third this past December for a total of $3.4 million between those three results. Relive Chidwick at the most recent Super High Roller Bowl V final table on PokerGO right now.
Chidwick flicked the switch and turned on turbo boosters when it comes to live tournament results as prior to 2018, his best year was 2017 in which he cashed for $3.5 million. When it was all said and done, Chidwick racked up $10.1 million in cashes in 2018, more than double all his prior earnings combined.
Stephen Chidwick's 10 Biggest Tournament Results
Date
Place
Event
Place
Payout
17-Dec-18
United States
Super High Roller Bowl
3rd
$ 1,512,000
10-Apr-18
Spain
partypoker MILLIONS Grand Final Barcelona
2nd
$ 1,352,531
20-Mar-18
Macau
Super High Roller Bowl China
6th
$ 1,298,521
11-Apr-18
Spain
partypoker MILLIONS Grand Final Barcelona
3rd
$ 1,233,654
22-Aug-17
Spain
PokerStars Championship Barcelona €25k
1st
$ 813,144
27-May-18
United States
Super High Roller Bowl
7th
$ 600,000
12-Dec-13
Czech Republic
EPT Prague Main Event
3rd
$ 517,992
01-Jun-18
United States
WSOP $100,000 No Limit Hold'em
6th
$ 484,551
18-Oct-17
Macau
Triton Macau Main Event
6th
$ 440,047
09-Dec-14
Czech Republic
EPT Prague €50k
3rd
$ 436,236
On a personal level, Chidwick credits his success to maintaining a strong drive and motivation to constantly improve and stay at the top, but perhaps just as important are the people around him.
"There is a long list of people without whom I wouldn't be the player I am today. I owe a lot to my wife, family, friends, investors and study partners who have supported me on this path."
Recalling the process of making his way up through the ranks, passing by plenty of UK poker legends along the way, Chidwick recalls facing the man who led the UK's all-time money list for more than a decade.
"As far as the old-school guys go I'm happy I had the chance to play with Dave Ulliott. I had already read his book and watched him on TV before I started playing live and, he was and still is, a legend of British poker."
What Devil Fish was for Chidwick, the well-postured Brit is now quickly becoming that player to look up to and aspire to be like. When asked, humble as ever, Chidwick appreciates the praise that's being thrown his way, and how he's not one to pat himself on the back.
"As a perfectionist, I am usually comparing myself to an unattainable ideal. To look back at everything I have accomplished and see others drawing inspiration from that is a refreshing perspective."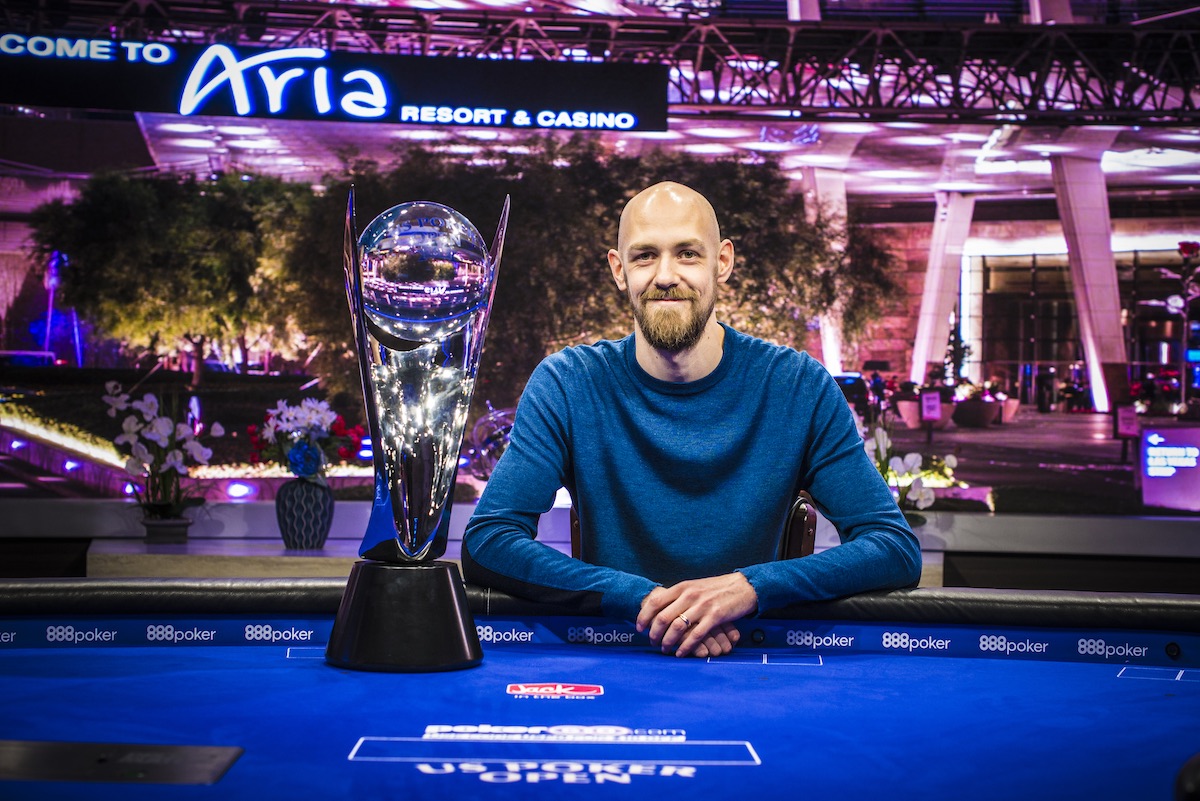 Circling back to 2018, Chidwick experienced a self-proclaimed breakout performance at the U.S. Poker Open where he made five final tables and won two events along with the Championship trophy. That run turned out to be a sign of what was to come, as he recorded back-to-back seven-figure scores at the partypoker Million in Barcelona, the No. 1 spot on the GPI overall standings to go along with three Super High Roller Bowl final tables.
"2018 felt like a year of validation to me. I achieved multiple goals which I had been working hard towards for a long time and had come very close to on several occasions prior. It was a dream coming true."
Looking into the future, the 19th ranked player of all-time on the tournament money list, has his sights set on the Top 10, but he also remains realistic.
"It's no secret that I enjoy chasing rankings and lists like this, so I'll obviously be happy to reach the top 10, but with the prevalence of super high rollers these days it's a lot easier to add to that number than it used to be and there are enough players above me that aren't playing the biggest tournaments that I should get there before too long unless I run very bad. Catching up to someone like Bonomo or Peters who play as much or more than me is another story."
With millions in cashes and plenty of titles and trophies to decorate his house with, what is left for Chidwick in terms of accomplishments when it comes to tournament play?
"For the time being my goals and focus are shifting a little away from poker and towards my personal life so things like POY and GPI aren't things I'm thinking about for now. I'd love to win a big Main Event or some prestigious high roller such as the Super High Roller Bowl, but there's not much I can do to influence those things other than improving my A-game and bringing my A-game to the table more consistently. So those are my poker related goals."
Watch or play against Stephen Chidwick during the upcoming U.S. Poker Open at the PokerGO Studio. Read more about the U.S. Poker Open schedule and structure here, and here. New to PokerGO? Subscribe right now to never miss another high stakes moment.