The 2018 World Series of Poker is now exactly one week old. A total of seven bracelets have been handed out since the Casino Employees Event kicked things off, with more to be handed out every day. In this edition of Remko on the Rail, I'm getting you caught up with the latest winner and storylines to look out for as PokerGO and Twitch bring you near-daily live streaming coverage of poker's greatest events.
Becker's Bracelet
"He's starting the day as the short stack, but I wouldn't be surprised if this one goes to Johannes Becker," is what I boldly stated on the most recent Poker Central Podcast. Becker is a feared online high stakes mixed game player who, in his own words, 'waits for someone to sit down' most days. When you reach Becker's level of skill, there aren't many takers when it comes to battling for big money.
This is where the World Series of Poker comes in, as Becker can't be dodged in the big tournaments. The German pro finished runner-up to Elior Sion in the $50,000 Players Championship last summer and did one better in the $2,500 Mixed Triple Draw last night when he defeated Scott Seiver heads up.
2018 WSOP $2,500 Mixed Triple Draw
Name
Country
Payout
1
Johannes Becker
Germany
$180,455
2
Scott Seiver
USA
$111,516
3
Jesse Hampton
USA
$71,547
4
Chris Vitch
USA
$47,166
5
George Trigeorgis
USA
$31,873
6
Luis Velador
Mexico
$22,304
Deux Pour France
The French are off to a good start at the World Series of Poker as both William 'twooopair' Reymond and Julien Martini won bracelets within days of each other. First, Martini bested a field of 911 players in the $1,500 Omaha Hi-Lo Eight-or-Better Split event for $239,771 and then it was Reymond who took down the $365 Online Bracelet event on WSOP.com for $154,995.
Reymond and Martini took home the 18th and 19th bracelet for France, of which five were won in France during the World Series of Poker Europe. Martini denied Kate Hoang her first bracelet and becoming the first female to win a bracelet in 2018. Reymond is a French journalist who's currently working on a book about the assassination of J.F. Kennedy. This was his first ever WSOP cash.
2018 WSOP $1,500 Omaha Hi-Lo
Name
Country
Payout
1
Julien Martini
France
$239,771
2
Kate Hoang
USA
$148,150
3
Mack Lee
USA
$104,016
4
William Kopp
USA
$74,058
5
Brandon Ageloff
USA
$53,482
6
Chad Eveslage
USA
$39,182
7
Rafael Conception
USA
$29,977
8
Denny Axel
USA
$21,977
9
Tammer Ilcaffas
USA
$16,832
2018 WSOP $365 Online Bracelet Event
Name
Country
Payout
1
William 'Twooopair' Reymond
France
$154,996
2
Shawn 'sHaDySTeeM' Stroke
USA
$94,265
3
Stephen 'SteveSpuell' Buell
USA
$69,017
4
Ryan 'LoveMy11Cats' Belz
USA
$50,593
5
Elliott 'Ekampen05' Kampen
USA
$37,530
6
Josh 'YoelRomero' King
USA
$27,977
7
Anthony 'nowb3athat' Spinella
USA
$21,251
8
Michael 'myapologies' Hauptman
USA
$16,279
9
Jennifer 'moistymire' Miller
USA
$12,478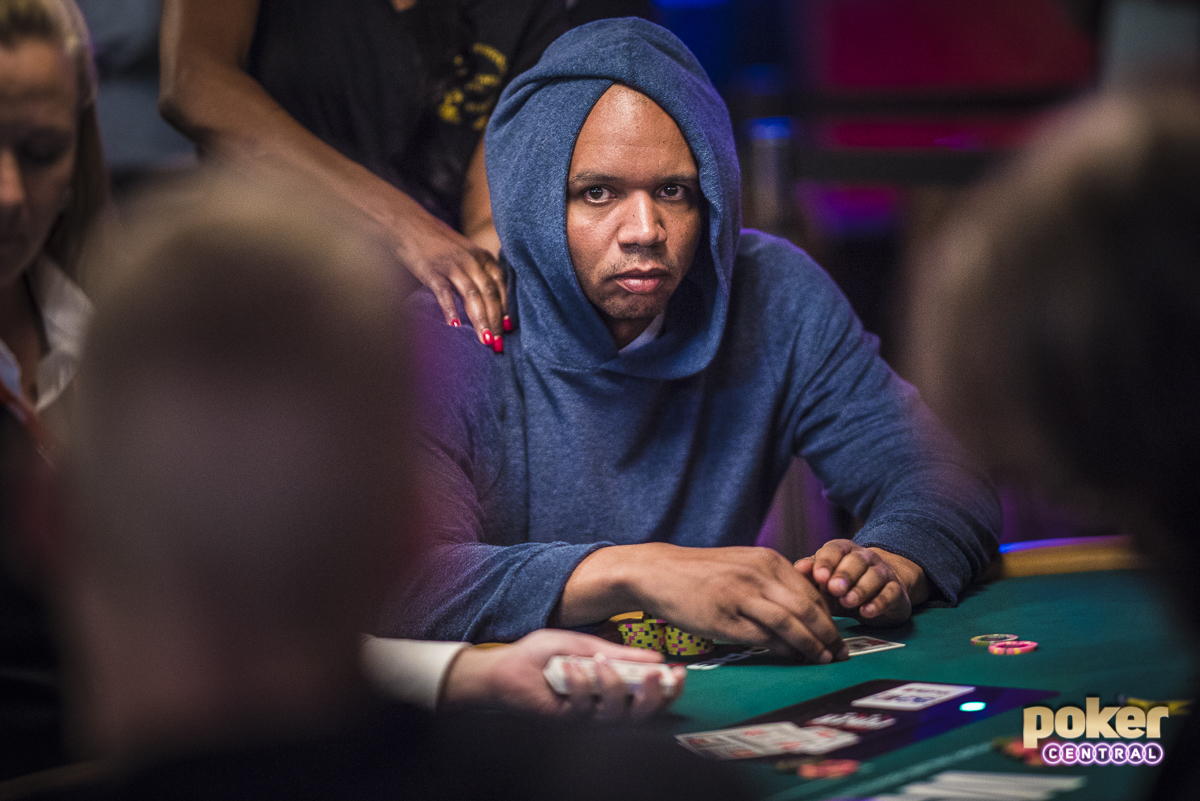 Ivey in Colossus, Dealer's Choice Underway
I wrote an open letter to Phil Ivey with excitement that he played the $2,500 Mixed Triple Draw, arguably the smallest buy-in he's played since the 2014 WSOP. Phil must've read it, because a few hours later he was spotted in the $565 Colossus.
Ivey bagged up chips and is currently battling on Day 2. If Phil pulls this off and makes the final table in the biggest field of the year, I won't have words to describe how epic that would be. Day 2 of Colossus gets underway today with Ivey seated at Table 437 in the Amazon room, in case you're looking to catch a glimpse of his greatness.
From the 13,070 entries, there are 539 players remaining including notables such as David Bach, Tyler Patterson, Jonathan Duhamel, Chris Tryba and Kenny Hallaert. The final table of this event will be streamed live on Twitch on Friday.
An event Phil Ivey was more likely to jump into, the $1,500 Dealer's Choice, kicked off on Wednesday. Attracting a total of 406 entries, of which 112 made Day 2, created a first prize of $129,882. Four-time WSOP bracelet winner John Hennigan leads the way, followed by Team GO Barstool GO's very own Andrey Zhigalov! Other notables with big stacks after Day 1 include Jef Lisandro, Chris Vitch, Tommy Hang and Chris Klodnicki.
Want to watch Phil Ivey play? This is the perfect time to Get in the Game. Subscribe to PokerGO right now and watch all WSOP streams live and on-demand. The PokerGO library also includes every single episode of Poker After Dark that Phil Ivey played on, as well as his appearances on the Super High Roller Cash Game, and in the 2015 and 2018 Super High Roller Bowl. 
Looking to play against Phil Ivey? The PokerGO WSOP Sweepstakes is still open! Sign up now for a chance to win your way into the 2018 WSOP Main Event and $1,500 towards your travel. Registration closes on June 15th.