The World Series of Poker has hit its overdrive, with multiple winners crowned every day and action in every nook and cranny of the Rio. In this edition of Remko on the Rail, I get you up to speed on anything you might've missed over the weekend as big names took down big events, while others fell just short of expanding their poker jewelry collection.
Today, all eyes will be on Doyle Brunson, as the Godfather of Poker chases his 11th career bracelet to break a tie with Phil Ivey and Johnny Chan. Over the course of his career that spanned more than six decades, Brunson won everywhere he played, inspired millions to take on the game and probably laid at the foundation of a plethora of bracelet wins described in this article.
Entering the Winner's Circle
Starting as close to Doyle as possible, Adam Friedman took down the $10,000 Dealer's Choice event to grab his second bracelet. Friedman defeated a field of 111 capturing the first prize of $293,275. This result is now Friedman's biggest score ever after winning the $5,000 Stud Hi/Lo bracelet for $269,037 back in 2012. The 'Agony of Defeat' guy from the 2005 WSOP Main Event, in which he finished 43rd, now has nearly $2.5 million in career earnings.
$10,000 Dealer's Choice Final Table Payouts
Name
Country
Payout
1
Adam Friedman
United States
$293,275
2
Stuart Rutter
United Kingdom
$181,258
3
Alexey Makarov
Russia
$127,487
4
Chris Klodnicki
United States
$90,713
5
David "ODB" Baker
United States
$65,308
6
Marco Johnson
United States
$47,579
Staying with the mixed games, Russian pro and proud member of Team GO Barstool GO, Andrey Zhigalov won his first ever bracelet in the $1,500 H.O.R.S.E. event after an epic comeback at the final table. Zhigalov was one of the shortest stacks from the final three tables until it got three-handed, and the youngster went on a run to close things out. This win nearly doubles the all-time earnings of 'Zhiggy'.
$1,500 H.O.R.S.E. Final Table Payouts
Name
Country
Payout
1
Andrey Zhigalov
Russia
$202,787
2
Timothy Frazin
United States
$125,336
3
Bradley Smith
Canada
$87,769
4
Matt Woodward
United States
$62,379
5
Nicholas Derke
United States
$45,006
6
Sandeep Vasudevan
United States
$32,971
7
Scott Clements
United States
$24,531
8
JW Smith
United States
$18,541
Adding a few games to the mix, Daniel Negreanu was in strong contention to take down the $1,500 8-Game that concluded last night. The dream of winning his first bracelet in Las Vegas since 2008 got closer and closer to becoming reality, but ultimately it ended in third place. Philip Long and Kevin Malis went heads up, with the former winning his first bracelet for $147,348.
$1,500 8-Game Final Table Payouts
Name
Country
Payout
1
Philip Long
United Kingdom
$147,348
2
Kevin Malis
United States
$91,042
3
Daniel Negreanu
Canada
$59,788
4
John Racener
United States
$40,151
5
Per Hildebrand
Sweden
$27,585
6
Nicholas Derke
United States
$19,404
The dreams of winning a bracelet aren't limited to the superstars, as Jeremy Harkin admitted that after coming to the WSOP every year since 2003, he'd almost giving up on it. Harkin, however, closed it out, winning the $1,500 Dealer's Choice for $129,882 defeating a field of 406 entries and a final table that included Hollywood star, James Woods.
$1,500 Dealer's Choice Final Table Payouts
Name
Country
Payout
1
Jeremy Harkin
United States
$129,882
2
Frankie O'Dell
United States
$80,256
3
George Trigeorgis
United States
$52,130
4
Anthony Arvidson
United States
$34,700
5
James Woods
United States
$23,686
6
Scott Abrams
United States
$16,589
One of the favorite games of mixed game specialist, No Limit 2-7 Single Draw Lowball, crowned a winner at its $1,500 buy-in level. Colombian pro Daniel Ospina took home the $87,678 for his first WSOP bracelet, and with that the first ever for his home country. Ospina defeated a stacked final table that included the likes of Shaun Deeb, Mike Wattel, and Michael Gathy.
$1,500 2-7 No Limit Lowball Final Table Payouts
Name
Country
Payout
1
Daniel Ospina
Columbia
$87,678
2
Timothy Mcdermott
United States
$54,180
3
Shaun Deeb
United States
$36,330
4
Mike Wattel
United States
$24,920
5
James Alexander
United States
$17,494
6
Brant Hale
United States
$12,576
7
Michael Gathy
Belgium
$9,263
8
Matt Szymaszek
United States
$6,996
At this point you might wonder, do they still play good ol' Texas Hold'em at the WSOP? Well, they do, but Craig Varnell used four cards to win the enormous $565 Pot Limit Omaha event. The 2,419 entries created a first prize of $181,790, and Varnell went through former WSOP Main Event winner Jonathan Duhamel to win his first bracelet.
$565 Pot Limit Omaha Final Table Payouts
Name
Country
Payout
1
Craig Varnell
United States
$181,790
2
Seth Zimmerman
United States
$112,347
3
Omar Mehmood
United States
$81,852
4
Maxime Heroux
Canada
$60,190
5
Christopher Trang
United States
$44,677
6
Jonathan Duhamel
Canada
$33,477
7
Shaome Yang
United States
$25,325
8
Jason Lipiner
United States
$19,344
9
Ilian Li
United States
$14,920
And then it's time for a No Limit Hold'em event! Benjamin Moon took down the first ever Big Blind Ante No Limit Hold'em tournament, a format that will most likely take over in future years. Moon won $315,346 in this $1,500 event, leaving 1,305 players behind him. Moon stopped the French from winning their third bracelet of the summer as Romain Lewis took second for $194,837.
$1,500 Big Blind Ante NLHE Final Table Payouts
Name
Country
Payout
1
Benjamin Moon
United States
$315,346
2
Romain Lewis
France
$194,837
3
Colin Robinson
United States
$138,938
4
Steven Snyder
United States
$100,268
5
Nhathanh Nguyen
United States
$73,242
6
Bohdan Slyvinskyi
United States
$54,160
7
Eric Polirer
United States
$40,549
8
Raymond Ho
United States
$30,742
9
Dutch Boyd
United States
$23,605
Reaching the final winner of this overview, it was Jeremy Wien who won the $5,000 No Limit Hold'em event after an epic heads-up battle that lasted for well over four hours versus David Laka. The final table included superstars Shawn Buchanan, Jake Schindler and David Peters, but none of that trio finished higher than fourth.
$5,000 No Limit Hold'em Final Table Payouts
Name
Country
Payout
1
Jeremy Wien
United States
$537,710
2
David Laka
Spain
$332,328
3
Eric Blair
United States
$228,307
4
Jake Schindler
United States
$159,575
5
John Amato
United States
$113,510
6
Shawn Buchanan
Canada
$82,199
7
David Peters
United States
$60,618
8
Richard Tuhrim
United States
$45,538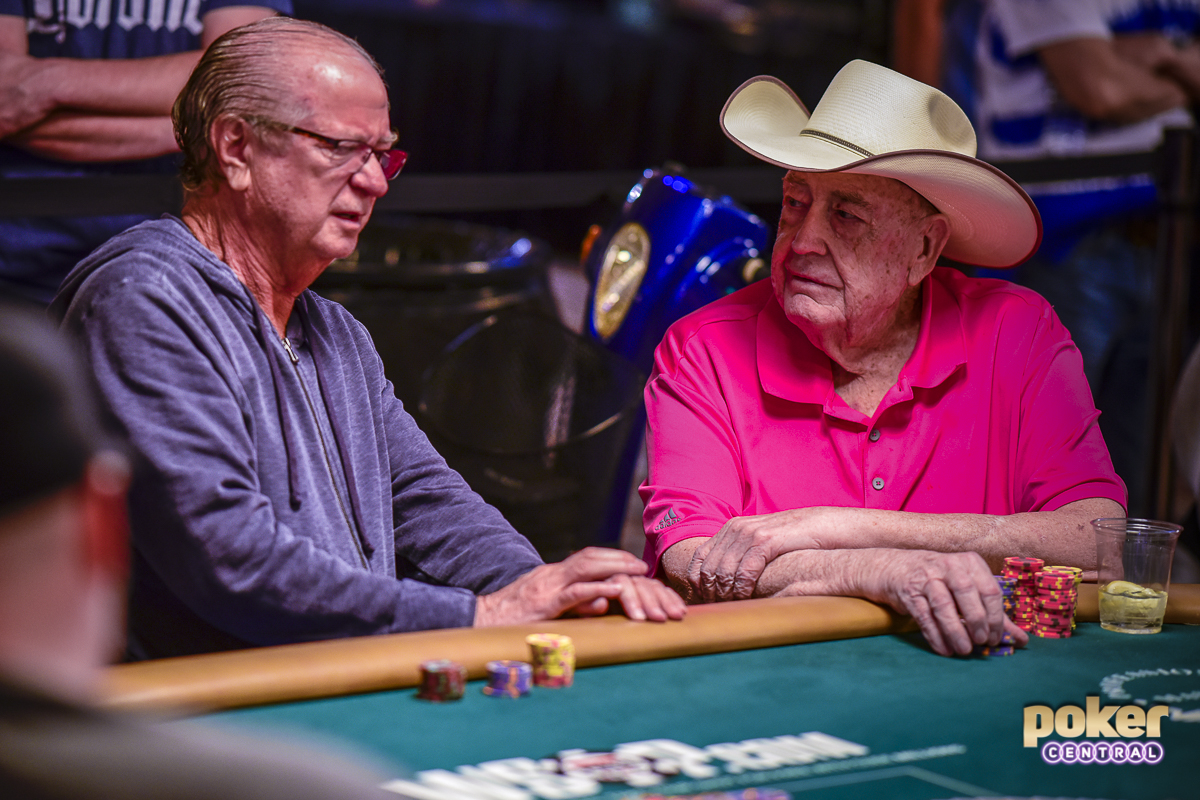 It's All About Doyle
As mentioned at the top of the article, Doyle Brunson is going for his 11th bracelet on PokerGO today. The $10,000 No Limit 2-7 Single Draw has reached its final day with 11 players remaining, including Doyle and his son Todd. Starting with a feature table stream of the table of Doyle and Todd, this will be must-watch poker. The chip counts heading into the final day are as follows.
Seat
Name
Country
Chip Count
Name
Country
Chip Count
1
Brian Rast
United States
477,000
Dario Sammartino
Italy
394,000
2
–empty–
John Hennigan
United States
87,000
3
–empty–
James Alexander
United States
21,000
4
Farzad Bonyadi
United States
440,500
–empty–
5
Mike Wattel
United States
1,293,000
Todd Brunson
United States
185,000
6
Shawn Sheikhan
United States
645,500
Doyle Brunson
United States
470,500
7
Galen Hall
United States
517,000
Ray Dehkharghani
United States
195,500
In other news, as of writing, Day 3 of the illustrious Milly Maker is underway as fewer than 150 players are left with a chance to turn $1,500 into life-changing money. The first prize in this event is $1,173,223 and the final nine are guaranteed a hefty $104,987. Big names among the top contenders include German high roller Manig Loeser, Thayer Rasmussen, Iaron Lightbourne, Joe Kuether, former WSOP Main Event champ Joe McKeehen and fellow two-time bracelet winners Steve Sung, JC Tran and Barny Boatman. The current WSOP Player of the Year leader Elio Fox is also in contention as he looks to extend his lead with another No Limit Hold'em run. The final table of this event will be live-streamed on Twitch.
The slowest event of the summer, aside from the Main Event, got underway yesterday. The $2,260 Marathon No Limit Hold'em drew 1,479 players with late registration still open for two more levels to start Day 2. Big stacks after Day 1 include Olivier Busquet, Scotty Nguyen, Gaelle Baumann and Govert Metaal. The final table of this event will be streamed live on Twitch.
Lastly, the $1,500 Seven Card Stud Hi-Lo Eight-or-Better Split event kicked off yesterday. With 596 total entries, it's Eli Elezra who sits near the top while Jeff Madsen, Philip Sternheimer and Frank Kassela also bagged up nice stacks. This tournament will rush towards the money and potentially its final table on Day 2.
Don't miss a minute of PokerGO's WSOP coverage, as we bring you all the live action you ever wanted! Subscribe right now and watch final table coverage of all the big events, as well as wall-to-wall WSOP Main Event coverage. The PokerGO WSOP Sweepstakes is still open! Sign up now for a chance to win your way into the 2018 WSOP Main Event and $1,500 towards your travel. Registration closes on June 15th.