The U.S. Poker Open kicks off inside the PokerGO Studio on Wednesday, February 13th with a $10,000 No Limit Hold'em tournament that sets in motion 11 days of high stakes action culminating with the final table of the $100,000 Main Event on February 23rd.
Today, we caught up with reigning and defending champion Stephen Chidwick who recorded a breakout performance at the inaugural U.S. Poker Open by making five final tables and winning back-to-back events for a total of $1.2 million and the championship trophy.
Given his steady stream of consistent big scores, it comes as no surprise that Chidwick has been looking forward to the U.S. Poker Open ever since its announcement last Fall and he looks back for us on that hectic, yet successful, stretch of high-stakes action last year.
"Last year's edition went better than I could have ever hoped for and was certainly a career highlight. The moment that stands out the most looking back was winning the mixed game tournament and with it bagging back-to-back wins. It's hard to describe how it felt but that was a very special moment for me."
Chidwick: In Love with the Format
Chidwick is a big fan of the U.S. Poker Open format after he won the $25,000 No Limit Hold'em tournament for $374,000 followed up by the $25,000 Mixed Game Championship for $382,500 on his way to a year that brought him a staggering $10.1 million in tournament earnings.
"The USPO is really cool with its format of playing a series of tournaments with different buy-ins and game types and rewarding the overall winner. Obviously, you still need to get very lucky to win it but it adds a lot more complexity than just having to win a single tournament."
"You are rewarded for being competent at games you don't necessarily play very often and endurance is a huge factor. Anyone in the hunt for the overall title has undoubtedly played until the early hours of the morning several times, competing against some of the best players in the world for so many hours in a shorthanded, high-pressure, high-stakes arena definitely takes it out of you."
"Last year was one of the most intense weeks of poker I've ever played and honestly I'm not sure how much longer I could have lasted at that pace. When it was all over I slept for a really long time."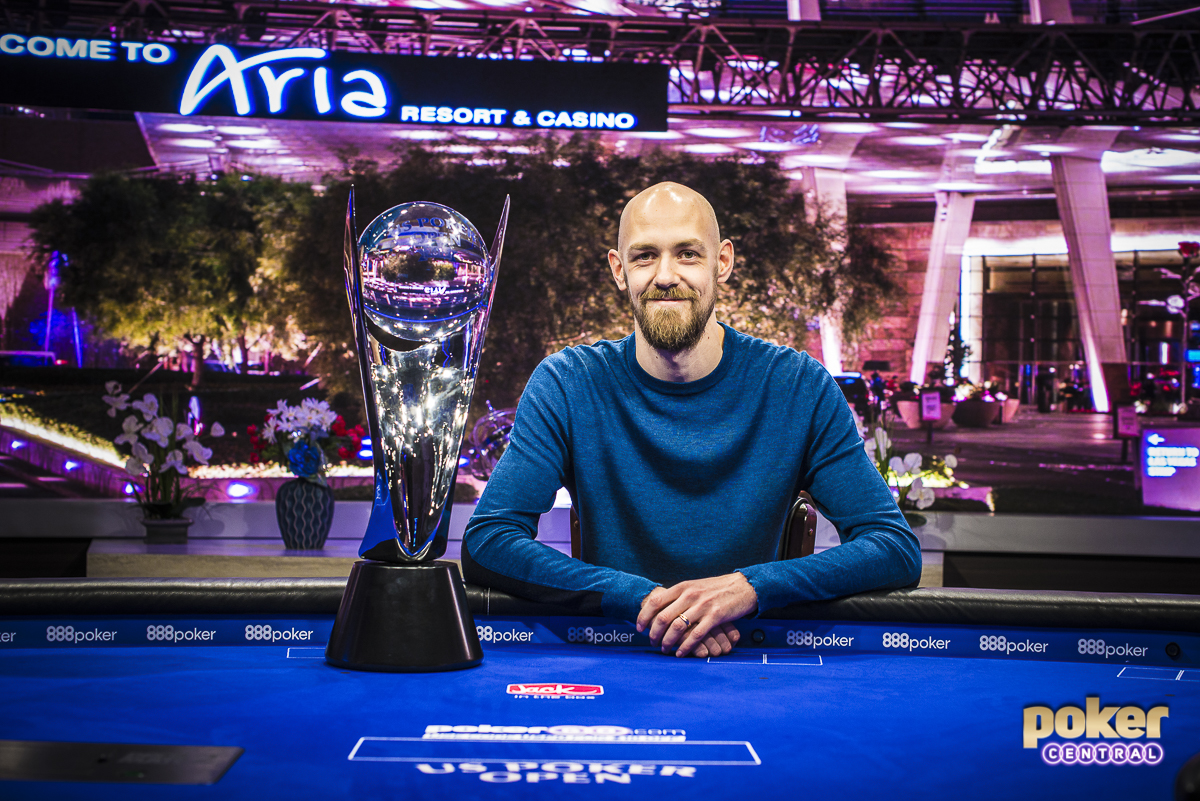 Chidwick continues his excitement for the U.S. Poker Open as it's intertwined with a combination of his competitive drive mixed with the variety of events on the schedule and battling with some of the best in the world.
"It's very exciting for me as I don't play as many non-No Limit Hold'em events as I used to and I really enjoy them. Having a chance to play some of those is great. Relatively speaking it's a smaller stakes series than a lot of the ones around these days so it should be a very relaxed and fun atmosphere."
"I love competing against the same players constantly throughout the year. I think it's important to look at your own game and try hard to improve and make sure you're not giving anything away either physically or strategically because if you do these guys are going to pick up on it and punish you for it so fast."
The Complexity of the U.S. Poker Open
The added layer of strategy, balancing, and adjustment during the U.S. Poker Open cannot be understated as Chidwick like many others competing, will spend the large majority of the year battling against the same players.
"I obviously spend time thinking about my regular opponents and how I'm going to play against them and adjust to the things I see them do and I'm sure they're doing the same thing towards me. I've been playing high roller tournaments for so long and the player pool is small enough that I've logged hundreds of hours with a lot of my opponents and become great friends with many of them."
"I like the atmosphere that comes from everybody knowing everyone else and I couldn't pick out only a few names I'm looking forward to competing against. All the dealers and floor staff at ARIA are amazing too, it just feels like a big home game and I know it's going to be a week of being put in really tough spots. Hopefully, I can mostly make the right decisions and put my friends in even tougher ones."
Poker Central has added $100,000 for the winner of the USPO Championship, and Chidwick sees this as an extra motivation not only for himself but also for other players that might otherwise not play as many events.
"The extra $100,000 definitely adds a lot of motivation to play. I would certainly have tried very hard to defend my title regardless but I'm excited for what I think it will mean for the fields. Anyone who gets off to a good start in the series is heavily incentivized to play the Pot Limit Omaha and Mixed Game events, and I expect it to give overall turnouts a nice boost."
"I think the added prize will add some interesting dynamics, especially as we get towards the end of the series. You might see the players in the hunt for the $100,000 gambling a little more during the re-entry period, trying to run up stacks, and there could be a scenario where one player needs to finish above a certain position in the last tournament and everyone knows their pay jump is $100k larger than everyone else's."
Stephen Chidwick is ready for the U.S. Poker Open, but are you? Subscribe to PokerGO right now and watch ten straight days of U.S. Poker Open final table action starting on February 14th.