Following a clean sweep in the premiere of High Stakes Duel that concluded in October 2020, Phil Hellmuth returned for High Stakes Duel II where he faced-off with Daniel Negreanu for the $100,000 prize pool in Round 1.
High Stakes Duel is a PokerGO.com original series that begins with each player posting the $50,000 buy-in. The winner progresses through to Round 2 where the loser has the first option to challenge. If the loser declines, the challenger seat is open for 30 days. The stakes will double each round where a potential $12.8 million prize pool would be reached by Round 8.
"They said 'would you play Ivey next?' and I snap said yes. They said 'would you play Dwan?' and I snap said yes. They were surprised I snap said yes," Hellmuth said about how Phil Ivey and Tom Dwan were talked about as potential High Stakes Duel II opponents before Negreanu stepped in. "I'm not afraid of anyone when it comes to heads-up, I do my own thing. Who would I prefer? I don't know."
Both Hellmuth and Negreanu had a heated exchange on PokerGO's newest show, No Gamble, No Future, where eventually High Stakes Duel II would be announced. Action didn't slow down online as both players continued to fire off tweets while other highly respected people in the poker community also joined in.
"It's been really interesting to get a sense of where people stand on who is going to win," Negreanu said on how this match has been perceived on social media. "I think when you look at most of the professional poker community – the people that have played and understand how much the game has evolved – they think I'm a big favorite."
"Jason Koon told me, 'you're the greatest poker tournament player of all time' which is the voice of that generation, but Negreanu won't tell me that," Hellmuth said on if he feels disrespected in the poker community. "No one has won as much as I have if you go back 20 or 25 years. You have to do at least 25 years I think before you can start talking about the greatest of all time. You can't do it for just 10 or 15 years. Greatest of all time in poker, we play till our 70s. I think it's very clear that I'm the greatest tournament player of all time."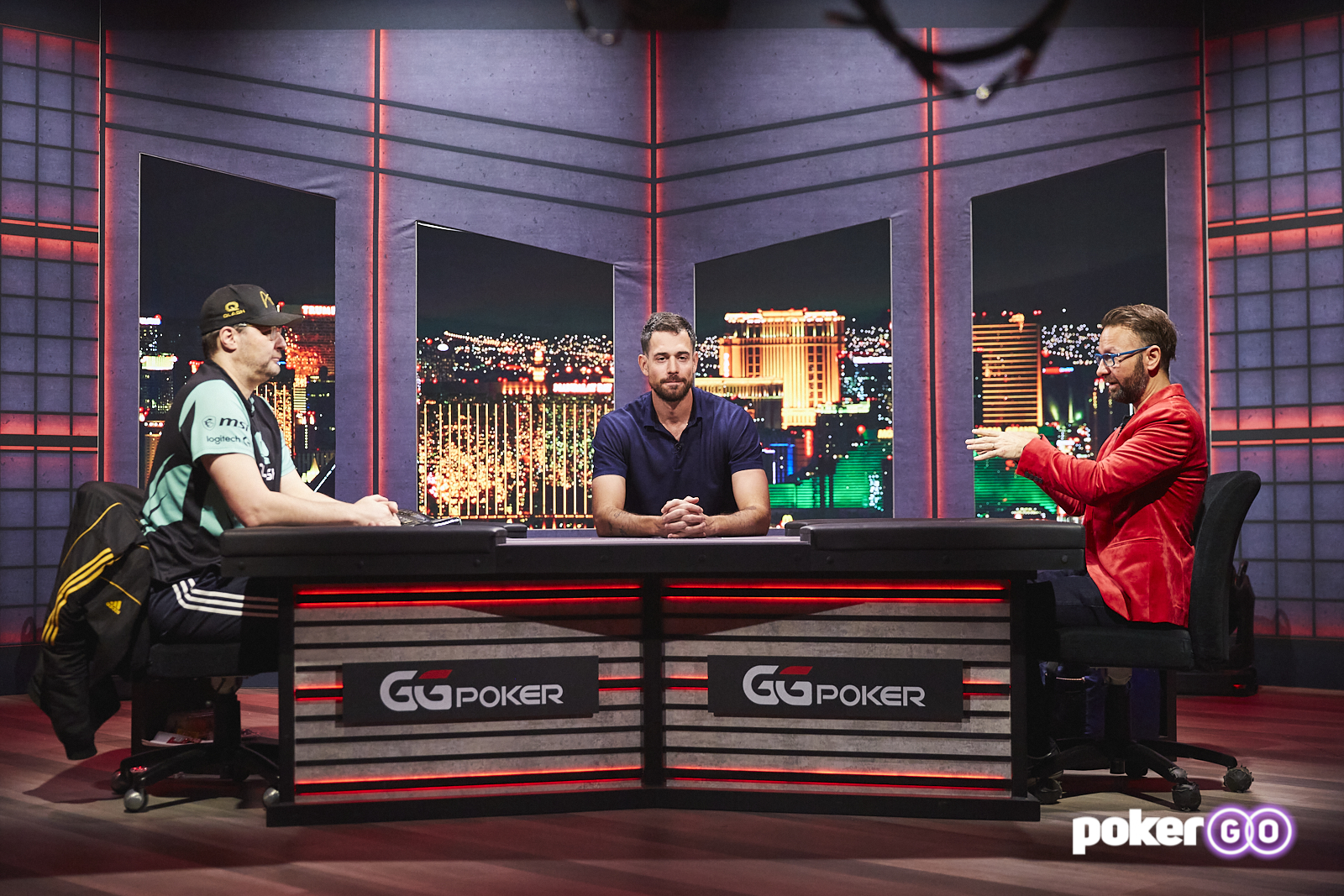 The Hype Show and The Weigh-In Return
The Hype Show and The Weigh-In returned for High Stakes Duel II, and aired for free across all PokerGO platforms. Ali Nejad and Nick Schulman co-hosted The Hype Show on Tuesday night, and the two discussed the upcoming match between both Hellmuth and Negreanu. They talked about the keys to victory for both players and then took a glimpse into what had been said on social media recently.
Schulman returned the following evening for The Weigh-In where he would be tasked as the keeper of the peace once Hellmuth and Negreanu finally took a seat opposite each other. Hellmuth began the show with his personalized High Stakes Duel Championship Belt sitting alongside him, and he immediately came out hot with his thoughts on how he believes he is the greatest poker player of all-time, and in rebuttal, Negreanu turned his attention to Hellmuth's results in high roller events.
Hellmuth then looked to Schulman where he called out his commentary in High Stakes Duel against Antonio Esfandiari. Hellmuth rose to his feet as he began to rant about some of the hands he had played against Esfandiari.
"What does that tell you?" Hellmuth asked. "To me, that's apex predator shit, bro. I can save one big blind with king-ten against king-jack. I can save one big blind in these two amazing spots. And then I call off 44 big blinds. You didn't like any of those plays. And to me, this is white magic. Apex predator shit. King Kong shit. What do you have to say?"
After Hellmuth was finished – which also included beating his chest when saying "King Kong shit" – it was Schulman and Negreanu that both sat there in shock. Both Hellmuth and Negreanu continued to critique the other and throw some jabs before Negreanu would produce his first prop of the night – a preflop range chart.
"Guys," Schulman said to close The Weigh-In. "Saddle up. Let's go!"
Round 1 Underway
Once cards were in the air for High Stakes Duel II, things immediately began in Negreanu's favor as he won pots with two-pair, pocket aces, running trips, and then a rivered flush. The first major pot would see Negreanu raise-call with king-nine suited to be against Hellmuth's pocket jacks. The flop brought a king and Hellmuth bet out on every street with Negreanu calling him down and tabling the winner. This would incite the first rant from Hellmuth, and as compensation, Negreanu slid over a box of tissues to Hellmuth who picked them up and threw them across the set.
"I knew you would get lucky," Hellmuth said to Negreanu. "But I still thought I would win."
The expletives continued from Hellmuth before he added, "Just imagine if you really bared down, and worked really hard from here on out, you could win this match."
The two then continued to trade blows before Hellmuth's trademark pocket nines would be tripped up by Negreanu as he flopped three fours with six-four suited. Hellmuth paid off Negreanu's river bet and was down to roughly 7,000 in chips as Negreanu sat nestled behind a 93,000-chip stack.
"You know, you might win this fucking match," Hellmuth said as he paced away from the table. "But I'll tell you what, I hate the way you fucking played. You played so fucking bad it's crazy."
"In case you need it," Negreanu said as he retrieved a white towel and began waving it at Hellmuth. "It's for you if you want. Should I do it? Because Rocky didn't do it when Creed was getting crushed. And he didn't do it, and Creed died. And I don't want to see bad things happen to my buddy."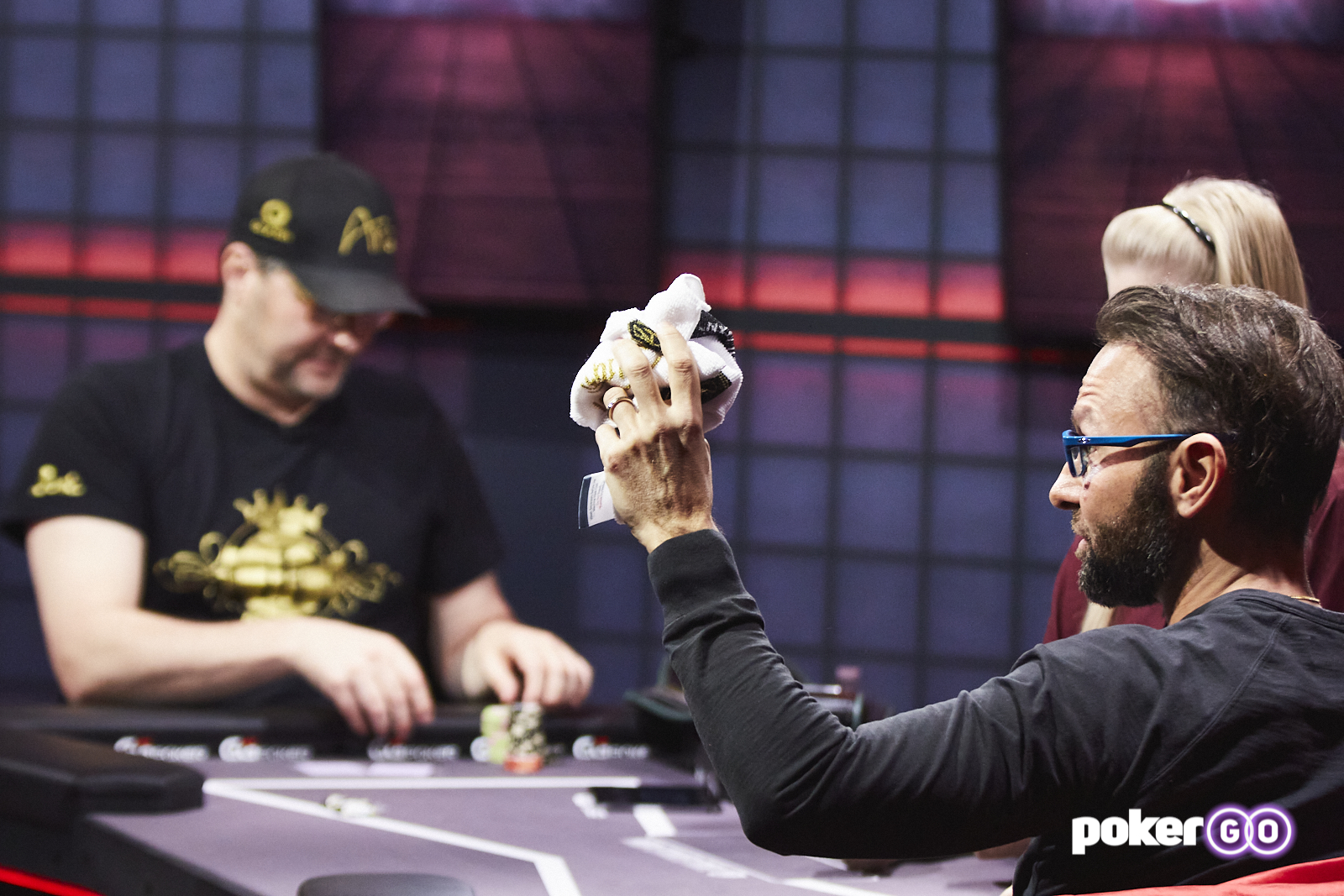 The Comeback Begins
Hellmuth sunk as low as having roughly 3,000 in his chip stack before he began to mount a comeback. He picked off a Negreanu bluff, and then bluffed with just nine-high to prompt Negreanu to fold pocket queens on a flop that produced two overcards. Hellmuth then found a double when he was all-in with a flush draw and gutshot against Negreanu's inferior flush draw and straight draw. Hellmuth spiked his gutshot and was back to being at just a four-to-one disadvantage.
The eighth level of play would be another turning point for Hellmuth when he flopped second pair against Negreanu's top pair. Hellmuth improved on the river to two pair and grew his stack to roughly 40,000 as Negreanu was down to 60,000 in chips. Hellmuth clawed his way back to being nearly even before he played a hand where he rivered a flush and raised Negreanu's bet. Negreanu stated he didn't see the flush fill on the river and opted to fold while dropping to 36,000 in chips as Hellmuth sat at his peak of 64,000.
The cold deck that had struck Hellmuth early, had now made its way to Negreanu as he dropped down to being at a three-to-one disadvantage. Negreanu had flopped a flush draw and turned top pair, but Hellmuth rivered the nut straight as the action checked through. Negreanu would slide down to just 10,000 in chips, but he managed to find two doubles to stay alive. One where he rivered a straight, and then another where he held on with ace-high.
However, the nail in the coffin would come with Negreanu sitting with just seven big blinds and seven-six suited against Hellmuth's pocket nines. Negreanu asked the dealer for a fun sweat, and he would see a straight flush draw on the flop, but inevitably two bricks would follow, and Hellmuth would collect the Round 1 victory in High Stakes Duel II.
Phil Hellmuth and Daniel Negreanu Ready for Round 2
With Hellmuth securing his fourth consecutive High Stakes Duel victory, he was met with an immediate challenge with Negreanu having confirmed that he will step up for Round 2 where there will be $200,000 in prize money available for the winner.
"I would rematch Phil for eternity," Negreanu said before a single card was dealt in High Stakes Duel II. "There is no possible way I would say no to a rematch with Phil Hellmuth."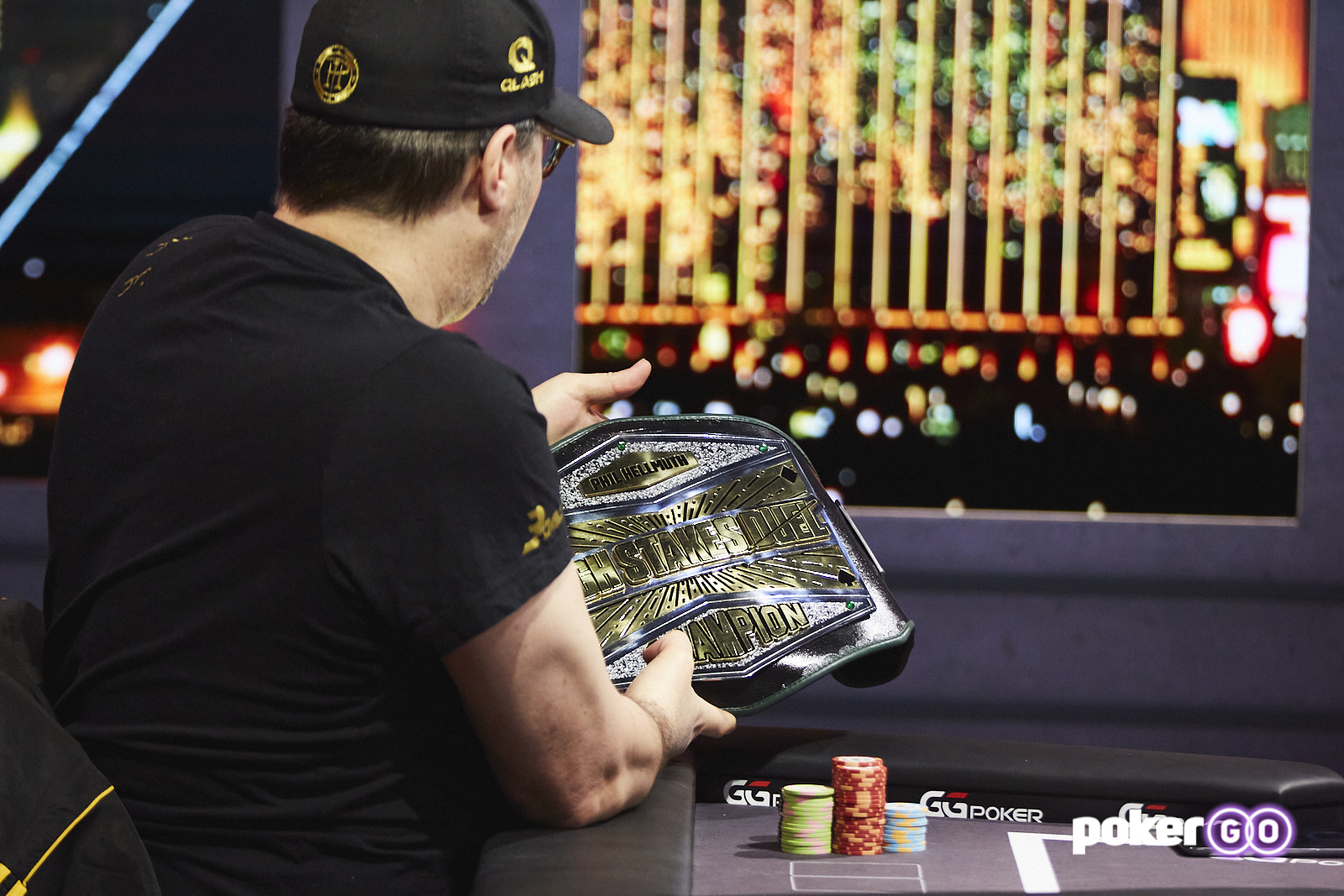 "I think he affected me mentally by attacking my legacy a little bit. I felt like I had been under attack all month," Hellmuth said on the jabs and props Negreanu used throughout the match. "I felt like I had earned this legacy of being the greatest poker player of all time because I've been winning tournaments since 1988, and there has been no one else that has been doing it that long. So, there is no other candidate. I'm not even bragging when I say I'm the greatest of all time. He just wasn't even giving me that credit. Just give me that, at least."
"They thought I was afraid to play Antonio heads-up, and I smacked him," Hellmuth said. "I'm not afraid of anything."
Hellmuth's victory over Negreanu is another step forward in proving the doubters wrong. However, he'll have to continue to fight for the respect he feels like he deserves as Round 2 of High Stakes Duel II inevitably awaits around the corner. Hellmuth will face-off with Negreanu for the $200,000 prize pool on PokerGO.com, with a date for the match to be announced shortly.
Connect with PokerGO on Facebook, Twitter, and Instagram. Use code "HSD2" for $20 off an annual PokerGO.com subscription now!