About 30 minutes into not winning the World Series of Poker Main Event, Tony Miles found himself surrounded by his closest friends and family. Slowly making his way to the exit of the Amazon room, a red blush on his face, tears in his eyes, and with an arm around his shoulder, Miles departed the room in which he rode a week-long roller coaster with a second place as his final destination.
The $5,000,000 payday will eventually wash away the pain of defeat, but the way Tony Miles competed, celebrated each pot of importance, and repeatedly stated his desire of winning the Main Event not only for himself but for everyone supporting him through the peaks and valleys of life, it will probably take more than a good night's rest to celebrate his accomplishment.
"After the disappointment of losing, which there is some of, subsides, I'm sure I'll be very happy that I'll be able to help my family and do some traveling. It's truly a blessing to be here, I ran way above average to get to this spot and I'm very grateful for that."
Falling just one elimination short of having his banner hanging inside the Amazon, Tony Miles showed a lot of heart in what turned into the longest heads-up battle in Main Event history. Playing more than 10 hours a day for 10 straight days on little sleep and with the stress and adrenaline increasing every day, Miles shares kind words for the man that proved to be a bridge too far on his Championship quest.
"This was a war and it was amazing. I have a ton of respect for John and I'm sure this will go down as one of the best heads-up matches in history. John's going to be a great champion, and I'm very happy for him."
Receiving coaching from the rail lead by Shaun Deeb and Pierre Calamusa, Miles worked on visualizing all possible scenarios, game dynamics, and varying playing styles. On the final hand, which turned out to be a bizarre one, Miles thought he'd seen one of Cynn's cards. This thought, along with mental fatigue, affected the decision-making of Miles, who explained he might not have tried the big bluff that ended up backfiring if it wasn't for that information.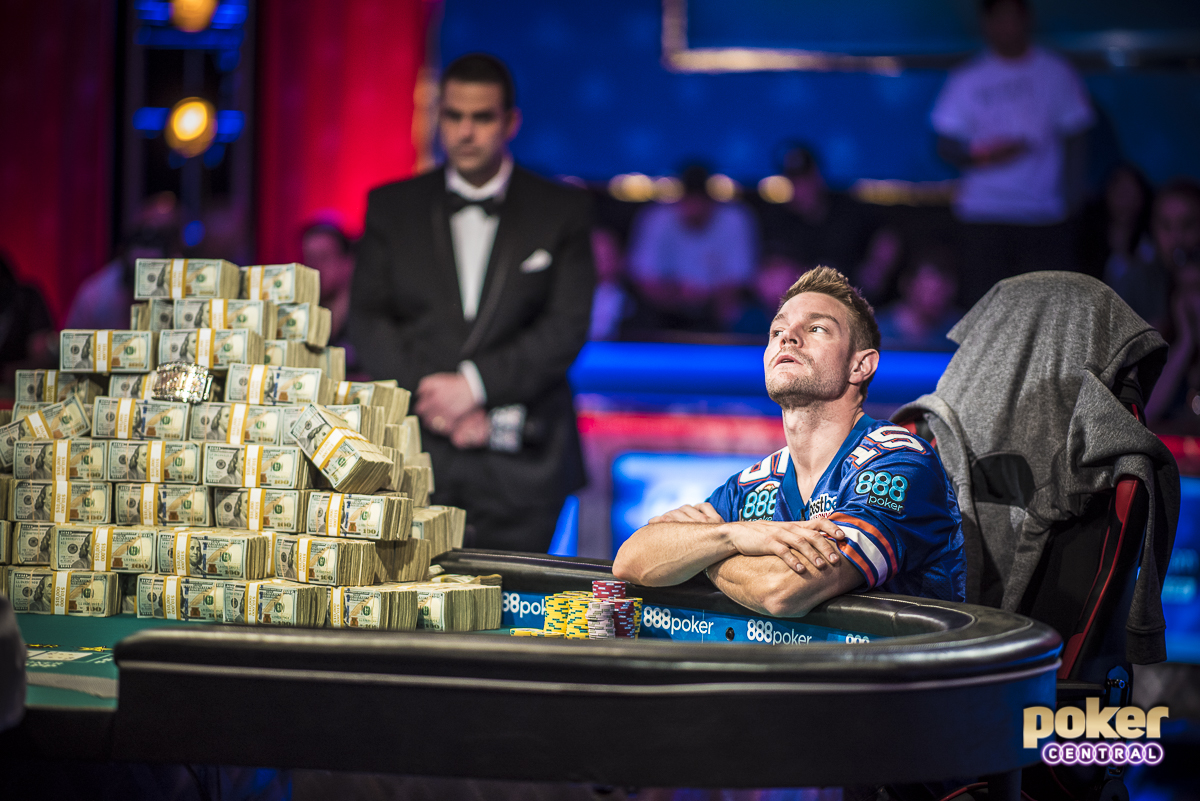 The final hand played out as follows, with John Cynn raising from the button to 9 million and Tony Miles three-bet to 34 million holding queen-eight offsuit. Cynn called, the flop bringing two kings and a five. Miles bet 32 million and Cynn called. On the turn, the eight-of-diamond which put a second flush draw out there, Miles shoves for 114 million and after some deliberation, Cynn called with king-jack of clubs. The river could not save Miles, and the four of spades completed the board and ended the tournament.
Looking back on the experience as a whole and the support he received from his rail, Miles was visibly and vocally grateful of all that he went through across more than 100 hours of poker.
"Win or lose, I told myself that I would do it with grace. These are the moments you live for, when you can make your parents proud, and I was happy that I was able to do that."
Only time will tell whether we'll see Tony Miles back on the big stage, but with good intentions and a positive attitude, it seems as though he'll be a part of the community for a long time with the potential to inspire new players to take the game more seriously.
"There are just so many similarities between poker and life. You can play your best but you're not going to win all the time. In life, you can do your best, but sometimes you're going to fail. The important thing is that you get up again. I love this game, I'm very passionate about it, I look forward to promoting it and I look forward to being an ambassador of it.
Subscribe to PokerGO right now and enjoy more than 100 days of live poker action every single year, as well as an extensive on-demand library with all your favorite poker content.