The first gold bracelet of the 2021 World Series of Poker was captured on Friday, October 1, and it was Jeremy Ausmus as the player to grab the first title of the series.
"Good," Ausmus relayed about how he felt to score the early-WSOP win. "I couldn't have started the summer any better — it's not the summer anymore, but yeah."
Ausmus topped a field of 260 entries in Event #3: $1,000 Covid-19 Relief No-Limit Hold'em Charity Event to win $48,681 and his second WSOP gold bracelet. The event was played with a turbo structure throughout, having only 20-minute levels, allowing it to end in two days. On the final day, five players remained and Ausmus was second in chips behind Jesse Lonis. Ausmus maneuvered his way to heads-up play against Lonis but started at a 3-to-1 chip deficit. Ausmus eventually doubled through Lonis and then went on to win when his
topped Lonis'
on the final hand.
While the result may not be the biggest score on Ausmus' résumé, he had no complaints about getting the victory after being in a bit of a drought. Before this win, Ausmus' last live tournament victory was all the way back in 2014 in a Venetian Deep Stack Extravaganza tournament.
"Not too much," Ausmus responded when asked what getting a win out of the way early in the WSOP would do for his confidence. "I mean, this price point was pretty small. It's almost hard to win a tournament this small at the World Series. It's kind of funny. I haven't won a live tournament in a long time. I've gotten many seconds, but I haven't won one for a while and then it's funny, I win this turbo for $50K. I won't complain, though.
"That being said, if I just popped one off for $500K, it makes everything a lot easier when you're on a big winning streak. I'm really still not on a winning streak for this year. I haven't done too well, but it does kind of add momentum and things like that, ya know?"
One of the second-place finishes Ausmus referenced was not too long ago. Just last month, he made three final tables during the 2021 Poker Masters series, with one of those resulting in a second-place finish for $146,200. Those three final tables earned Ausmus $253,200 and entering this event he had cashed for more than $500,000 on the year. With Ausmus feeling good about his game, it seems that it was more of a matter of time before he landed his next win.
"I feel like I'm better than I've ever been," Ausmus said, confident yet with a humble tone. "I feel like I've not run good on the high-roller scene for the last year, so you just never know when you play poker for a living. You have to be honest with yourself and that's one of the biggest challenges because there's not something that just tells you the answer if you're playing good or playing bad or if it's luck. You kind of just have to figure it out. If you think you're playing good, you just have to believe in that and keep playing the same way. So yeah, I feel like I'm playing better than I ever have. There's a fair amount of volatility in these things obviously, and in this one especially, the turbo that I won."
Being someone who frequents many higher buy-in tournaments, such as the ones often found at the $10,000 and $25,000 buy-in level as part of the PokerGO Tour presented by Guaranteed Rate, Ausmus seemed a little surprised to see so many of the regulars he competes with in those high buy-in events playing in this event. With that, he pointed to one of the top qualities many winning poker players have, which is the ability to adapt to your competition.
"It's funny, I saw a lot more people playing this tournament than I expected who I play with at the PokerGO Studio at ARIA, like Ali
and all these people," Ausmus said. "When they're not there and it's just people you don't know, which is what you get a lot of times in these more typically, I play differently. You have to adjust to that. You can get away with a lot that you can't against someone like Seth Davies or Ali
or Sam Soverel at the PokerGO Studio because they just know their stuff really well."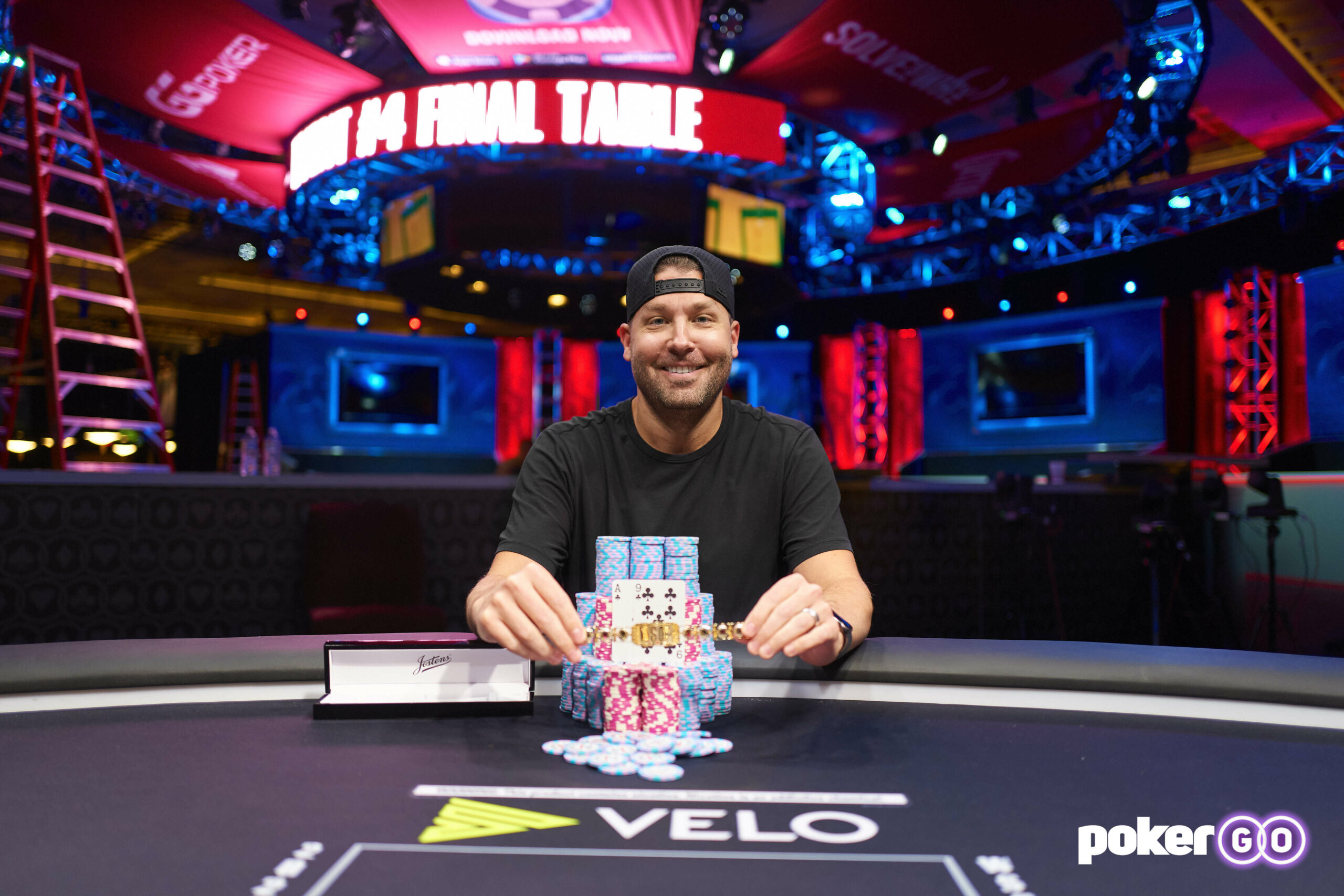 Whether you've been to the 2021 WSOP on one of these early days or have just been following along with the chatter on social media and throughout the community, there's plenty of buzz about the World Series of Poker being back in action. There's buzz every year, of course, but this year feels a little different, with heightened levels of excitement and eagerness, and with good reason. The last time a live World Series of Poker was held was in the summer of 2019, which was more than two years ago. Like most poker players at the 2021 WSOP, Ausmus is happy to be back at it. 
"It's good to be back," Ausmus said. "It's crazy it's been almost two and a half years since the World Series. I think everyone is excited, and it shows by the amount of high rollers I saw in this $1K. People are ready to play. Everyone wants to play the WSOP."
The time slot may be different this time around, but Ausmus seems to be enjoying it so far with the cooler weather and a lighter load on the family side of things, especially for his wife, who would usually be dealing with the kids at home from school during summer break.
"It's probably a little better, easier for my wife," Ausmus said. "Normally in the summer, I'm just gone all of the time and the kids are home. Now, the kids are at school when I'm going to be gone all the time. You see them less and all of that stuff, but I think everyone will like this time better. It's nice walking in and it's cool outside. It's a little weird."
Looking ahead to the rest of the WSOP, we can expect to see Ausmus in the mix for just about everything. He's known to play a wide variety of games, including many of the mixed games and then his other gold bracelet win is in a pot-limit Omaha event, but Ausmus doesn't claim to have a set schedule. Rather, he takes it day by day, checking the schedule regularly and deciding what he's in the mood for.
"I kind of every year just play it day by day," Ausmus said. "I do kind of play everything. I was maybe going to play the $25K H.O.R.S.E. today, late register it, and then I decided to play this instead. I kind of just look at the schedule that day or the day before and decide if I'm going to play. I'll be here playing tournaments mainly and not cash or stuff like that."
Connect with PokerGO.com on Facebook, Twitter, and Instagram. Use code "WSOP2021" for $20 off an annual PokerGO.com subscription now!