This week, Doyle Brunson sat down in the PokerGO Studio as the centerpiece of the first session Dolly's Game. Brunson participating in this game was the perfect opportunity for us to catch up with him, and you can listen to the full interview right here on the Poker Central Podcast.
One of the things we wanted to discuss with Texas Dolly was the makeup of the Dolly's Game lineup and game selection. As he alluded to in the earlier interview, Brunson is up for any stakes, once the mix of games is set. Everyone, however, has their preferences when it comes to what their absolute favorite game is, and the answer Brunson gave might surprise you!
"My favorite game is Razz," Brunson said without hesitation.
"It's an old-time game and when I first came to Las Vegas about 50 years ago, it was the game of choice. Because of that, I played a lot of it, and I think that for many players these days it's their worst game and I tend to add a lot of Razz to the mix!"
Dolly's Game saw its debut on PokerGO this week with a seven-handed $400/$800 2-7 No Limit Single Draw Lowball cash game that was headlined by Doyle Brunson along with Billy Baxter, Shawn Sheikhan, Lyle Berman, David Grey, Ron Kirk, and Majid Yahyaei. Relive the entire first session with commentary by Ali Nejad and Randy Ohel right here.
While Brunson's love for Razz might not be reciprocated by many poker players, his love and passion for No Limit Hold'em is. As Dolly's Game looks to offer players and fans a chance to enjoy high stakes mixed games on a regular basis, it's good to know that Brunson still loves the game he once dubbed 'The Caddilac of Poker'.
"We'll include some No Limit Hold'em," Brunson said about the upcoming Dolly's Game sessions.
"I'm curious to see what they know and what I don't know," Brunson said about the current state of the game, and how the young players have taken over.
"They tell me that the Holde'm players have perfected the art of Hold'em a bit more than the older guys, which I don't know for sure because I haven't played against any of the young guys."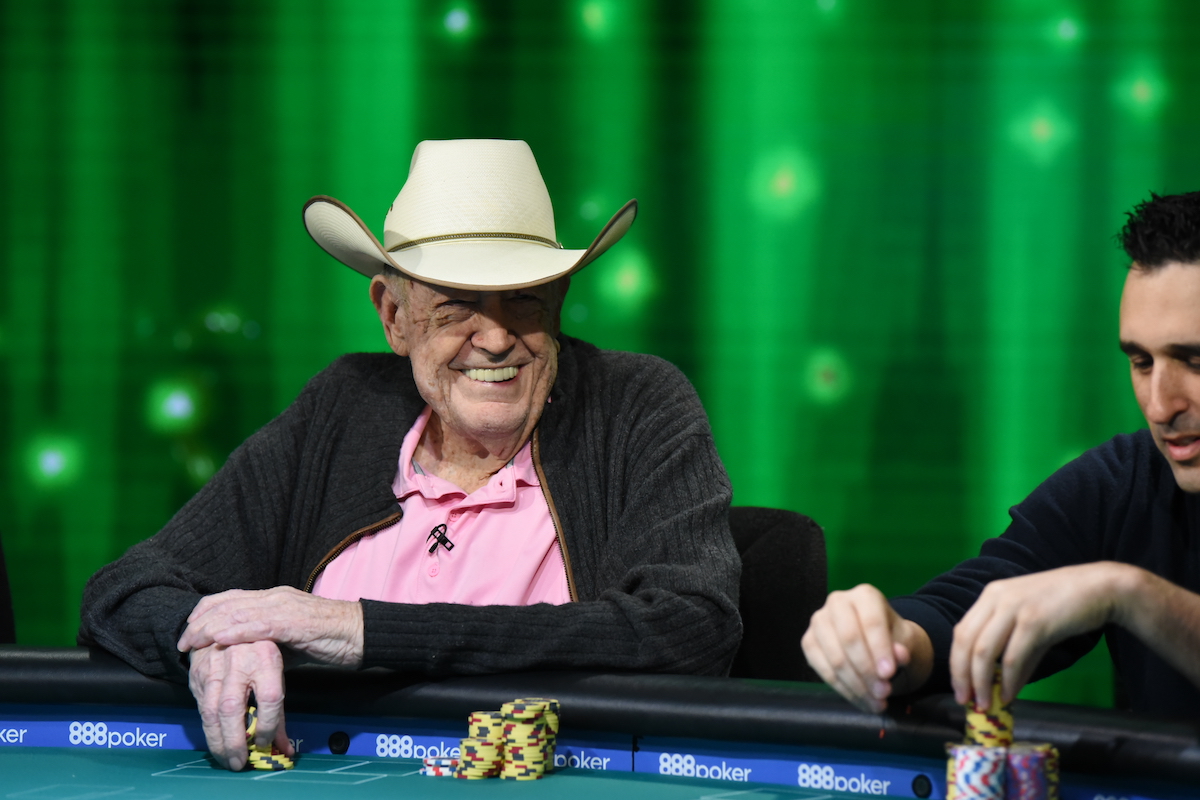 While the fun, yet, unconventional combination of Razz and No Limit Hold'em might be on deck, Pot Limit Omaha seemingly has found itself taking a backseat.
"I'm not going to have a lot of PLO in there, because I think it's my worst game, and while I think that for many other players it's their best game. And look, I'm still going to try to pick some games that I can win at!
"I don't mind playing it in a mix, but I don't think I would fare too well playing with the best PLO players in the world. My record in PLO tournaments is pretty good though, but there are just a few things I see that they do better than me."
When it comes to other formats and the new Short Deck Poker hype, Brunson has little interest and no experience. Looking back at when Brunson came up, traveling around the US to play poker for a living, things were a bit different and while some might assume otherwise, the games spread were mostly regular formats.
"Back in the old days, when we were on the road, we played No Limit Hold'em and 2-7 Lowball mostly. Those were basically the two only games that were being played. In California they played lowball, on the East Coast they played Seven Card Stud and in the South and in Texas we played Hold'em and 2-7 Lowball No Limit, while on the coasts they played limit games."
Brunson is curious to see which players will join him for future editions of Dolly's Game, and if the action in Bobby's Room is any indication, we might be looking at some crazy mixes. Recently, the Bobby's Room mix has been 11 games with six limit games and five no limit variants, while the Hybrid Mix, also in Bobby's Room, features, even more, no limit games.
"I think the viewers will get a lot for their money. A lot of good poker players, and hopefully I can find some bad ones too!
New to PokerGO? Subscribe right now to never miss another minute of the action. Next Dolly's Game: February 5-6.