Everyone Loves Gabe
Of all the celebrities that ever attempted a check-raise, nobody has spent more hours under the bright lights than Gabe Kaplan. Kaplan is one of the most prolific celebrity poker players of all time and considered by the younger generation as a poker pro rather than the celebrity he became in the seventies. Kaplan starred on "Welcome Back Kotter", and appeared on "The Tonight Show Starring" Johnny Cason numerous times.
Kaplan recorded his first live poker result in 1979, made four World Series of Poker final tables and he came very close to winning the World Poker Tour Mirage Showdown in 2004, finishing third behind Lee Watkinson and Eli Elezra. On PokerGO you can watch the comedy star play on 10 different Poker After Dark shows, as he entertains both on and off the felt.
No matter what lineup Kaplan was featured on, it always turned into a chatty affair with tons of funny moments. On the second week of the first season of Poker After Dark during "Play Anything," Kaplan joined Daniel Negreanu, Doyle Brunson, Mike Matusow, David Grey and the late Los Angeles Lakers owner Jerry Buss. Kaplan made another appearance in Season 1, battling on "Talking Heads," where he faced off against fellow poker commentators Mike Sexton, Howard Lederer, Phil Gordon, Michael Konik and the late Chad Brown.
Phil Gordon got his wish versus Gabe Kaplan during "Talking Heads" in Season 1.
On the second season, Kaplan made an appearance on "Queens and Kings" in which he was flanked by Ali Nejad and Howard Lederer in a battle of the sexes versus Annie Duke, Vanessa Rousso, and Kristy Gazes. In a clash of old-school poker pros, Kaplan then played on "Cowboys" versus Doyle Brunson, Chris Ferguson, Andy Bloch, Chau Giang and Hoyt Corkins during the third season of the show.
As Poker After Dark expanded into the realm of cash games, Kaplan remained a mainstay on every season. During the fourth season – mostly known for the debut of Tom Dwan – Kaplan played on "Speak Your Mind" with Todd Brunson, Phil Hellmuth, Phil Gordon, Cory Zeidman and David Grey, as well as the big $100,000 buy-in cash game featuring Bellagio Bobby's Room regulars Patrik Antonius, Howard Lederer, Dee Tiller, Doyle Brunson and Eli Elezra.
One of Kaplan's greatest moments during "Queens and Kings," the first of his three victories on the show.
Kicking off Season 5, Kaplan mixed things up with the young guns playing on the "Nets vs Vets," cash game with a $100,000 buy-in. Going up against three big names from the Cardrunners website, Cole South, Taylor Caby and David Benefield, it's Kaplan who slots in as a "Vet" along with Doyle Brunson and Eli Elezra.
On the final two seasons of the original run of Poker After Dark, Kaplan returns for the return of "Commentators" week where he battles with Kara Scott, Howard Lederer, Joe Sebok, Ali Nejad, and Mark Gregorich. And then, in one of the most epic cash games on the show, he takes on Eli Elezra, Patrik Antonius, Alan Meltzer, David 'Viffer' Peat and Tom Dwan on back to back $150k Cash Game shows.
The Legend of Laliberte
While the legend of Gabe Kaplan is well established, there are more celebrities that have appeared on Poker After Dark over the years. Highly respected for his eagerness to measure his skill against the best in the world, Cirque du Soleil owner Guy Laliberte is one of the game's favorite celebrities. Not only because of his play, but also through his charitable efforts with his One Drop Foundation, Laliberte has been a fan favorite for many years.
Surprisingly, Laliberte only played on Poker After Dark once back in Season 4 when he played against Tom Dwan, Phil Hellmuth, Mike Baxter, Allen Cunningham and David 'Viffer' Peat. There were more than a million dollars on the table in this cash game, and especially the "Director's Cut" of this show is among the most notable televised cash games ever recorded.
The High Roller for One Drop, an event hosted by Laliberte's One Drop Foundation, was shown live on PokerGO in 2017. The $111,111 tournament was won by Doug Polk, and you can watch the highlights from that final table right here.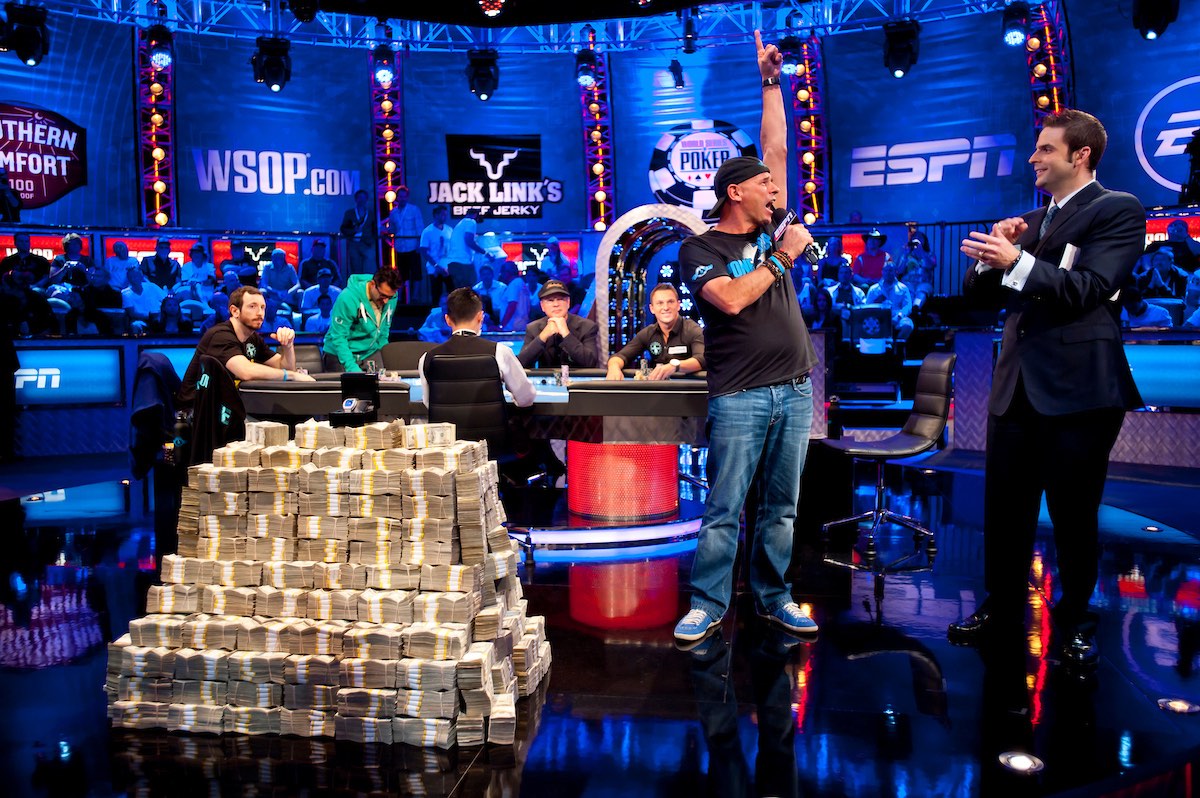 Tilly Loves the Action
Currently featured on "Moving Violations" along with Don Cheadle and Antonio Esfandiari, Jennifer Tilly has been a fan favorite ever since making headlines at the 2005 World Series of Poker by winning the Ladies Event bracelet. Tilly's love for poker runs deep, and she made her first Poker After Dark appearance in Season 1 along with Jennifer Harman, Phil Ivey, Erick Lindgren, Phil Gordon and Patrik Antonius on "Killer Table."
Tilly returned in Season 3 when – along with her longtime boyfriend Phil Laak – she played on "Love at First Raise," versus the then couples of David Benyamine and Erica Schoenberg, and Jennifer Harman and Marco Traniello.
In the fifth season of the show, Tilly makes one more appearance on "Dream Table III" when she's one of the five players picked by lucky amateur Arnold Thimons. Mike Matusow, Johnny Chan, Phil Laak and Daniel Negreanu make for great TV, creating another binge-watch series of episodes.
MMA Legends and Don Cheadle on Poker After Dark
One of Tilly's opponents on this week's Poker After Dark, Don Cheadle, also shares in her passion for the game. The Academy Award nominee for his role in Hotel Rwanda hosted the Ante Up for Africa charity event in 2009, and huge Hollywood stars Matt Damon, Ben Affleck, Sarah Silverman, Montel Williams, Nelly and Charles Barkley were among those playing for the good cause at the World Series of Poker.
Cheadle himself made an appearance on Poker After Dark during "Celebrities & Mentors" in Season 5. Known among poker fans for his role in the blockbuster "Oceans" franchise, Cheadle went up against Seinfeld star Jason Alexander, Hall of Fame baseball pitcher Orel Hershiser and their mentors Gavin Smith, Phil Gordon, and Barry Greenstein.
On the next season of the show, three mixed martial arts legends exchanged blows on the felt as Randy Couture, Dan Henderson, and announcer Bruce Buffer went up against Howard Lederer, Erick Lindgren, and Patrik Antonius. Of the three celebrities on this show, Buffer is by far the most accomplished players with $350,000 in live tournament earnings and multiple World Series of Poker and World Poker Tour cashes.
Comedic Genius in the Super High Roller Celebrity Shootout
The 2015 Super High Roller Celebrity Shootout was an event like no other. Five celebrities were pitted against each other, and what a cast of characters it was! Norm McDonald, Hank Azaria, Brad Garrett, Don Cheadle, and Kevin Pollak went at it to create one of the most talkative and hilarious poker shows ever to be created.
All five celebrities in this game had prior big game experience, with Azaria, Pollak, Garrett, and McDonald having played in the WSOP Main Event in the past. Pollak, however, most known from his roles in A Few Good Men, The Usual Suspects, and Casino, holds the bragging rights over his opponents on this show with a very impressive 134th-place finish in the 2012 Main Event.
Watch the whole Hollywood spectacle unfold on PokerGO right now. The pros had their fun too, as the winner of each table in this shootout format would face the other to play heads-up for $1,000,000. Daniel Negreanu, Phil Hellmuth, Doyle Brunson, Antonio Esfandiari, and Vanessa Selbst had their fun, and you can watch that unfold right here. Ready to skip to the epic heads-up battle for $1,000,000? Watch that right here.
Hollywood stars Don Cheadle and Brad Garrett clash with kings versus queens in the Super High Roller Celebrity Shootout.
Big Names Play for a Great Cause
Last but not least in this overview of celebrities player on PokerGO, the 2016 Poker Central Charity Shootout. This event was headlined by skateboarding legend Tony Hawk, actors Jennie Garth, Jackie Cruz, and Tyler Posey and MMA legend Chuck Liddell. Along with the lone online qualifier, Jennifer Maddox, the players at this table try to finish in the Top 3 to face off against poker pros Phil Hellmuth, Maria Ho, and Daniel Negreanu. If you love yourself some heads-up action, you can skip right to that part as the pros take on the luckiest celebrities at the final table of this event.
New to PokerGO? Sign up now and enjoy more than 100 days of live poker action every year, and an extensive on-demand library that includes all your favorite poker shows. Can't get enough of celebrities playing poker? Here's a look at the Top 5 Hollywood poker players, including some names you'd recognize from the action on PokerGO.