Angelina Rich is not from Australia. For years, she's been listed on poker sites as living and being born "down under" after spending several years playing online poker with a group of friends in Australia. For the record, Rich was born in Seattle, Washington, and raised in Portland, Oregon. She now lives in Austin, Texas, and is among those looking for a deep run on Day 2ABC at the World Series of Poker Main Event.
"I started playing poker in Australia and they never updated," she says of her poker information online. "My career started there and I was there for three years. I'm like an honorary Australian."
After seven times playing in the Main Event and three times reaching Day 3, Rich is now hoping to extend that even more for at least a min-cash and maybe more.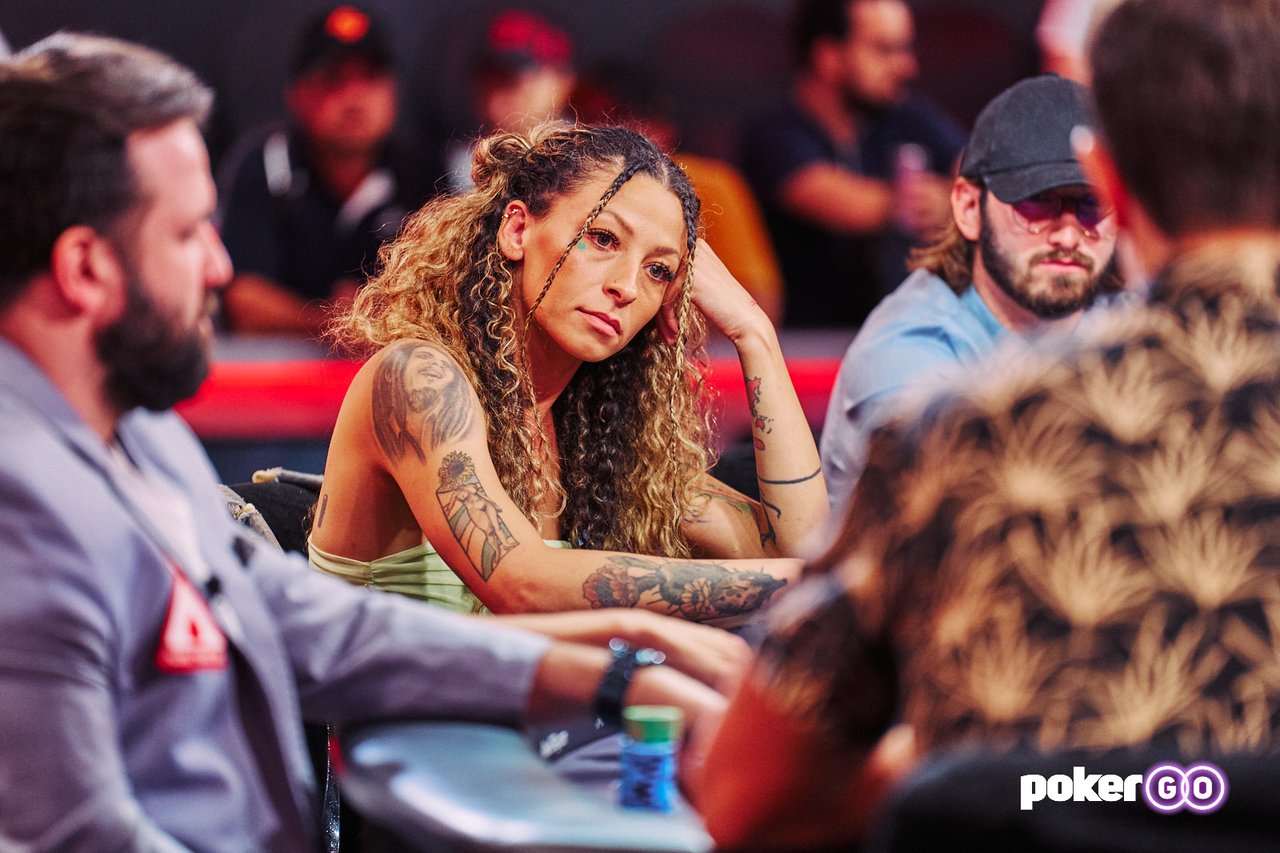 Poker Down Under
Rich has already found a nice run of cards at the Horseshoe, scoring a fifth-place finish in the $5,000 Six-Handed No-Limit Hold'em event for $209,366. Last August, she also grabbed fourth in a WSOP Online event at GGPoker for another $209,366. In 2015 she also took down a $1,100 Mid-States Poker Tour Main Event for $304,386.
In 2022, a WSOP Circuit ring also fell her way at Isle Casino Pompano Park in Florida for $22,885. Adding a bracelet to her poker record would also now be nice.
And while she may not be from Australia, the 33-year-old poker pro certainly earned plenty of poker chops on the island. After majoring in fashion design, her career took an interesting turn that had her spending more time gauging odds than designing clothes.
"After I graduated college, my high school friends moved to Australia after Black Friday to play online poker," she says. "I just wanted to travel and I was like, 'I'm going to go and be a barista or whatever.' And they're like, 'Nope, we're going to teach you how to play poker.' So I lived with five dudes in a grindhouse and they basically taught me."
Those lessons have paid off so far and Rich now has $893,756 in live tournament winnings. Not all parents would be crazy about their daughter jumping into poker full time and also moving off to Australia. That was never really a problem for her though.
"My mom's always been super supportive in whatever I do," she says. "It's kind of just probably a little bit mind boggling to people who don't know anything about it. But early in my career, I got really lucky to win a tournament when I wasn't very good. So it kind of propelled my career so she was like, 'Okay, I get it.'"
Tattoo Talk
A person of many interests away from the table, Rich enjoys hiking, sewing, arts and crafts, painting, and anything creative outlet. One of those is also working as a tattoo artist. She apprenticed for four years before putting ink on skin for four years out of her house.
"And I tattooed myself a bunch," she adds.
That may sound difficult to the uninitiated, but Rich doesn't find inking herself too much of a challenge. That is until a project goes too long and becomes a bit too painful.
"I kind of had to stop at certain points (when tattooing herself) because I was like, 'Okay, it's just going to have to be halfway done. I'm okay with that,'" she says.
"It doesn't feel great if I'm being honest," she adds as she points out some of her own work on her body. "I definitely would do it again. It's just one of those things you have to commit to doing. I don't like being average or bad at something, so it's one of those things where you really have to like to jump into and put your everything into to be good at it. I think I just have too many eggs in my basket right now."
Perhaps one of those eggs in her basket is a deep run in the Main Event. A bracelet win might just call for another tattoo, but that remains to be seen.
Connect with PokerGO.com on Facebook, Twitter, and Instagram. Use code "DREAM30" for $30 off an annual PokerGO subscription now!