Johnny Moss, Doyle Brunson, Stu Ungar, and Johnny Chan all won the WSOP Main Event in back-to-back years. No player has ever won the same event three consecutive times until the 2021 World Series of Poker when Adam Friedman won the $10,000 Dealer's Choice Championship for the third consecutive time.
Friedman not only won his fourth WSOP bracelet, but he denied Phil Hellmuth from winning his second WSOP bracelet of the series, and 17th overall after mounting a comeback during heads-up play to be crowned the Event #35 winner and recipient of the $248,350 first-place prize.
"I waited 28 months to play this tournament," Friedman said about becoming the first three-time winner of the Dealer's Choice Championship. "All I kept saying was just get me to Day 2 and I just want a chance. I don't need to win this tournament. I've got nothing to prove. I've got literally nothing to prove."
After winning his first WSOP bracelet in 2005, Friedman would win the 2018 Dealer's Choice Championship. The following year he faced off against Shaun Deeb to join the elusive club of two-time winners of the same WSOP event. Friedman would etch his name alone in the WSOP record books tonight as he became the only player to win the same event three consecutive times as he topped the 93-entrant field.
Rewatch Adam Friedman become the first three-time Dealer's Choice Championship winner on the archived live broadcast on PokerGO.com. Use code "WSOP2021" for $20 off an annual PokerGO.com subscription now!
The final day of play saw just ten players remaining as PokerGO launched a bonus coverage stream that included a five-camera set-up and a revolving list of commentators. With card and chip graphics unable to be implemented due to the extensive game options for players, PokerGO debut live chat beta for the first time that allowed subscribers to chat while watching the stream.
It was a star-studded final ten players with the biggest storylines being Friedman looking for his third Dealer's Choice Championship, Hellmuth eyeing his 17th WSOP bracelet, and the likes of Daniel Negreanu, Mike Matusow, Mike Gorodinsky, Joao Vieira, and Carol Fuchs adding to their WSOP bracelet collection. Portugal's Vieira exited in 10th before Negreanu followed in ninth place. Once Gorodinsky was eliminated in eighth, the final seven players merged together at the PokerGO Main Stage.
Matt Glantz and Andrew Kelsall were searching for their first WSOP bracelets, but they were the first two eliminations. Matusow would be the next to fall when he was eliminated by Hellmuth in a hand of Badugi as Fuchs fell in fourth to Friedman. Hellmuth held just under half the chips in play and slowly increased his lead before he eliminated Jake Schwartz in third place to enter heads-up play with roughly 3.5 million to Friedman's 2 million.
As Hellmuth extended his lead and the railbirds continued to grow, Hellmuth surged out to a three-to-one lead after tabling a seven-seven in Badacey to scoop Friedman. The two-time defending champion began to pick some big bet games such as Pot-Limit Omaha, and he soon closed the game in several key spots before taking the lead when he called Hellmuth down with top pair in No-Limit Hold'em. From then on it was Friedman's tournament as he continuously dragged pots from Hellmuth which included picking off two bluffs in No-Limit 2-7 Single Draw. With Hellmuth down to just a handful of bets, he would commit his final chips in Badugi but run into the nine-Badugi of Friedman to fall short of winning his 17th WSOP bracelet.
Event #36: $10,000 Dealer's Choice Final Table Results
Place
Name
Country
Prize
1st
Adam Friedman
United States
$248,350
2nd
Phil Hellmuth
United States
$153,493
3rd
Jake Schwartz
United States
$107,861
4th
Carol Fuchs
United States
$77,437
5th
Mike Matusow
United States
$56,826
6th
Andrew Kelsall
United States
$42,646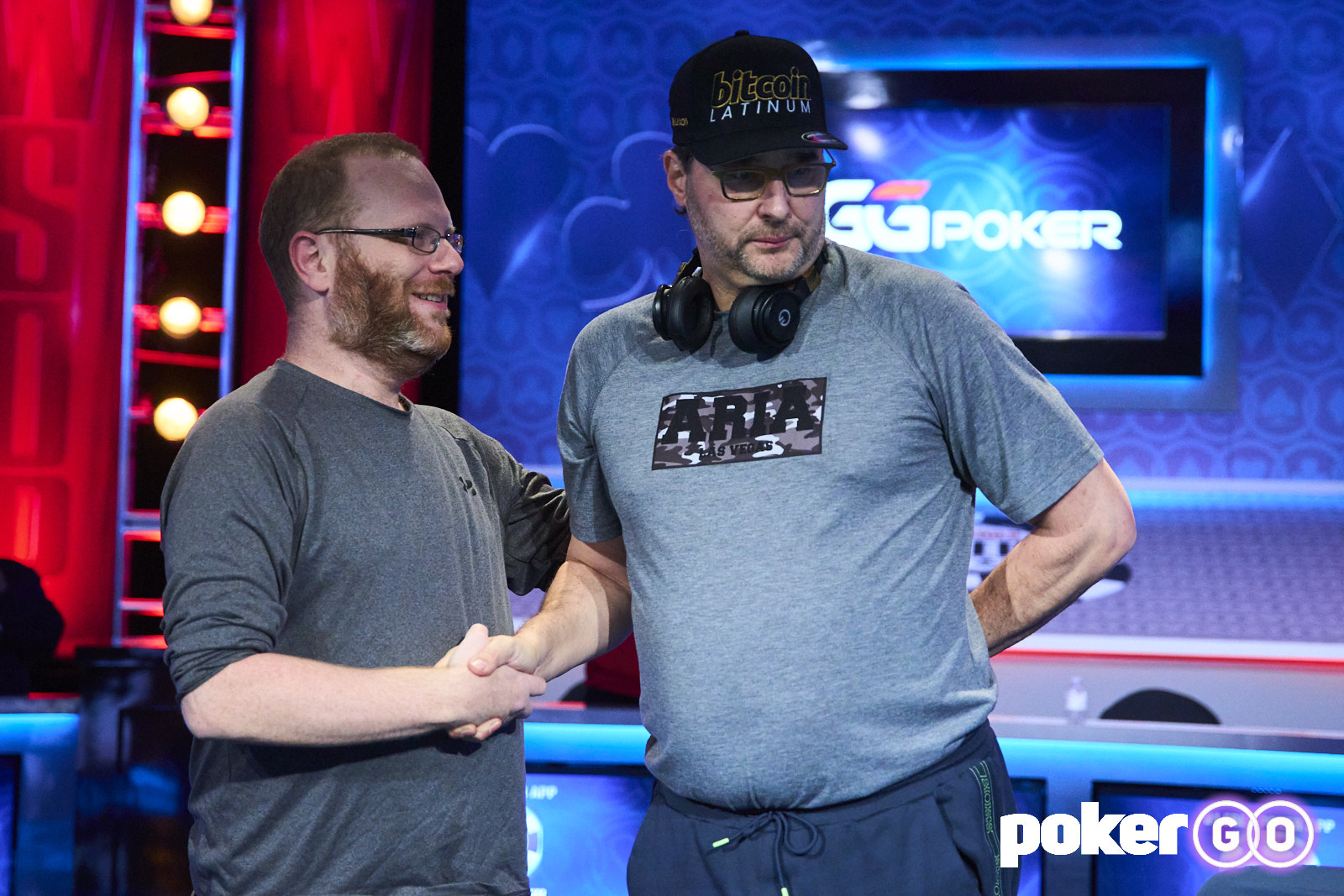 "Phil played great the entire time I played with him," Friedman said about denying Hellmuth his 17th WSOP bracelet. "I picked off a couple of his bluffs in spots where I was pretty sure he was bluffing."
Although Hellmuth may be upset at not winning his 17th WSOP bracelet, he went up against arguably the best player in the world when it comes to this format now that Friedman has won this event the last three years it has run.
"I thought last year was the most special because there were only so many people that had repeated," Friedman said about if this WSOP bracelet meant the most to him. "This $10k is so much different to every other $10k. People that play this tournament, they want to play it again and again because it's so addicting. So many games that we don't get to play in tournaments, so many different thought processes and strategies that don't exist in any other tournament. You've got to be thinking about stuff all the time from the moment you sit down on Day 1 until the end. It's just such a unique tournament."
Adam Friedman's WSOP Results
Friedman is a staple in all the mixed games throughout the WSOP, and has mentioned that he will be registering on Day 2 for the $10,000 H.O.R.S.E. Championship on Thursday, as well as that he will definitely be playing the $50,000 Poker Players Championship.
"I love poker. I love coming to the World Series," Friedman said when reflecting on his win. "The Dealer's Choice is truly one of the best events. There's nothing else like this event anywhere else."
With Friedman now locking up his fourth WSOP bracelet, he joins fellow mixed game players Anthony Zinno, Brian Rast, Max Pescatori, Robert Mizrachi, Eli Elizra, Shaun Deeb, George Danzer, Bobby Baldwin, Matusow, and a plethora of others that sit tied on four WSOP bracelets.
Adam Friedman's WSOP Gold Bracelets
2012
WSOP $5,000 Seven Card Stud Hi-Lo
$269,037
2018
WSOP $10,000 Dealer's Choice Championship
$293,275
2019
WSOP $10,000 Dealer's Choice Championship
$312,417
WSOP $10,000 Dealer's Choice Championship
$248,350
Connect with PokerGO.com on Facebook, Twitter, and Instagram. Use code "WSOP2021" for $20 off an annual PokerGO.com subscription now!