During the 2008 National Heads-Up Championship, Phil Hellmuth was an early casualty when his pocket aces were cracked by young online phenom Tom "durrrr" Dwan. A Hellmuth tirade followed, and Dwan challenged him to play heads-up for any stakes. It has been over a decade since that viral clash between Hellmuth and Dwan, and now both players will face-off in Round 2 of High Stakes Duel III for $200,000.
High Stakes Duel is a PokerGO.com original series that begins with each player posting the $50,000 buy-in. The winner progresses through to Round 2 where the loser has the first option to challenge. If the loser declines, the challenger seat is open for 30 days. The stakes will double each round where a potential $12.8 million prize pool would be reached by Round 8.
Phil Hellmuth swept Antonio Esfandiari in the premiere of High Stakes Duel, before sweeping Daniel Negreanu in High Stakes Duel II. Fox Sports 1's Nick Wright stepped up to challenge Hellmuth in Round 1 but became Hellmuth's third victim before Dwan was announced as his opponent in Round 2.
"Tom is just a great player," Hellmuth said about his comfort level playing someone he is familiar with such as Dwan as opposed to Wright. "He does weird things, he's very interesting. He might call off half his stack with seven-eight suited and get there."
"It's much better than a loss," Dwan said about what another win over Hellmuth would mean. "So I'm going to try and win. I'm never going to hear the end of it if I lose."
The Hype Show and The Weigh-In Return
Ali Nejad and Nick Schulman shared the desk for The Hype Show that aired across all PokerGO platforms on Tuesday night. Nejad and Schulman recapped Hellmuth's High Stakes Duel record and rewatched the cooler of a final hand between him and Wright. They then discussed the history between both Hellmuth and Dwan before watching a clip from Season 6 of Poker After Dark where Dwan stacks Hellmuth with trips early in Episode 2 of $100K Cash Game (Part 2) week.
The Hellmuth Cafe odds board was then presented by Nejad before both commentators made their pick and who would win Round 2. Schulman sided with Dwan, while Nejad finally flipped sides and picked Hellmuth to make it eight consecutive High Stakes Duel victories.
Nejad returned the following night to host The Weigh-In as Hellmuth and Dwan took a seat across from each other to discuss the upcoming Round 2 match.
Both players were reminded of their first match against each other in the 2008 National Heads-Up Championship before Nejad asked Dwan about Hellmuth's reputation among his peers and others in the poker world. Nejad then turned to Hellmuth to discuss how his three previous opponents have yet to figure out his approach throughout High Stakes Duel, before the topic moved onto the difference between when they started, and how they are now as poker players.
"Don't you think it's kind of nice that there can be a high degree of cordialness when people have a high stakes match where the guys kind of respect each other?" Hellmuth said to Nejad before Dwan quipped back, "I still want his chips."
"I'm not going to sit here and try to fan any flames or create any controversy or conflict between you two," Nejad added before ending The Weigh-In. "It seems like there is some respect, and you guys are certainly itching and ready to go."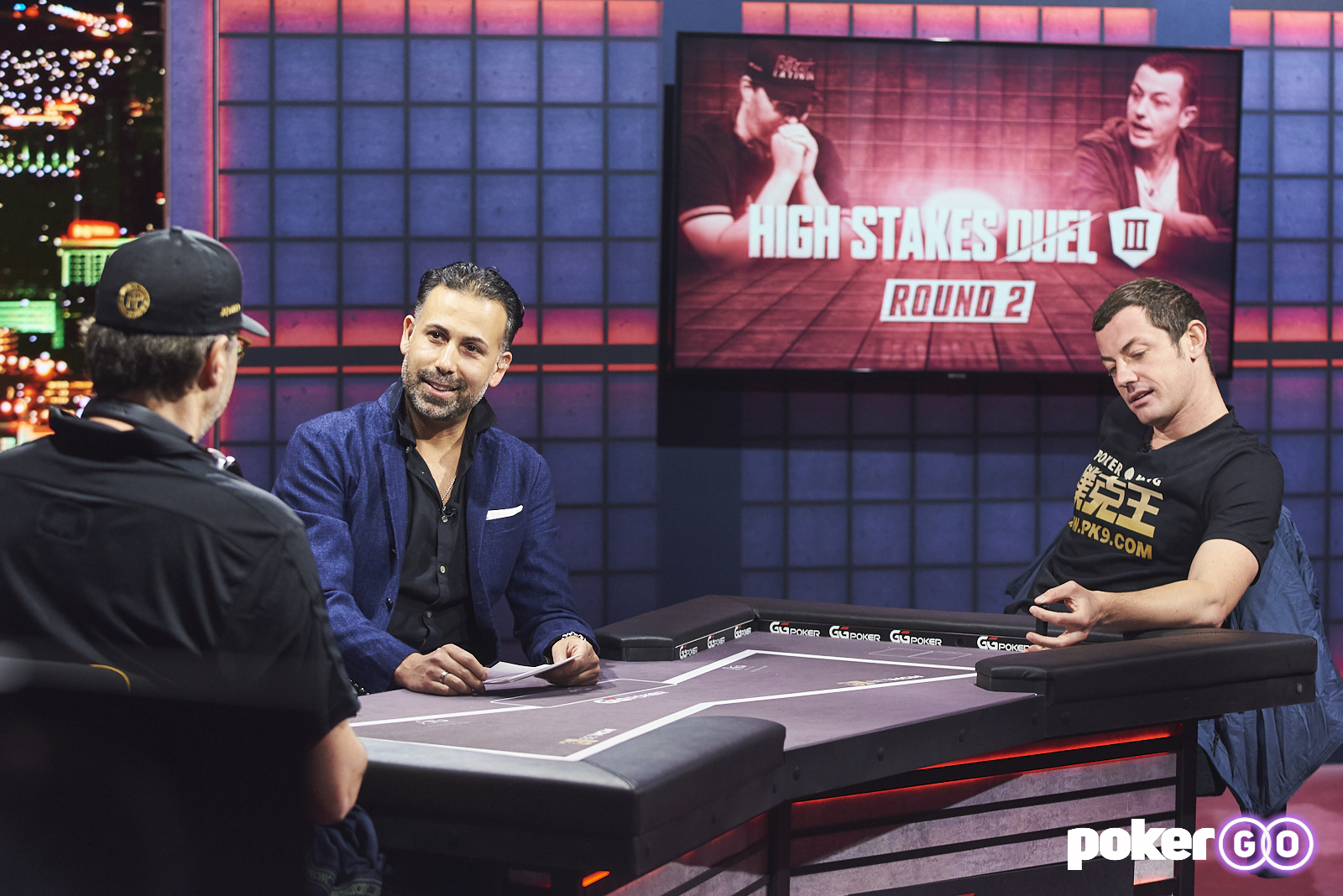 Round 2 Underway
Once the cards were in the air for Round 2 of High Stakes Duel III, it would be Dwan striking first as he flopped the nut flush on the first hand. However, the majority of the early running went Hellmuth's way as he slowly edged out ahead of Dwan before he picked off a bluff with two pair to sit with roughly 125,000 of the 200,000 in play. Dwan managed to get a semi-bluff through with a flush draw and then proceeded to show his hand to Hellmuth, before Hellmuth found value after flopping top pair before a short break in play.
Play resumed with Hellmuth munching away on a pop tart as Dwan began chipping away at his deficit. However, when Hellmuth rivered a king against Dwan's jacks and raised the river, he would shoot back up to 119,000 and remain in the lead for another hour of play. Both players flip-flopped the lead back-and-forth with no one player getting the better of the other until a hand came up where Hellmuth bet the river with nine-high on a four-spade board. Dwan held the second nut flush and made a raise to prompt an immediate fold from Hellmuth as he sunk to 85,000 in chips as play entered Level 6.
Tom Dwan Surges Ahead
Dwan would be dealt ace-king on the button and enter the pot with a raise before Hellmuth made a rare three-bet holding pocket sevens. Dwan responded by moving all-in to put Hellmuth at-risk for roughly his remaining 72 big blinds. Hellmuth folded and sunk to his biggest disadvantage of the match. Several Hellmuth outbursts followed before he would bluff the turn with ace-high only to run into Dwan's second nut straight. Dwan used a time extension and then check-raised all-in as Hellmuth quickly folded and sunk to worse than a three-to-one disadvantage.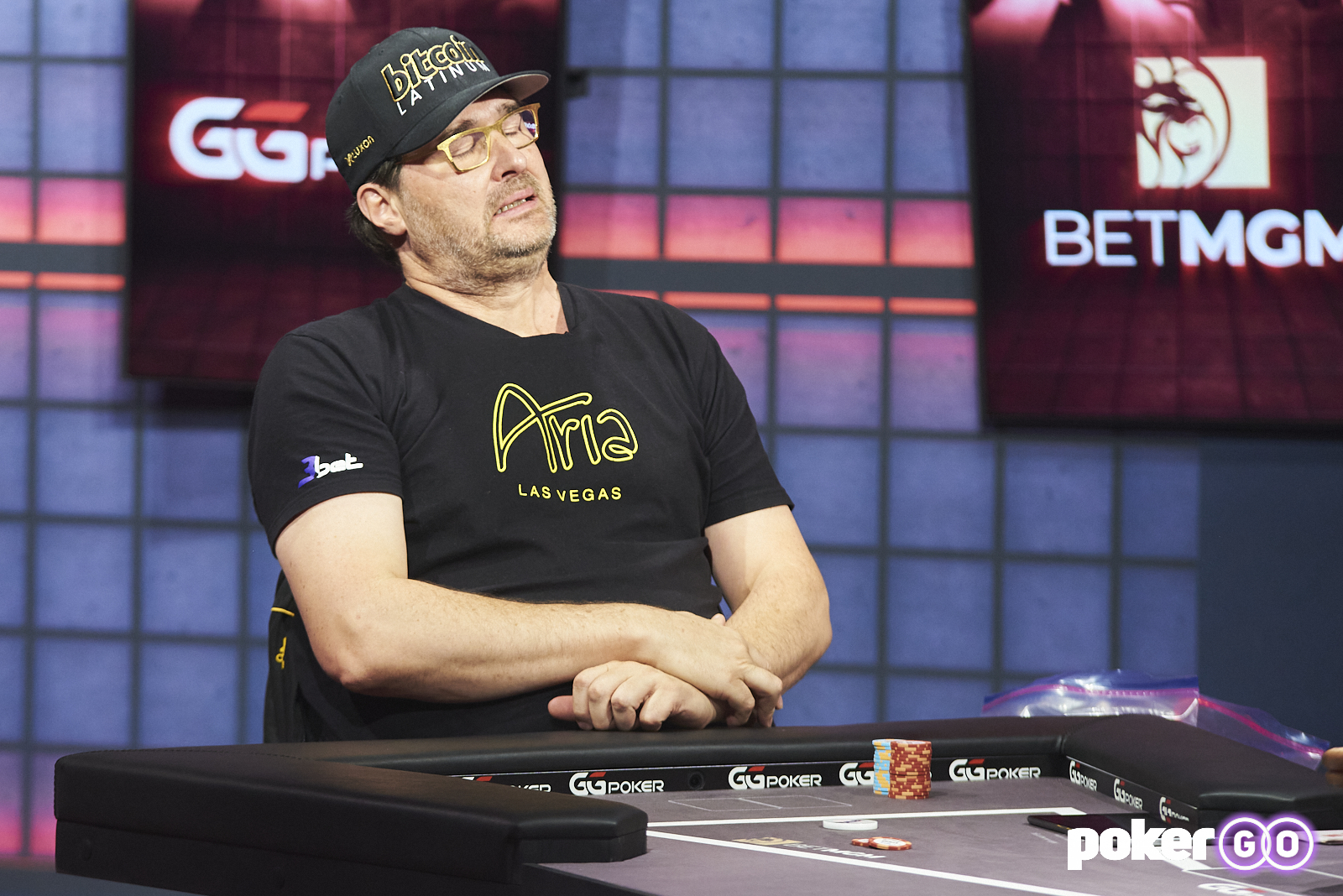 Hellmuth would make a big shove when he moved all-in on the turn holding a straight and flush draw, and after Dwan folded, Hellmuth returned to roughly 70,000 in chips. Although Hellmuth dropped back down to a three-to-one disadvantage, he soon mounted a comeback all the way to nearly even on the back of rivering a flush, flopping trips, and winning several other key pots. Dwan then managed to fade a plethora of outs holding pocket sevens against Hellmuth's inferior pair and flush draw as Dwan was back to roughly 135,000 in chips.
Dwan managed to correctly fold king-queen to Hellmuth's limp-shove with ace-king before action entered the fifth hour of play. Dwan began to pick up the aggression as he continued to shove on Hellmuth who was sitting between 10-20 big blinds. In a crucial hand where Hellmuth bet half of his remaining stack on the river with just ten-high, Dwan agonized over his decision before making the call with just bottom pair to leave Hellmuth with just six big blinds and trailing at an eight-to-one disadvantage.
Hellmuth tried to grind the short stack, but on hand 298 of Round 2, he would limp holding pocket aces as Dwan checked back his nine-three. The flop brought a three, and Hellmuth's final chips entered the middle. Dwan would see a nine roll off on the turn, and when a brick landed on the river, he would be anointed the Round 2 champion while Hellmuth would be dealt his first loss in eight High Stakes Duel matches – and the second time Dwan has cracked his aces in a heads-up tournament.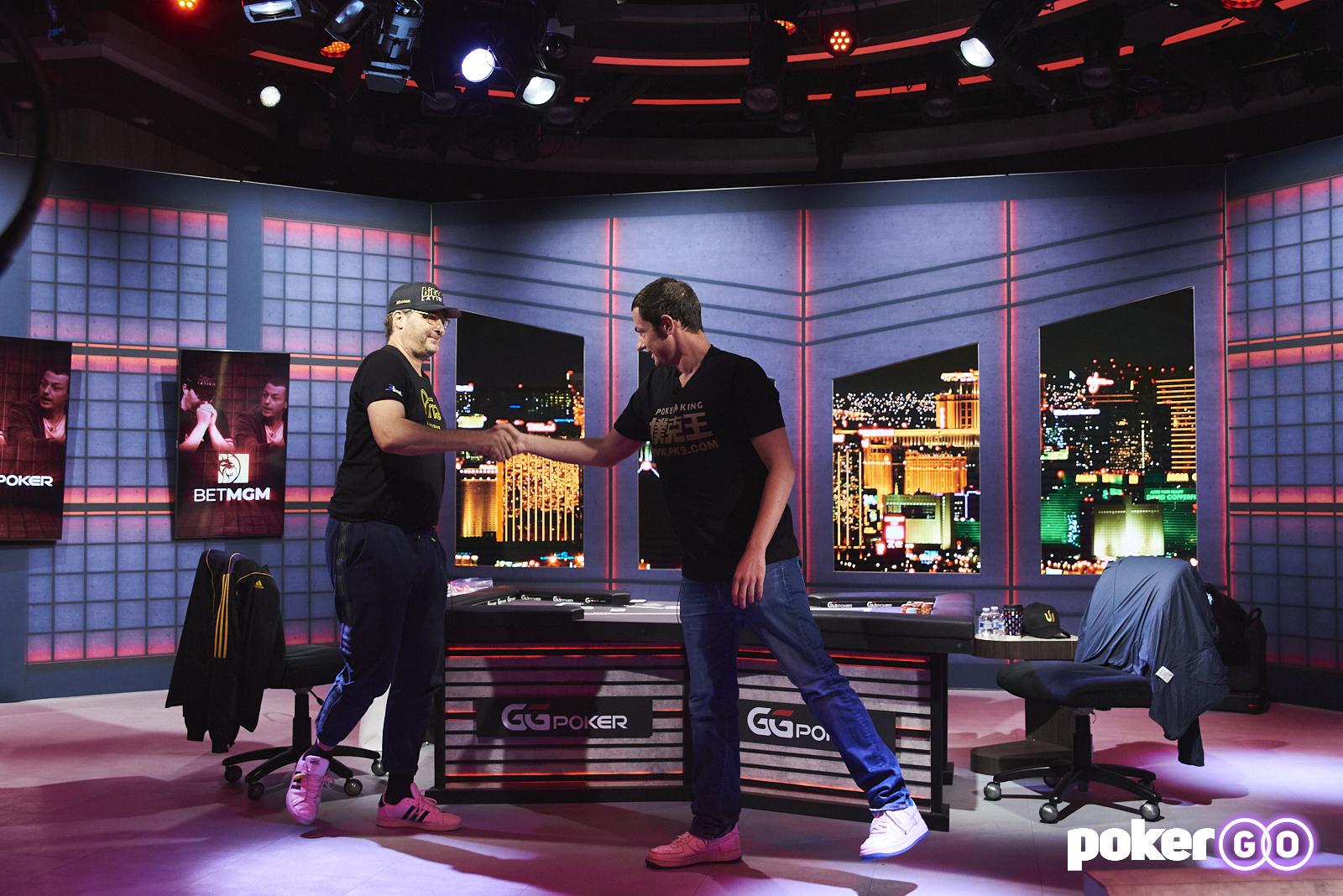 Tom Dwan Ends Phil Hellmuth's Streak on High Stakes Duel
Following an exchange of handshakes as the match came to an end, both Hellmuth and Dwan walked off the High Stakes Duel set together.
"I'm not sure if I'm going to challenge," Hellmuth said to PokerGO President Mori Eskandani. "I need to go watch the match, and then I'll decide."
For Dwan, he'll have to wait and find out who awaits him in Round 2, but managing to get the victory against Hellmuth meant he is saved from joining the likes of Esfandiari, Negreanu, and Wright as Hellmuth's High Stakes Duel trophies.
"I just knew I was going to get needled if I lost," Dwan said about approaching this match with Hellmuth before discussing his adjustments once he took a formidable lead, "I think I adjust how I play more than most people do depending on what other people are doing in the game. So I definitely made some unconventional plays there. Some I think were good, some I think were bad."
This was Hellmuth's eighth match on High Stakes Duel, but Dwan's first in this new concept and PokerGO original.
"I like new formats and trying new stuff," Dwan said on his thoughts about the High Stakes Duel format. "I think it's neat when you try something new and see what happens, and see if people like it. And I think it's a neat format for now. I think it's interesting."
With Dwan now putting a stop to the dominance of Hellmuth, he progresses through to Round 3 where there will be $400,000 on the line. Will it be Hellmuth returning to right the wrong of this loss, or will new blood take a seat across from Dwan? High Stakes Duel III and the Round 3 match for $400,000 will air exclusively on PokerGO.com with Dwan looking to take a step towards having the option to cash out if he can progress past Round 4.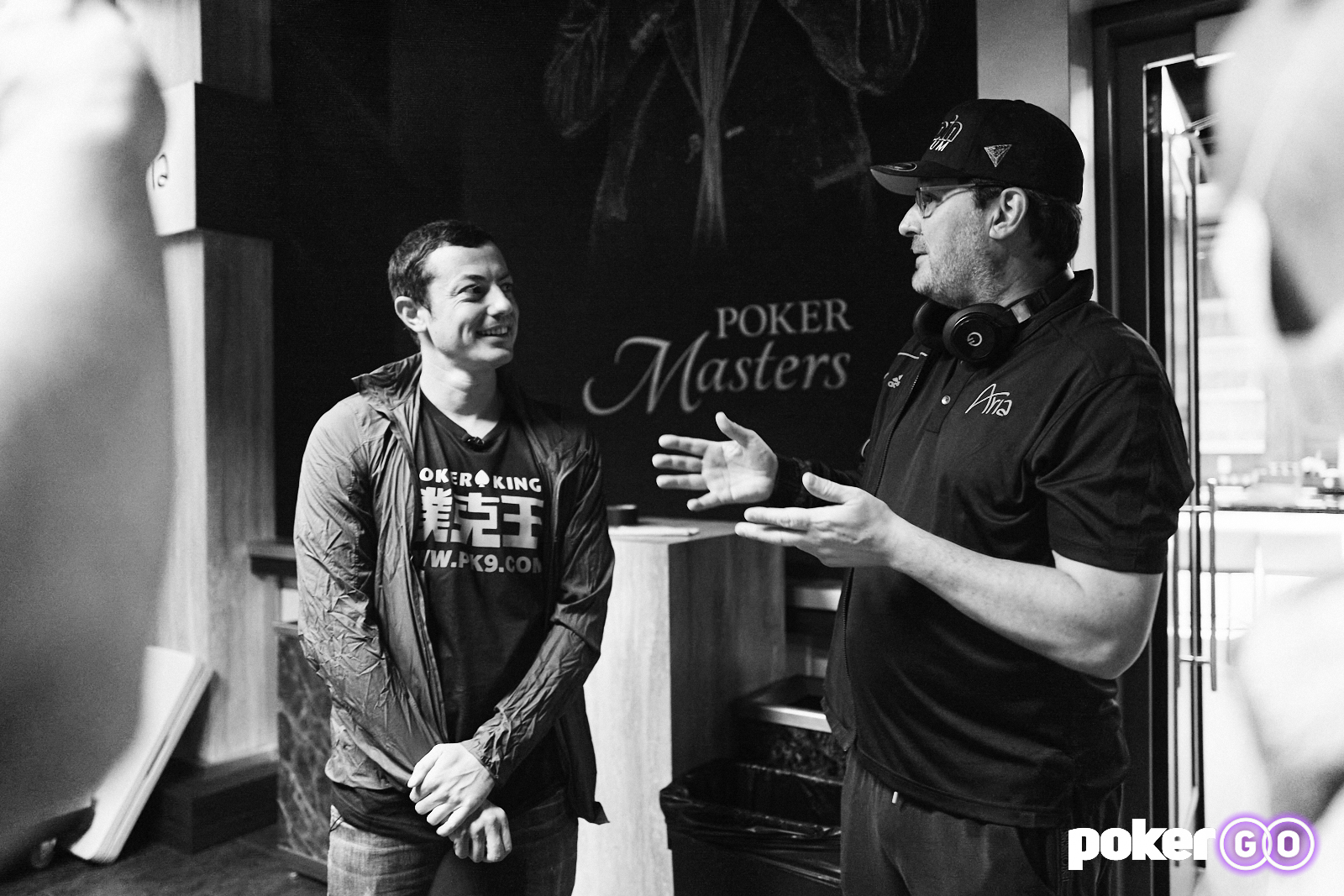 Connect with PokerGO.com on Facebook, Twitter, and Instagram. Use code "HSDTOM" for $20 off an annual PokerGO subscription now!