Stephen Chidwick bagged $216,000 and 200 championship points by winning Event #1: $10,000 No-Limit Hold'em of the U.S. Poker Open. Chidwick is the reigning champion of the U.S. Poker Open after winning two events last year and entered the final table third in chips behind former World Series of Poker November Niner Joseph Cheong.
"I kept running as I did last year, this is my favorite place to play in the world by far, and I came in focused and ready to play my best," Chidwick said about his third U.S. Poker Open victory out of the nine total events that have been held to date.
The tournament drew 90 entries for a total prize pool of $900,000 and when the last hand was played, Chidwick kicked off his title defense with the best possible finish in Event #1.
Joseph Orsino, one of three Joseph's to make the final table, was the first player eliminated. He fell in sixth place when he flopped two pair against Cheong. Cheong had top and bottom pair against Orsino's middle and bottom pair. Orsino didn't catch up and hit the rail in sixth place for $54,000.
The Hand of The Day
Then Lazaro Hernadez, who claimed the chip lead briefly with five players left, busted. He played a huge pot against Chidwick, shoving all on with an open-ended straight draw against the nut straight of Chidwick.
"I could've gone either way with that hand between calling or raising with Sean being short in the big blind. If he wakes up with something I would've had decent equity against him and I was obviously not too happy with the re-raise by Laz but I got a good price to call."
"I just smashed the flop and luckily it was one where he kinda had to get his money in too and that hand put me in a great position to win more pots after that."
That hand left Hernandez short and Chidwick finished the job when the two players got all in preflop, both holding an ace. Chidwick had the better kicker and the board was no help to Hernandez. He was eliminated in fifth place for $72,000.
Chidwick had a huge chip lead four-handed. After the Hernandez bust, each of the other three players doubled either through each other or through Chidwick. Finally, Joseph Cappello got all in against Chidwick with
against the Brit's
. Chidwick flopped a four and never looked back.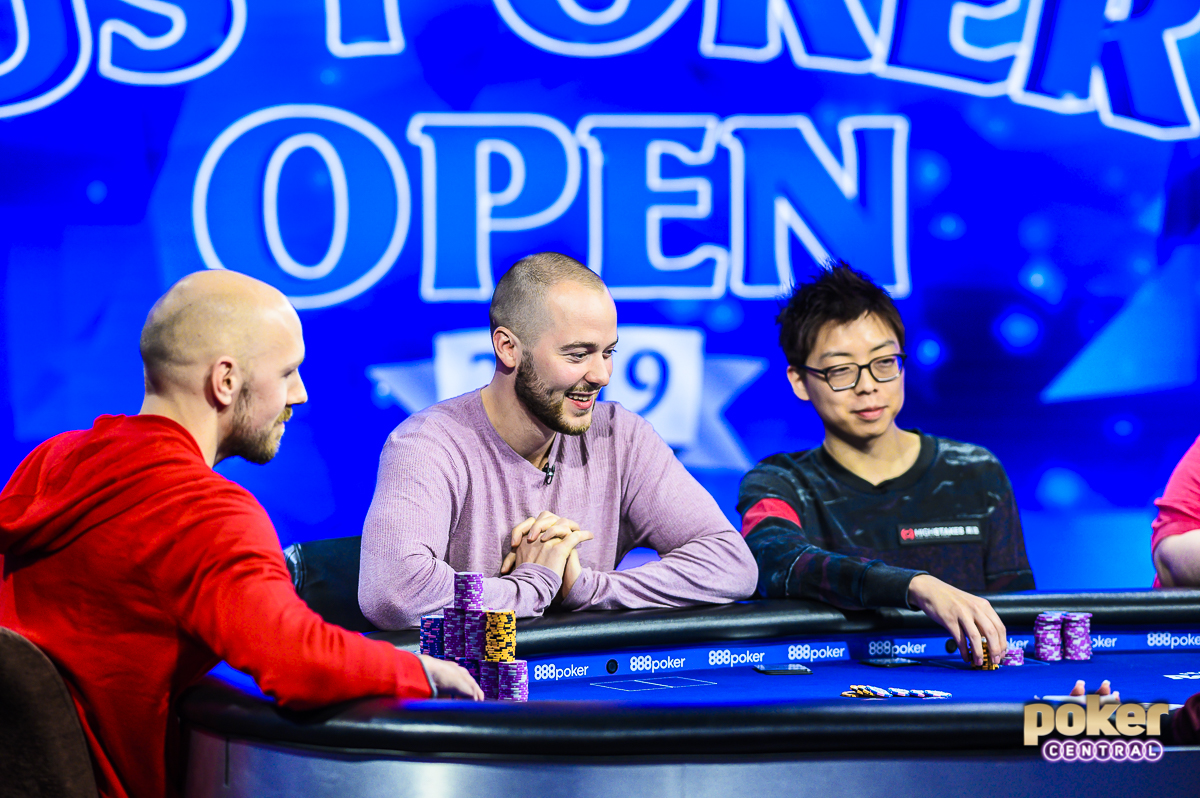 Chidwick vs. Cheong & Winter
The stacks actually evened out, and Sean Winter took the chip lead three-handed until Joseph Cheong three-bet shoved on Chidwick's button open with
. Chidwick had
and snap called. Both players flopped an ace but Cheong finished the hand with the worst of it, unable to pair his inferior kicker. Cheong took home $112,500 for his efforts.
The heads-up portion of the tournament didn't last much longer, as things continued to go Chidwick's way. Chidwick limped the button and called a raise from Winter who had pocket eights. After the flop action, Chidwick hit a gut-shot straight with the card that also gave Winter a set of eights. They got all in and Winter could do nothing but smile as he was eliminated in second place.
Looking back on the event, Chidwick is thrilled with the strong turnout for Event #1, up 32% compared to last year's first event that had the same buy-in and format.
"I'm really happy to see it. I think the Poker Central team and ARIA are doing an amazing job and part of the increase is probably due to the $100,000 that's been added for the series champion."
"I think people really like playing at the PokerGO Studio and they're telling their friends about it. I think the fields are just going to keep getting bigger and bigger."
Chidwick is now in the early lead to repeat and is expected to play all the events, so he is definitely going to make it tough to catch up, especially given that he has final tables six of the nine USPO events he's played.
"It would be amazing to go back-to-back but that's a long way away and there's lots of poker left to be played. I'm not going to get ahead of myself and just try to play my best," Chidwick said as he was headed off to the cage to register for Event #2.
U.S. Poker Open Championship Standings
Name
Points
Cashes
Prize Money
Stephen Chidwick
200
1
$216,000
Sean Winter
140
1
$157,000
Joseph Cheong
100
1
$112,500
Joseph Cappello
80
1
$90,000
Lazaro Hernandez
60
1
$72,000
Joseph Orsino
40
1
$54,000
Jerry Robinson
40
1
$45,000
Maxx Coleman
40
1
$36,000
Jake Schindler
40
1
$27,000
Bryn Kenney
40
1
$27,000
Jordan Cristos
40
1
$27,000
Daniel Weinand
40
1
$18,000
Erik Seidel
40
1
$18,000
Event #1 is in the books but the action continues as Event #2: $10,000 Pot Limit Omaha is in full swing. Follow the Live Updates for that event right here. The Pot Limit Omaha final table will be live on PokerGO tomorrow at 5:00 pm ET. New to PokerGO? Subscribe right now.