It was on a 10-day cross country drive from Las Vegas to Florida that Phil Hui and Loni Harwood, partners in crime and one of the most prominent power couples in poker, decided that it was time for a change. Coming off their first big losing summer, something had to give and they decided to do everything within their power to get back on top in a cutthroat game where everyone's always looking for even the smallest edge.
As the barren but beautiful landscapes transitioned into the Texas plains, humid South and eventually their Florida home base, Phil and Loni talked poker for hours on end. Phil learned from Loni, dedicated himself to trying the things she taught him in a small local $150 No Limit Hold'em tournaments while also putting lots of hours playing his best games resulting in five final tables at the Hard Rock in various formats just prior to the World Series of Poker.
King Hui is Crowned
Last night, all that hard work and dedication culminated in Hui ensuring that his name will live on in poker history by winning the $50,000 Poker Players Championship for $1,099,311. The now two-time WSOP bracelet winner battled his way through a stacked final table that included Shaun Deeb, Daniel Cates, Bryce Yockey, John Esposito, and his heads-up opponent Josh Arieh.
There are only a few events on the poker calendar that carry prestige and history like the $50,000 Poker Players Championship. First organized in 2006, its inaugural edition was won by David 'Chip' Reese, one of the best the game has ever seen. Since Reese's sudden passing in late 2007, the $50,000 H.O.R.S.E., and later Poker Players Championship, carried his name on the trophy to add even more lore to this epic event.
Watch the entire final table of the 2019 Poker Players Championship on-demand on PokerGO right now.
This year's Poker Players Championship drew 74 of the world's toughest players including legendary names such as Gus Hansen, Tom Dwan, Phil Ivey, Jason Mercier, three-time winner Michael Mizrachi, and one Phil Hui. Hui might not be a big name to the untrained eye but with a bracelet win in a 2014 Omaha Eight-or-Better event for $286,976 and a variety of other deep runs in both mixed and No Limit Hold'em events, Hui has been a tough regular with 150 total live results since 2009.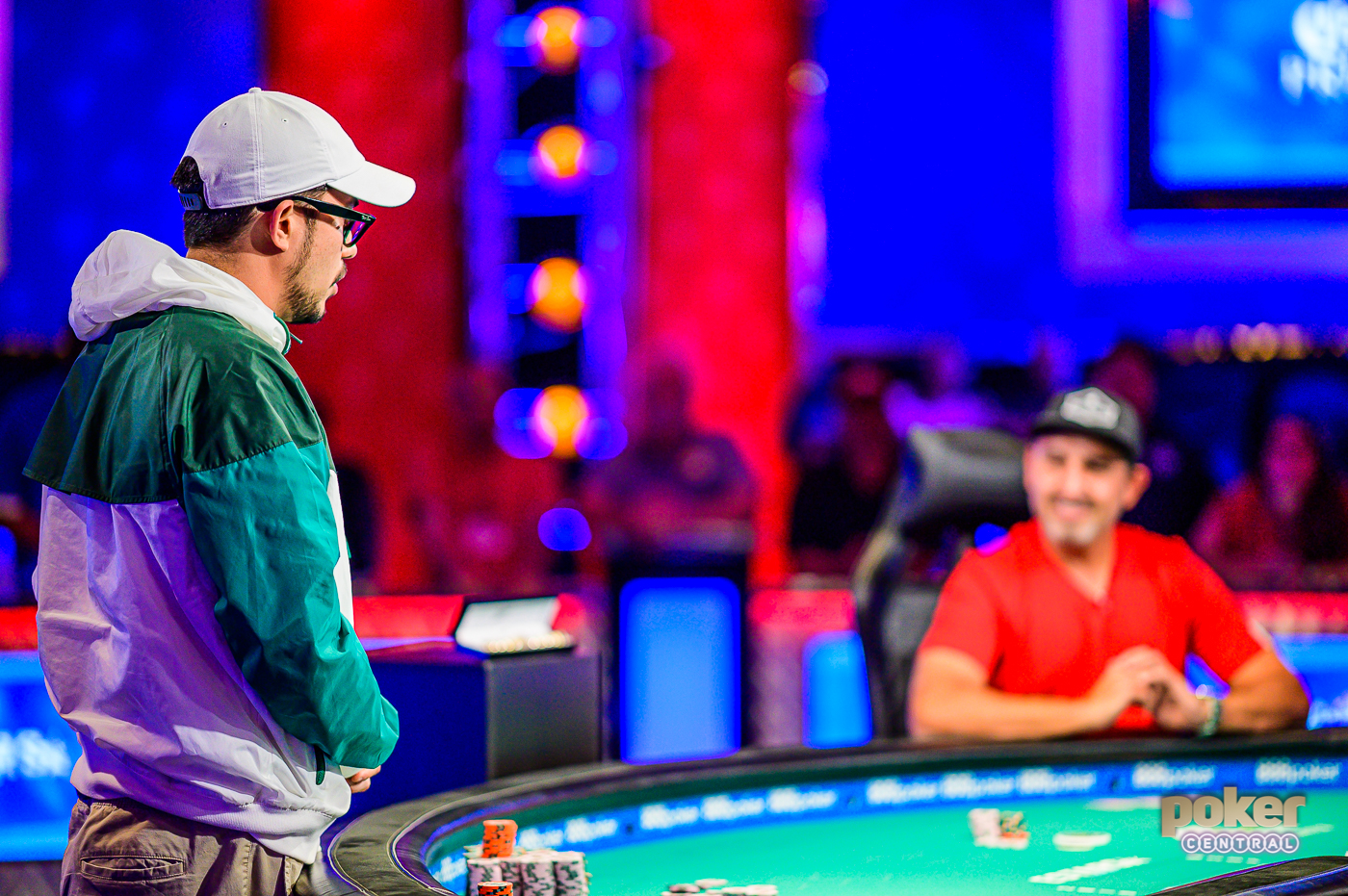 Tears of Joy
Gently Josh Arieh shook his head after he looked down at the final card that was dealt to him in an attempt to catch up to the 9-5 low that Phil Hui had tabled during 2-7 Triple Draw. Arieh was all in for his tournament life and got up to shake Hui's hand in defeat as he was dealt an ace.
What ensued was a bit of controlled chaos as Hui raised his hands to his face in disbelief of what he had just done. One person from Hui's rail jumped the board immediately to give him a hug after which his girlfriend Loni Harwood followed suit.
After an intimate moment with his girlfriend, Hui walked back up the table with tears rolling down his cheeks. For a second, Hui sat back down in his chair, visibly unable to process all that had come down on him in this massive life-changing moment.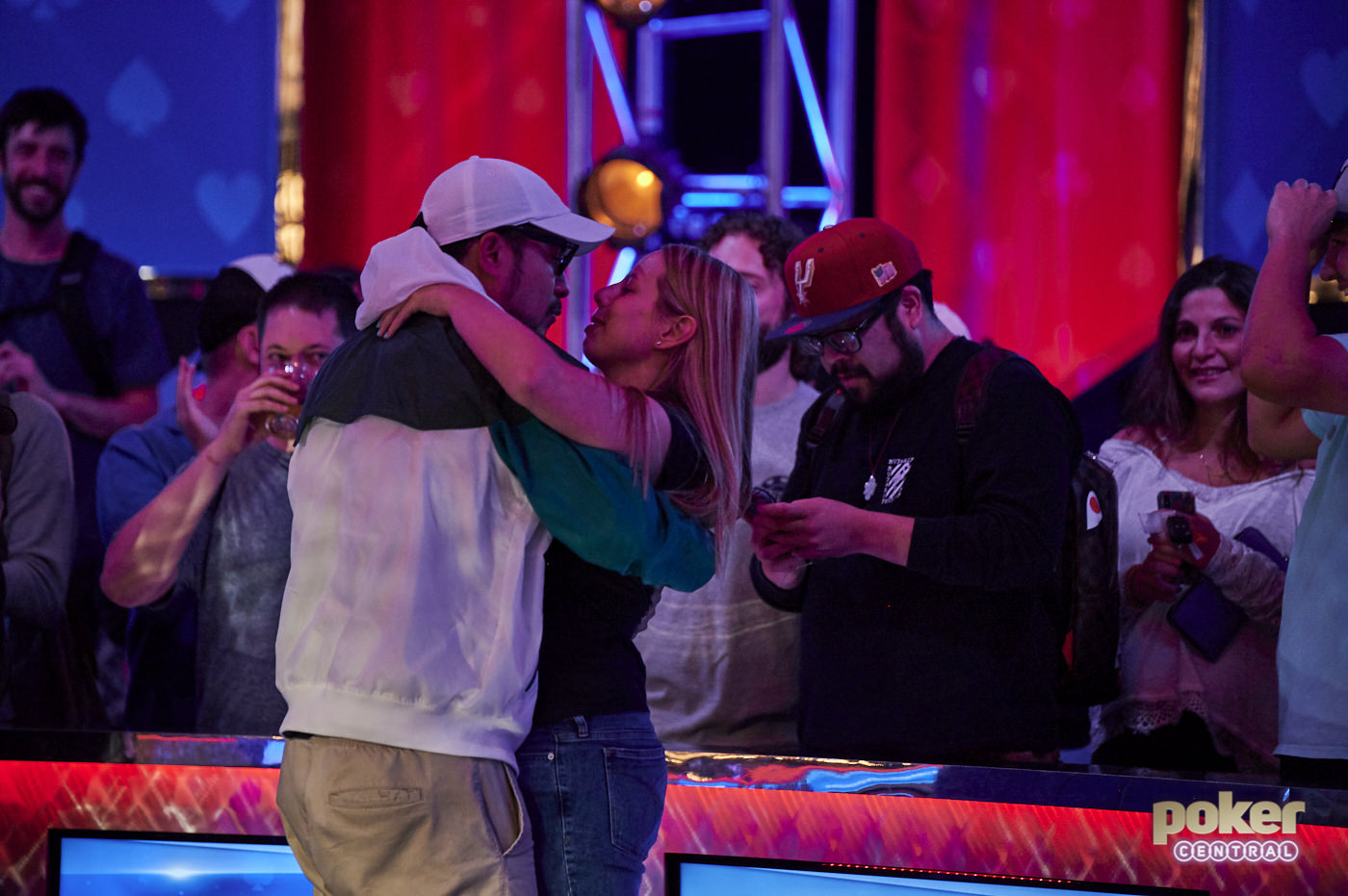 Is This Real Life?
Hui couldn't believe that this was really happening to him, after all the hours he's put into studying and playing, which is how he explained the emotions that overcame him right after the winning hand.
"I still don't know if this is real or not. Every time I made the next day has been like a dream."
Struggling to find the words to put into perspective how much this means to him, Hui immediately said, "This wins means more to me then if I were to win the Main Event."
Hard Work Pays Off
Playing the $50k for only the second time in his career, Hui had always dreamed of winning this event above every other possible tournament. Playing down his skills in the big bet games, Hui admitted to taking some lower variance routes in those games while pounding his opponents in the H.O.R.S.E. games.
Crediting PokerGO, its commentators Randy Ohel and Nick Schulman, and all the event replays of non-Hold'em events as well as the Dolly's Game cash games, Hui emphasized that he turned a new leaf as far as his poker study goes since the end of the 2018 WSOP. The summer of 2018 was Hui's first losing summer and it made him, along with Loni, refocus and dedicate themselves even more to the craft.
"Loni's one of the best No Limit Hold'em players in the world and I've learned a lot from her as well as from one of my best friends Kyle Bowker who's great at PLO and then I play in a game with amazing mixed game players such as Cory Zeidman, Jerry Wong, Chad Eveslage, and Joey Couden, and that has all helped me a lot as well."
An Emotional Win
Loni, a WSOP bracelet winner herself, pointed out that Phil had been "grinding his ass off" to get to this point and she was in an equal amount of disbelief.
"I just can't believe it, this feels like that dream we've been having for such a long time," Loni said as she watched her boyfriend sit and smile for the iconic winner photos, five years after she sadly had to miss his first win.