The rematch has been scheduled between Phil Hellmuth and Daniel Negreanu as they face-off for $200,000 in High Stakes Duel II | Round 2 on Wednesday, May 5, at 8 p.m. ET exclusively on PokerGO.com.
Viewers will be treated to three different shows across the PokerGO.com platforms on both Tuesday and Wednesday.
Tuesday will see the return of The Hype Show that will see commentators Ali Nejad and Nick Schulman discuss everything about the upcoming $200,000 match between Hellmuth and Negreanu. The show will be available on both PokerGO and PokerGO's YouTube channel on Tuesday, May 4, at 8 p.m. ET.
Wednesday will have two shows for High Stakes Duel II viewers to watch. Schulman speaks to both Hellmuth and Negreanu on The Weigh-In at 7:30 p.m. ET, while at 8 p.m. ET the $200,000 match between Hellmuth and Negreanu will air exclusively on PokerGO.
Read the High Stakes Duel II | Round 1 recap here.
Hellmuth staged a remarkable comeback in Round 1 after being down to roughly 3,000 of the 100,000 chips in play. Hellmuth picked off a bluff, then threw out a bluff of his own before finding a big double. Hellmuth then outdraw Negreanu on the river, and then rivered a flush to move into the lead – the first and only lead change for Round 2. Hellmuth pushed forward and eventually hammered the nail into Negreanu's coffin with his infamous pocket nines. There was a fun sweat on the flop with Negreanu picking up outs to a straight flush, but inevitably two bricks followed and Hellmuth collected the Round 1 victory in High Stakes Duel II.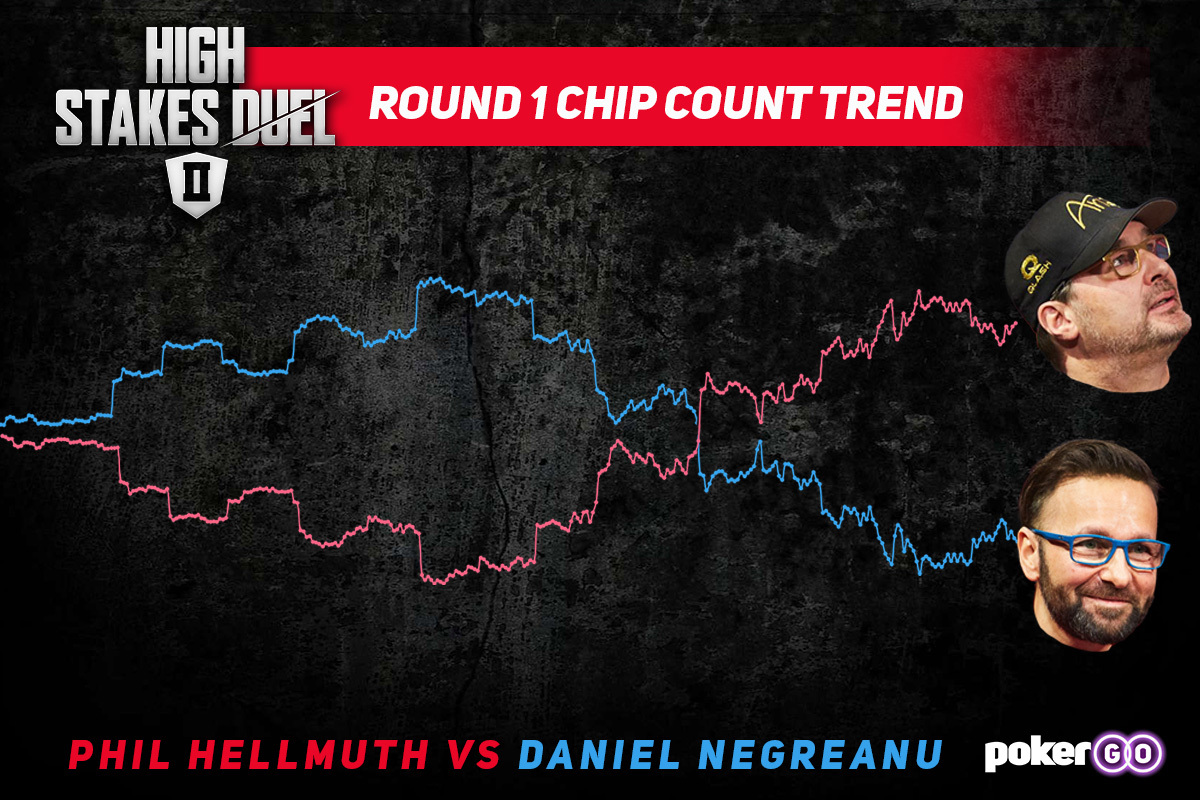 Having now secured four consecutive High Stakes Duel victories, Hellmuth will be looking to make it five in a row to claim the $200,000 in prize money that is awaiting the Round 2 winner. Negreanu however, will be looking for retribution after having Hellmuth on the ropes in Round 1. And if things don't go Negreanu's way again, we already know that Round 3 will be on both player's schedules.
"I would rematch Phil for eternity," Negreanu said before a single card was dealt in High Stakes Duel II. "There is no possible way I would say no to a rematch with Phil Hellmuth."
The only way to find out is to watch High Stakes Duel II | Round 2 exclusively on PokerGO.com on Wednesday, May 5, at 8 p.m. ET.
Connect with PokerGO.com on Facebook, Twitter, and Instagram. Use code "HSD2" for $20 off an annual PokerGO subscription now!