After sweeping Antonio Esfandiari in the premiere of High Stakes Duel, Phil Hellmuth and Daniel Negreanu locked horns for High Stakes Duel II. Hellmuth mounted a huge comeback in Round 1 to grab the victory, and following a back-and-forth match in Round 2, Hellmuth would make it five consecutive wins. There was $400,000 on the line in Round 3, and following a grueling match that lasted nearly six hours, Hellmuth would defeat Negreanu a third time to be crowned the High Stakes Duel II champion.
High Stakes Duel is a PokerGO.com's original series that begins with each player posting the $50,000 buy-in. The winner progresses through to Round 2 where the loser has the first option to challenge. If the loser declines, the challenger seat is open for 30 days. The stakes will double each round where a potential $12.8 million prize pool would be reached by Round 8.
"I think I'm going to knock him out early," Negreanu said before a card was dealt in Round 3. "Both of those matches were long, and I've collected enough data and studied him enough to know what to expect in every way."
Negreanu has endured two vastly different matches against Hellmuth throughout High Stakes Duel II as both players brought different strategies to each match. Both made adjustments after Round 1, and adjustments are expected again for Round 3.
"After the second match when he saw how much I was bluffing, I think he's going to go to what his bread and butter is, which is to be trappy and not bet turn and river as a bluff very often," Negreanu said on what he expected from Hellmuth. "I think what he'll do is that, until and when, he gets frustrated and gets stuck, and then goes on completely monkey tilt. When he goes on monkey tilt, he starts three-betting with trash. It's ingrained in him, he's just a tilter at the core."
Negreanu has amassed over $42.2 million in tournament earnings in his career and sits third on the All-Time Money List. But following his loss to Doug Polk in High Stakes Feud, followed by his two losses to Hellmuth during High Stakes Duel II, does Negreanu's legacy take a hit?
"Personally, no, but publicly I think it's already tarnished no matter what happens," Negreanu said about how a loss would affect his legacy. "Even if I dominate Phil again like I did in the first match and win, people are going to look at it like, 'Well, it's still 2-1 Phil,' even though I would be ahead by $50,000, people are still going to say 'Well, he beat you.'"
The Hype Show and The Weigh-In Return
Maria Ho made her High Stakes Duel II debut alongside Ali Nejad for The Hype Show that aired across all PokerGO platforms on Tuesday night. Nejad and Ho recapped some of the Round 1 and 2 action and looked back at the highlights from the previous match which included Hellmuth's river bluff with ten-high and his river fold with pockets aces against Negreanu's king-high. Next up was a visit to Hellmuth Cafe and a little preview of the menu with the lobster ravioli from Carbone the betting favorite at 3-2. Finally, both Nejad and Ho made their predictions for Round 3, and both selected Negreanu to end Hellmuth's streak of five consecutive wins.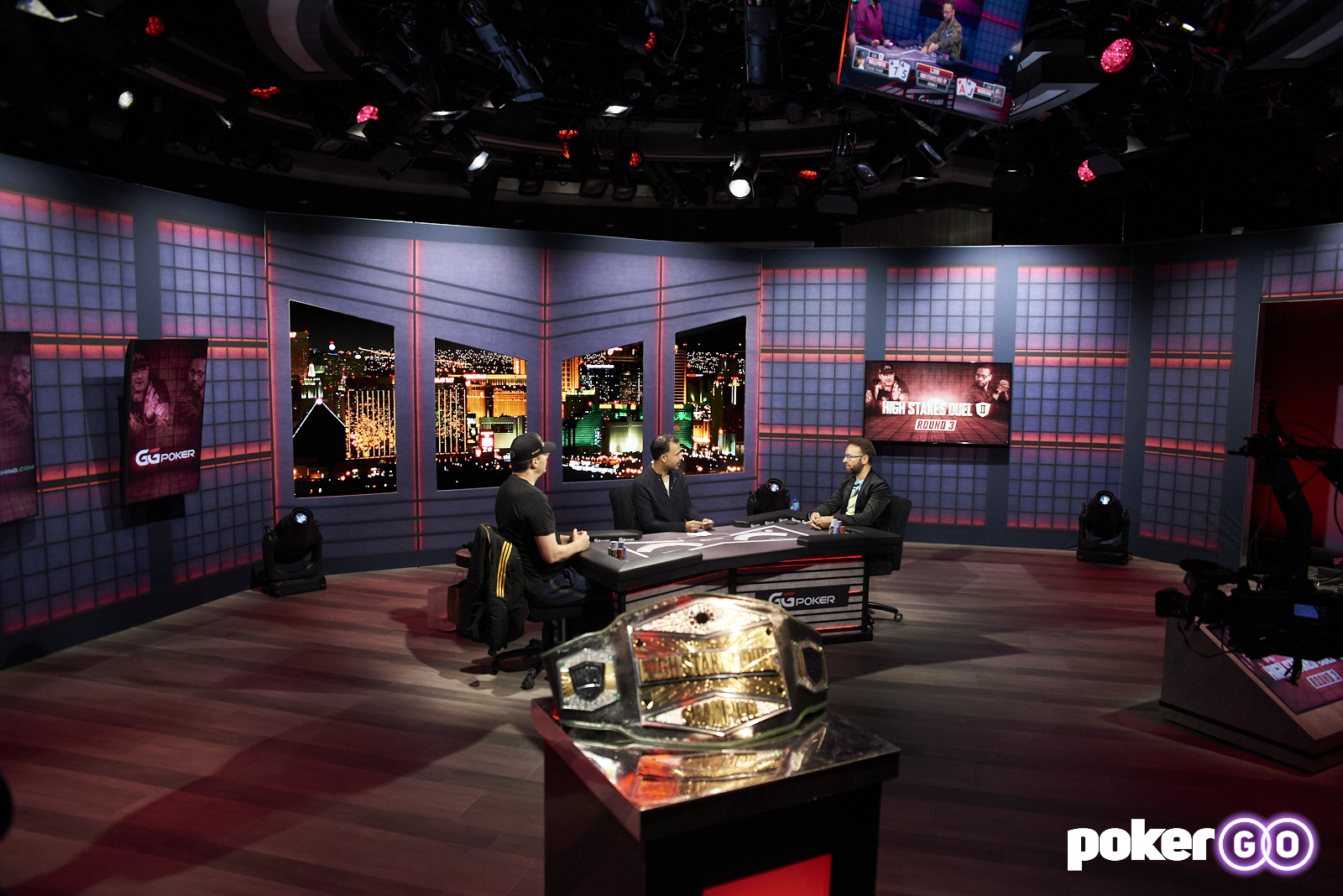 Nejad returned the following night to host High Stakes Duel II | Round 3 | The Weigh-In between Hellmuth and Negreanu. The show began with a discussion on skill versus variance before a few bluffs from Hellmuth were shown and the discussion centered on the adjustments between both players. To close The Weigh-In, both players discussed their legacy, and also how Hellmuth strived to be the greatest WSOP player of all time. With 15 WSOP bracelets, it is hard to argue against that statement, and Negreanu alluded to Hellmuth being one of the best No-Limit Hold'em tournament players of all time.
The Grudge Match Continues in Round 3
Players began a staggering 500 big blinds deep as Negreanu slowly began working his way out ahead before a hand played out near the end of Level 2 that saw both players sling some chips into the middle. Negreanu opened with pocket twos on the button, and Hellmuth three-bet with eight-three suited. Negreanu four-bet and Hellmuth made a five-bet that represented about a fifth of his chip stack. Negreanu called and bet the flop as Hellmuth came along with eight-high before turning a flush draw. Hellmuth led out leaving himself just 100 big blinds, and after using a time extension, Negreanu relinquished his hand and Hellmuth held his biggest lead of Round 3.
Negreanu didn't waiver as he began closing the gap between the two before reclaiming the chip lead. Negreanu then surged ahead and returned to nearly his high point from early as he was dealt pocket nines and raised the button. Hellmuth opted to three-bet holding queen-three suited, and after Negreanu called, Hellmuth flopped trip threes and checked. Negreanu bet and Hellmuth quickly check-raised as Negreanu called and another low card rolled off on the turn. Hellmuth checked, Negreanu bet roughly half the pot, and Hellmuth snap-shoved all-in.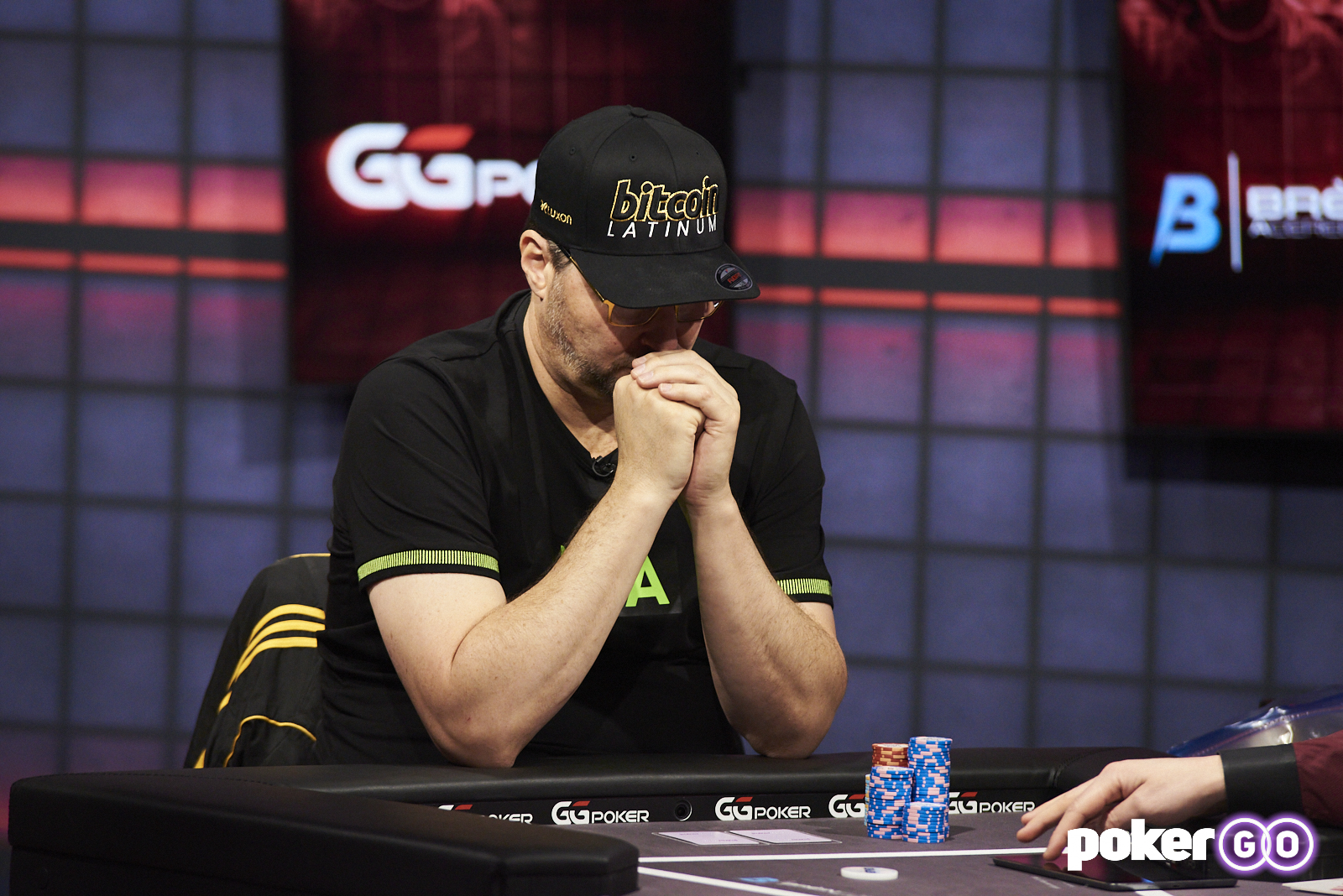 Negreanu used three time extensions and then called, and after a scary ten rolled off on the river, Hellmuth secured the double into a lead of over four-to-one on Negreanu as the blinds went up the following hand and Kid Poker sat with roughly 62 big blinds.
A Hand for the Ages Goes to Daniel Negreanu
Hellmuth and Negreanu traded small pots back-and-forth for over two hours before both players would be dealt pocket kings. Hellmuth held a three-to-one lead and raised the button as Negreanu three-bet. Hellmuth responded by pushing all-in, and Negreanu quickly called with his two red kings. With the cards on their backs, Negreanu called for red before the flop landed all diamonds.
"I just want one," Negreanu pleaded. "One, please. It's coming. I know it. I know it's coming. Diamond has to come. It must come. All my energy into a diamond. I don't need to win pretty."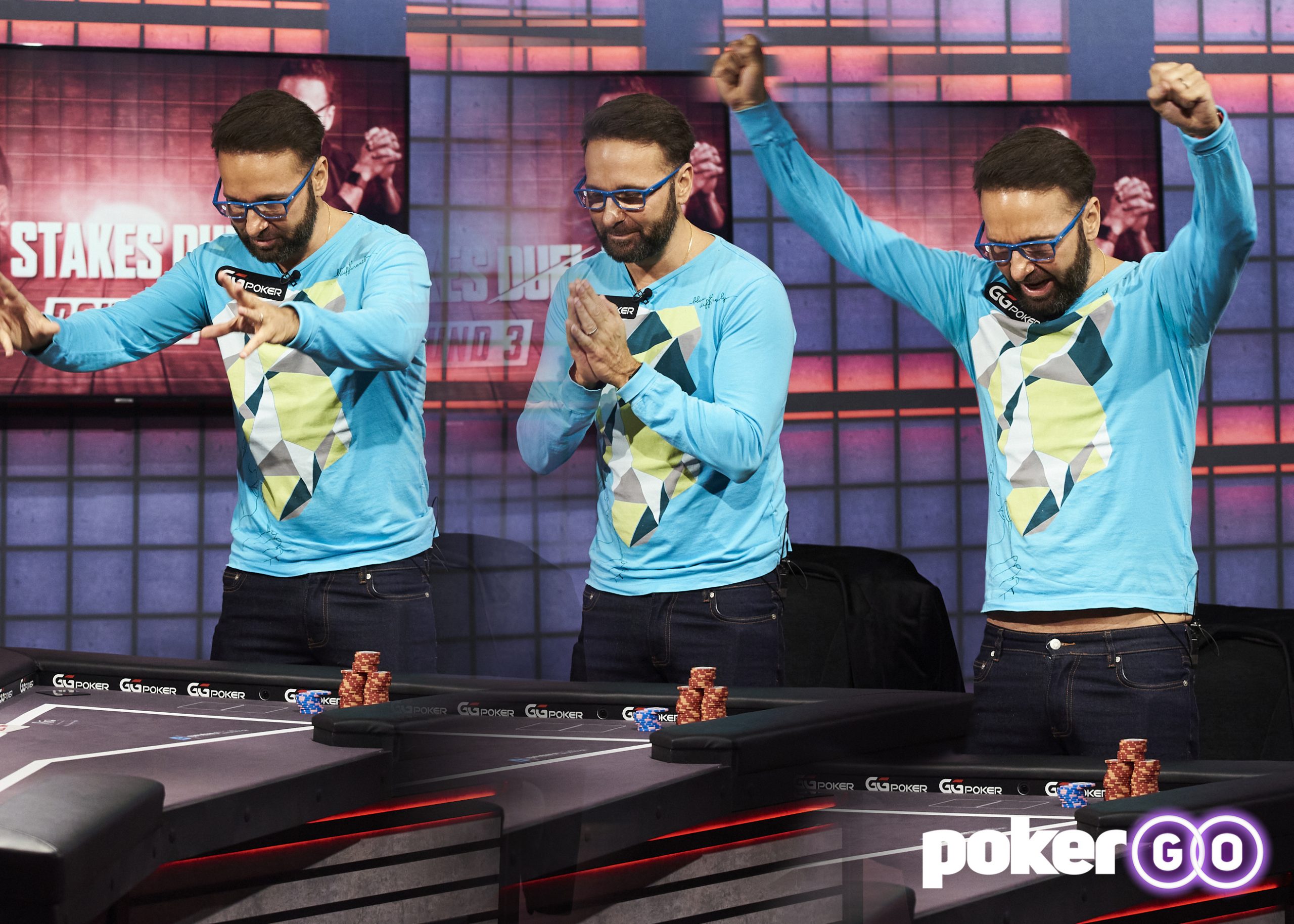 Hellmuth sat there stone-faced as two red cards were delivered by the dealer with the final one being the diamond Negreanu was searching for. Negreanu was now back into the lead, but unfortunately for him, it wouldn't last long as Hellmuth went on a winning streak that pushed Negreanu back out to nearly a six-to-one underdog before he took a stand holding king-three.
Hellmuth had raised the button with ace-queen and called Negreanu's shove. Hellmuth flopped a queen, but a king on the turn ensured Negreanu the double as the match was nearly back to even.
Phil Hellmuth Sweeps Daniel Negreanu and Cashes Out $400K
Roughly 40 minutes following the last preflop clash, hand 266 would play out as the final hand for Round 3. Negreanu limped the button with six-five suited and Hellmuth checked holding ten-six suited. Both players needed an eight to complete their straight, and when it rolled off on the turn, the last of Negreanu's chips entered the middle as he was drawing dead to three outs to chop.
"Oh my god I don't know what else I could do differently there," Negreanu said.
"You played great Daniel," Hellmuth said. "I think you're one of the all-time greats. That's the truth."
Both players shook hands as the river was dealt, and it would be Hellmuth being crowned the Round 3 winner and recipient of $400,000 in prize money.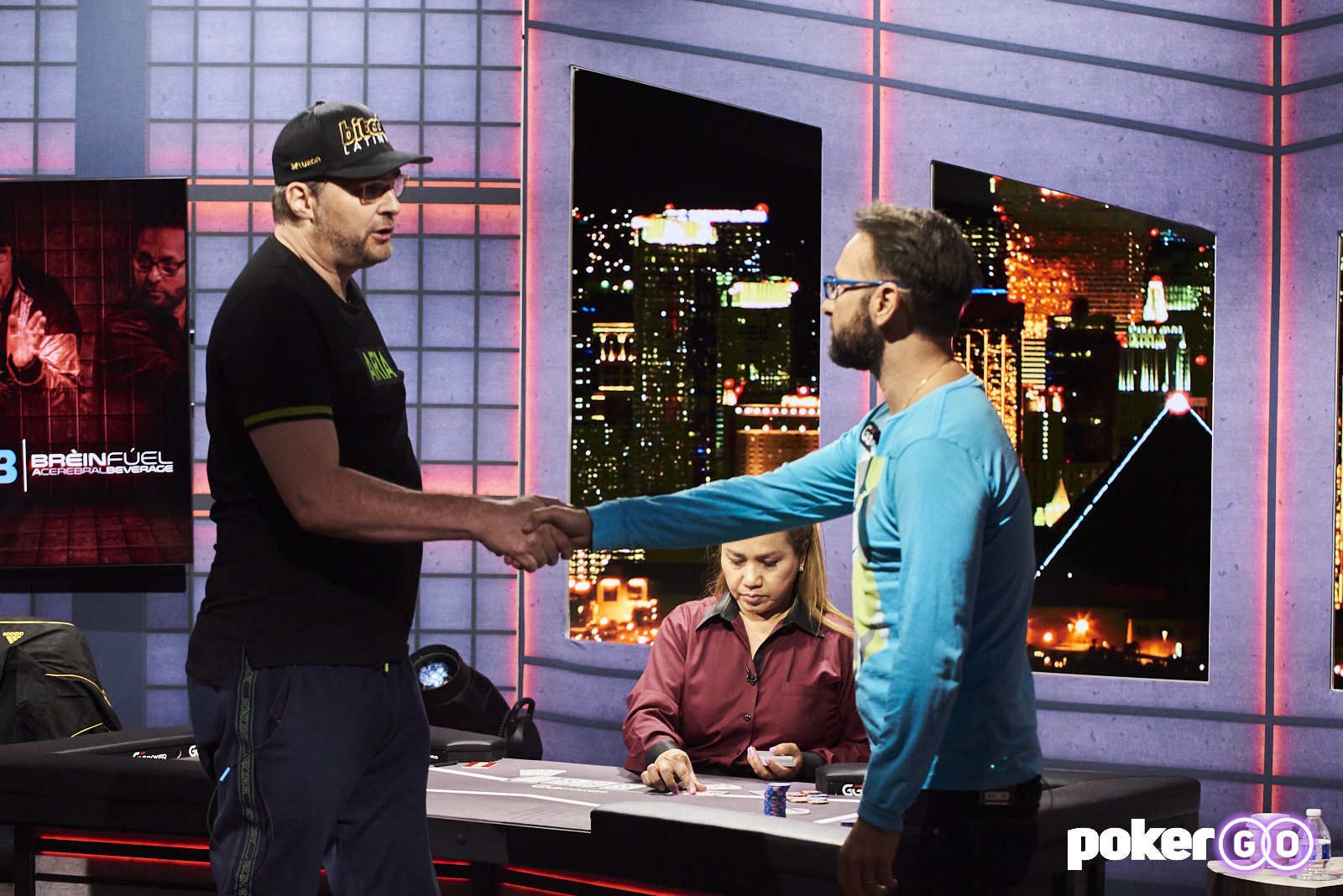 With Negreanu having been defeated three times, Hellmuth now had the option to cash out his winnings or keep the challenger seat open for Round 4.
"Where's the window, baby?" Hellmuth said. "I know Mori
is not happy to hear that, but I would like to go to the cash out window."
PokerGO President Mori Eskandani would present Hellmuth with his second High Stakes Duel Championship Belt
"This was the match I played my best poker." Hellmuth said. "He started with an amazing card rush and got me down before I went for the crazy bluff with the eight-three of clubs. I just went nuts. I thought he couldn't call me, and I was right. After that hand, I felt really confident."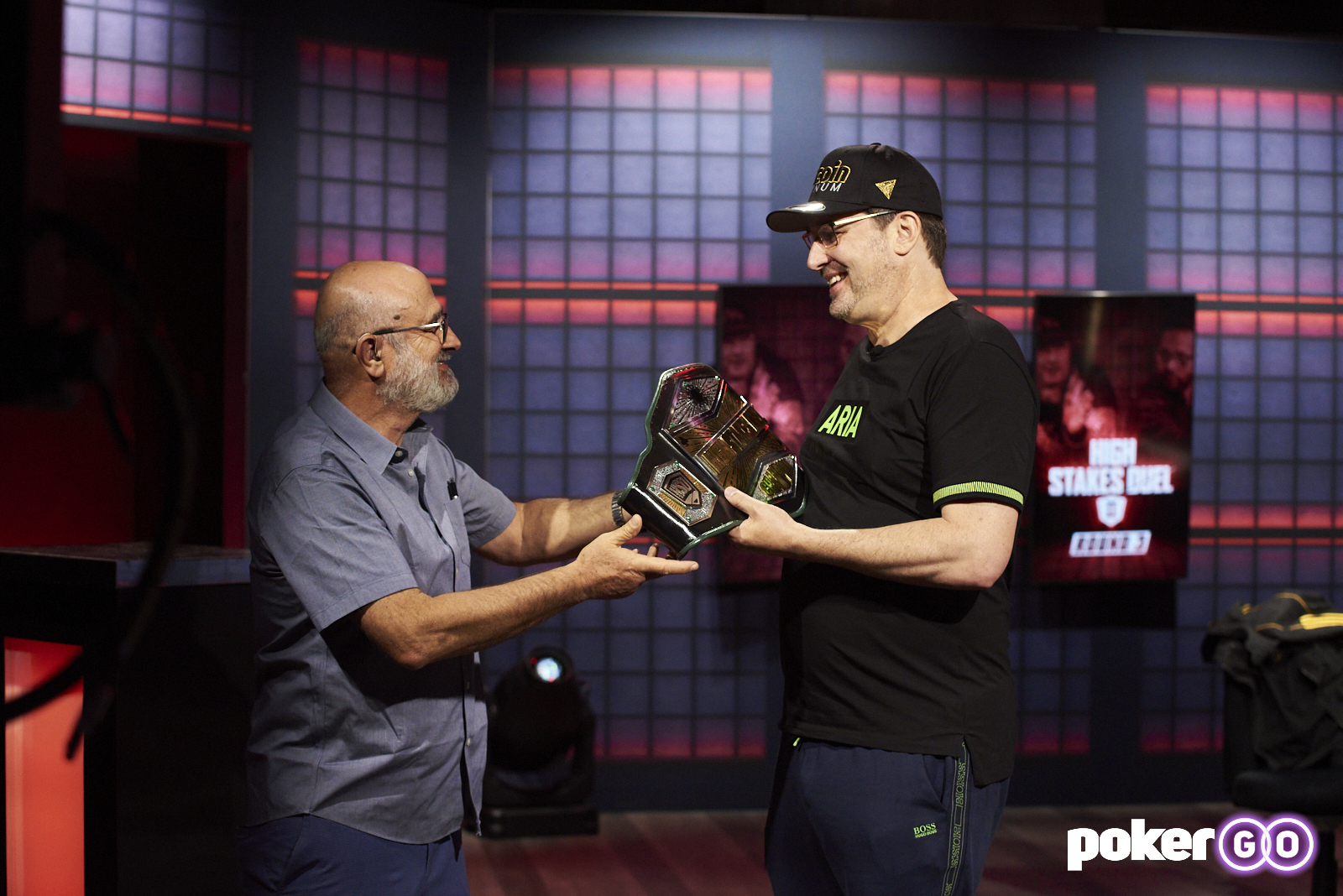 Hellmuth now has six consecutive heads-up victories to his name. But what about the public? What about his peers? Has their views on Hellmuth possibly been swayed?
"I think there are always going to be haters, and I remember all these tournaments I've won over the last ten years, all these World Series of Poker tournaments. It's a crazy number. I just keep getting down there. And if I don't do anything for two years, then everybody is like, 'The game has passed Phil by,' and then I win a bracelet, and they say, 'Phil is the greatest of all time.' So there is a lot of current bullshit going on, and people judge people by the current stuff. I'm frustrated that I beat the biggest and most important tournaments around the world for 22 years, and now their knock is that he doesn't play enough high rollers, he's not good, he's not as great as the young players."
Hellmuth has now locked up two consecutive High Stakes Duel sweeps and can turn his attention to whatever is next. For Hellmuth, it will be the upcoming PokerGO Cup that begins on July 6, 2021, where he'll look to ride his High Stakes Duel into some high roller victories.
"I just can't wait to step into that ring in July for the PokerGO Cup, and I can play some tournaments with those guys, and we'll see how it goes."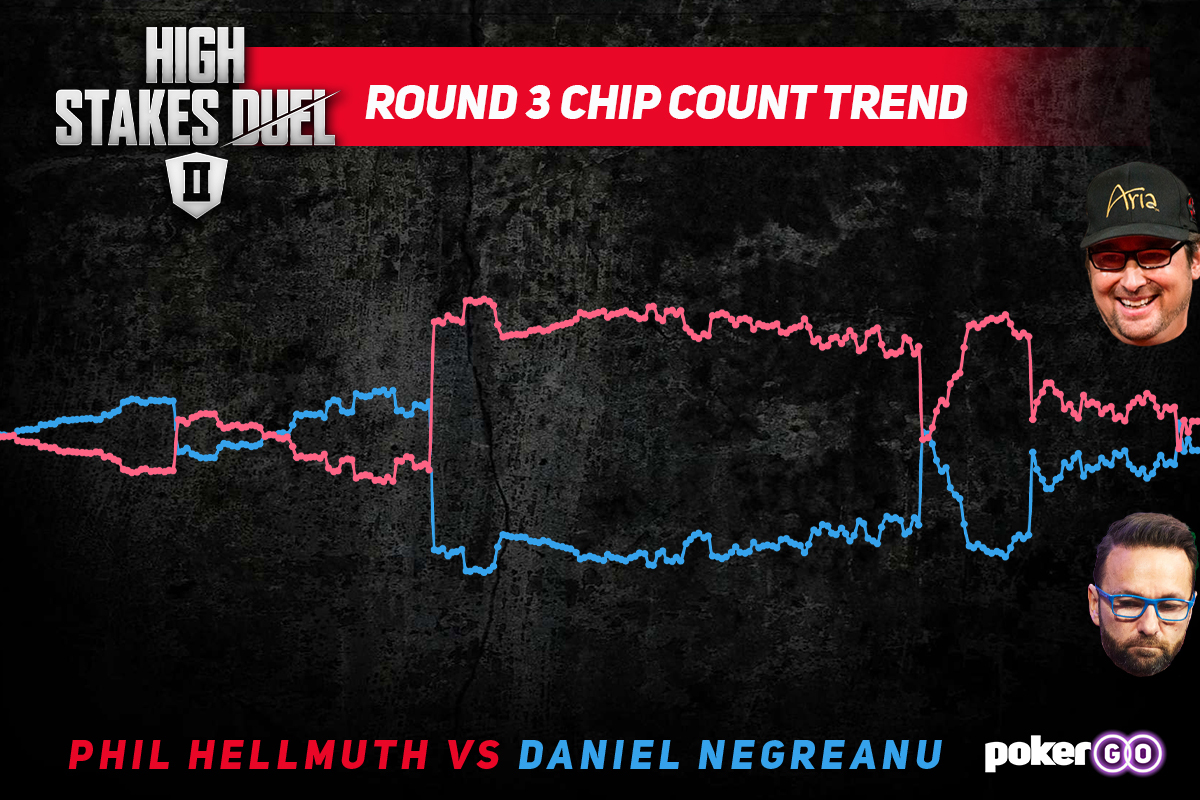 Connect with PokerGO.com on Facebook, Twitter, and Instagram. Use code "HSD3" for $20 off an annual PokerGO subscription now!