Phil Hellmuth collected the victory over Antonio Esfandiari in the premiere of High Stakes Duel for $100,000. The stakes doubled for Round 2, and Hellmuth secured a second consecutive victory to see Round 3 set for a match for $400,000. If Hellmuth managed to sweep, he would collect the $400,000 purse and have the option to cash out. For Esfandiari, it wasn't just about being in the black, but also about the pride.
High Stakes Duel is PokerGO's newest original series that begins with each player posting the $50,000 buy-in. The winner progresses through to Round 2 where the loser has the first option to challenge. If the loser declines, the challenger seat is open for 30 days. The stakes will double each round where a potential $12.8 million prize pool would be reached by Round 8.
"You win the first two and it's huge," Esfandiari said about whether this match carries more pride behind it than other tournaments he has been heads-up in. "But if I win the third one, I'm actually up more money. So, at the end of the day, I really used to care about the glory. These days I care way more about the money."
Esfandiari continued, "A W is very much needed today for Team Esfandiari. Just the idea or thought of going 0 and 3 is pretty brutal against Phil Hellmuth. That would really sting."
Esfandiari has won over $27.8 million in his career with Round 3 of High Stakes Duel being his 25th time playing heads-up. He has won three WSOP bracelets and a WPT title, but a staggering amount of pressure falls on The Magician as he looks to fade the Hellmuth sweep.
"I think that it's way worse for me to go 0-3 than it is for him to lose this last battle. It's not even close. He really wants to win to go 3-0, and I really can't let that happen. I need the win today more emotionally than he does. I think that all my friends – especially all our mutual friends – will never let it go that I went 0-3 against Phil."
The Hype Show Debuts and The Weigh-In Returns
Making its debut in Round 3 of High Stakes Duel, Ali Nejad and Nick Schulman co-hosted The Hype Show that was available across all PokerGO platforms on Tuesday night. Nejad and Schulman recapped some of the major Round 2 hands and discussed each player's heads-up skills and their subsequent pros and cons.
"Good evening. Welcome to The Weigh-In. Round 3 of the first-ever High Stakes Duel here at the PokerGO Studio. A chance for Phil Hellmuth to walk with $400,000, or for Antonio Esfandiari to welcome a challenger. Gentlemen, we're back again for Round 3. How are we feeling?" Schulman said to open High Stakes Duel | Round 3 | The Weigh-In.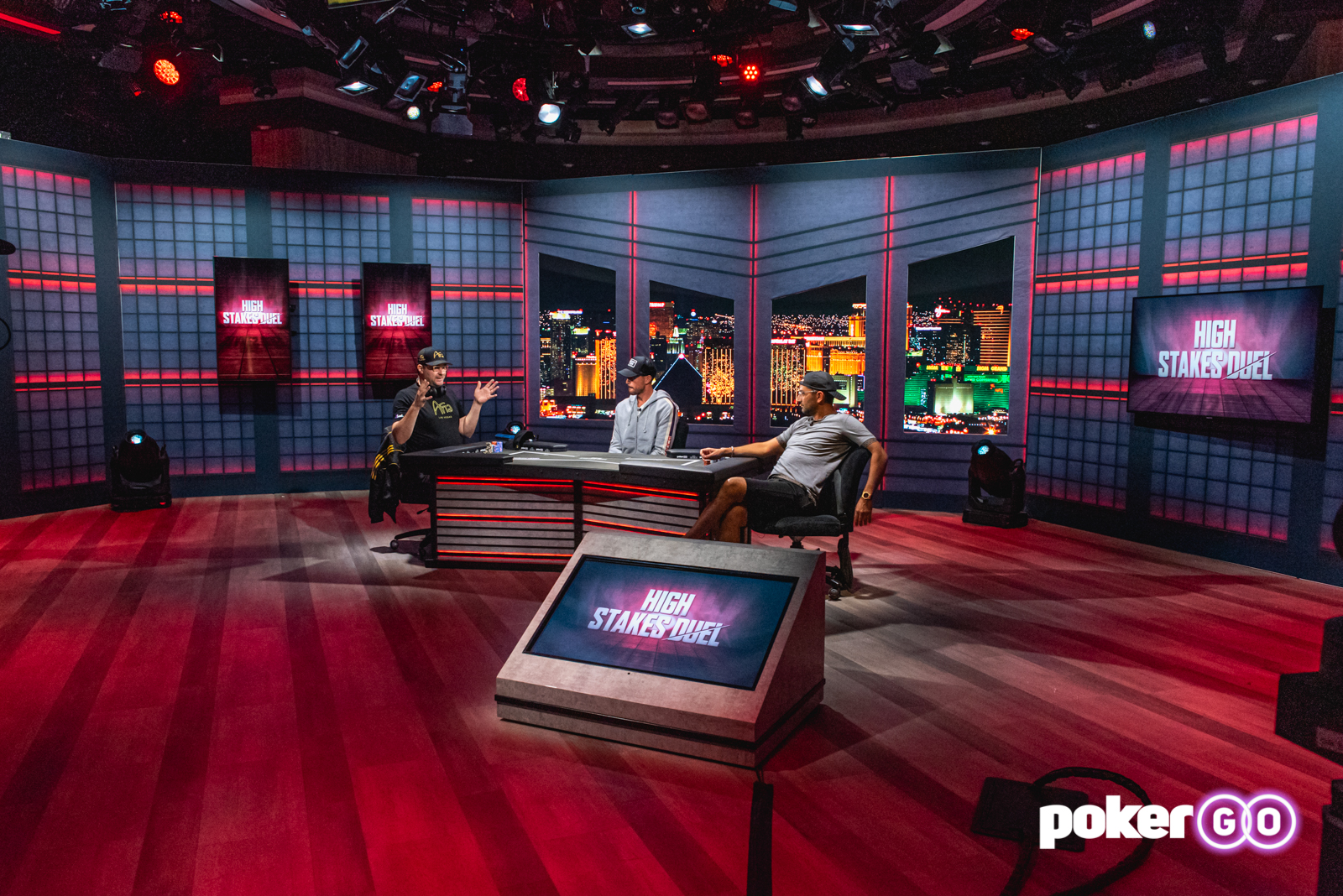 Both Hellmuth and Esfandiari discuss game plans heading into Round 3 before the topic changes to Hellmuth's reputation among the younger generation of poker players.
"You know what pisses me off?" Hellmuth said. "What pisses me off is that these kids, they couldn't see my hole cards for all those final tables. For all those championships."
"Really you're talking about less than half a percent of poker. You're talking about the world, in general, I have 99.9% on my side which is a huge number. But among the top players, there's quite a bit of dissension, 'is Phil great or not?' and it's frustrating because I keep getting deep and winning, and winning, and winning, and winning, and they don't understand it."
"I'll be honest. I watched the playback and I was impressed," Esfandiari said regarding Hellmuth's play in Round 2. "I didn't think Phil had it him to play as good as he did. And he did. So my opinion of Phil has changed. I've always thought he was kind of a fish and I've regained a lot of respect for him."
Action Underway in Round 3
As the first hand was being dealt, Hellmuth rose to his feet and approached Esfandiari for a hug to kick off Round 3 of High Stakes Duel. The banter began early between the two as play began, and the early stages of play saw predominately small pots before Esfandiari bluffed his straight and flush draws on the river and Hellmuth picked him off with second pair.
The next major turning point occurred when Hellmuth was dealt pocket sevens and flopped bottom set against Esfandiari's second pair. Esfandiari improved to two pair by the river and called pot-size bets on the turn and river to pay Hellmuth off and drop to his biggest deficit to Round 3.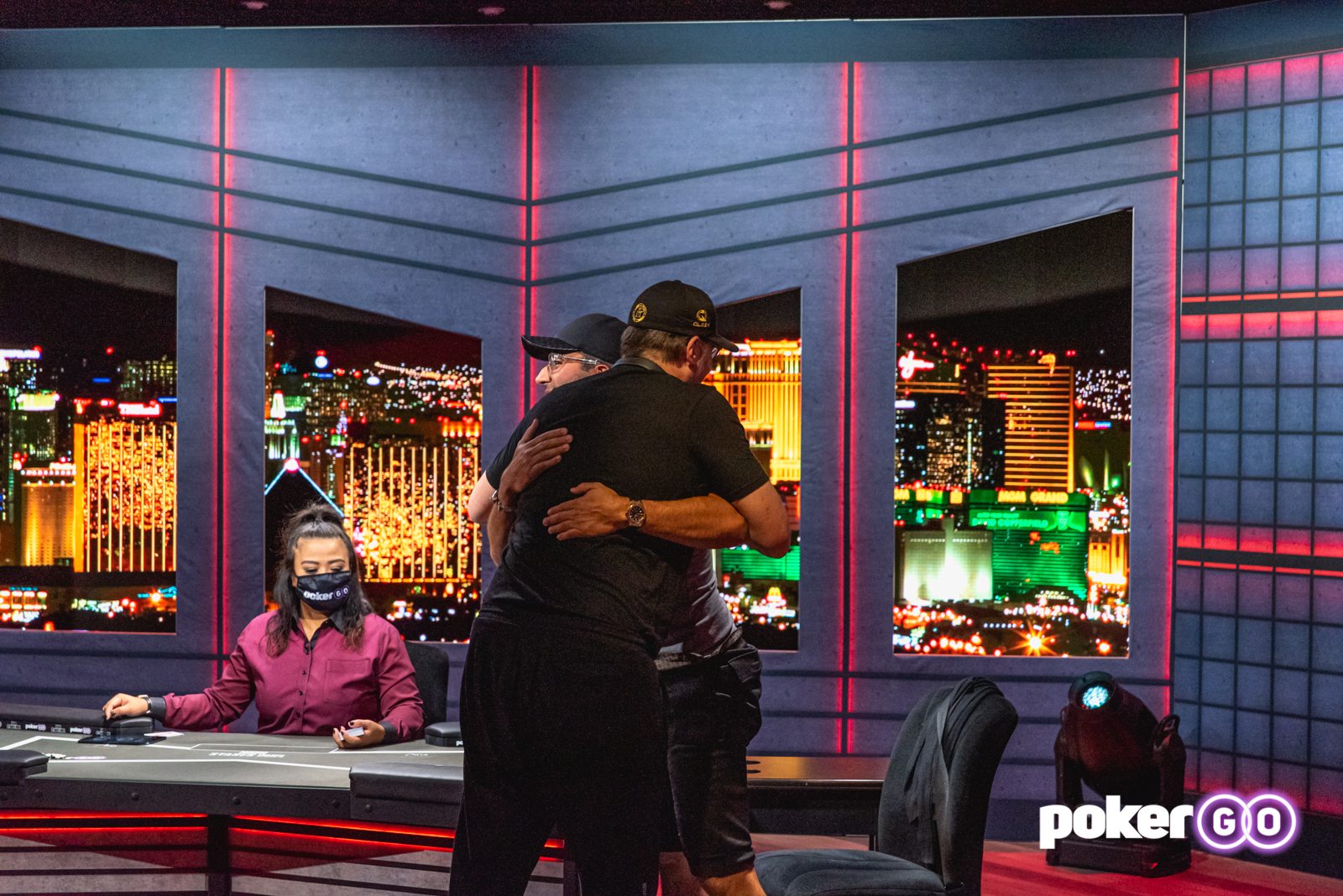 Esfandiari slowly clawed his way back to take the chip lead off Hellmuth, but it would only last momentarily as both players flopped a pair but Hellmuth turned trips and extracted value from Esfandiari's two pair. The hands would be reversed shortly after as Esfandiari turned trips to outdraw Hellmuth's top pair before the biggest blow of the match occurred as action entered Level 5.
Hellmuth was dealt jack-nine of diamonds and limped in as Esfandiari checked his eight-deuce of diamonds. Hellmuth flopped a pair and a flush draw and bet out before Esfandiari check-raised his inferior flush draw. Hellmuth quickly three-bet and Esfandiari called as the diamond fell on the turn to give Hellmuth the second nuts. Esfandiari led out and Hellmuth called as the river blanked out. Esfandiari made another big bet and Hellmuth announced a raise.
"I think Antonio's soul just left his body," Schulman said on commentary.
"That's pretty special," Esfandiari said as he was faced with Hellmuth's raise. "That would be pretty special if you had the king-high flush huh. I mean, I just can't beat you Phil."
Esfandiari called, and when Hellmuth showed the second nuts, he surged into a three-to-one advantage.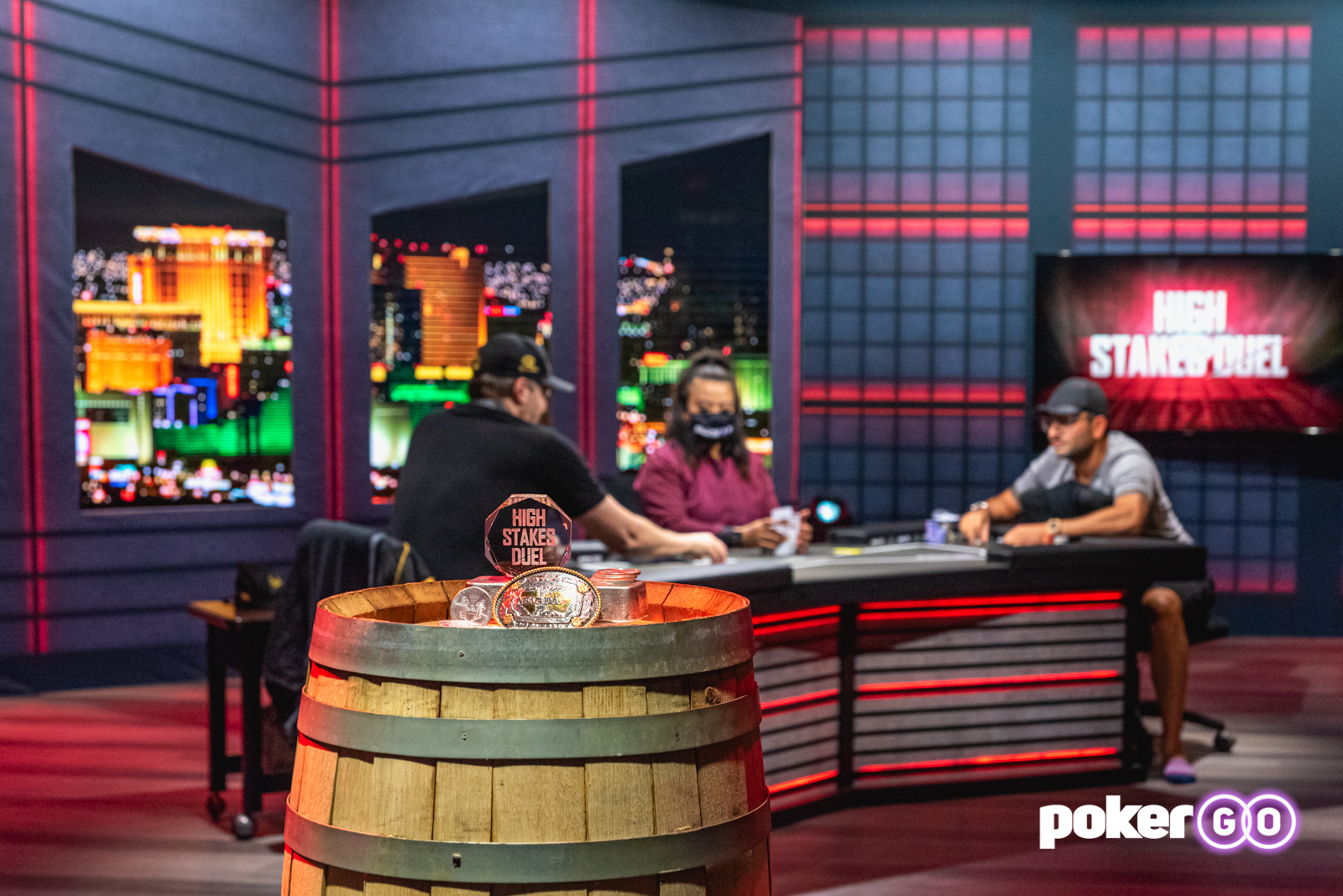 Esfandiari wasn't prepared to quit just yet as he began to mount another comeback and closed the gap between him and Hellmuth. Play then entered Level 8 and Esfandiari was dealt pocket fives and opened with a min-raise. Hellmuth was dealt his umpteenth ace-queen and moved all-in to put the pressure squarely on Esfandiari.
"You're so hopeless it's unbelievable," Esfandiari said as he contemplated calling all-in for his 48-big blind stack. "I mean, my gosh, am I going to fold this? I guess it's a flip. It's gotta be a flip, you don't have ace-four, ace-three-, ace-deuce. Ah, Philly boy."
Esfandiari would decide upon a fold, and following a series of pots between the two, another potentially big one nearly played out. Esfandiari was dealt pocket nines as Hellmuth held a suited connector that flopped a flush and straight draw. Hellmuth check-called a bet from Esfandiari, but then folded to a turn bet after the board paired. Just two hands later the final blow in Round 3 would occur as Esfandiari was dealt ace-three and min-raised the button. Hellmuth bumped it up from the big blind holding ace-ten suited and Esfandiari shoved all-in for 43 big blinds and Hellmuth snap-called.
Both players flopped top pair and Esfandiari had nine chop outs heading into the river. Unfortunately for The Magician, the river bricked out and he was handed his third consecutive defeat courtesy of Hellmuth.
Phil Hellmuth Sweeps Antonio Esfandiari and Cashes Out $400k
Even prior to High Stakes Duel, Hellmuth and Esfandiari had a great rivalry. Although each player has their definite edge in certain categories, it's hard to quantify who actually has the edge between the two career-wise.
"The first time I beat Antonio was 2005 NBC Heads-Up Championship. That was big because I went on to win it. But he's just a great player and he's beat me lots of times in lots of tournaments. I don't really consider that I have the edge. It feels more like I've evened it out between us. Maybe I'm ahead a little bit."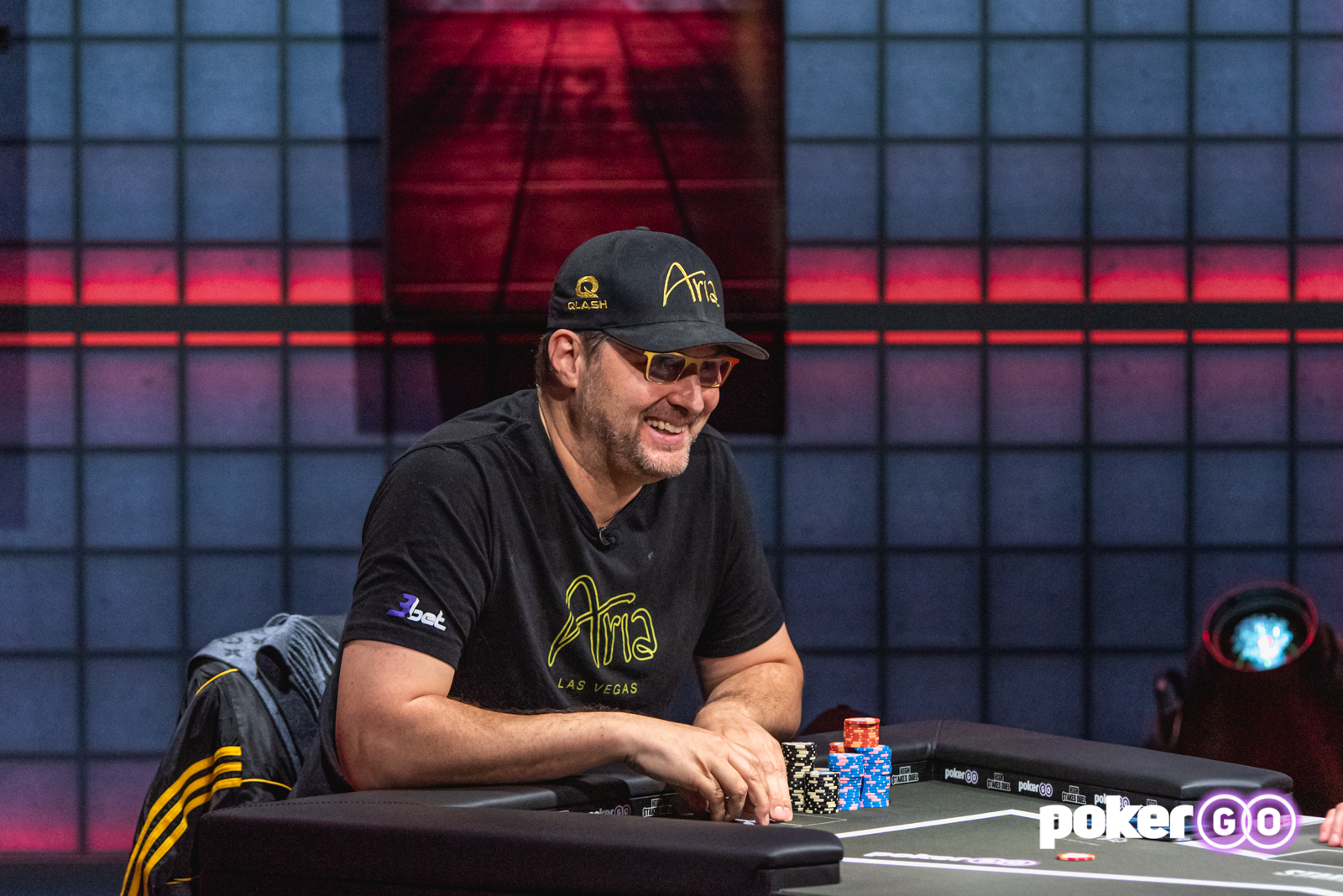 "I'm just glad it's over because Antonio is just a great player," Hellmuth said following his victory. "I'm ready to hang it up."
Although Hellmuth had the option to continue to Round 4 and see what challenger would be willing to take him on, he inevitably decided to cash out the $400,000 but mention he is eager to be a part of Season 2.
"I hope that somebody else challenges me for $50,000, and I'll try to win another three-in-a-row. There are some great players out there that want a shot. I hope I can open Season 2. But we'll see. It depends on what Mori says. But I'm ready to open Season 2 in a month, or a couple of weeks, whenever."
It's tough to argue that Hellmuth doesn't deserve to defend his High Stakes Duel title once Season 2 begins – but the question is who will step up to challenge him?
"If I get to choose who I play it's going to be fun. I think there are a lot of great players out there. I think there are a lot of great players that misunderstand how to play heads-up. So am I lucky enough to find one of those players?"