The world of super high stakes tournaments is a battleground like no other. The blend of skill, study, talent, variance, and egos creates something that speaks to the imagination of players and fans alike. Over the last five years, Nick Petrangelo, along with a plethora of others that belong among the game's best, have put their skills and creativity on display in a wide variety high buy-in of events, but a lot more than just playing the hands your dealt goes into both entering and competing in these events.
On Day 2 of the Big One for One Drop we caught up with Nick Petrangelo, winner of $5.1 million in the last seven weeks alone, to talk about the composition of the fields at this level, the influence of non-pro participation, the adjustments and skills needed in order to compete, the impact playing on televised tables has on a player's game and thought process and the never-ending dream of playing perfect poker.
The Mindset of Competing at the Highest Level
As super high roller buy-ins have grown over the last few years, players have become more selective in what they're willing to play, looking for slight edge-increases to motivate them to enter. In events without a guarantee, cap or overwhelming buzz, this can sometimes create situations in which professional wait until the very last minute before signing up, or deciding that there's not enough value for them to pull the trigger on a large investment.
About scenarios like this, the $1,000,000 Big One for One Drop having 27 players versus 42 back in 2016, and professional players being cautious with their commitment to participate waiting to see how many recreational players would show up, Petrangelo was very straightforward.
"The guys that really belong in these events don't think like that, they just come to play. Whoever's there is there."
"Everybody that was excited to play this, who had put their deposits down, was looking forward to it, and preparing for it the whole time, stopped looking at stuff like that a few days before the tournament started. We know it's going to be tough in the end, and we know that even the recreational players in this event are good poker players and sharp gamblers that play in huge home games and are comfortable at these stakes."
Petrangelo doesn't think about 'what if' scenarios in advance. The 31-year old pro thinks that professional players that worry about table draws and weighing their decision to play on the participation of one more or one fewer non-pro showing up are at a mental disadvantage.
"Having the mindset where you're hemming and hawing about your table draw or think like, 'Oh my god this is such a tough table,' you're already putting yourself in a spot where you're not going to play with as big of an age as the top players. People that are going to have a big edge at the table are sitting there and are ready to play every spot as best they can, and if you start by thinking about that stuff you're making a mental mistake."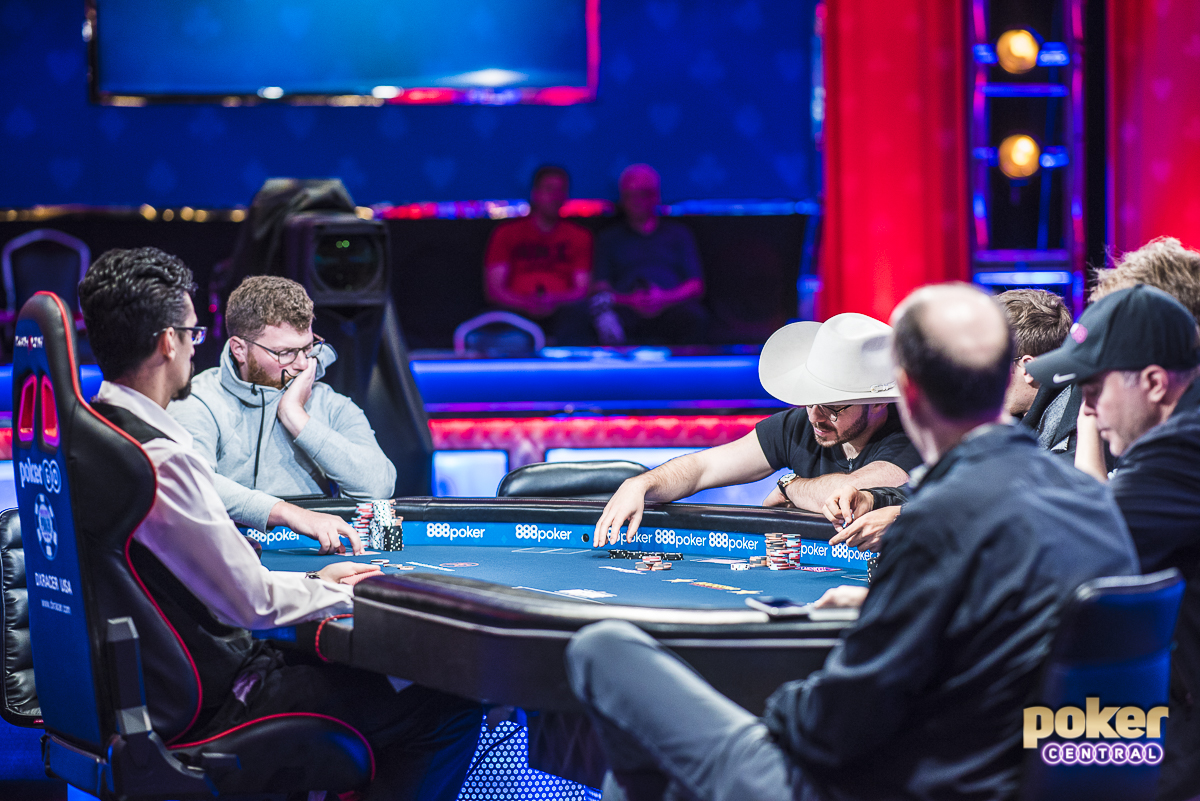 Surrounded by fellow sharks at the feature table, Nick Petrangelo finds himself in a hand versus Dan Smith.
The Skills Needed at the Highest Level
Summarizing the skillset needed to play in a tournament like the Big One for One Drop, Petrangelo mentioned being able to adjust from deep-stacked play, which Day 1 mostly was, to the average stack going down to the 50-70 range and ultimately having a good understanding of ICM.
"It's hard to know everything and be sharp with everything, but I think that the guys that are regulars in events like this all year get that practice in all different types of tournament play. The high roller events across the year are very similar, and all the guys that get a lot of practice in those have a big edge in this event."
With nearly $16 million in live tournament earnings and high-roller results dating back to 2015, Petrangelo has faced the core group of super high roller regulars countless times. According to the $100,000 High Roller World Series of Poker bracelet earlier this summer, those reps and picking up on new things players implement that are at the cutting edge of the game are crucial for his development and taking a $1,000,000 tournament as 'just another day at the office'.
"Everybody is always doing a bunch of work on their game, and playing like this is almost like we're getting free lessons from each other every single time we play. I'm not saying that we play for these amounts of money every single day, but we play against each other in almost every tournament and that gives us a huge edge versus other players."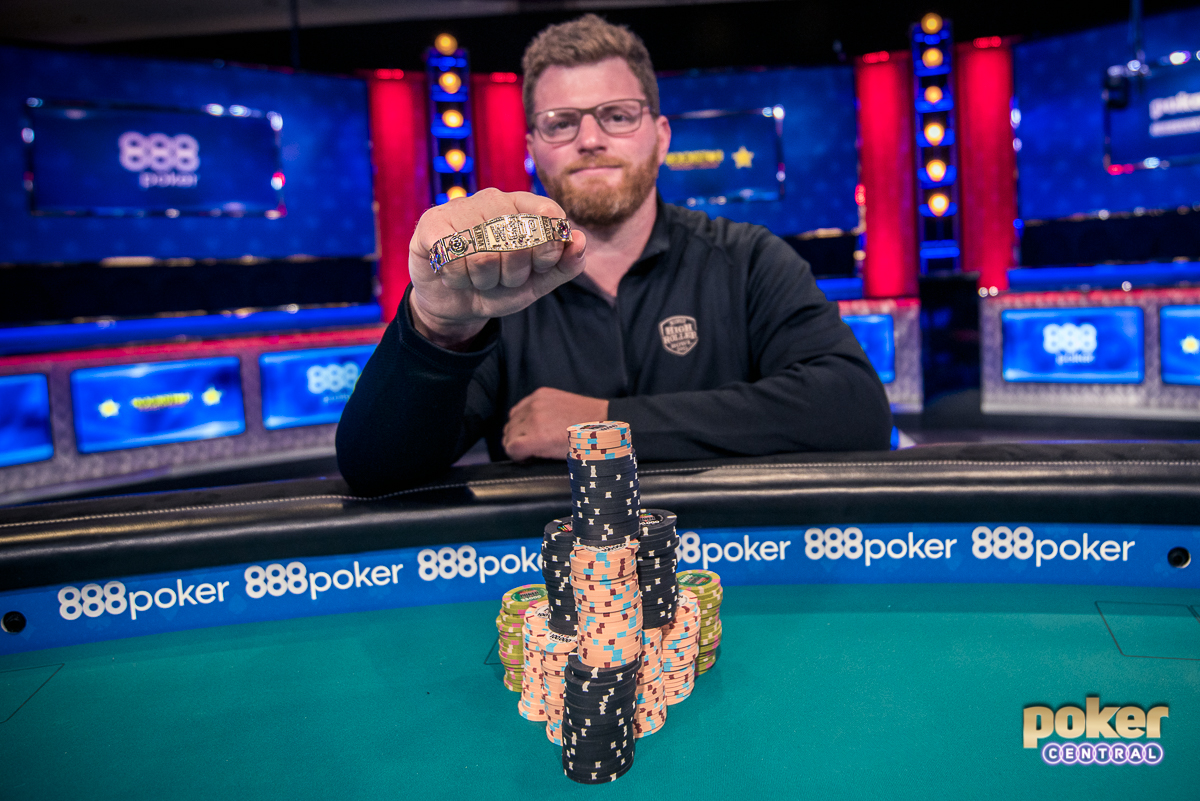 Trying to be Perfect in the Live-Stream Era
This summer, Petrangelo showed off a lot of his skills to poker fans and his peers alike, playing two days of live-streamed poker at the Super High Roller Bowl where he finished sixth, three days during the $100,000 High Roller WSOP event that he won, the whole night during the $50,000 High Roller final table WSOP event, and now again during the Big One for One Drop. While Petrangelo isn't a fan of giving away his secrets to his competitors, he does think it gives him a type of experience that is beneficial when the stakes get even bigger.
"At this point, it's just another live-stream. The stakes happen to be huge, but the pressure and adrenaline feel the same because I've played in this scenario so many times."
Looking back on a highly successful summer but with a few levels of high-level play, stakes and adrenaline still to look forward to, Petrangelo once again makes it clear that it takes a special kind of person with a level of dedication and discipline that sets the regular players apart from the super high roller regulars. No matter how big the win or streak of good results, Petrangelo's biggest satisfaction will come from finding perfection in his poker play.
"It's a really tough grind and every time you think you've figured out how to play a spot you make mistakes like you make mistakes every time you play. It can be really stressful when everyone is an expert watching home on the stream and you're playing against a bunch of other guys that are trying to play perfectly as well.
"The whole game for me is knowing what I know about the spots and trying to execute in-game and not think about the money in a way of, what we're paying for, how much I'm going to get if I win, and not trying to deviate from what I know is good. I just want to make one decision at a time, make it the best I can, move on and get closer every time to play perfect."
Watch the Big One for One Drop final table on Tuesday night at 9:00 pm ET on ESPN2. Tune in for live action on ESPN2 right now as Nick Petrangelo is vying for a spot at that final table with six players remaining. Subscribe to PokerGO right now to enjoy more than 100 days of live poker every single year, including the full replay of Petrangelo's win in the $100,000 High Roller at the WSOP earlier this summer.