Justin Pechie has won his second World Series of Poker (WSOP) bracelet by winning Event #34: $1,500 No-Limit Hold'em Freezeout for $364,899 in prize money.
After winning his first WSOP bracelet in 2011 in the $1,500 Limit Hold'em Shootout, Pechie now becomes a multi-time WSOP bracelet winner. In the process, Pechie surpasses $1 million in WSOP lifetime earnings and now sits with more than $1.8 million in lifetime tournament earnings.
"I came in and I said I'm just going to play like I know how to play. And it worked."
One of the few No-Limit Hold'em freezeout tournaments of the 2022 WSOP, Event #34: $1,500 No-Limit Hold'em Freezeout attracted 1,774 players and created a prize pool of $2,368,290. Entering the final day, just ten players remained as Orson Young was the day's first casualty when his pocket queens were outdrawn by the ace-king of Maxime Parys. Parys was now the new chip leader ahead of fellow Frenchman Samuel Bifarella, and after a stalemate with nine remaining, a double knockout occurred that saw Dwayne Sullivan and Jeremy Wien run into Pechie's pocket queens to put the final table down to seven players as the PokerGO stream kicked off with Parys holding a sizeable chip lead over Bifarella and Pechie.
Eyeing his third WSOP bracelet, Steve Zolotow secured a double up when his ace-four outdrew David Dibernardi's pocket nines on the turn. Dibernardi found two double ups before Michel Leibgorin would exit in seventh when his ace-jack failed to improve against the ace-king of Dibernardi. Dibernardi's run would end in sixth when he was picked off by Bifarella to see five players head to the next break. Once play resumed, Pechie jumped into the lead doubling with ace-four suited against the pocket nines of Parys before Pechie's lead was extended when he eliminated Zolotow in fifth place.
Kenny Robbins exited in fourth place before a monster pot went to Pechie when he turned the nut straight against Pary's two pair. No improvement fell for Parys, and the Frenchman was down to just three big blinds before busting shortly after when his jack-ten lost out to Bifarella's ace-king. Down to heads-up play, Pechie held nearly a three-to-one lead over Bifarella, and after roughly an hour of play, Bifarella would commit the last of his chips with a flush and straight draw against the two pair of Pechie. The turn improved Bifarella to top pair, but when the river failed to bring a spade, king, four, three, or deuce, he was eliminated in second place and Pechie was crowned the Event #34 champion.
"It hasn't sunk in yet," Pechie said about winning his second WSOP bracelet. "I've played maybe six events, and I've tried to play, not different than I used to play, but I tried to play at a higher level in this tournament. Obviously, I ran amazing."
Pechie led the American brigade at the final table against an army of Frenchman led by Parys, Bifarella, and Leibgorin. The rail was rowdy for the Frenchman, and when the final hand played out, chants of USA would echo around the WSOP feature table stage.
"It was crazy in here. It was fun. I enjoyed it," Pechie said about the atmosphere at the final table. "Even when they were beating me, I enjoyed it."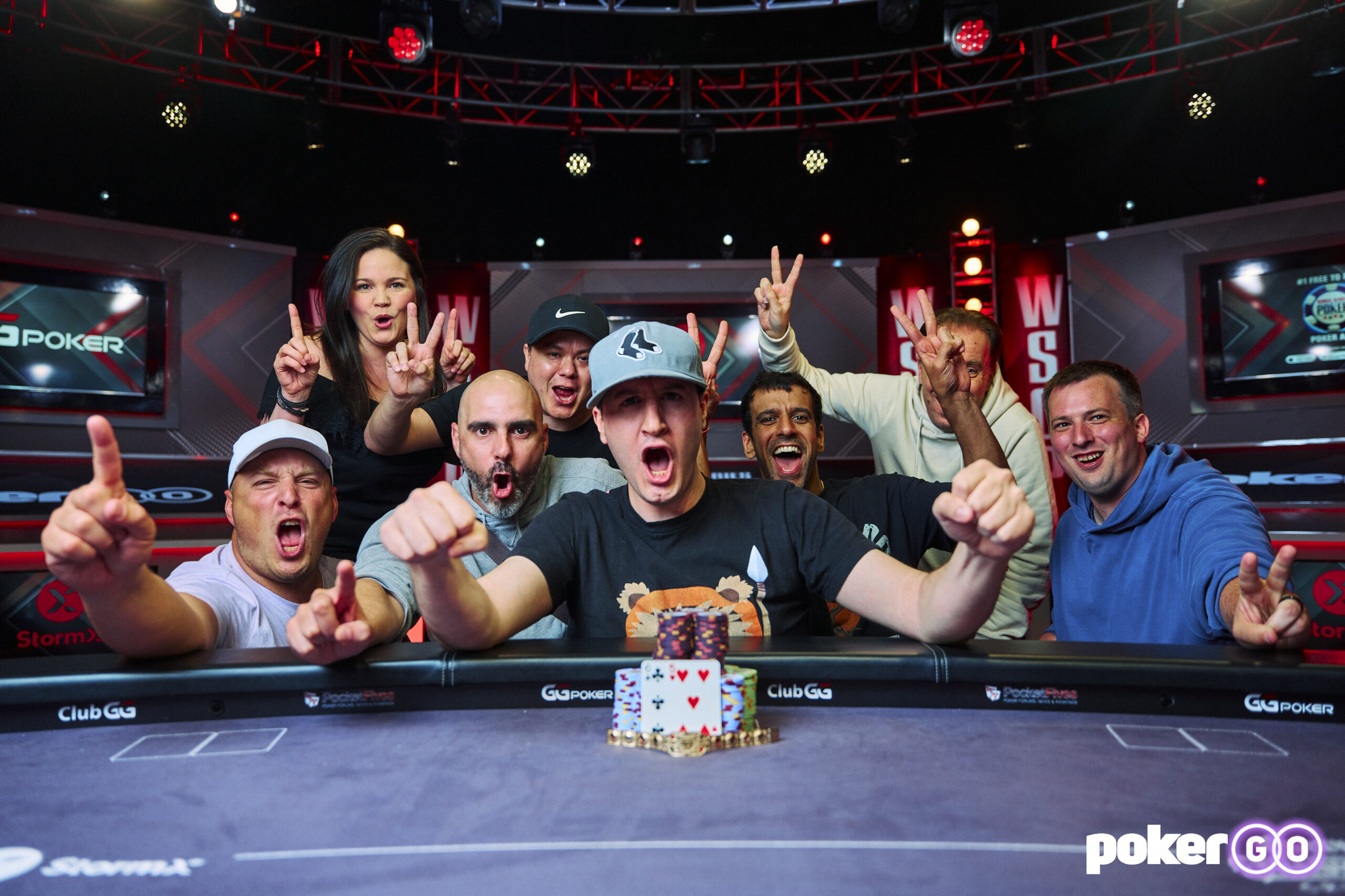 It is a rarity to find a low buy-in No-Limit Hold'em freezeout on the WSOP schedule with the reentry format being popular among players and amateurs. There will always be some nostalgia and poker purity when it comes to freezeouts, and Pechie managed to navigate the near-1,800 player field to win his second WSOP bracelet.
"I think it evens the playing field out and it makes the competition more fair," Pechie said on the freezeout format that has become so rare in WSOP No-Limit Hold'em tournaments in recent years. "When you get down to the final two tables, you have a different amount of skill then when you get down to
if it's a reentry."
"I've never really adjusted what I do with the amount of money I have," Pechie said on if his WSOP plans will be changing now that he padded his bankroll with $364,899 in prize money. "I always just try to find what I think is the best thing. I'm not going to play high rollers. I feel like I'm good against average competition. I'm not a high roller and I don't plan on being one. I'm just going to keep doing what I do and put it in the bank."
Event #34: $1,500 No-Limit Hold'em Freezeout Final Table Results
| | | | |
| --- | --- | --- | --- |
| Place | Name | Country | Prize |
| 1st | Justin Pechie | United States | $364,899 |
| 2nd | Samuel Bifarella | France | $225,506 |
| 3rd | Maxime Parys | France | $164,469 |
| 4th | Kenny Robbins | United States | $121,224 |
| 5th | Steve Zolotow | United States | $90,306 |
| 6th | David Dibernardi | United States | $68,002 |
| 7th | Michel Leibgorin | France | $51,766 |
| 8th | Jeremy Wien | United States | $39,843 |
| 9th | Dwayne Sullivan | United States | $31,009 |
PokerGO is available worldwide on all of your favorite devices, including Android phone, Android tablet, iPhone, iPad, Apple TV, Roku, and Amazon FireTV. You can also stream PokerGO on any web or mobile browser by going to PokerGO.com. For a limited time, you can save $30 off an annual subscription by using the code "WSOP30" at checkout.
Connect with PokerGO.com on Facebook, Twitter, Instagram, and TikTok. Watch daily poker clips on the PokerGO YouTube channel. Join the conversation on the PokerGO Discord server.