It has taken many years but Jared Bleznick, formerly known by his online handle Harrington10, has taken down his first-career live tournament! Winning the $10,000 8-Game event at the 2019 Poker Masters, Bleznick outlasted the likes of Cary Katz, Nick Schulman, and Brandon Adams at the final table on his way to claim the $153,000 top prize.
"Poker is very tough right now and it feels good to get a win," Bleznick said after closing it out. The long-time online pro who transitioned into becoming an established cash game player in the high stakes rooms across Las Vegas no longer plays the game for a living, picking and choosing his moments to play tournaments.
Relive the full final table on PokerGO right now. Next up: $10,000 Big Bet Mix final table on PokerGO on Saturday, November 9 at 4:00 pm ET. Catch Early Action streaming and Live Reporting from the Big Bet event by clicking the links. 
The action started with seven players vying for the 2019 Poker Masters 8-Game title lead by Bleznick who took a massive chip lead to the PokerGO streamed final table. Brittish Poker Open Pot Limit Omaha champ George Wolff was the first play to bust in 2-7 Triple Draw. Wolff was dealt a 9-6 low and pondered for a long time before standing pat and betting out into his two opponents, Nick Schulman and Brandon Adams. Wolff ended up all in after the second draw with Adams and Schulman both drawing and on the last draw, Schulman made the winning hand with an 8-5 to send Wolff to the rail.
Brandon Adams busted in sixth place on the next hand in 2-7 Triple Draw as he was down to fewer than two bets. Adams was drawing to a 9-8, made his hand but was drawing dead after the first draw when Nick Schulman made an 8-7. Jake Abdalla also busted in 2-7 Triple Draw moments later when he ran into Mike Gorodinskiy who made a 7-6 low after drawing three cards on the first draw.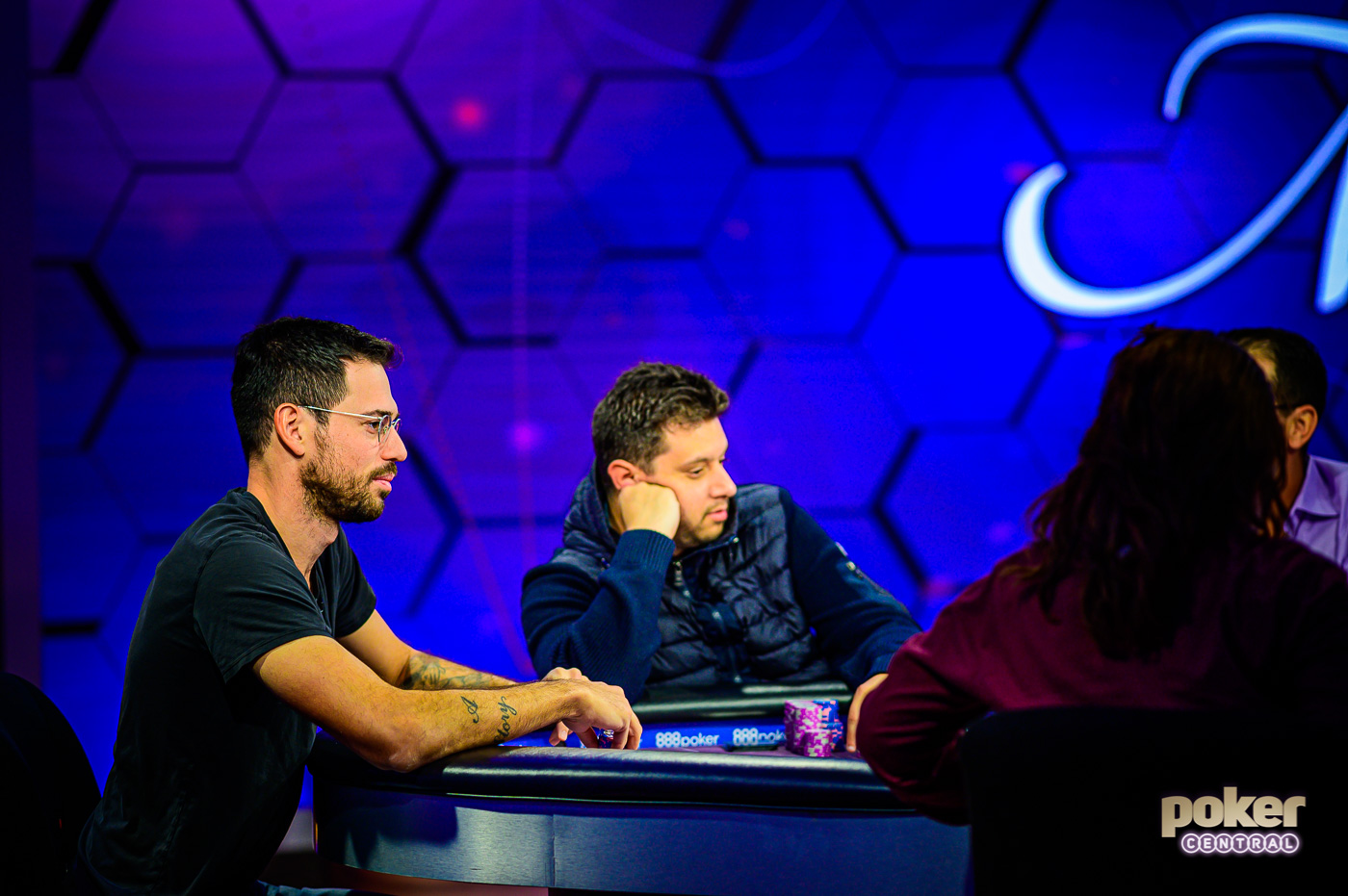 Mike Gorodinsky was all in with nine-seven of clubs during No Limit Hold'em and he was called by Jared Bleznick who looked down on ace-nine in the big blind. The board brought no help and Bleznick extended his already large chip lead. Nick Schulman busted in third place during a hand of Stud 8 when he started with split kings but that was not enough as Bleznick made both a low and two pair to win the hand.
On the final hand of the tournament, Cary Katz was eliminated in Pot Limit Omaha holding an inferior two pair against Bleznick who took the win with aces and tens. The Poker Masters Championship standings are now as follows.
2019 Poker Masters Championship Standings
Name
Points
Earnings
Results
1
Chance Kornuth
420
$288,900
2
2
Isaac Baron
300
$223,100
1
3
Ryan Laplante
300
$186,000
1
4
Jared Bleznick
300
$153,000
1
5
Jonathan Depa
300
$133,200
1
6
Alex Foxen
270
$108,200
2
7
Thai Ha
210
$124,800
2
8
Cary Katz
210
$99,000
1
9
Ralph Wong
150
$116,400
1
10
Sam Soverel
150
$99,800
2
Bleznick's days as a poker professional are behind him and despite this win being his first one, he has no intentions to actively chase the Purple Jacket.
"I don't really play much. I play no poker outside the World Series of Poker except for a few of these tournaments," he said in reference to PokerGO Studio events.
"Honestly, I have no drive anymore to grind. This was an easy fast event, I like the people, and that's the same for the World Series of Poker. You see some people and the events are soft but right now I'm more of a business person."
On his reasons for playing less poker, Bleznick was very clear, "Poker is very tough right now. Everyone's so great, there's so much material learning material out there, and while I know that I could still play, I'd rather be more successful in the real world."
"If I work hard in the real world, I'll have results and I just don't want to be grinding poker all the time. Today I ran great, everything went my way. It's not like I did anything crazy, I played solid but everyone else played good too."
New to PokerGO? Subscribe right now and never miss another minute of thrilling live or on-demand viewing. PokerGO provides more than 100 days of live poker every single year including the World Series of Poker, Super High Roller Bowl, Poker Masters, and U.S. Poker Open.