The 2019 U.S. Poker Open is headed towards an epic finale with the $25,000 Mixed Game Championship and a $50,000 and $100,000 No Limit Hold'em event still to come, but will all those that content fall short again of the man who's dominated this series in unrelenting fashion? Stephen Chidwick is the man of the Series once again, as after a dominating performance that included two victories during the inaugural series it looks as though he's set to repeat as U.S. Poker Open champion.
Today, the No.1 on the UK's all-time money list did it again, winning his fourth U.S. Poker Open at his ninth final table. Mind you, this was only the fifteenth total U.S. Poker Open event ever organized as Chidwick won the $25,000 Pot Limit Omaha event for $351,000 to bring his total earnings at this series of $1,962,600.
Relive Chidwick's $25k PLO final table right here, and his win in the $10k No Limit Hold'em right here.
Inside the PokerGO Studio, players, staff, media, and fans are in awe of Chidwick's dominance, and we spoke to some of his peers about the epic display he's put on in the last 12 months.
Maria Ho joked, "Stevie needs to be the one to play against the bots the next time they do a test run," referring to the bots getting the better of the humans in recent confrontations.
Reigning Poker Masters champion Ali Imsirovic shared a similar sentiment saying, "There's a lot of things I think he does better than anyone else, I think he's significantly further ahead in the game than anyone."
Imsirovic added that he feels as though he's always learning something when playing against Chidwick, he embraces the challenge but at the final table, he rather avoids having to go up against him. In today's event, a $25,000 Pot Limit Omaha final table, Ben Lamb was one of his opponents and he put it as follows.
"In PLO I feel a lot more comfortable against him, but in No Limit Hold'em he definitely outclasses me. I'm happy we had four cards today. Right now, he's one of the better players in the world, if not the best."
Lamb added that Chidwick has obviously also been running well but that momentum in the tournament realm cannot be understated.
"Outside of tournament poker players don't really understand the momentum of it. When all your bluffs work you get a lot more confident and that applies to everything else as well."
Stephen Chidwick at the U.S. Poker Open
Date
Buy-in
Event
Place
Payout
19-Feb-19
$25,000
Event #7 – Pot Limit Omaha
1st
$351,000
16-Feb-19
$10,000
Event #4 – Short Deck
6th
$25,200
15-Feb-19
$10,000
Event #3 – No Limit Hold'em
3rd
$113,750
13-Feb-19
$10,000
Event #1 – No Limit Hold'em
1st
$216,000
08-Feb-18
$25,000
Event #7 – No Limit Hold'em
2nd
$262,000
07-Feb-18
$25,000
Event #6 – No Limit Hold'em
3rd
$183,750
05-Feb-18
$25,000
Event #4 – 8-Game Mixed
1st
$382,500
03-Feb-18
$25,000
Event #3 – No Limit Hold'em
1st
$374,000
01-Feb-18
$10,000
Event #1 – No Limit Hold'em
5th
$54,400
Cary Katz, finishing runner-up to Chidwick in the $25,000 Pot Limit Omaha event, said about his opponent, "I think Stevie is just playing exceptionally well, and he's also running well, and you have to have both to do well in a series. I think that with the baby on the way he's got the extra luck coming in. I'm rooting for him, it's exciting, and if he wins back-to-back U.S. Poker Opens I don't think anybody will ever do that again, this is a chance of a lifetime for him."
"There's a level of consistency, he's unflappable, technically he's perfect and he never gets upset. Stevie's also fun to play with and he runs good in this building, this is his event."
A Different Kind of Player
Many players lauded Chidwick for being different than the other players that frequent the high stakes circuit, and even though he's clearly running well to go along with his skill and preparation, it seems as though nobody is operating the way he is currently.
"He just proves it, time and time again, that this is a skill game," Maria Ho said. "You, of course, have to run well, but Stevie puts so much work into his game that you just can't deny that results will come when you put in this much dedication and discipline into it."
Ho continued, "Stevie is always so composed and focused at the table, you don't see that with everyone in these events. A lot of players are a little distracted, you don't see what with Stevie. You can tell that he's always well prepared and it's always focused on being the sharpest and bringing the stamina that it takes to come out on top.
About what sets Chidwick apart, Tom Marchese said, "One thing you really see with Stevie is his focus at the table. He's never on his phone, always playing his A-game. Nowadays, when there are so many tournaments all around the world every week, just showing up and playing your A-game if you're one of the best players, you see the results of that."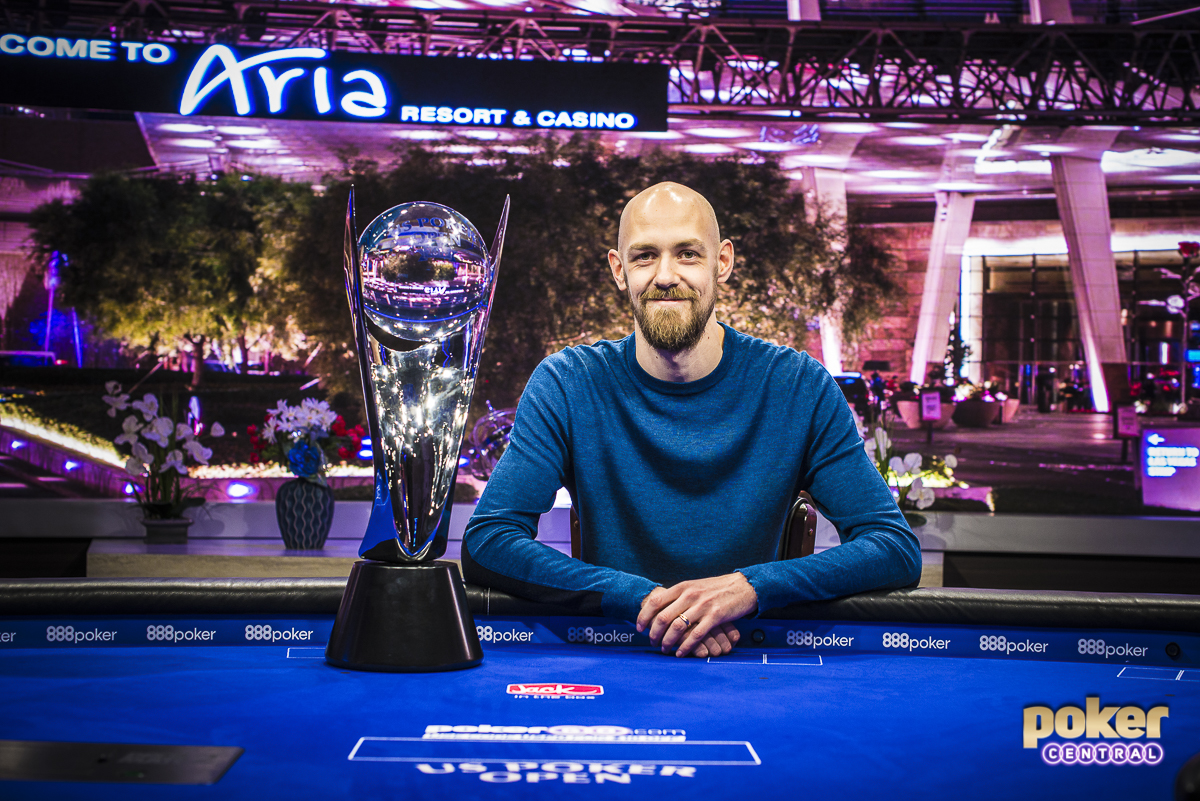 While his second U.S. Poker Open victory is no guarantee just yet with a lot of points still up for grabs, it's more and more starting to look as though Chidwick will add another massive title to his ever-expanding resume. The players interviewed for this piece were unanimous on the gravity of back-to-back victories and the way Chidwick should be celebrated.
"The special thing about the U.S. Poker Open is that you're playing various poker formats," Ho said, "If Stevie were to defend his title successfully, it just shows that he's not only a great No Limit Hold'em player, but a very well-rounded poker player and for sure one of the best of our generation."
"It's a big accomplishment to win this event once, let alone twice," Ben Lamb added.
"I wouldn't say that winning U.S. Poker Open again is a career-defining moment, but his overall resume for sure makes him one of the greats," Tom Marchese said.
In closing, Ali Imsirovic got straight to the point, "I've been saying this for over a year now, but I think he's clearly the best in the world right now at live tournaments. He just does so many things right, he's super professional, he studies more than anyone, he's just so good. If anyone deserves all the success, it's him."
"I think winning back-to-back U.S. Poker Open Championships would solidify his status as the best but at this point, I think that even without that win he would be. I don't know if I'll ever get to be as good as him, but the goal is to get to his level."
Watch Stephen Chidwick and the other U.S. Poker Open contenders in action on PokerGO. New to PokerGO? Subscribe right now.