This is the story of how High Stakes Poker, arguably the most iconic televised cash game came together, how simplicity was key, and why it took Johnny Chan losing a $700,000 pot in a Las Vegas cash game to bring the true nature of high stakes cash games to living rooms around the world.
The year is 2005. The poker boom is in full swing, and the likes of Chris Moneymaker, Greg Raymer, and Joe Hachem are becoming nationwide celebrities with appearances on Jay Leno and David Letterman's late-night shows. Mori Eskandani, the man behind Poker PROductions, sees the appetite for poker increase by the week, and the big networks are taking notice and look for ways to show the game that has a firm grip on people from all walks of life.
"High Stakes Poker got started by a really wonderful coincidence," Mori Eskandani said, "We were having dinner with a group of network executives that had hired us for a pilot of a poker show. Poker was an easy sell back in those days, and they wanted us to come up with something new. We created the pilot for 'Beat The Pro' but during that dinner, I could sense that it wasn't well received."
Beat The Pro never got made. The show pitted an amateur player up against a pro, and to level the playing field, the amateur was given various helplines. The amateur was able to 'sneak a peak', call a bet for only half the size, and talk to a 'guru' who in the case of this show were Mike Caro and David Sklansky.
"It was just too much to absorb," Eskandani said, reflecting on the failed pilot and the subsequent dinner during which he read the mood in the room.
"You had to really understand the game to appreciate all the other stuff that was going on, and I think that we were way ahead of our time."
At the dinner, something happened that would change the game of poker for good, but Eskandani hardly noticed. At this point in his career, he had seen it all. Coming out to Las Vegas for the first time in the early 80s as an established winning cash game player, he played with Chip Reese since the mid-80s, in Larry Flint's high stakes Seven Card Stud game and was behind the successful televised show Poker Superstars.
"So, we're having dinner and Johnny Chan walks up to our table," Eskandani retells the story of a pot worth $700,000 that helped create High Stakes Poker.
"To their ears, this wasn't everyday talk. It was normal for me to be around stories like that, and I didn't pay too much mind to it. Those guys had probably never even heard anyone talking about losing a $2,000 pot, let alone a $700,000 pot."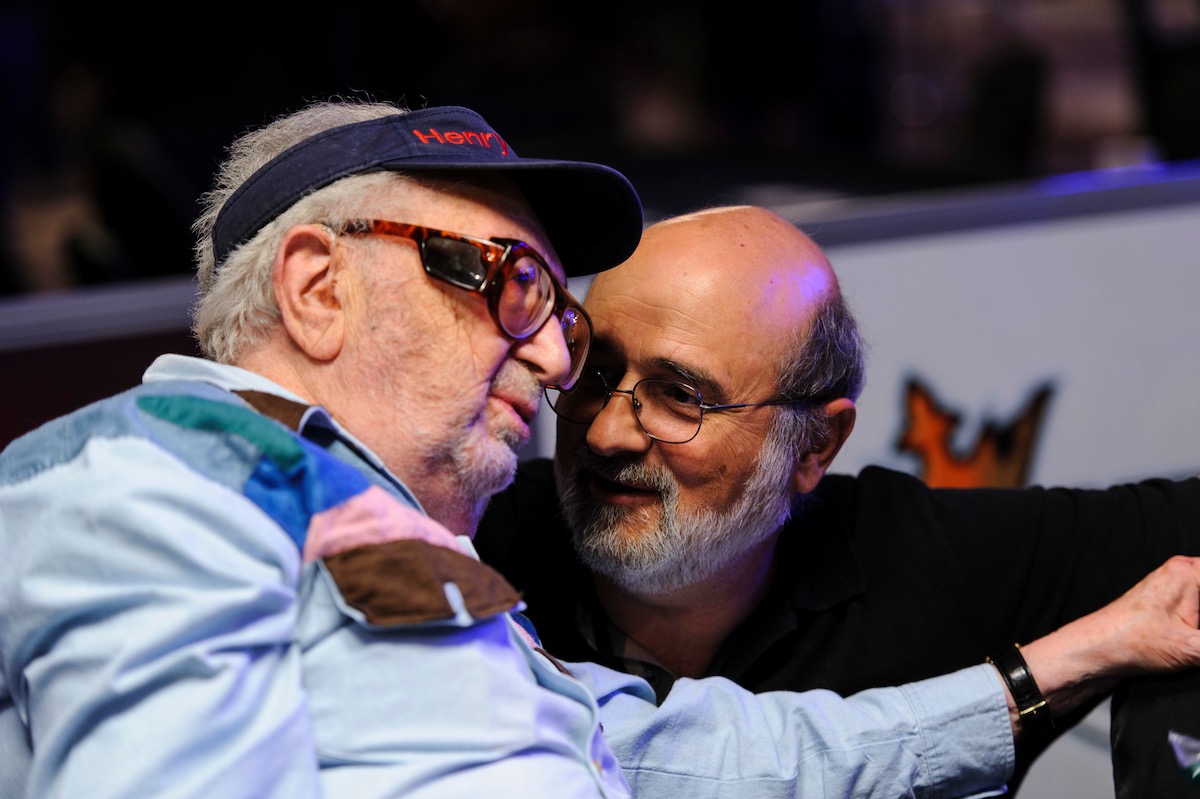 A Tournament? A Cash Game? Mori Explains.
Not too long after the dinner, Eskandani gets a phone call from the network programming vice president, thanking him for his efforts with the pilot, and mentioning a few ideas for potentially tweaking the show before asking about 'his friend' – Johnny Chan – and the story he told about the big pot that he lost. The VP wanted to know what kind of tournament he lost that big pot in.
"Tournament?" Eskandani said rhetorically, "That was a cash game. That's all they play all time, every time you walk into a poker room at a casino."
The VP had no idea what a cash game was, and Eskandani brought him up to speed on the inner workings of the high limit poker action in Las Vegas.
"So, then he asked," Eskandani continued, "'Do you think we can put that on TV? Would that make sense?'"
Eskandani snap-called, referencing cash game scenes from movies such as The Sting, The Hustler, and The Cincinnati Kid to provide the executive more context of what it would look like.
"I knew immediately that the only way this would work would be if the players would run the game. I went to the players that knew each other, so they would be comfortable with each other, and not against needling each other, but ultimately the game itself would have to be serious because they were out to take each other's money."
"It was so important that the game was serious, and that people were trying to beat each other for real money."
Putting Together The High Stakes Poker Lineups
Eskandani explained that the balance of the lineup was very important, ranging from top pros to average pros, recreational players, and familiarity between the players. This would ensure some high-level play, some unexpected moves, some potential crazy situations of which many were shown during the run of High Stakes Poker, and a good dose of table talk.
Two players aside, Eskandani knew everyone personally that appeared in that first season of High Stakes Poker.
"After some phone calls, I had more than 20 players on my list and three eight-hour days of shooting to fill. That was the beauty of televising cash games, as we knew exactly how long it was going to last. We decided when it started and when it finished, unlike tournaments."
The list was circulated, some perks were offered on top of it being a rake free game, and the negotiating began for seats in specific lineups.
"I went back and forth with players a fair bit," Eskandani said, as everyone had their own ideas on what would best suit them.
"A few people didn't care at all about the lineup, and Doyle
said, 'Whatever day it is, I'll play.'"
"The only thing I then had to do was get them all to agree on the blinds and buy-in. Some players wanted to play $5,000/$10,000 blinds with a million dollar buy-in, but most players agreed that a $100,000 buy-in was good."
High Stakes Poker ran for seven seasons, becoming one of the most iconic poker shows in the history of the game. On that first season, Johnny Chan, Phil Hellmuth, Sammy Farha, Doyle Brunson, Daniel Negreanu, Antonio Esfandiari, Jennifer Harman, and Barry Greenstein were among those featured, as well as recreational players such as the late Los Angeles Lakers own Jerry Buss, the late casino owner Bob Stupak, Dr. Amir Nasseri and restaurant owner Fred Chamanara.
To this day, Eskandani is frequently reminded of those games and asked when they will return. PokerGO, along with the recent announcement of the PokerGO Studio at the ARIA Resort & Casino will provide the highest stakes cash games imaginable as Eskandani remains in the middle of organizing and overseeing poker's most entertaining games.
"I always say that we've already had wonderful cash games happening on Poker After Dark on PokerGO. Bringing a game back like it was back in the day is hard because so much has changed. The average skill is higher, you might not see as much bluffing, or as much conversation, because a hand like the one between Jamie Gold and Sammy Farha is just something that doesn't happen anymore."
If reading about the history of High Stakes Poker got you excited to watch some big-time action, give these shows a try. The Super High Roller Cash Game on PokerGO features a minimum buy-in of $250,000 and $400/$800 blinds, exceeding the classic High Stakes Poker action. Pick your favorite lineup below and start watching.
| | | |
| --- | --- | --- |
| Day 1 | Day 2 | Day 3 |
| Antonio Esfandiari | Scott Seiver | Jean-Robert Bellande |
| Phil Ivey | Sam Trickett | John Morgan |
| Doyle Brunson | Doug Polk | Bill Klein |
| Jennifer Tilly | Paul Newey | Rick Salomon |
| Johnny Chan | David Sands | Brandon Steven |
| Bob Bright | Matt Kirk | Bill Perkins |
| Jean-Robert Bellande | Dan Colman | Al DeCarolis |
| Matt Kirk | Andrew Robl | Antonio Esfandiari |
| | Patrik Antonius | |
More of a Poker After Dark fan? "The Return of Tom Dwan" brought some of the highest stakes cash games to PokerGO, featuring a slew of six-figure pots. Rewatch those three nights of action right now featuring Tom Dwan and many other players. New to PokerGO? Subscribe right now and enjoy all this high stakes action both on-demand and live.