The most-anticipated heads-up challenge in poker history is now underway with Daniel Negreanu and Doug Polk playing the first 200 hands of High Stakes Feud.
Negreanu and Polk faced-off for nearly four hours from the PokerGO Studio at ARIA Resort & Casino, and once the 200 hands were complete, it would be Negreanu holding the advantage of $116,500 in profit heading into the online portion on WSOP.com.
Daniel Negreanu and Doug Polk clash on PokerGO's High Stakes Feud as the two play $200/$400 No-Limit Hold'em for 25,000 hands. The first 200 hands will be played in the PokerGO Studio with the remainder of the match being played across two tables on WSOP.com over the upcoming months.
How Did It All Begin?
The rivalry between Negreanu and Polk dates back several years and began with several exchanges on social media revolving around the online $25/$50 No-Limit Hold'em games, and then about the PokerStars rake increases. It heated up as Polk would wear a "More Rake is Better" t-shirt when they faced off at the same poker table. The first time being at the 2017 WSOP $111k High Roller for ONE DROP – an event that Polk won for $3.69 million – and then at the 2019 Super High Roller Bowl – an event that Negreanu finished in second-place for $3 million.
The two went back-and-forth on format options including playing multiple games, different numbers of hands, and where to play before settling on this format of 25,000 hands of $200/$400 No-Limit Hold'em.
"I said, 'No we can do two games, we can do No-Limit and one game you choose if you like,' and he declined that," Polk said. "So this is my format. This is what I built my career on. This is what I'm really good at. This is my domain."
Doug Polk The Favorite, Daniel Negreanu The Underdog
Once High Stakes Feud was announced, the betting market opened and had Polk marked as the heavy favorite.
"I know I'm the underdog going in, and I thought to myself, 'You know what? At the very least this will motivate me to put a lot of work into my game and I'm going to give it my best.'" Negreanu said. "It's what people in poker want to see. It doesn't mean anything, 'Oh he won this, this means x' right? But it's fun and that's what it's all about. This year is a weird year with COVID and stuff, and it's a good spectacle for poker fans to watch."
With Polk the heavy favorite, much of the pressure falls on him to be victorious against Negreanu.
"The good thing about heads-up is that the better player has a significant edge and there is nowhere for the worse player to hide as they have to be good everywhere. And if they're not, then they're going to be losing money." Polk said.
"As far as I think what's going to happen, I think I'm very likely to win about a million dollars and he's going to tap out. I don't know if that's going to happen halfway or all the way. Of course, it can go in the opposite direction and I can be eating my words in a month. But I guess time will tell."
Daniel Negreanu Takes The Early Lead
No one was exactly sure how Negreanu and Polk would act once they were seated across from each other at the High Stakes Feud table, but both began with a pleasant exchange of wishing each other good luck.
The first hand saw Negreanu raise his king-three and have Polk call with ace-four. The board ran out king-high and Negreanu fired off a delayed continuation-bet on the river. Polk made a big check-raise, and after some pause, Negreanu called and scooped in the winner to move ahead by $9,500.
"All right thanks for playing," Negreanu said as he stood up and tapped the table. "That was a blast. I'm done. Just quit."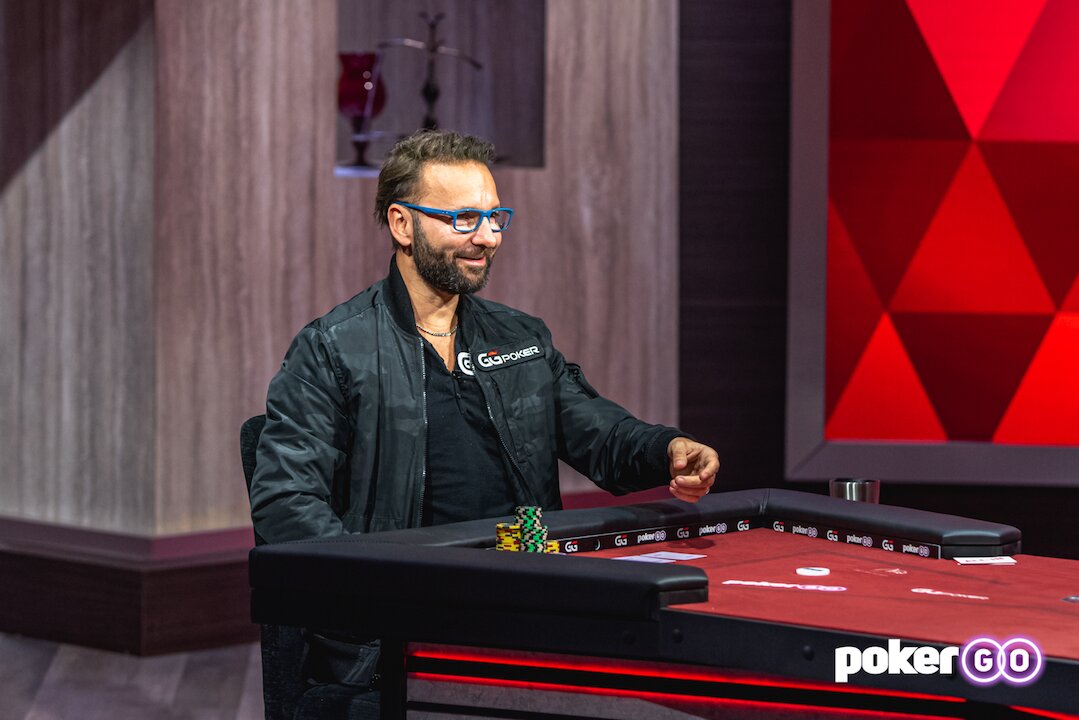 Both Polk and Negreanu laughed it off and the match continued with the next major hand happening just six hands later when Negreanu turned a flush and checked behind. Polk rivered two pair and led out before Negreanu raised. Polk called, and when he was shown the goods by Negreanu, he was down just to $19,000 from his initial $50,000 buy-in and immediately opted to top up.
"How many hands left?" Negreanu asked jokingly.
The Two Continue to Trade Pots
The two battled back-and-forth before Polk managed to close the gap when he turned trips against Negreanu's top pair. On the river, Negreanu led out and Polk raised before Negreanu made a great fold to keep his advantage of just under $14,000.
Polk continued to grind away at the deficit before he was dealt pocket tens but saw the board run out with three overcards. Negreanu bluffed the river with six-high, and Polk folded. Negreanu scooped in the pot and smiled as he moved ahead by $13,150 and Polk remarked, "I don't like that!"
On the 93rd hand of the match, Negreanu flopped middle pair and a flush draw. Polk turned a straight before Negreanu's superior flush came in on the river to see Negreanu scoop the pot and move into an advantage of $18,050.
Just two hands later Negreanu turned a straight, but Polk rivered the nut straight. Polk check-raised the river – the same size from the very first hand – and after some contemplation, Negreanu called and lost as his advantage sunk to just $7,450.
Doug Polk Rebounds After Break
Negreanu and Polk headed to break after 125 hands with Negreanu holding the lead by $7,150, but once play resumed, it would take just two hands before Polk took a lead of $750. Polk flopped a flush against Negreanu's nut-flush draw. Polk bet-called the turn before the river checked through and Polk tabled the winner.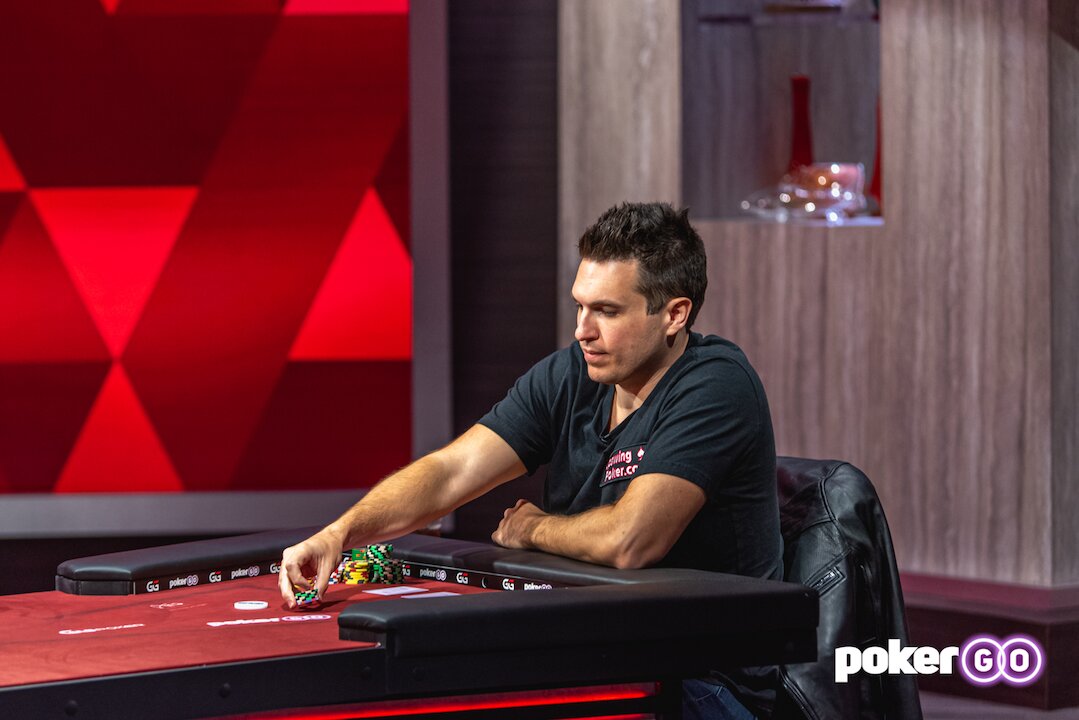 Another two hands later, Polk would then flop top pair against Negreanu's straight draw and shoved the turn to force a fold from Negreanu. Negreanu mucked and added $10,000 as Polk now held an advantage of $13,475. On the following hand, Negreanu and his ace-jack would flop two pair against Polk's ace-queen for top pair. Although the river checked through, Negreanu scooped the pot and moved back into the lead by $4,525.
The two jostled back-and-forth as each held the lead before on hand 170 Negreanu would make his biggest stand of the match so far. He opened the button with king-nine and Polk three-bet ace-queen. Negreanu opted for a four-bet and Polk called. Both players flopped a gutshot and Negreanu barrelled each street before shoving all-in on the river for just under pot with king-high. Polk folded, and Negreanu moved into the lead with a $13,200 advantage.
Negreanu then extended his lead to $29,300 when he flopped top pair against Polk's straight draw and rivered trips. On hand 185, Negreanu three-bet holding ace-jack and Polk called with ace-queen. Negreanu went runner-runner two pair to Polk's rivered pair of aces and scooped the pot and moved into a lead of $50,525.
The biggest blow for Polk would occur with just eight hands remaining in the night. Polk opened queen-jack suited and Negreanu three-bet ten-six suited. Polk called and Negreanu flopped trip sixes and continued with a small bet. Polk called, and when Negreanu checked the turn, Polk fired out a bet. Negreanu called and checked the brick on the river. Polk shoved for nearly double the pot, and after confirming the count, Negreanu called and Polk was forced to rebuy for $50,000 before the final tally for the match would see Negreanu up $116,500, and Polk down $116,500 with many more hands to come.
Daniel Negreanu Finishes Up $116,500 on Doug Polk
"I know we have a long road ahead and I'm going to be walking into his arena which is online and a couple of tables," Negreanu said in a post-match interview with PokerGO's Brent Hanks.
"I'm super pleased with the start. Played well, executed my strategy and it worked out as good as it could. It was really important for me to get off to a good start. I really wanted to make this match competitive. Just a battle to the end."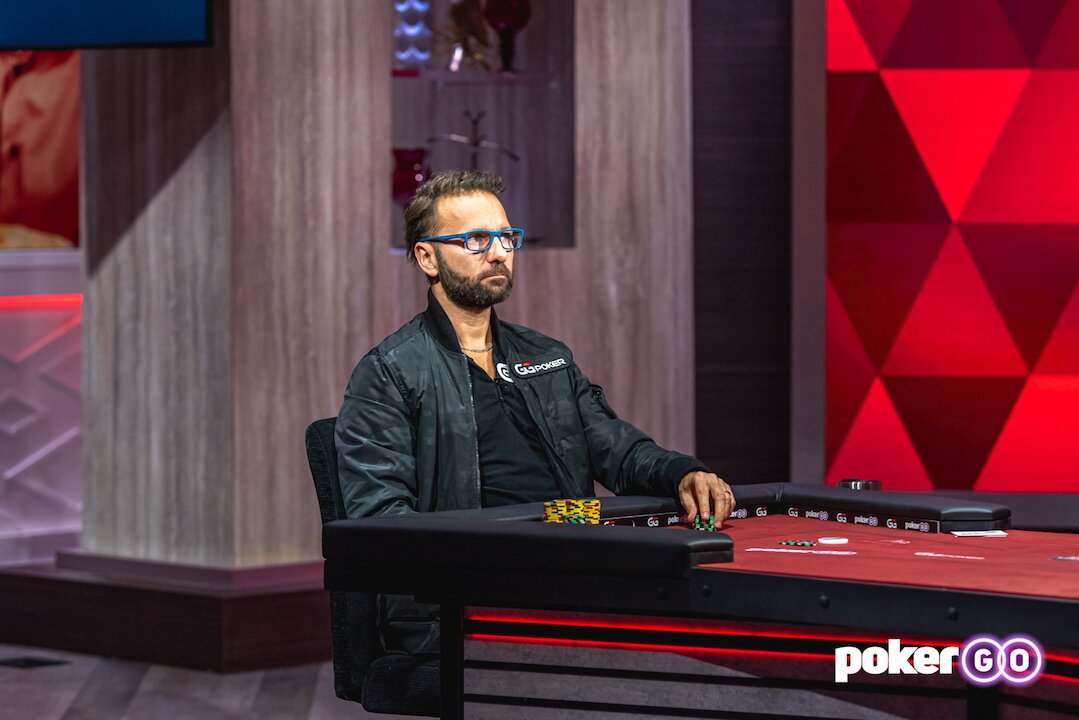 Negreanu and Polk will now exit the PokerGO Studio and enter the online streets at WSOP.com The two have committed to playing four sessions a week with each session lasting at least two hours. There are some additional conditions that whoever is losing at the halfway mark of 12,500 hands can decide to quit.
With High Stakes Feud expected to last several months before a winner is announced, it's not too early to reflect on how the result of this match will influence each player's legacy.
"If I do win it's like, 'You're supposed to win and you're a huge favorite,'" Polk said. "If you lose, obviously it's fairly embarrassing and, 'Wow I can't believe he lost, he's a huge favorite. He should have won this, it's his game.' So I wouldn't say this is a crowning achievement by any stretch if I do win, but I'm hoping we get to talk about what happens when I win after I win, and I don't end up eating my own words."
"I'm taking on someone who is considered the best in the world at a certain format, and a format that I'm very green in," Negreanu said. "If I'm able to somehow find a way to win this, I'd say that really adds a lot to my legacy. But if I lose, that's the expected result. So I think that even in defeat, people seeing that I stepped up and put my money where my mouth is and I went all the way with it, I don't imagine that you could have a lack of respect for that in the very least."
Connect with PokerGO on Facebook, Twitter, and Instagram. Use code "HSP2020" for $10 off a PokerGO subscription now!