Daniel Negreanu has won his second match in High Stakes Duel history following his defeat of Doug Polk on Thursday night from inside the PokerGO Studio at ARIA Resort & Casino in Las Vegas, Nevada.
After being swept by two-time High Stakes Duel champion Phil Hellmuth in High Stakes Duel 2, Negreanu returned for High Stakes Duel 4, where he defeated Eric Persson in Round 1. After Persson initially opted in for a rematch, he eventually backed out to make way for Polk. Across the course of nearly three hours, Negreanu emerged victorious over Polk for his second consecutive High Stakes Duel victory to pocket the $200,000 prize pool.
Ali Nejad Hosts The Weigh-In
Ali Nejad returned to host The Weigh-In between Daniel Negreanu and Doug Polk, and he began the show by discussing how Eric Persson was supposed to be Negreanu's opponent before backing out and opening the door for Polk.
Negreanu and Polk have prior heads-up history when the two played 25,000 hands against each other. Polk was declared the winner of High Stakes Feud, where he won more than $1.2 million across 36 sessions of poker. Unfortunately for Negreanu, he didn't control who his opponent would be when Persson backed out of the Round 2 match.
"People are like, 'Why are you playing him again?' and it's because I have no choice," Negreanu said on having to face Polk.
Nejad honed in on their relationship, and how before High Stakes Feud they were viewed as foes, and then when it had concluded, the relationship had turned friendly.
"I have a lot of respect for Daniel for taking that challenge," Polk said on their 25,000-hand match. "Even though, obviously, it was a format I was very familiar with."
After discussing a bit of strategy, Nejad then asks each player about their motivation when playing poker. Polk talks about being a father and focusing on his business, which includes growing The Lodge Card Club in Round Rock, Texas. Negreanu discusses how there is always something new when it comes to poker for him to focus on before Nejad signs off and sends the players to their corner to prep for Round 2 of High Stakes Duel 4.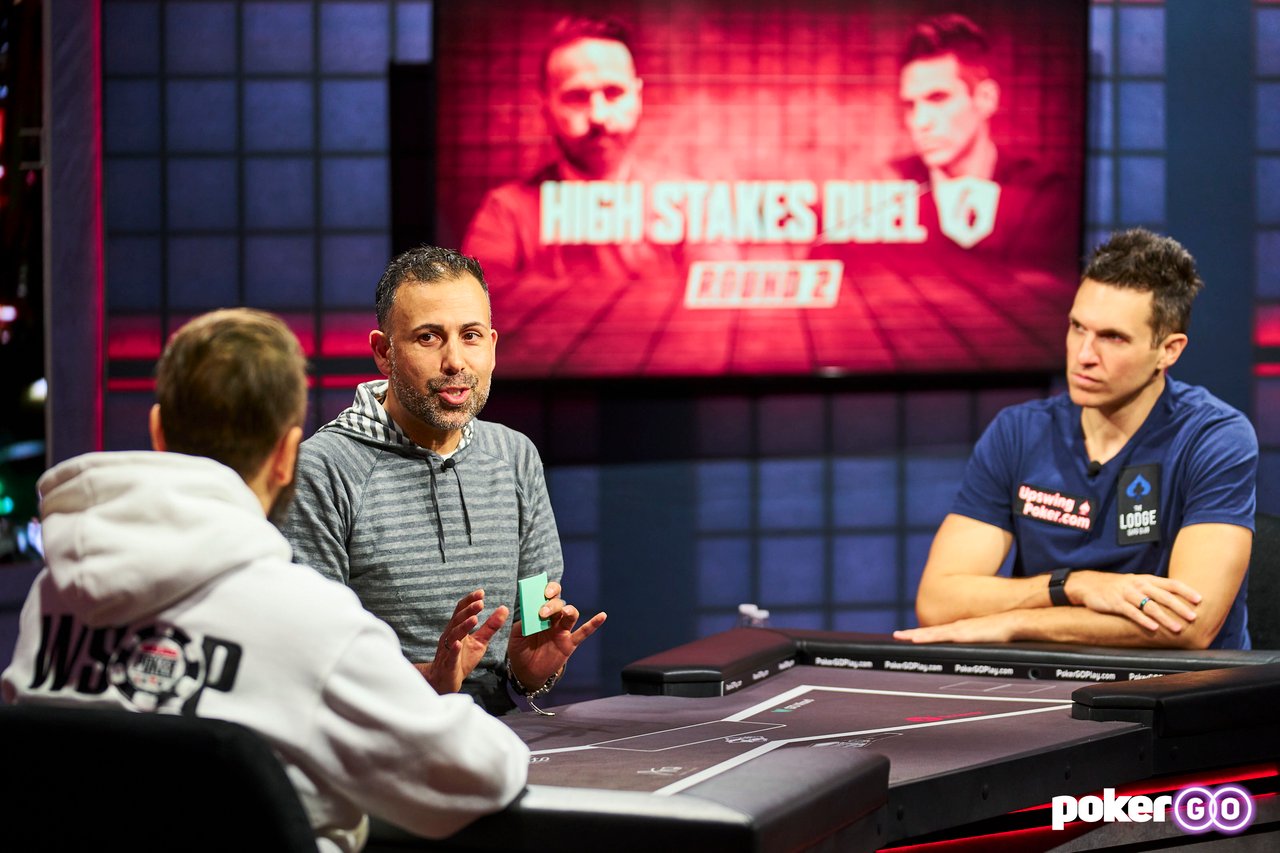 Round 2 Underway
Negreanu would strike first when his king-ten suited turned a pair against Polk's ace-high in a three-bet pot to take the early lead, but Polk would quickly regain the upper hand in another three-bet pot with five-four suited. Negreanu held ace-jack and flopped top pair, but Polk flopped a double-gutshot and flush draw. Polk raised Negreanu's continuation-bet, and then bet the turn before improving to a flush on the river. Negreanu checked and Polk moved all-in. Eventually, Negreanu found a fold and slipped to nearly a two-to-one disadvantage against Polk.
After making a few superior one-pair hands to creep back to 80,000 from his 100,000-starting stack, Negreanu raise-called the button with ace-jack suited and flopped a flush. Polk had three-bet with king-three and held a king-high flush draw and continued with a bet. Drawing dead, Polk bet the turn, and on the brick river, he bet once more. Negreanu shoved all-in, and Polk immediately folded to slip to a three-to-five disadvantage.
The two players traded pots back-and-forth as Negreanu edged out to a two-to-one advantage. On the final hand, Polk raised the button with nine-seven suited and Negreanu called with ace-ten from the big blind. Polk flopped a straight draw and continued with a bet as Negreanu floated with his ace-high and called. The turn was Negreanu's gin card with the ace, and he check-called another bet from Polk. Negreanu checked and Polk moved all-in for more than double the size of the pot. Negreanu thought for a little and then called to take down Round 2 of High Stakes Duel 4 against Polk.
Daniel Negreanu Wins High Stakes Duel 4 and Cashes Out
"The hard thing about playing against Doug is that he isn't one of those people that are afraid to put you in really tough spot," Negreanu said on his opponent, Doug Polk. "Sometimes you're going to have to dig deep and make the call with marginal hands like that last hand."
Negreanu didn't get out of line in his Round 2 match against Polk and played snug, and by the book. His big call to end the match with top pair secured $200,000 in prize money and gave him the option to cash out due to rule changes for High Stakes Duel 4 that allows a player to cash out after two consecutive victories.
"I'm done," Negreanu said emphatically. "I win the belt, right? I don't want to put the belt on the line. But they can come back and get it in Round 1 if they want it, and I defend it that way."
With Negreanu securing the Round 2 victory and ending High Stakes Duel 4, his attention now turns back to tournament poker, and specifically chasing WSOP bracelets online at GGPoker, and live at WSOP Europe and WSOP Paradise. Negreanu will also be focused on making a run up the PGT leaderboard, where he is currently ranked 36th overall and looking to secure a Top 40 spot to qualify for the season-ending PGT Championship on January 9-10, 2024.
Connect with PokerGO.com on Facebook, Twitter, and Instagram. Use code "HSD4R2" for $20 off an annual PokerGO subscription now!