Almost 1 million Americans are living with Parkinson's disease, the second-most common neurodegenerative disease after Alzheimer's. Jeff Schuld, of East Brunswick, New Jersey, became one of those dealing with the disease about five years ago. The longtime poker player is the man behind the Battleground Country Club Poker Crew, organizing the group's regular Wednesday night cash games.
Friends say Jeff is always there for anyone who might need some help and is just a friendly soul in general, even purchasing Christmas gifts for the entire crew. A big New York Giants fan, the 60-year-old also organizes tailgate parties with friends – always providing the food for anyone who wants a bite. He's been running the poker games for 18 years and has grown close to all involved.
The last five years have gone pretty well for Jeff as he battles Parkinson's, but when friends started noticing some small changes recently, they knew they had to act. According to the Mayo Clinic, Parkinson's can cause tremors (rhythmic shaking), slowed movement, rigid muscles, impaired posture and balance, loss of automatic movements, and speech changes. Jeff hasn't developed some of the major effects yet, but friends decided to give their poker-playing pal a lift for his 60th birthday. They surprised Jeff with a trip to Las Vegas and a World Series of Poker Main Event seat.
"He's arranged everything, taken care of everything for so many years," says Jerry Siliverdes, a longtime friend who played in Jeff's poker games and served as backup to run the games. "He got diagnosed five years ago. I came back to see him recently and we met in Atlantic City. I hadn't seen him in a couple of years, and I saw the difference and it really bothered me. When it was his 60th birthday, I said we have to do something very special. I sent out a text to about 20 of the people that played over the years. Within three minutes I had 13 responses saying, 'Let's do this.'"
The Battleground Poker Crew, including Jeff's four sons, all ponied up $500 and also provided for flights and hotel room. He's now seated in the Horseshoe taking a shot on Day 1C of the Main EVent.
Main Event Birthday Bash
Delivering such a gift came with a bit of needling and some fun. Jeff's birthday party in May was quite a fiesta with about 120 guests. When the band took a break, a member of the poker crew grabbed the microphone and brought a bit of roasting to the affair.
"The Battleground Country Club poker game isn't for you anymore," he said to Jeff. "You had a big loss a couple weeks ago and you're outgrowing it. We're not going to let you play anymore, but we're trying to find another game for you to play."
The crew then shifted gears. They presented Jeff with a plaque designed as a WSOP chip with the words "Happy 60th birthday Jeff! Good luck at the World Series of Poker." Every member of the poker club also signed their name.
"For all the tailgates, all the game arrangements, for everything you've done for us over the years – you're going to the Main Event," Siliverdes announced.
With tears in his eyes, Jeff accepted.
"It was mind blowing," he says. " I just never imagined that the guys would step up like that. I didn't know that was my dream. It was exciting. I asked my wife, 'Are they offering us what they said they're offering us?' Now I feel obligated to do my best to make a run in the tournament and make the guys proud that they did this for me."
He'd even been scheduled for surgery this week for brain stimulation, but canceled that for his shot in the Main Event. Two of his sons, Dustin and James, are also in attendance to support their father as he takes to the tables.
"He's great," Dustin says. "He'll do anything for anybody. He'll give you the shirt off his back. He has run Giants tailgates for us for the past 15 years and makes all the food. He never asks for anything from anybody. He makes you laugh and he's just great. He's the best."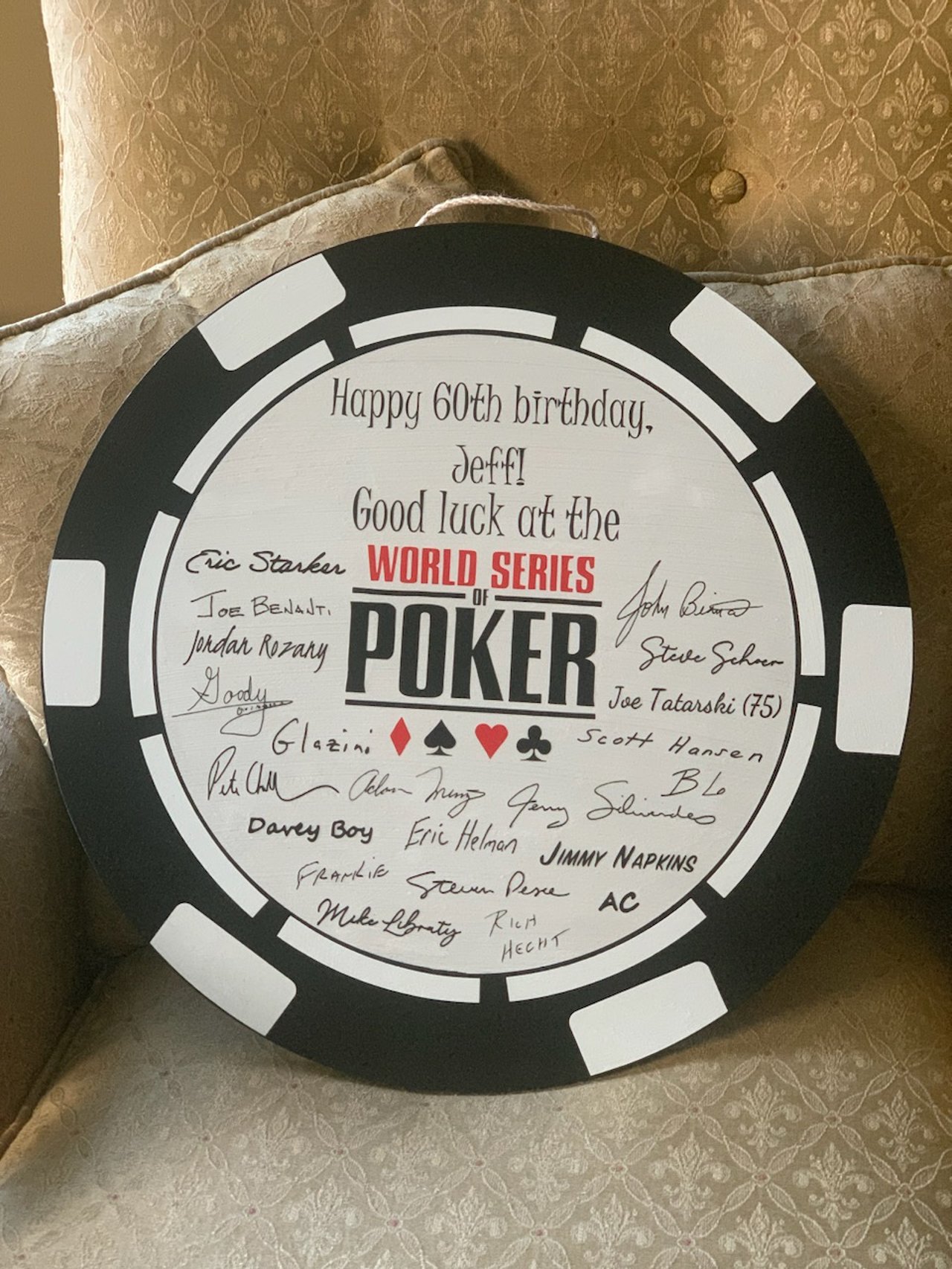 Jersey Games to WSOP
Battleground Poker Crew games have become a bit of an institution at the country club. The $5/$5 cash games feature plenty of table talk and some cigar smoking mixed in. Jeff is retired now but worked in sales for 30 years and loves playing cards. So far, the Parkinson's symptoms haven't progressed too far.
"He's doing alright," Dustin says. "Cognitively he's all there. You can have any conversation with him. However, some of the things that happened to him bother him more, so he becomes upset. So we're seeing him work through that and helping him and just being there for him. He has a little bit of shakes in his hands and he had some small loss of some motor functions."
However, his sons note that Jeff certainly won't have any trouble holding his cards and playing his game. He's been gearing up for the Main Event over by watching plenty of poker videos with James.
"We've been on YouTube constantly for the last couple months," James says. "We've entered a couple lower stakes tournaments together, hit some final tables, and had some cashes. So we're definitely getting things in the right direction, even just watching a lot more tournament-style play. We also did some low-stakes tournaments on PokerStars."
Jeff adds: "I had to change the way I play because now I'm playing with thousands of people compared to eight for nine. I'm a little bit on the aggressive side, but I've learned to take care of that."
A family man, Jeff has been married to his wife Clare for 33 years. Poker buddies say he has a gregarious personality and is known for his trademark "Chigazota!" celebratory call when he scoops a nice pot. His Battleground crew still don't exactly know what the term means however. In the Horseshoe, Jeff may not be yelling "chigazota" – but may be thinking it on the inside.
"He was so excited for this," Dustin says. "He's been on cloud nine since we got here. We're excited for him. I think he's going to make a run."
While he may be used to playing cash games, Jeff has worked to make the transition to tournaments and reported some progress at the first break in the day. He'd moved his stack up a bit to 70,000 chips. That came with a bit of a roller coaster including laying down a massive hand.
"I had the jitters for the first 20 minutes," he says. "And then I got a couple of bad breaks. I had pocket Aces and the flop came up with a straight draw. I bet and somebody came over the top and I laid down pocket Aces for the first time in my life I think."
Jeff believes he made the right fold and remains steadfast in surviving and looking to collect pots.
"That's the goal, not to go broke," he says. "I keep telling myself do not say 'all in.' Do not say 'all in.'"
Connect with PokerGO.com on Facebook, Twitter, and Instagram. Use code "DREAM30" for $30 off an annual PokerGO subscription now!