Ari Engel is no stranger to the poker spotlight. For a long time, a World Series of Poker gold bracelet eluded him until he took himself off the "best poker players without a WSOP gold bracelet" list in 2019 when he won his first. Now he can call himself a two-time World Series of Poker gold bracelet winner. Engel won Event #9: $10,000 Omaha Hi-Lo Championship under the bright lights of the PokerGO main stage at the 2021 WSOP for his second career bracelet and $317,076.
"It feels great," Engel said after. "Winning titles are so hard. You know, I play tons of them and it's so rare to actually win, so yeah, it feels great."
With 15-time gold bracelet winner Phil Hellmuth reaching the final five, the tournament was pushed to an extra day so that live streaming could take place on PokerGO.com. While many eyes were on Hellmuth's quest to get his 16th bracelet, Engel was the one who came into the final day with a good-sized chip lead. Engel helped eliminate Hellmuth in fifth place when he chopped a pot with Eddie Blumenthal. Engel then knocked out Blumenthal in fourth place and Andrew Yeh in third place.
To start heads-up play against Zachary Milchman, Engel had 6,600,000 in chips to Milchman's 1,400,000.
Milchman came out in a fury, winning a lot of the first pots between the two and pulling the stacks closer. Milchman eventually worked himself into the chip lead.
"It felt like he won 80% of the pots for the first 40 minutes and all of a sudden he had the chip lead," Engel said, looking back.
Over the course of the next six or seven hours, Engel and Milchman battled back and forth, exchanging the lead multiple times over the course of the heads-up match. Eventually, Engel worked Milchman down to under a million in chips and then sealed the deal. On the final hand, Engel's
was up against Milchman's
on the
flop. The money went in and Engel was crowned the winner after the
turn and
river.
2021 WSOP Event #9 Final Table Results
Place
Name
Country
Prize
1st
Ari Engel
Canada
$317,076
2nd
Zachary Milchman
United States
$195,968
3rd
Andrew Yeh
United States
$143,988
4th
Eddie Blumenthal
United States
$107,204
5th
Phil Hellmuth
United States
$80,894
6th
George Wolff
United States
$61,877
7th
Robert Mizrachi
United States
$47,987
8th
Ben Landowski
United States
$37,738
9th
Khamar Xaytavone
United States
$30,102
Now a two-time WSOP bracelet winner, Engel won his first in the $2,500 No-Limit Hold'em event at the 2019 WSOP, taking home $427,399, and he spoke about how the two wins compare.
"The first is very special in its own right," Engel said. "I got it in bad in that one like a million times and I just kept winning those, so with this being limit, even though it's weird because playing a $10K Omaha-8 who knows how good I am relative to the field, but it felt more like you're winning it in a fair kind of way, or skilled kind of way. That's probably not true and now thinking back I did suck out a bunch on Rob Mizrachi and other people. But yeah, they're both good, they're both kind of different."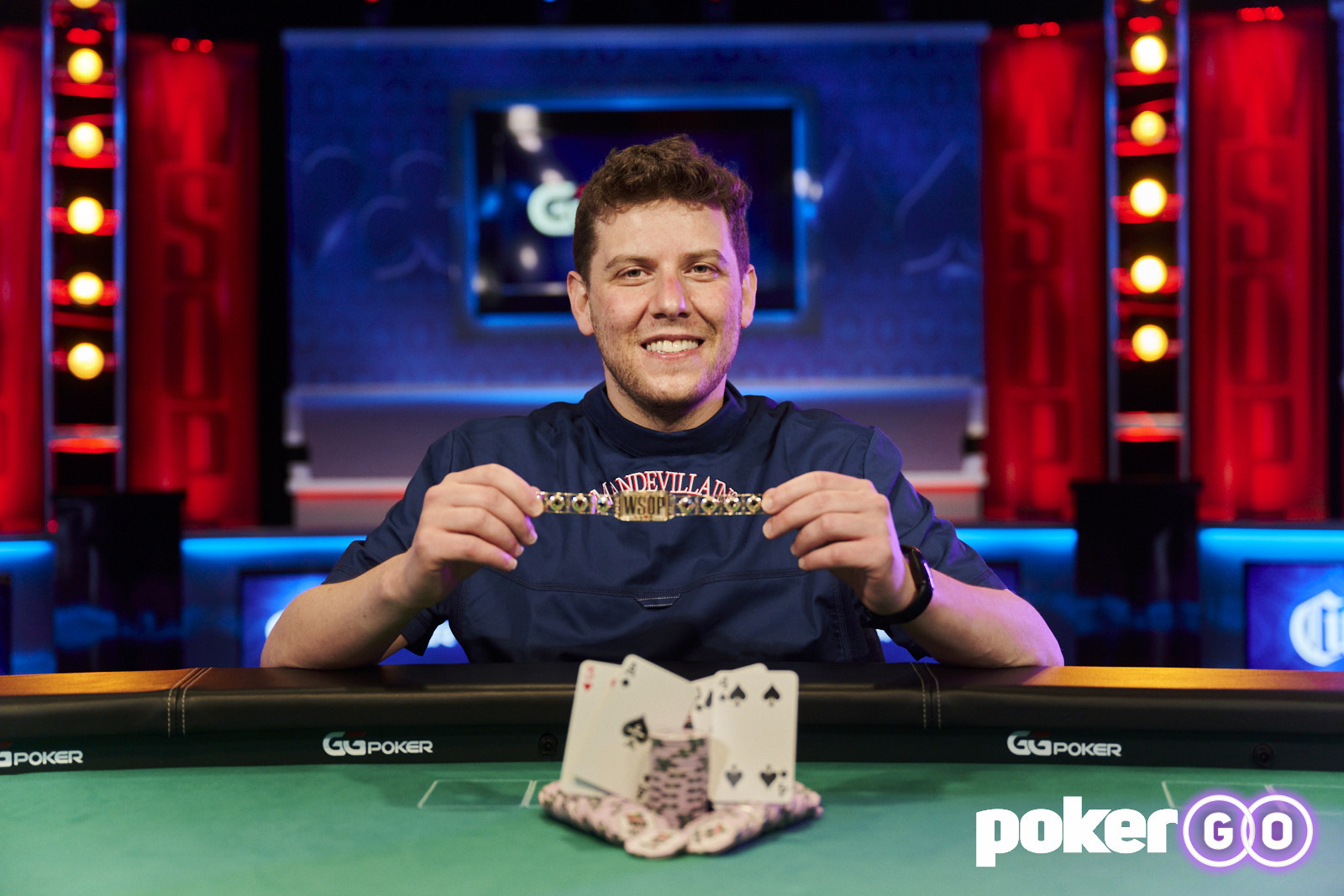 If you follow Engel on social media, then you'll be aware of how much of a proponent he has been of Omaha hi-lo recently. He pushed for WSOP.com to add a regular tournament to its schedule and has been playing the game as much as he could.
"I love playing Omaha hi-lo," Engel said. "Throughout the COVID time, I just sat on WSOP and the other sites in New Jersey and just played Omaha-8 as much as possible. It feels good. They were joking at a mixed game I've been playing around town that they were going to take out Omaha-8 now from the mix, so hopefully it doesn't kill too much of my action, but winning one tournament isn't going to do that."
In Event #9: $10,000 Omaha Hi-Lo Championship, Engel topped a field of 134 players, including some of the best in the world. Hellmuth finished in fifth place, as mentioned, but plenty of others ran deep, including Robert Mizrachi, Chris Vitch, Dylan Linde, and Paul Volpe. Even despite topping such a tough field of competitors, Engel said that he knows where he stands.
"I feel pretty strong about my game in Omaha-8," Engel said. "This is limit, so maybe now I feel a little strong because mainly I play PLO-8, but it's still one tournament and I know the way it works so I'm somewhat confident but I'm not like, 'I'm the best, I'll challenge anyone.' I play mid-stakes, I know where I belong."
Connect with PokerGO.com on Facebook, Twitter, and Instagram. Use code "WSOP2021" for $20 off an annual PokerGO.com subscription now!