In 2013, Ryan Riess won the World Series of Poker Main Event for $8,361,570. He was 23 years old, his name rhymed perfectly with "beast," Bill Simmons tweeted about him. Ryan Riess thought he was the best poker player in the world.
In the three years that followed, Riess cashed for a total of $586,900. During those same three years, the best players in world, according to the Global Poker Index, cashed for just over $33 million. Ryan Riess was not the best poker player in the world.
Fast forward to the 2018 U.S. Poker Open and Ryan Riess is coming off his best overall year as a professional poker player. He won his second major title in April, in a $10,000 World Poker Tour event, then won a $10,000 PokerStars Championship event a few months later. In between those two victories, Riess nearly won his second-career WSOP bracelet.
In total, Riess cashed for just over $1.8 million in 2017 and finished in the GPI Player of the Year top-twenty for the first time in his career. More importantly, Ryan Riess thought he was the best poker player in the world again.
One of the biggest reasons, reflection. Riess has had close to five years to not only look back at his Main Event victory, but also learn from the years that followed.
"I wish that after I won the Main Event that I didn't think I was the best player in the world." Riess said during Day 1 of the USPO $10K High Roller. "Then, maybe I would have put more time into studying. When you just start playing poker and you win the World Championship, it's easy to let that get to your head and think, 'Well, I don't need to improve.'"
At the start of last year, Riess realized that to stay competitive and to replicate his past success, he had to improve. He spent 2017 completely dedicated to the game. Free of distractions and stresses he spent time away from the table studying and was, in his own words, "100% into it." Riess started to churn out results and "Riess the Beast" returned to the winner's circle.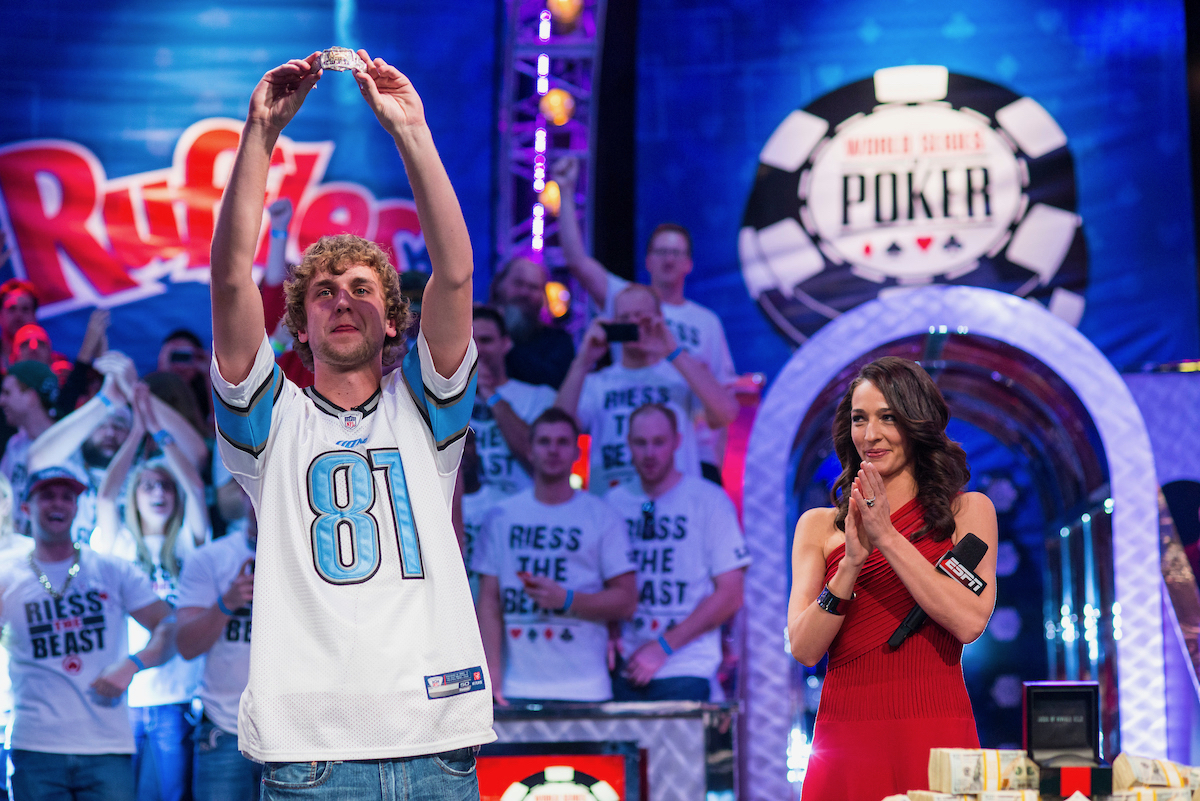 "Looking back, there is always room for improvement." Riess said, while admitting that he thought the opposite after his Main Event victory. He continued to explain how a mindset change played a big role in his recent revival.
"Even the best players in the world, look at LeBron James, are in the mindset that even if you win something, you are always trying to get better." Riess said, and while he doesn't compare himself to professional athletes, he could. Riess is extremely competitive, obsessed with his trade, and driven to be the best.
Over the last calendar year, he believes he has been.
"Last year, if you asked me if I was one of the best players in the world, I would say 'yes.'" Riess admitted, before he surveyed the surrounding USPO tournament area and explained how that belief is necessary at the highest levels of competition.
"You have to think that." Riess said, emphatically. "If you ask every person in this field if they are one of the best players in the world, they're all going to say 'yes.' If you don't think that, you shouldn't be playing at the highest level."
Wednesday, Riess will play at one of the U.S. Poker Open's highest levels. The former Main Event champion bagged the second-biggest stack heading into the $10,000 High Roller final table. Close to five years after he originally thought he was the best poker player in the world, Ryan Riess will have a chance to show that he is, live on PokerGO.
Subscribe now to watch the world's best players compete in the eight-event U.S. Poker Open on PokerGO.