Phil Hellmuth swept Antonio Esfandiari in the premiere of High Stakes Duel before taking on Daniel Negreanu in High Stakes Duel II where he secured another sweep. Now Hellmuth takes on Fox Sports 1's Nick Wright in Round 1 of High Stakes Duel III where they will play for the $100,000 prize pool in Round 1.
High Stakes Duel is a PokerGO.com original series that begins with each player posting the $50,000 buy-in. The winner progresses through to Round 2 where the loser has the first option to challenge. If the loser declines, the challenger seat is open for 30 days. The stakes will double each round where a potential $12.8 million prize pool would be reached by Round 8.
"It's a unique challenge today because there is no video of how he
plays," Hellmuth said on his approach heading into Round 1. "Not that I studied video before my first match in either of them, but there is an unpredictability involved."
There were plenty of names that were thrown around to take on Hellmuth in High Stakes Duel III. Tom Dwan and Phil Ivey were early front runners until Wright stepped up and sat down in the challenger seat across from Hellmuth. Both Wright and Hellmuth have crossed paths on the poker felt as they both faced off during Season 13 tapings of Poker After Dark with Fight Night week and Everything in its Wright Place airing on PokerGO.com from September 6 to October 4.
"I think I'm going to win. I could not be better prepared," Wright said about his confidence heading into Round 1. "I spent a lot of time watching and charting and tracking, and I have a game plan, and I think my experience from playing on Poker After Dark will be invaluable."
The Hype Show and The Weigh-In Return
Ali Nejad and Maria Ho returned for The Hype Show that aired across all PokerGO platforms on Tuesday night. Nejad and Ho recapped High Stakes Duel II between Hellmuth and Negreanu including the final hand cooler where both players turned a gutshot straight. The attention was then turned to Wright who is one of the hosts of Fox Sports 1's First Things First show. Nejad and Ho took a glimpse into some of the social media reactions to the match from Wright and Poker Hall of Fame member Doyle Brunson before ex-NFL wide receiver Brandon Marshall weighed in with an explosive video directed towards Hellmuth.
Nejad and Ho discussed what strategies each player should implement in Round 1 before they made their predictions. Ho took Hellmuth, while Nejad – who was in fear of being expelled of his membership from the commentator booth brethren – picked Wright to walk away with the Round 1 victory.
Nejad returned for the following night to host The Weigh-In as Hellmuth and Wright sat across from each other to discuss the upcoming match.
"It's extra kind of Phil," Wright said on Hellmuth accepting to play Wright in Round 1 before firing his first shot. "Because he is going to happen to lose today which is particularly rough because people think I'm supposed to be bad because I'm not a pro."
"I've heard it before," Hellmuth responded. "A lot of people say they're going to beat me."
Hellmuth went on to discuss some of the potential opponents that were presented to him before both players began discussing some social media strategy, and how to deal with the haters and trolls that both Hellmuth and Wright often have to deal with. Hellmuth's heads-up dominance was brought up next as Wright discussed his preparation, strategy, and how he turned down multiple offers of assistance from well-known poker professionals.
Both players went back-and-forth about some of the hands that played out during Hellmuth's previous matches against Esfandiari and Negreanu before Nejad closed The Weigh-In by saying, "Two men. One arena. Without further ado, boys. It's time."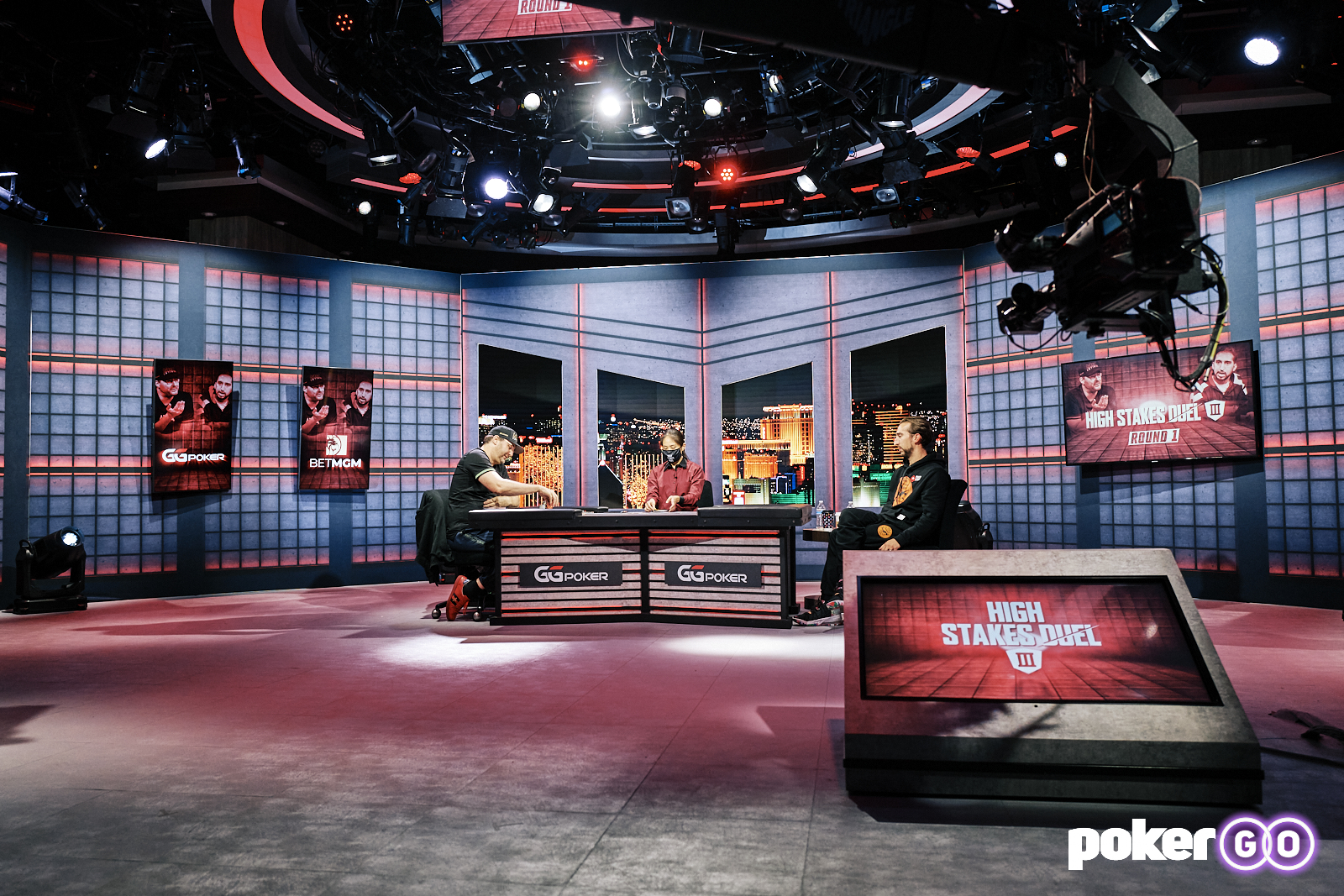 Round 1 Underway
Once the cards were in the air for Round 1 of High Stakes Duel III it was Hellmuth taking the early lead when he turned trips on the first hand. As Hellmuth scooped the pot, Wright threw him a bag of Sour Patch kids to truly kick off the match.
Wright managed to grab the small lead before he extended it when he flopped a set against Hellmuth's second pair. Another pot would see Wright improve to two pair on the river against Hellmuth's turned top pair. Wright check-called a river bet to take his biggest lead in the match.
"I rivered you, buddy," Wright said as he showed his ten-six to Hellmuth.
Hellmuth immediately rose to his feet and began pacing the High Stakes Duel III set as he let out 18 obscenities and sunk to roughly 28,000 from his 50,000-chip starting stack. However, the following hand, Hellmuth would pick off Wright's bluff as both players headed on their first break of Round 1.
The break would benefit Hellmuth as he dragged his biggest pot of the night in a hand with pocket sevens against Wright's ace-high. Hellmuth raised from the big blind and Wright called as the flop landed all fours. Hellmuth bet every street with Wright calling him down before he was shown Hellmuth's full house and his advantage was reduced to roughly 54,000 in chips to Hellmuth's 46,000.
Hellmuth then opted to get tricky with seven-five suited but ran into Wright's quad queens. Hellmuth was back down to 33,000 in chips, and another series of expletives followed.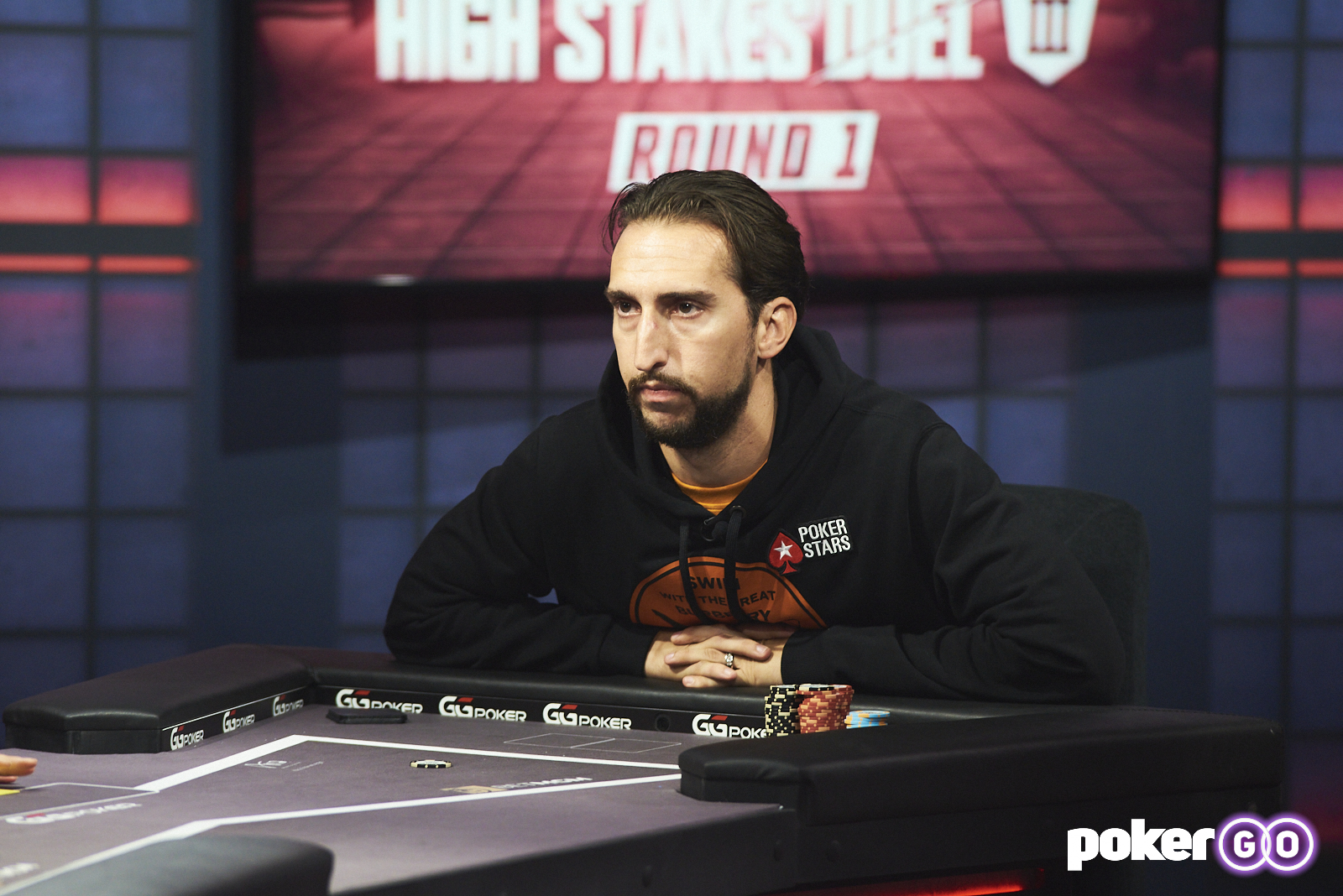 Phil Hellmuth Back Ahead of Nick Wright
Hellmuth remained patient and slowly chipped away at Wright's lead before being dealt pocket tens. Hellmuth managed to sneak out enough value of Wright's inferior two pair, and took his first lead since very early in the match. Hellmuth was then dealt pocket tens against and flopped a set as Wright improved to two pair on the river to pay off Hellmuth and sink to his lowest point in Round 1 of roughly 40,000 in chips.
The gas pedal was pressed by Hellmuth as he extended his chip lead out to a nine-to-one advantage. Wright managed to get a few shoves through before he was at-risk holding pocket fives against Hellmuth's queen-jack. Wright flopped a full house, and Wright doubled to sit at a three-to-one disadvantage. After losing a few pots back to Hellmuth, Wright doubled with pocket tens against pocket sevens before closing the gap even more and reached nearly his highest point since relinquishing the lead after running into Hellmuth's pocket tens at the midway point of Round 1.
Hellmuth continued to apply the pressure as he pushed back to roughly 70,000 in chips. On the 281st hand of Round 1, both players flopped a flush draw in a limped pot before the flush came in on the turn. Wright checked his seven-high flush, and Hellmuth bet his eight-high flush. Wright called and checked the river as Hellmuth bet out roughly half the pot. Wright responded by moving all-in with the inferior flush. Hellmuth hesitated for a few moments, rechecked his cards, and then called to bring an end to Wright's valiant effort in Round 1 of High Stakes Duel III.
Phil Hellmuth Wins Round 1 – Nick Wright Contemplates Round 2
"It was a tough battle, honestly," Hellmuth said following his seventh consecutive High Stakes Duel win. "I felt like he was going to give me a lot of trouble, and he did give me a lot of trouble. It's not easy to make the adjustments because I'm playing against guys that think one way. I'm not going to say he has a better chance to beat me than Daniel
but, I mean, maybe, because he's going to do more unorthodox things."
Hellmuth is now through to Round 2 where Wright has the first option to challenge in a $200,000 rematch. Wright has hinted at wanting to be there in Round 2, but at this stage, he's in the tank, "I got 72 hours, right? I'm going to need 71 of them."
"It was exceptional except for the last 90 seconds. That sucked, but it was great," Wright said regarding his High Stakes Duel experience. "Maybe I'll be back to challenge Phil, I gotta think about it. You know, there's a lot that goes into it. I don't think I embarrassed myself. I don't think I played bad. Phil deserves it. That's seven in a row in this setup. He's great."
Hellmuth will now have to wait to see who his Round 2 opponent will be, but he would prefer someone other than Wright taking the seat in Round 2.
"Do I want to? No, not really. Because, as Nick said at the beginning, there's too much pressure," Hellmuth said about facing Wright in Round 2. "If I lose to him, then it feels like I lose some legacy points. On the other hand, I don't feel like I 100% played the way I could play. I made a bunch of calls against Nick and if I just fold a bunch of times then he might win the tournament, but I had to call him down with bottom pair, third pair, fourth pair, jack high, queen high, I just kept calling. I trusted my instincts, and I think next time my instincts will be a lot more honed against him."
Hellmuth's dominance on High Stakes Duel continues following his victory over Wright. There will be $200,000 on the line in Round 2 of High Stakes Duel III, and will Hellmuth be looking across at Wright one more time? Or will someone by the name of Dwan or Ivey attempt to stop the runaway High Stakes Duel freight train that is Hellmuth? High Stakes Duel III and the Round 2 match for $200,000 will air exclusively on PokerGO.com with Hellmuth looking for his eighth consecutive victory with a date and opponent for the match to be announced in the upcoming weeks.
"Dwan or Ivey, whoever. Either one is fine."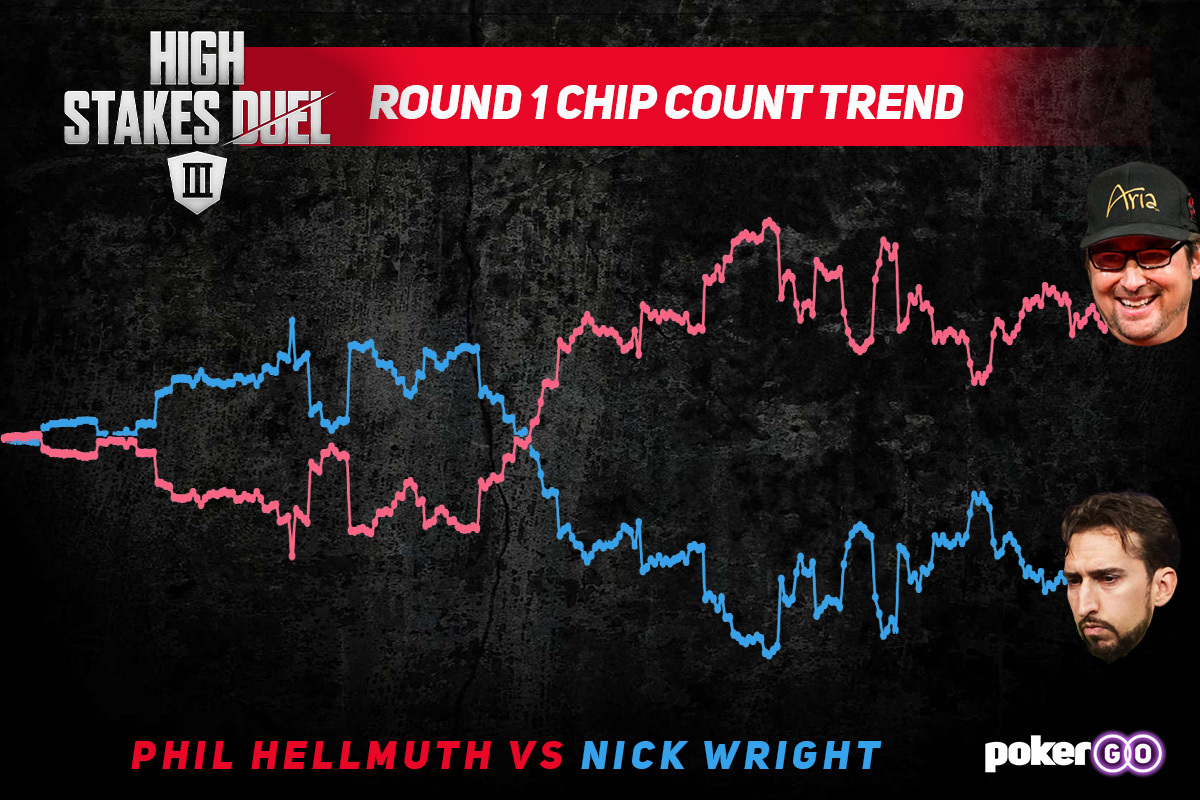 Connect with PokerGO.com on Facebook, Twitter, and Instagram. Use code "FTF" for $20 off an annual PokerGO subscription now!