High Stakes. Heads-up No-Limit Hold'em. Two of the most entertaining players in the world. What more could you ask for?
The premiere of High Stakes Duel saw Antonio Esfandiari and Phil Hellmuth square off for Round 1. The $100,000 heads-up duel would see the winner progress to the next round with the loser having the first option to challenge for a rematch. If the loser declines, to decline, the challenger seat is open for 30 days. The stakes are set to double each round with a potential total prize pool of $12.8 million awaiting the eventual champion of High Stakes Duel.
The first two players in High Stakes Duel would be two of the most accomplished players in the game. With a combined $51.2 million in lifetime tournament earnings that include 18 WSOP bracelets and 2 WPT titles – Esfandiari and Hellmuth's rivalry isn't just on the statistics page. These two players have been facing off for nearly 20 years in poker tournaments around the world, and now it's time to settle it on High Stakes Duel.
Nick Schulman Hosts the Weigh-In
"I'm with these two legends. Two iconic players." Nick Schulman said to open The Weigh-in.
Schulman was hosting a preview show for High Stakes Duel where he would discuss the impending duel between Hellmuth and Esfandiari. Schulman came out hot asking Hellmuth who he thought the better player was.
"Antonio is a great family man. He's a great guy. Everybody loves him," Hellmuth said. "But he's a primadonna on the set."
"I don't think it's that close," Hellmuth continued. "But I'll give Antonio credit when it comes to No-Limit Hold'em. There's a reason I have all the bracelets. But Antonio is an absolutely amazing cash game player, especially in the high stakes."
Esfandiari sat there with a smile on his face the whole time Hellmuth was talking. When it was time for Esfandiari to respond and discuss their heads-up match, he said, "Finally we have High Stakes Duel, and you're forced to play because you need air time!"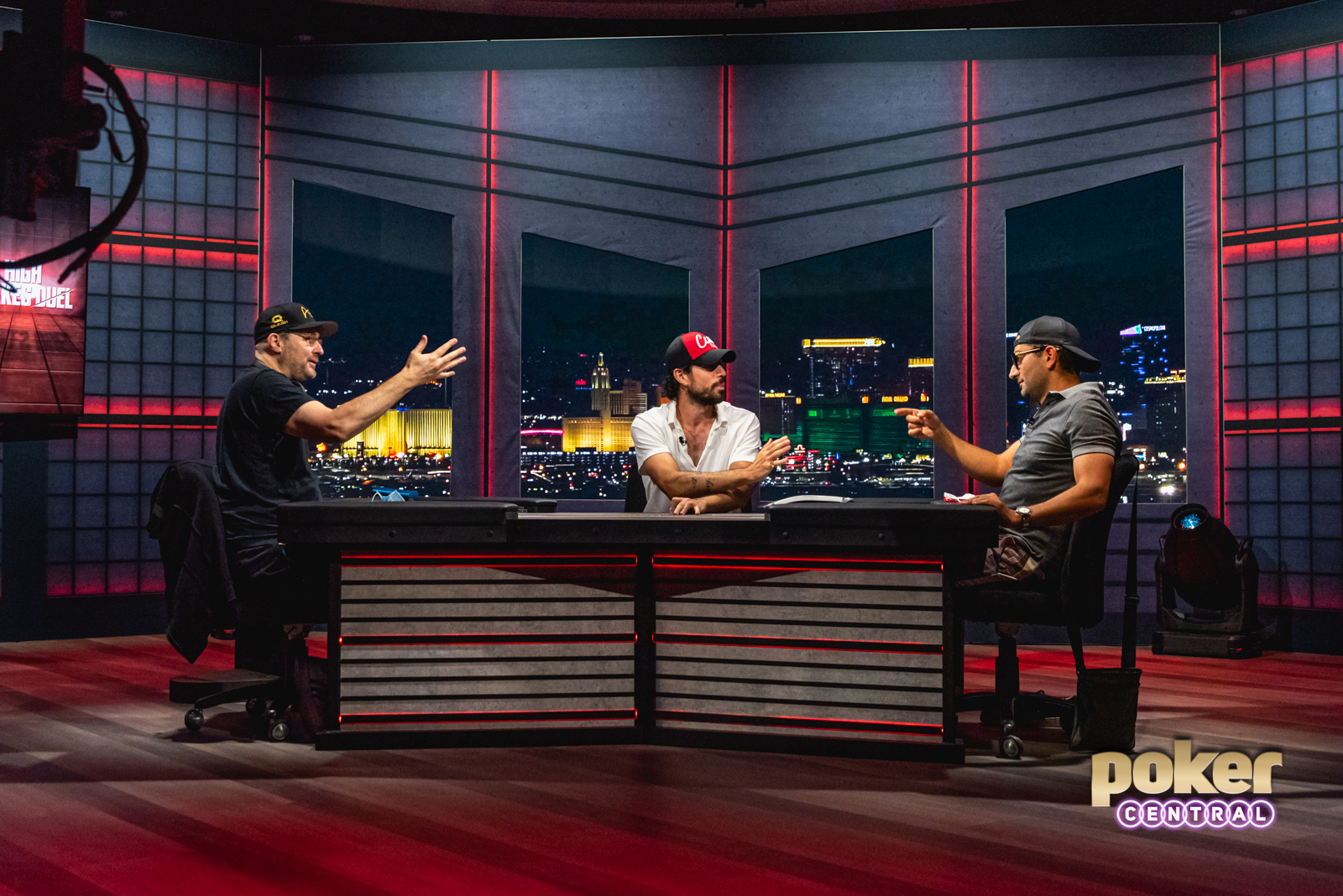 Hellmuth and Esfandiari discussed their own, and their opponent's skills and accomplishments, before Schulman posed the question of whether or not they were feeling sharp.
"I'm the most hungry poker player on the planet," Hellmuth said. "I keep winning and I don't get the respect."
"I haven't been playing that much since quarantine. It's really been two kids mornings and nights," Esfandiari said. "But I'm playing Phil Hellmuth, so I really didn't need to freshen up too much."
Finally, Schulman posed the question of whether or not they'll challenge if they lose. Esfandiari immediately responded, "100%. I'll never quit him. No matter how much. No matter what the stake. I'll never quit him."
Action Underway with Antonio Esfandiari in Control
"This has been coming for a very long time," Esfandiari said before play began. "Phil and I have had a very big poker rivalry. Even though we're very good friends off the felt, we really go at it on the felt. This is kind of a dream come true."
"I don't really have a specific strategy, or plan, but I've certainly thought about different ways I could kinda get him to have a meltdown and capitalize on that," Esfandiari said about his strategy with Hellmuth before discussing his prediction for High Stakes Duel. "I think it's going to be great TV because he and I are always going at it, and the verbal abuse will be entertaining for people to watch. But obviously I think I'm going to win, otherwise, I wouldn't pony up the money."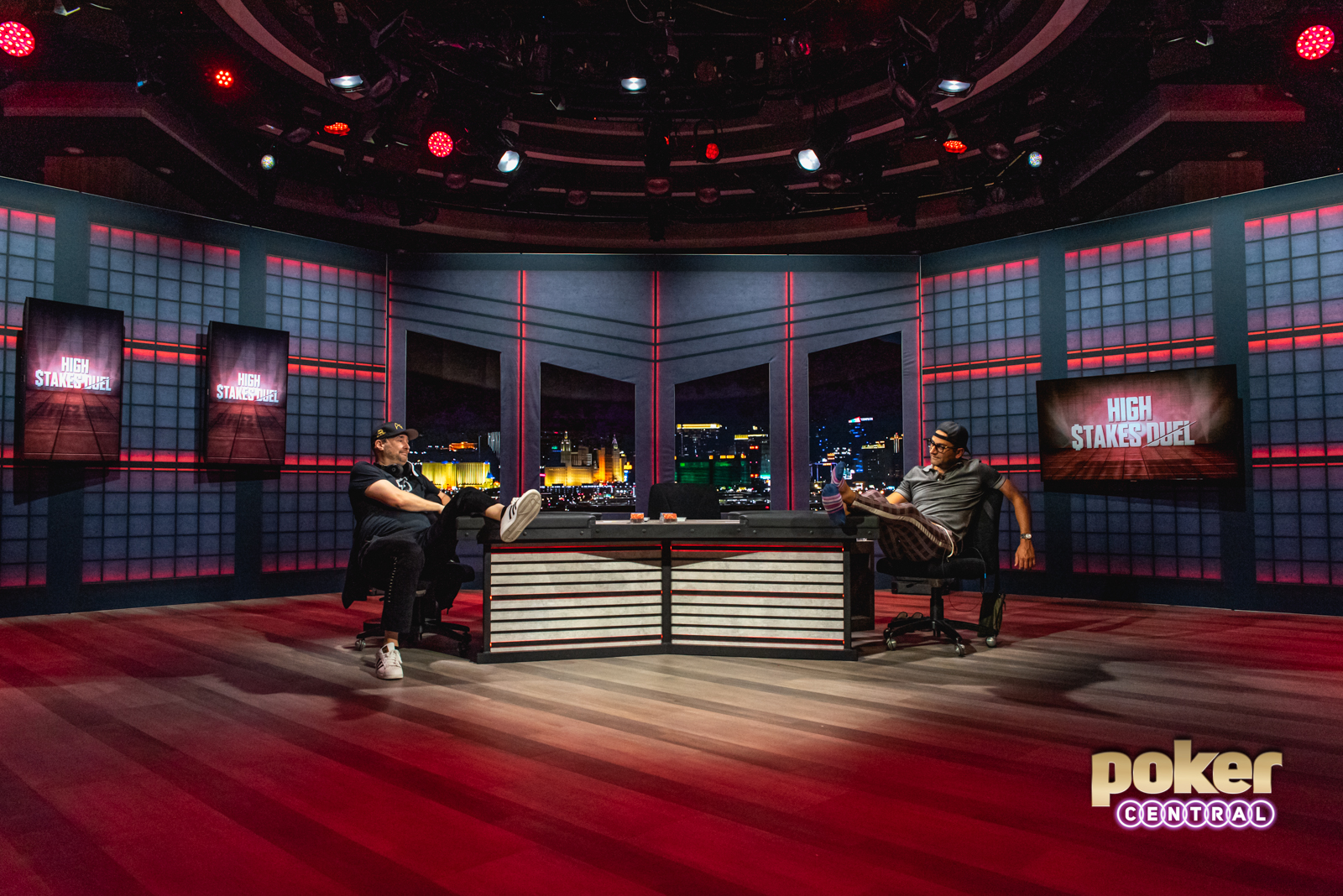 Once cards were in the air, pots back-and-forth between the two before Esfandiari would take the big lead. Esfandiari fired bets on every street with his two pair against Hellmuth's weaker two pair. When Hellmuth called on the river and was shown the superior hand he took his first big hit. Unfortunately, another would be just around the corner when his queen-jack flopped a straight draw against Esfandiari's pair and straight draw. The Magician bet the flop and turn with Hellmuth calling each street before both players checked the river. Esfandiari tabled the goods and took a three-to-one chip advantage into the first break.
"So far pretty good. A couple of mistakes, but just cruising along for heads-up poker, you have to play every hand and hold on," Esfandiari said during the break.
"I think Phil is playing a very trappy game, trying to trap me," Esfandiari continued. "If he gets good cards and I get bad cards, it's going to work because of the way I play, and the way he plays, it actually suits really well for him. But if I catch cards, he's going to be in trouble."
Phil Hellmuth Turns the Tide
"All you had to do was call," Hellmuth teased to Esfandiari during the second break.
The hand in question that they were watching was one that saw Esfandiari improve to trips on the river against Hellmuth's bottom pair and straight draw. Esfandiari led out on the river before Hellmuth put in a big raise. Esfandiari used two time-extensions before folding as his chip advantage took a hit.
Hellmuth began implementing a mixed strategy with some three and four-bet all-in shoves, and then some button limps with ace-king. Hellmuth then took bag the chip lead when both players flopped flush draws and Hellmuth check-called the flop and turn with seven-high. The river paired the board and Hellmuth led out with a bet and Esfandiari folded his ace-high.
Both players continued to battle before the final hand played out. Hellmuth raised the button with pocket sevens and Esfandiari jammed holding queen-jack suited. Hellmuth quickly called, and a clean board saw him win Round 1 of High Stakes Duel.
Phil Hellmuth and Antonio Esfandiari Ready for Round 2
"I feel like it's my typical match, where whenever I play heads-up they win 60% of the pots," Hellmuth said after winning. "But I think that's my tenth heads-up match I've won-in-a-row or something. I get there a lot, but I have a weird style. I let them run me over, run me over, and then I throw a few big punches back."
"He played his game. He played really, really good," Hellmuth said about how Esfandiari played. "He ran me over. He might have won 12 out of 13 pots at one point. Now I'm letting him do it knowing eventually I'm going to win a big pot from him. But the big pots I had to bluff. I just never picked anything up when he was going crazy. So then I had to step up and f**king take the plunge and made some big bluffs."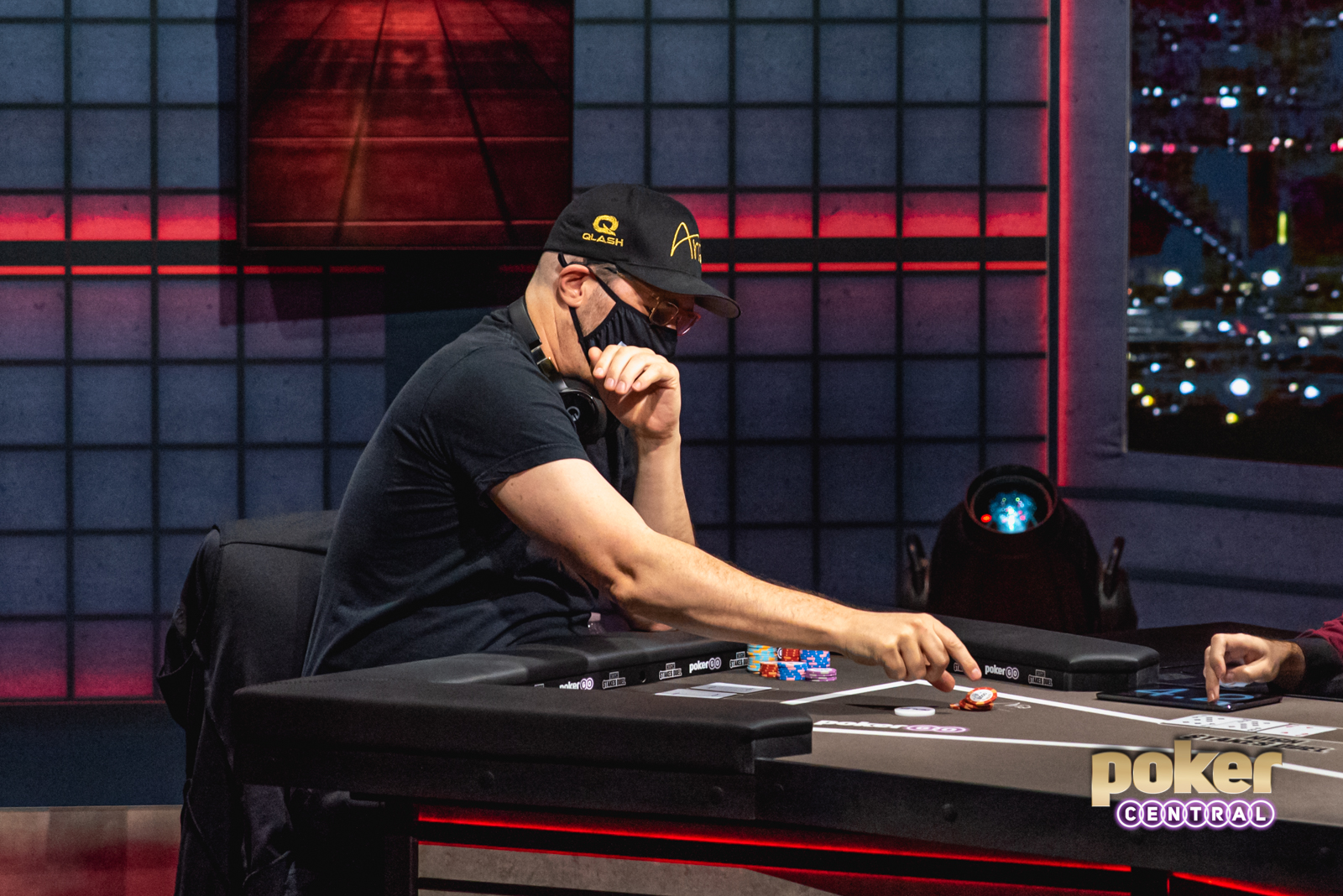 "The world and all the players like to call me out. But I'm not a call out guy," Hellmuth said about his next opponent. "When you call somebody out you give them ammunition and you give them power. And that's not my style. I'd rather just try to keep my head down low and just move forward."
Fortunately for Hellmuth, he already knows his next opponent. On The Weigh-In, Esfandiari immediately confirmed he would execute a rematch, and just as the final hand concluded, he officially declared a challenge to play Hellmuth again. Round 2 of High Stakes Duel is set to be the rematch where Esfandiari and Hellmuth will square off in a $200,000 heads-up match. Can Esfandiari exact his revenge? Or will Hellmuth continue to hold the upper hand in this poker rivalry?
"He and I are both titans. We're warriors. We're just going to keep battling."
Connect with Poker Central on Facebook, Twitter, Instagram as well as PokerGO on Facebook, Twitter, and Instagram.