Last night, Kristen Bicknell locked up the biggest win of her live tournament career by taking down Event #6 of the Poker Masters, a $25,000 No Limit Hold'em tournament that grossed her a whopping $408,000. We spoke extensively with Bicknell after she took down the event, as she's recently gone through a serious downswing that lead her to take nearly a month off from live events.
"All of it," Bicknell laughed when we asked whether a downswing meant that she's touching money she wouldn't want to bring into play to keep going, selling more pieces, and moving down in stakes.
"I've been on a downswing and the last two months or so and I've felt burnt out a bit. I realized that maybe I don't have to play poker every day, and coming here to Las Vegas and chilling out has felt really good. I was itching to play though and decided to get into the Poker Masters event last minute."
The period Bicknell references to is the period prior to her World Poker Tour final table and ever since she's notched up three deep runs that culminated with her Poker Masters win. Talking to Bicknell it feels like she's confident in her decisions to take it a bit easier and with results to show for it looks like that attitude is paying off right away.
Despite taking her foot off the gas a little bit when it comes to playing, she doesn't hold back when it comes to having a realistic view on where she stands in the high stakes tournament scene. Perhaps her downswing and break from the game can be attributed to these insights as she's drawing a distinct line between herself and the top tier of today's players.
"A lot of these guys play a lot of small field high stakes events and they excel at ICM and bubble play and that's not something I've studied a lot. I was definitely an underdog at the final table and I also don't have a huge drive to play in this environment. I love the big field Main Events and I like playing with a variety of players, some recreational and some good pros, and while I'm happy to play high rollers, it's just such a commitment and the guys that play these all the time are sick. Those guys live and breathe poker, they study hard and they know their stuff so they are definitely a tier above me."
Listen to Kristen Bicknell on the Heads Up with Remko podcast on Poker Central.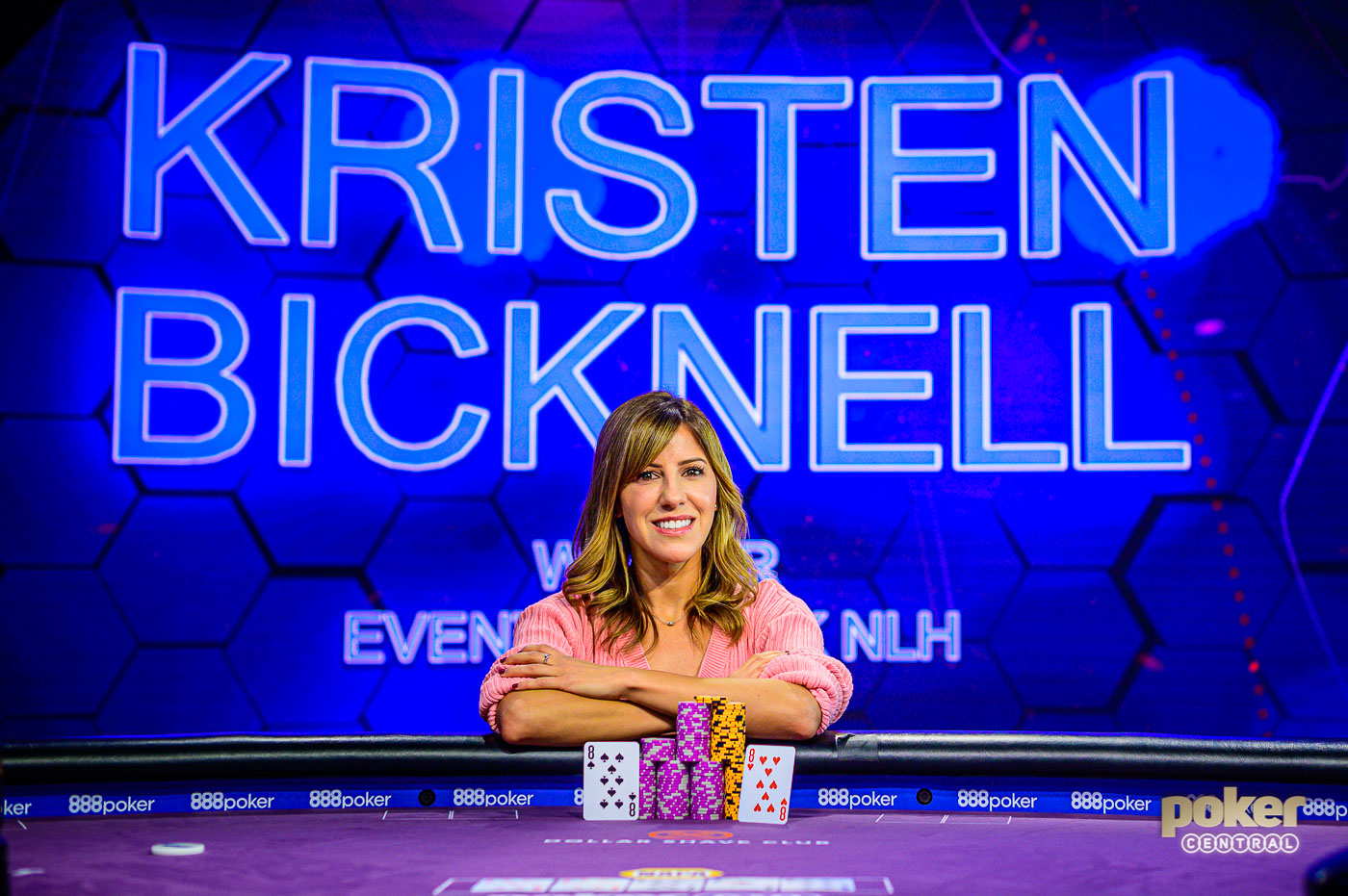 The realistic approach and down to earth nature with which Bicknell speaks is not common in poker where players keep things close to the vest, choose their words carefully, even in interviews, to not give their opponents any more info than they already have. With more than $4.5 million in career tournament earnings, a long string getting Supernova Elite, a total of 14 six-figure scores and two World Series of Poker bracelets, however, Bicknell has proven to herself and the outside world that's she's one of the best but the added perspective on where she stands is clearly the kind of self-reflection that makes her so good at what she does.
"I'm in a really good spot right now," Bicknell continued on her growth in the game, "Because a year ago I put to much pressure on myself and I was always in this go-go-go mode to compete at the highest level."
"I've realized that I'm so lucky with what I've gotten from poker and I want to try and balance my life in a way where it's okay to have a bit more fun. I want to focus more on friends and family, and use the opportunities I get to travel to actually see something of the world instead of only playing poker and going to the next stop. I might not be as motivated as I was in the past but I love poker just as much."
The Canadian, who currently resides in Toronto, admits to never taking a single day off until recently and allowing herself to have at least one day a week to let off some steam.
"I was literally working seven days a week and hit a wall. I'm not going to lie about it, that was the toughest moment of my poker career and I went on a really big downswing and I had to deal with all those negative feelings that come with that. When I allowed myself to take off some of that pressure I put on myself I instantly felt better and with that perspective in mind, I feel as though I'm in a great spot mentally."
Bicknell will now be focused on the partypoker Million Bahamas Carribean Poker Party and close her year out with EPT Prague. Watch Bicknell in action at the final table of the Poker Masters on PokerGO right here. New to PokerGO? Subscribe right now.