Making a run in the World Series of Poker Main Event is a fairytale-like experience for every player not in the professional tier, and even for those tough men and women, there's something special in the air right now. The WSOP Main Event is down to just 291 players at the time of writing, making those dreams of making the final table less far-fetched by the hour.
Canadian online qualifier Dean Morrone is one of those living the dream, bagging the overnight chip lead coming into today for just shy of five million chips. Morrone's poker experience dates back quite a few years, but this is only his second trip to Las Vegas and first attempt in the Main Event.
From Fanboy to Main Event Contender
"I've been a big fanboy of the game for a long time," Morrone said, as he's been coming across a lot of his poker heroes in Las Vegas the last few days. "I started out as a losing player in my early twenties, but since then I've evaluated my life and my game a lot and it's completely changed."
On his chip lead and the opportunity at hand, Morrone continued with a smile, "We're just playing poker, I guess."
"Everyone gets two cards and all I can do is play my spots, play my opponents because there's a lot of tough guys in this field. I'm trying to avoid the tough ones and go after the weaker ones to the best of my opinion."
Morrone doesn't believe his chip lead says much about his chances going forward, as he's very much looking at this event hand by hand, level by level, "I'm just trying to go as deep as I can."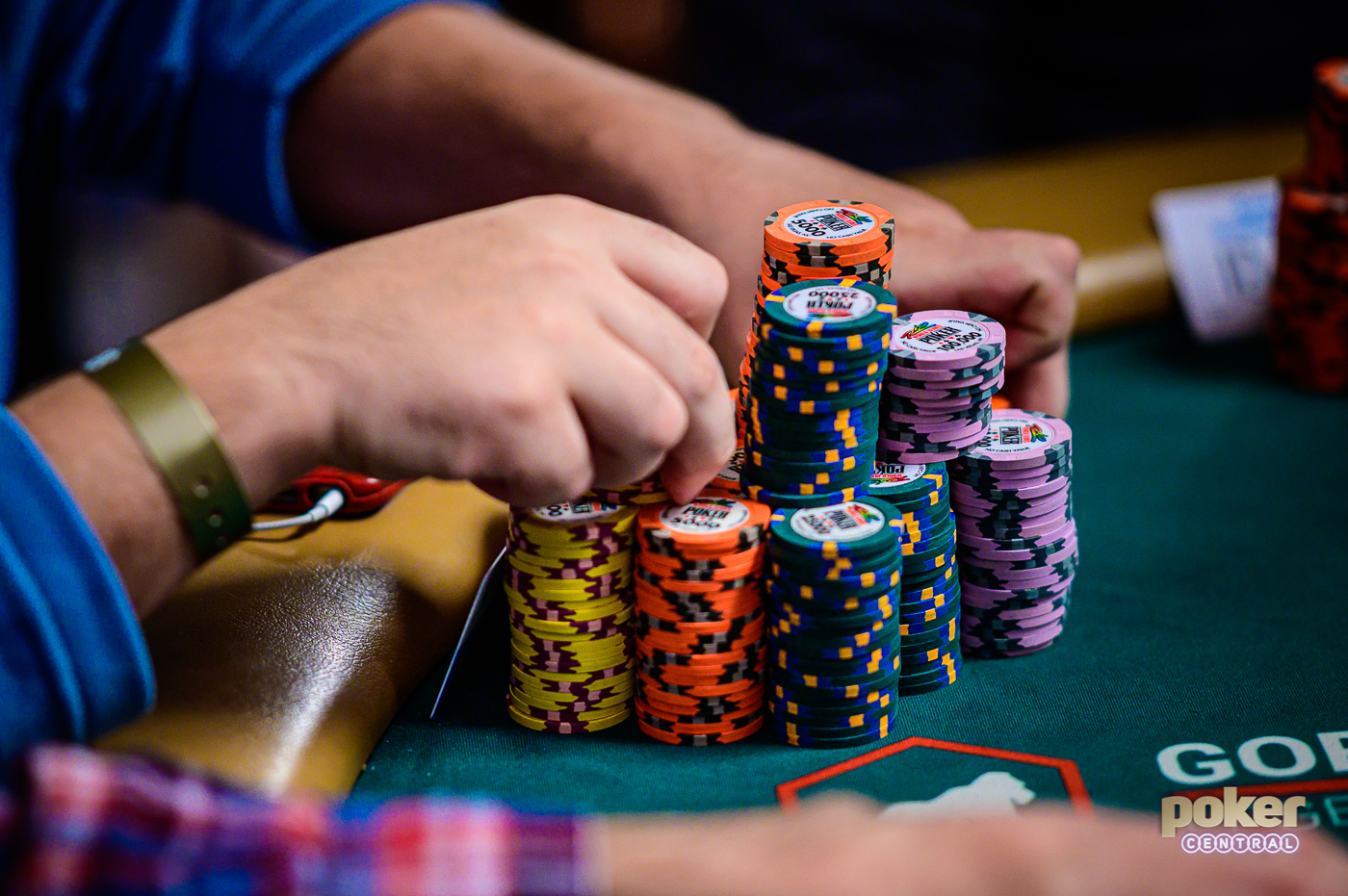 From $109 to $10,000,000?
The Canadian Main Event rookie is enjoying himself, speaking calmly and full of joy about the experience of running deep in the world's largest tournament for just $109. After parlaying a $109 satellite on 888poker into a $1,000 seat, Morrone closed it out by winning a package that includes travel, expenses, and accommodation in Las Vegas.
"I saw their online ads for the Main Event satellites and I've always wanted to play this event so I gave it a shot," Morrone said, as he showered 888poker with love.
"They're treating us great here and I'm really feeling a lot of support from them here in Vegas."
Love & Support From Back Home
The support is not only coming from the site he qualified through, as friends, family, and people from all different parts of his life have reached out over the course of the last few days. Hailing from the small town of Dawson's Creek, BC, a gateway to the Alaskan wilderness and the wide open plains of Alberta, Morrone can still feel a strong connection to those at home following him.
"The whole town's been going crazy, people I haven't talked to in years got a hold of me telling me they're wishing for me to go far," Morrone said, fighting back some tears, grateful for all the support he's been getting.
"The support means everything, even just people letting me know that they're watching has been great. I just want to make sure I thank them and let them know that this is an awesome feeling."
Watch the WSOP Main Event on ESPN and PokerGO. This article was published during the Day 5 dinner break when Morrone held a big chip lead with 6.1 million.