After putting himself into contention for the WSOP Player of the Year in Las Vegas, Anthony Zinno went out to Rozvadov and aimed to win the points that would make a miraculous victory on the home straight a reality. With a fourth-place finish behind the eventual winner Daniel Negreanu and numerous impressive cashes, Zinno may have just missed out on the miracle, but it again showed why he is such a well-respected tournament professional.
THE RETURNING HERO
Having run so close in Rozvadov, Zinno immediately flew back to Las Vegas so that he didn't miss the Poker Masters.  He says that he went out to the Czech/German border town with full intentions of winning -and having fun at the same time.
"I went out there with some chances at
. I was 10th and there's always a chance!" Zinno says. "They'd added a €25,000 eight-game to the schedule and a couple of my friends were going. It seemed like a no-brainer to go out there."
Quite against some players' assertions that Rozvadov isn't as glamorous as other poker cities such as Las Vegas, Zinno was pleasantly surprised by what he found there.
"I ended up having a great time; the venue was a lot better than people think. Nice and clean, comfy chairs, good dealers and staff. I had a good time. I feel like when you have a good time grinding, it's not so wearing. If I have a trip that wears on me, I need a week before I'm good, but I was excited to zip back to Vegas and play the Poker Masters."
WHAT IS SPECIAL ABOUT THE POKER MASTERS?
There's something very special about the Poker Masters, and Zinno is a confirmed fan.
"No rake and free food. I love the Poker Masters and I love this game. It's so awesome. The studio is amazing and there's a certain vibe in the room where it's not as serious as some tournaments. They have the best dealers, the best staff; whatever you want it's there for you and living right nearby is great."
While Zinno is clearly in the right zone for a full series of events at the Poker Masters, he concedes that there are times when he isn't. In those moments, he explains, it's about making the right choice.
"There are times when I know I don't feel like grinding. There are times when I'm really looking forward to the grind, like the World Series of Poker, and I know I'm going to perform my best. Sometimes if there's something else going on in life, or I'm tired… in those cases, I'll try my best to skip. If it becomes just work, not a mix of work and fun, I'm not going to be playing my A+ game. If that's not the case, then I'd rather take time off until I can play my A+ game."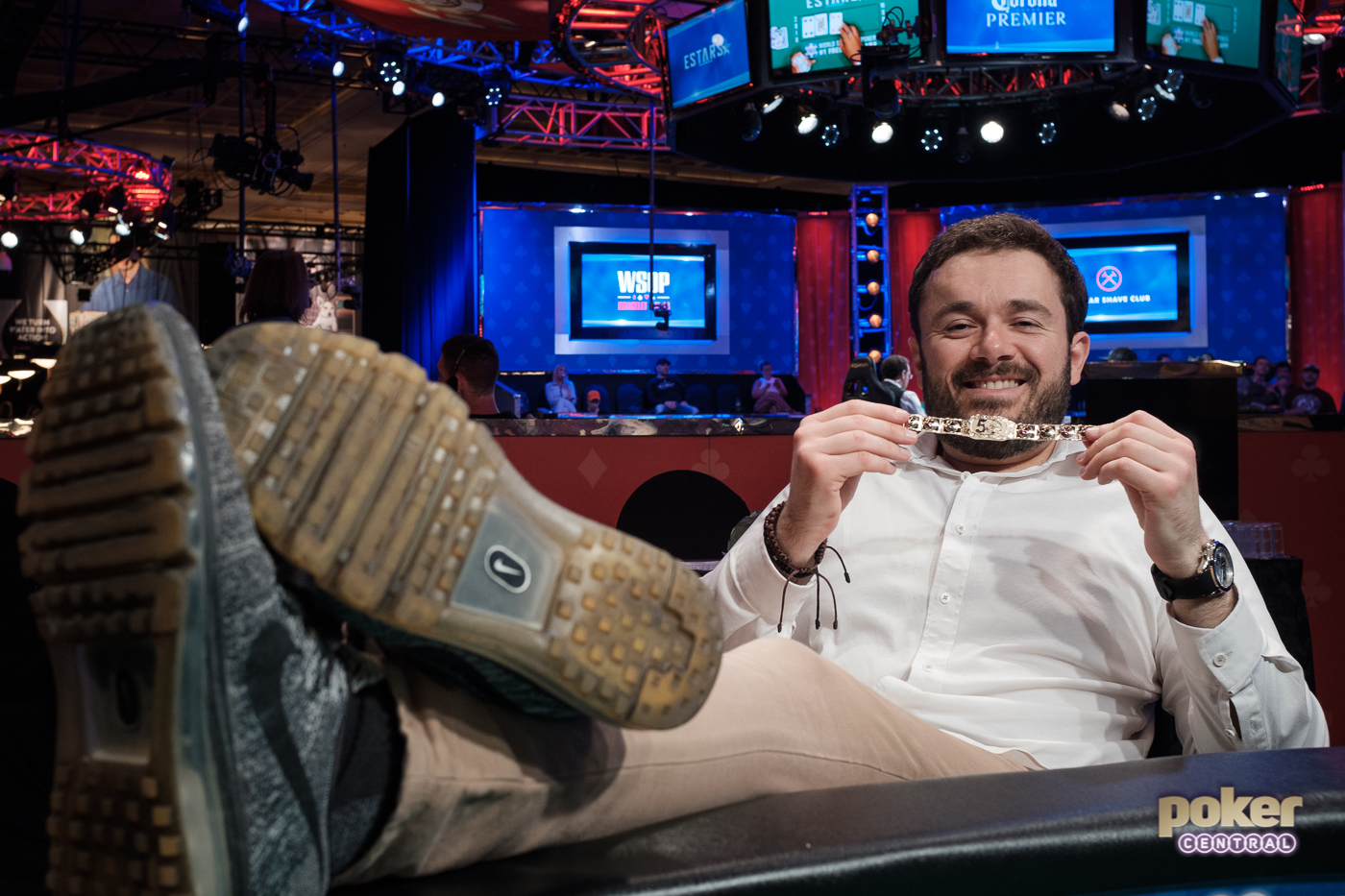 ADDING THE 2%
When he's not at the felt, Zinno puts a lot of work into improving the areas of his game that he feels need development most. It's about adding in that edge throughout a poker career.
"I've been taking time to improve my game, which I think we should all do if we love the game. Increasing my skills by 2% each year would be huge and that would make me happy. Getting better is a big motivation for the grind and I feel like I'm playing my best game lately."
While Anthony Zinno already has two WSOP bracelets and plenty of other poker trophies, he hasn't won the Purple Jacket yet, with 2017's and 2018's champions Steffen Sontheimer and Ali Imsirovic the only two players to wear the purple jacket… so far.
"My trophies are dispersed around the U.S. right now. I plan on having some sort of collection for when I have kids someday.
is a little different than a box with a spike on top!"
THE TRAVELER AND THE CHRISTMAS TREE
While the Poker Masters means home for Zinno, he plans on jetting away again one last time before the year is out and he comes back to those who mean the most to him.
"The Poker Masters is a perfect time to relax at home. The Caribbean stuff should be really fun. My goal – one day – is to go out to one of these stops and just play the Main. I'll probably end up playing a few events, then there's the Bellagio in December. I'll see my sister Laura and she just had a new baby, Marcelo. I'm looking forward to Christmas time and a new Star Wars movie. I didn't get to put my Christmas tree up last year, so these are my life goals, to be more normal!"
If there's one thing that isn't normal, it's the extraordinary talent of Anthony Zinno. Who would bet against him putting his strong start to good use at the Poker Masters and slipping into the Purple Jacket in a week's time? Not us.
You can watch all the latest action from the PokerGO Studio in Las Vegas by subscribing now for Poker Masters action until November 13th, and don't forget, we'll be in the Caribbean too, so subscribe today and get 24/7 access to the most exclusive poker events on the planet. Check all PokerGO Live Events right here.