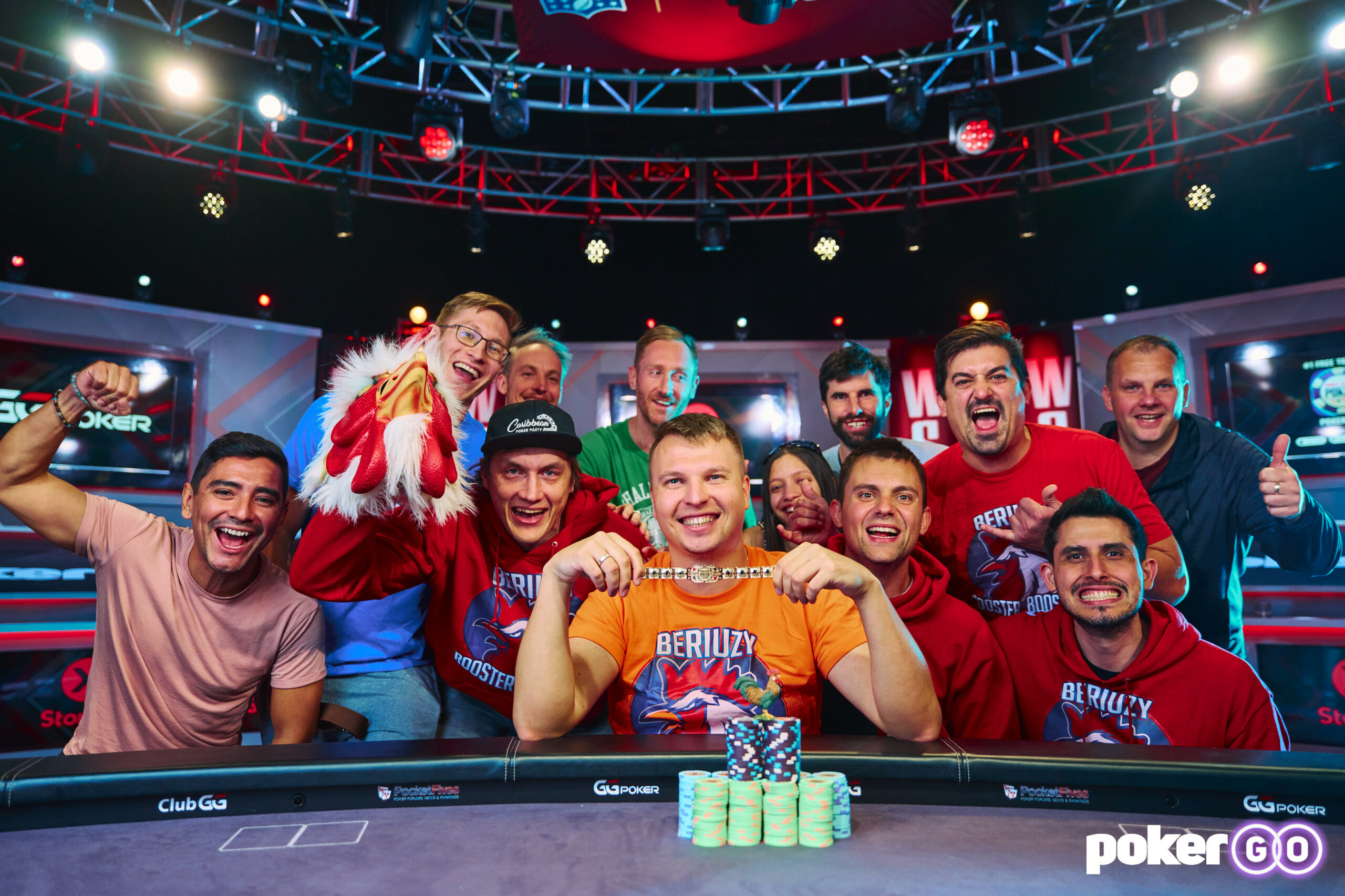 A busy day of action in the World Series of Poker saw Aleks Ponakovs beat Phil Ivey to the gold as he triumphed in the $100,000 Super High Roller event. The Millionaire Maker reached its penultimate day, and four other events made their way closer to their conclusions as Las Vegas played host once again to thrilling poker action and true drama at Bally's and Paris casinos.
Ponakovs Triumphs Over Ivey
In an addition to the final table schedule, the $100,000 Super High Roller played down to a winner in the Thunderdome as Phil Ivey fell just short of his 11th World Series of Poker bracelet, defeated heads-up by now two-time winner Aleks Ponakovs from Latvia.
The five-handed final table saw five players across three different nations gather under the lights as British pro Ben Heath also got close to the title and bracelet number two.
With Michael Moncek (5th for $420,944) and Greg Jensen (4th for $571,896) also making the final table, it was a thrilling denouement to an event which saw a prize pool of almost $6 million divided between just 10 players. British pro Talal Shakerchi (6th for $321,437), Mikita Badziakouski (7th for $255,001), Masashi Oya (8th for $210,485), Nick Petrangelo (9th for $181,068) and Eric Worre (10th for $162,623) all made the money places too and you can watch the final five battle for the bracelet right here:
WSOP 2022 Event #42 $100,000 Super High Roller Final Table Results:
Place
Player
Country
Prize
1st
Aleks Ponakovs
Latvia
$1,897,363
2nd
Phil Ivey
U.S.A.
$1,172,659
3rd
Ben Heath
United Kingdom
$805,024
4th
Greg Jensen
U.S.A.
$571,896
5th
Michael Moncek
U.S.A.
$420,944
Millionaire Maker Reaches Final 24 Players
The $1,500-entry Millionaire Maker has just 24 players left in the hunt for a top prize of $1,125,189 and what will be a first WSOP bracelet for whoever takes the title. Two late eliminations to Michael Mizrachi and James Calderaro meant that of the two dozen who return to play down to the final table tomorrow will contain no former bracelet winners.
With a prize pool of over $10 million, the chip leader when play resumes on the penultimate day of competition will be John Sova, with 15.3 million chips. Jacek Pastula (14,775,000) isn't far behind the leader, with Alen Tenorio from Brazil not far behind on 12.8 million. With the next player to be eliminated due to win just $43,849 and the winner in line for over $1.1 million and life-changing money, the next day's play will be vital to determining a winner.
WSOP 2022 Event #37 $1,500 Millionaire Maker Top 10 Chipcounts:
Position
Player
Country
Chips
1st
John Sova
U.S.A.
15,300,000
2nd
Jacek Pastula
Poland
14,775,000
3rd
Alen Tenorio
Brazil
12,800,000
4th
Justin Fawcett
U.S.A.
12,350,000
5th
Linus Richter
U.S.A.
11,200,000
6th
Raul Martinez
Spain
10,925,000
6th
Paul Ahn
U.S.A.
10,425,000
7th
Dominic Coombe
Austrailia
10,300,000
8th
Stanley Weng
U.S.A.
9,550,000
9th
Nick Marchington
United Kingdom
9,275,000
Yanovski Still Leads with Six Left in 6-Max PLO
Israel's Leonid Yanovski (8,700,000) went wire to wire on the penultimate day of play in Event #39, the $3,000-entry PLO 6-Max event. With some excellent players still remaining, Fabian Brandes (6,560,000) and Sean Winter (4,275,000) are closest to the leader with just six players still holding chips at the close of play. With the other three players collectively totally Yanovski's amount of chips, the chip leader has a great chance of his first WSOP victory.
Elsewhere on Day 3 of the event, all the remaining former bracelet winners busted, with Jason DeWitt (15th), Jan-Peter Jachtmann (14th) and Andriy Lyubovetskiy (9th) all losing their remaining chips to mean we will have another new bracelet winner crowned on Tuesday afternoon.
WSOP 2022 Event #39 $3,000 PLO 6-Handed Final Table Chipcounts:
Position
Player
Country
Chips
1st
Leonid Yanovski
Israel
8,700,000
2nd
Fabian Brandes
Austria
6,560,000
3rd
Sean Winter
USA
4,275,000
4th
Grzegorz Derkowski
Poland
3,685,000
5th
Ferenc Deak
Hungary
3,110,000
6th
Thomas Morrison
USA
2,435,000
Deeb, Hastings and Eveslage All Drop in Seven Card Stud
With three players left, Event #40, the Seven Card Stud Hi-Lo 8 or Better Championship, went on hiatus for the night. In a final table packed with drama and lengthy periods where the chips changed hands with momentum-shifting power on a regular basis, three of the most experienced players dropped first.
With the final table of seven players losing six-time WSOP bracelet winner Brian Hastings in seventh place, it was soon Chad Eveslage's turn to depart, as the former chip leader who has enjoyed a great 2022 WSOP so far, fell at the final table stage without claiming his second gold bracelet of the summer.
Eveslage won his debut bracelet by taking down the 8-Max $25,000 event for $1.4 million earlier in the series, but despite some deep runs, Shaun Deeb's World Series has not yet hit those heights. Deeb crashed out in fifth place for $83,465, and after Eric Kurtzman followed him in fourth for $110,379, just three players remained.
They will play for the bracelet and $324,174 top prize tomorrow, with Dan Zack (2,230,000) looking to do what no-one has managed so far – win a second 2022 WSOP bracelet. David Funkhouser (3,455,000) has the chip lead, with Ziya Rahim (2,545,000) completing the all-American final table.
WSOP 2022 Event #40 $10,000 Seven Card Stud Hi-Lo 8 or Better Final Table:
Place
Player
Country
Chips/Prize
1st
David Funkhouser
U.S.A.
3,455,000
2nd
Ziya Rahim
U.S.A.
2,545,000
3rd
Daniel Zack
U.S.A.
2,230,000
4th
Eric Kurtzman
U.S.A.
$110,379
5th
Shaun Deeb
U.S.A.
$83,465
6th
Chad Eveslage
U.S.A.
$63,914
7th
Brian Hastings
U.S.A.
$49,571
Phil Hellmuth Falls but Maria Ho is Chasing Glory in $500 NLHE Freezeout
In Event #43, the $500 No Limit Hold'em Freezeout event, just 202 players survived from the 4,786 who played as a prize pool of over $2 million saw the money bubble burst in Level 17, five levels before the close of play. With a whopping $241,729 top prize on offer along with the WSOP bracelet, it is Italian player Lorenzo Negri who bagged the chip lead on 1,860,000.
American players Robert Pettitt (1,590,000), Peter Schneider (1,570,000), Alan Gendelman (1,550,000), and Carole Filipski (1,505,000) round out the top five, while other big names such as Jonathan Dimmig (1,165,000), Maria Ho (565,000), Chris Moorman (880,000), Andrew Hulme (665,000) and Steve Watts (520,000) all made the cut. That latter three hail from Britain, who are represented well in the Day 2 chipcounts and will looking for a winner when the final day of the action kicks off
Others such as Chino Rheem, Phil Hellmuth, Chance Kornuth and Maria Konnikova were all unable to survive the day.
WSOP 2022 Event #43 $500 NLHE Freezeout Top 10 Chipcounts:
Position
Player
Country
Chips
1st
Lorenzo Negri
Italy
1,860,000
2nd
Robert Pettit
U.S.A.
1,590,000
3rd
Peter Schneider
U.S.A.
1,570,000
4th
Alan Gendelman
U.S.A.
1,550,000
5th
Carol Filipski
U.S.A.
1,505,000
6th
Jared Ward
U.S.A.
1,465,000
7th
Michael Suggs
U.S.A.
1,420,000
8th
Mason Hinkle
U.S.A.
1,325,000
9th
Matthew Biafore
U.S.A.
1,290,000
10th
Connor Daynard
Canada
1,285,000
Long the Face at Top of H.O.R.S.E. Counts
British mixed game player Philip Long leads the final event of the night to close, the 320,000. With Long ahead of the field in the H.O.R.S.E. event by a length from 2022 WSOP bracelet winner Brad Ruben, Day 2 is sure to be a thrilling race to the line as seven levels are due to take place.
That's more than likely to leave a final table paddock packed with talent as players such as Yuri Dzivielevski (270,500), John Racener (247,000) and Kyle Montgomery (246,500) all made the top 10 chipcounts. Others to bag included Bryce Yockey (226,500), Mike Matusow (206,000) and Shaun Deeb (167,500), while players such as Norman Chad, Scott Seiver and David 'ODB' Baker all busted late in the day.
WSOP 2022 Event #44 $10,000 H.O.R.S.E. Championship Top 10 Chipcounts:
Position
Player
Country
Chips
1st
Philip Long
United Kingdom
320,000
2nd
Brad Ruben
U.S.A.
307,500
3rd
Hansu Chu
U.S.A.
289,500
4th
Yuri Dzivielevski
Brazil
270,500
5th
Gary Benson
Australia
267,000
6th
Andres Korn
Argentina
258,000
7th
Kristijonas Andrulis
Lithuania
256,000
8th
John Racener
U.S.A.
247,000
9th
Kyle Montgomery
U.S.A.
246,500
10th
Wilson Igwe
Canada
238,000
PokerGO is available worldwide on all of your favorite devices, including Android phone, Android tablet, iPhone, iPad, Apple TV, Roku, and Amazon FireTV. You can also stream PokerGO on any web or mobile browser by going to PokerGO.com. For a limited time, you can save $30 off an annual subscription by using the code "WSOP30" at checkout.
Connect with PokerGO.com on Facebook, Twitter, Instagram, and TikTok. Watch daily poker clips on the PokerGO YouTube channel. Join the conversation on the PokerGO Discord server.