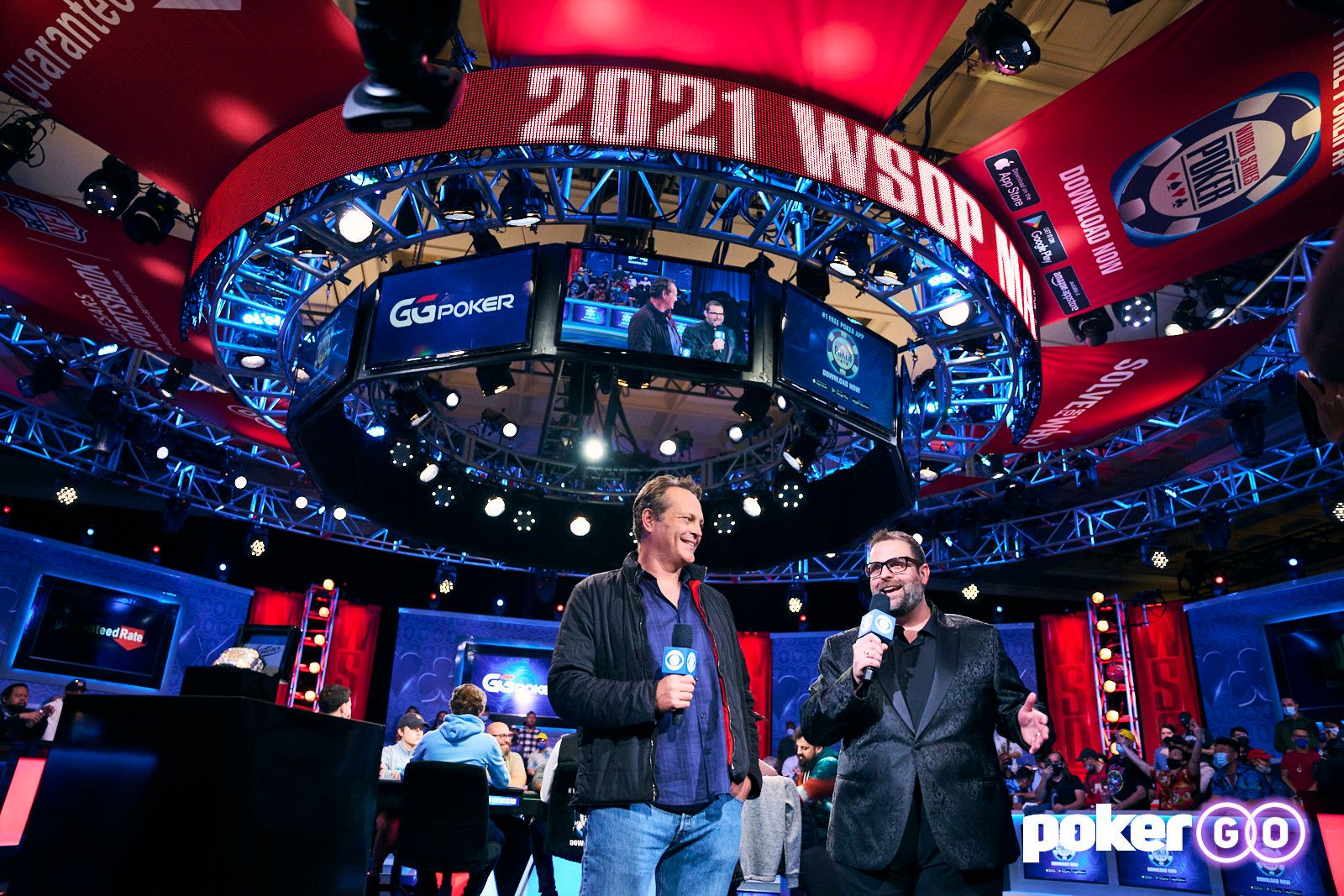 A huge day of action at the World Series of Poker saw Day 48 of the series take place, with Koray Aldemir leading from start to finish in the WSOP Main Event as nine turned to three on the penultimate day of the world's biggest poker tournament.
The final table began with nine players after Hollywood star Vince Vaughn announced "Shuffle up and deal!", but it wasn't long before Chase Bianchi became the first player to bust. After Jareth East followed suit soon after, Argentinian DJ Alejandro Lococo made his departure in a spectacular hand where Koray Alademir flopped a full house to grow his chip lead even more.
After former chip leader Hye Park busted in sixth place, it was Turkish player Ozgur Secilmis who busted in fifth place. With the final four players needing one more to bust to reach the last trio of the tournament, Joshua Remitio left in fourth place to see Koray Aldemir bag the biggest stack heading into the final.
With 264 million chips, Aldemir has triple the stack of Jack Oliver and five ties the chips that Holmes does as just one session of poker stands between him and the ultimate poker victory.
You can watch all the action from an amazing day inside the Thunderdome at the Rio right here:
WSOP 2021 Event #67 $10,000 Main Event
Position
Player
Country
Chips
1st
Koray Aldemir
Germany
264,600,000
2nd
Jack Oliver
U.S.A.
77,300,000
3rd
George Holmes
U.K.
57,400,000
Prize
4th
Joshua Remitio
U.S.A.
$2,300,000
5th
Ozgur Secilmis
Turkey
$1,800,000
6th
Hye Park
U.S.A.
$1,400,000
7th
Alejandro Lococo
Argentina
$1,225,000
8th
Jareth East
U.K.
$1,100,000
9th
Chase Bianchi
U.S.A.
$1,000,000
In Event #70, David Moses saw out a spectacular victory in the $888-entry Crazy Eights event, toppling Sejin Park heads-up. Known to friends as the 'Global Grinch', Moses would instead be beaming with pride as he posed for pictures with his new WSOP bracelet, something only Park and Georgios Sotiropoulos had previously done at the final table.
WSOP 2021 Event #70 $888 Crazy Eights
Position
Player
Country
Chips
1st
David Moses
U.S.A.
$888,888
2nd
Sejin Park
South Korea
$400,888
3rd
Timo Kamphues
Germany
$200,888
4th
Paul Fehlig
U.S.A.
$134,888
5th
Leonid Yanovski
Israel
$102,888
6th
Georgios Sotiropoulos
Greece
$79,888
7th
Joseph Liberta
U.S.A.
$61,888
8th
Farhad Davoudzadeh
U.S.A.
$47,888
In the $10,000-entry Stud Hi-Lo Championship, Brian Hastings won an incredible fifth WSOP bracelet as he denied Ian O'Hara heads-up to prevent the young player from winning his first WSOP gold. With Hastings coming into the final day last of the four in chips, he set about ploughing through the remaining players.
Out in fourth was Scott Seiver, who left for the first six-figure payout of the tournament before overnight chip leader Yuval Bronshtein crashed out in third. Heads-up, O'Hara had a slight lead, but Hastings took his time and slowly got himself into the lead before closing it out in style. In winning bracelet number five, the 33-year-old became only the 29th player in history to do so.
WSOP 2021 Event #73 $10,000 Stud Hi-Lo Championship
Position
Player
Country
Chips
1st
Brian Hastings
U.S.A.
$352,958
2nd
Ian O'Hara
U.S.A.
$218,144
3rd
Yuval Bronshtein
Israel
$151,460
4th
Scott Seiver
U.S.A.
$107,967
5th
Marco Johnson
U.S.A.
$79,073
6th
John Monnette
U.S.A.
$59,545
7th
Erik Seidel
U.S.A.
$46,140
8th
Gary Benson
Australia
$36,821
Russian pro Denis Strebkov took down Event #74 to win $117,898 and his second WSOP bracelet as he got the better of Jerry Wong heads-up. With Stebkov holding the chip lead coming into the action, he utilized a massive stack to wield maximum power over his opponents and his momentum helped him close it out with a flush heads-up pivotal to the Russian's chances.
Having sacrificed his lead once, it wasn't going to happen again and the redoubtable Strebkov redoubled his efforts, eventually making three eights in PLO8 to clinch the crown and his second bracelet of what is already an impressive poker career.
WSOP 2021 Event #74 $2,500 Big Bet Mix
Position
Player
Country
Chips
1st
Denis Strebkov
Russia
$117,898
2nd
Jerry Wong
U.S.A.
$72,868
3rd
Pearce Arnold
U.S.A.
$48,864
4th
Richard Bai
U.S.A.
$33,583
5th
Shanmukha Meruga
U.S.A.
$23,670
6th
Patrik Ciklamini
Slovakia
$17,119
7th
Hooman Nizad
U.S.A.
$12,715
In Event #76, there was a French winner as Romain Lewis win his first WSOP bracelet by taking down the Super Turbo Bounty event which cost $10,000 to enter. Lewis took down a stacked final table in no time at all as he decimated the dreams of some superstars along the way, such as Dario Sammartino, who finished sixth for $76,442.
With the close call of Stephen Chidwick finishing third for $200,598, Lewis took the title against Indian player Aditya Agarwal heads-up after a superb battle saw the French rail go crazy and the modest professional achieve a lifelong dream.
WSOP 2021 Event #76 $10,000 Super Turbo Bounty
Position
Player
Country
Chips
1st
Romain Lewis
France
$463,885
2nd
Aditya Agarwal
India
$286,705
3rd
Stephen Chidwick
U.K.
$200,598
4th
Uri Reichenstein
Israel
$142,840
5th
Barth Melius
U.S.A.
$103,547
6th
Dario Sammartino
Italy
$76,442
7th
Yevgeniy Timoshenko
Ukraine
$57,489
8th
Haribhai Gopaul
U.S.A.
$44,060
Renmei Liu leads the field after beginning the day with the biggest stack on Day 2 of the$1,500-entry Freezeout event. With a huge stack of 7.1 million chips, the Canadian Liu holds the advantage over U.S. player Nicholas Hubers (5.6 million) and Brazilian Kaue De Souza (4.5m) heading into the final day. There were exits on the day for David Pham, Mike Watson, Joao Vieira and Tom Koral.
WSOP 2021 Event #75 $1,500 Freezeout NLHE
Position
Player
Country
Chips
1st
Renmei Liu
Canada
7,100,000
2nd
Nicholas Hubers
U.S.A.
5,600,000
3rd
Kaue De Souza
Brazil
4,540,000
4th
Chad Himmelspach
U.S.A.
4,000,000
5th
Tarun Gulati
U.S.A.
3,080,000
6th
Ori Hasson
Israel
3,020,000
7th
Stefan Reiser
Germany
1,985,000
8th
Seth Evans
U.S.A.
925,000
On Day 1 of the $1,500-entry FIFTY STACK event, Ryan Depaulo bagged up the biggest stack as he topped the leaderboard with over 2.7 million chips after an incredible day at the felt. With just 226 players of the 1,501 who entered making the money, only 114 players survived the day.
Tomorrow's Day 2 will see players battle down to the final table as the top prize of $321,917 looms ever closer and we find out who will have the best shot at winning the latest gold WSOP bracelet.
WSOP 2021 Event #77 $1,500 FIFTY STACK
Position
Player
Country
Chips
1st
Ryan Depaulo
U.S.A.
2,735,000
2nd
Craig Burke
Ireland
2,080,000
3rd
John Gorsuch
U.S.A.
1,525,000
4th
Valentyn Shabelnyk
Ukraine
1,490,000
5th
Kevin Theodore
U.S.A.
1,410,000
6th
Roongsak Griffeth
U.S.A.
1,375,000
7th
Garrett Beckman
U.S.A.
1,375,000
8th
Ron Moisescu
Israel
1,375,000
9th
Scott Hall
U.S.A.
1,280,000
10th
Ryan Hiller
U.S.A.
1,275,000
Finally, in Event #78 on the schedule, Australian poker legend Jeff Lisandro (270,500) bagged up a bigger stack than Phil Hellmuth (237,500) and Brian Hastings (212,000) as the $10,000 Razz Championship kicked off with some terrific exponents of the craft meeting at the felt.
With others such as Jordan Siegel (200,000) and Max Pescatori (178,500) both making the top 10, others like Allen Kessler, Ryan Riess, Chris Moorman, Shaun Deeb and Adrian Mateos all departed on the opening day of the event.
WSOP 2021 Event #78 $10,000 Razz Championship
Position
Player
Country
Chips
1st
Jeff Lisandro
Australia
270,500
2nd
Phil Hellmuth
U.S.A.
237,500
3rd
Brian Hastings
U.S.A.
212,000
4th
Nicolai Morris
U.S.A.
209,000
5th
Jordan Siegel
U.S.A.
200,000
6th
Chip Jett
U.S.A.
184,000
7th
Max Pescatori
Italy
178,500
8th
Adam Owen
U.K.
178,000
9th
Erik Sagstrom
Sweden
175,500
10th
Shane Littlefield
U.S.A.
173,000
<em>Connect with PokerGO.com on <a href="https://www.facebook.com/PokerGO">Facebook</a>, <a href="https://twitter.com/PokerGO">Twitter</a>, and <a href="https://instagram.com/pokergo">Instagram</a>. Use code <a href="https://get.pokergo.com/wsop/">"WSOP2021"</a> for $20 off an annual PokerGO.com subscription now!</em>