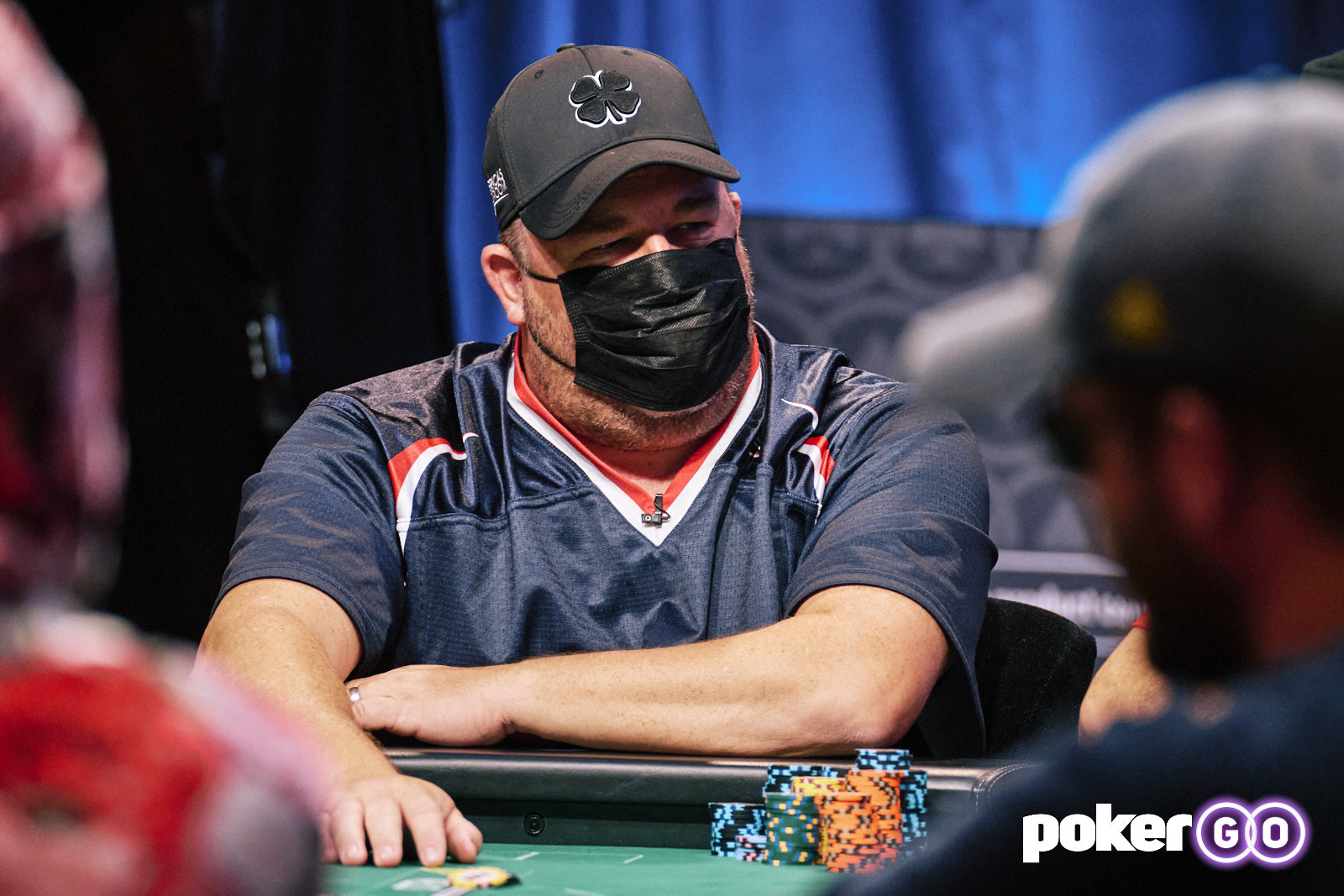 Day 3 of the 2021 World Series of Poker Main Event comes everyone's way on Thursday, November 11, starting at 11 a.m. PT. It's the first day when survivors from all starting flights will be playing in one combined field, and it looks to be around 2,300 players advancing from the two Day 2 flights. In total, the 2021 WSOP Main Event attracted 6,650 entries and generated a prize pool of more than $62 million. Up top is $8 million, with the top 1,000 places set to reach the money.
As we've been doing for the past couple of days, we'll continue with our look ahead as we pin down a few storylines and predictions to be on the lookout for in the 2021 WSOP Main Event.
Chris Moneymaker Eyeing a Deep Run
For so many poker enthusiasts, Chris Moneymaker's storybook run in the 2003 WSOP Main Event played a big part in their poker lives. Entering Day 3 of the 2021 WSOP Main Event, Moneymaker has set himself up nicely to take center stage once again. He finished Day 2CEF with 531,600 in chips, which puts him 30th overall with 2,362 players remaining. Now we'll get to see how far Moneymaker can take those chips and if he'll be able to get into the money for the third time in his poker career.
On a recent episode of the PokerGO WSOP Podcast, Moneymaker told us that he spent a lot of time during the pandemic working on his game. As evidenced by some of the big pots that went his way on Day 2CEF, he also appears to be running well. There's no more important of an event than the WSOP Main Event for a player to combine solid play with good fortune, and so far it looks as though the 2003 champion has both of those things going for him.
On Day 3, Moneymaker starts with Josh Arieh at his table. Arieh has won two gold bracelets this series and enters Day 3 with 177,800 in chips.
Prediction: The question is, how far can Moneymaker go? Moneymaker's been around the block in poker and he certainly knows what it takes to compete in the WSOP Main Event. Barring any major setbacks that could come in the form of unfortunate events, we very much expect Moneymaker to reach the money. Quite honestly, it would be great theatre for Moneymaker to make an ultra-deep run in the 2021 WSOP Main Event. With the way he's set himself up entering Day 3, we'll predict Moneymaker finishes in the top 300 players.
Brian Altman Looking Strong
For all of the success that Brian Altman has had in poker, he hasn't made too much noise in the World Series of Poker Main Event over the years. Altman's best WSOP Main Event finish came in 2018 when he placed 113th. Among his accolades are three World Poker Tour titles, so it's not as though Altman doesn't know how to win in major events.
Altman bagged up 440,100 in chips ahead of Day 3, which has him 62nd on the leaderboard. He has the most chips at his Day 3 starting table by far, and it's a table that includes Joao Vieira with 148,700 in chips.
Prediction: We may be getting a little ahead of ourselves because there is still so long to go in the WSOP Main Event, but we're going to say that Altman records his best placing in this tournament to date. That means he has to finish 112th or better and we're going to say that this is the year Altman does it and really makes some noise.
David Coleman's Time To Shine
If you've been following events taking place at the PokerGO Studio and on the PokerGO Tour presented by Guaranteed Rate, then you're probably already aware of how well David Coleman is performing this year. Of his $1.8 million in live tournament earnings, Coleman has won $1.628 million of that this year. Still, those events aren't under the same spotlight that the WSOP Main Event is under and Coleman could really be on the way to a breakout performance should be continue to thrive in the 2021 WSOP Main Event.
Through to Day 3, Coleman has a pile of chips at his disposal. He'll be coming back on Thursday with 613,500, which is good for the 14th largest stack overall. He'll have his work cut out for him at his Day 3 starting table as it includes Brock Parker, Chad Eveslage, and Blair Hinkle.
Prediction: The year of Coleman will continue. Will Coleman win the 2021 WSOP Main Event? It's too early to tell, but we will predict that he's in line for a six-figure score, which would mean that he'll finish in the top 63. It's a lofty prediction, but we're making it.
Phil Hellmuth On the Short Stack
Phil Hellmuth returns for Day 3 with 25,400 in chips. With the blinds set to be 1,200/2,400 with a big ante of 2,400, Hellmuth has fewer than 11 big blinds. It would be difficult for anyone to come back from that short of a stack and make a run at making the money. Even though Hellmuth has 16 gold bracelets and he won the WSOP Main Event back in 1989, he certainly has his work cut out for him.
Prediction: We said yesterday that it's hard to back Hellmuth in this WSOP Main Event when he doesn't seem to believe in himself, and that's what we're sticking with. Our prediction is that Hellmuth's short stack disappears before the dinner break on Day 3 and he falls short of the money.