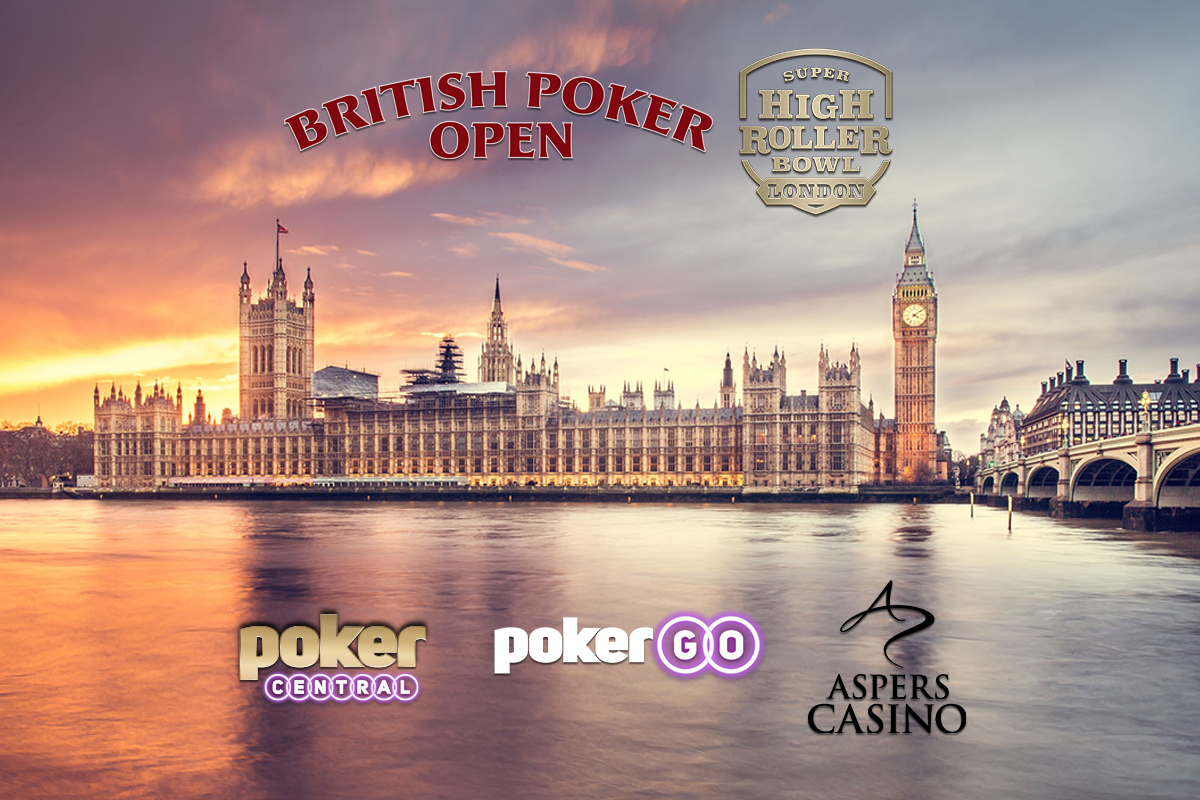 Today, Poker Central announced the expansion of their signature events to the European market with the creation of Super High Roller Bowl London and the British Poker Open.
The British Poker Open will begin on September 2nd and continue through September 12th, while Super High Roller Bowl London will take place on September 13th and run for three days. Both events will stream exclusively on PokerGO, Poker Central's OTT streaming service. The tournaments will be hosted by Aspers Casino, Poker Central's London venue partner, and are sponsored by partypoker LIVE.
The Super High Roller Bowl and Poker Open events are successful Poker Central owned and operated tournaments consistently showcasing multi-million-dollar prize pools that have grown year over year. Past Super High Roller Bowl champions have included Brian Rast, Christoph Vogelsang, Rainer Kempe, Justin Bonomo, and Isaac Haxton, while past U.S. Poker Open champions are Stephen Chidwick and David Peters.
"After our expansion of the Super High Roller Bowl into Asia two years ago, we were able to see how international audiences responded positively and the event's prestige grew," said Sam Simmons, president of Poker Central. "Bringing the Super High Roller Bowl and first British Poker Open to London is another milestone in our mission to highlight more players, venues, and destinations from around the world through live tournament streaming on PokerGO."
"We are proud to be a part of bringing the Super High Roller Bowl and Poker Open to Europe for the first time," said John Scanlon, Head of Poker Product at Aspers Casino. "As we launch a new edition of these events in Europe, we are looking forward to giving local poker players and fans at-home access to these prestigious and industry-leading tournaments through PokerGO."
The British Poker Open will have a total of 10 different events over 11 days, with buy-ins ranging from £10,000 – £100,000. As is customary across other Poker Central high roller events, the first on-time entry in each event will be rake-free. The player who earns the most High Roller of the Year points during the series will be named the British Poker Open Champion.
Super High Roller Bowl London is a three-day event with a buy-in of £250,000 and a projected prize pool of £12.25 million. The tournament will be capped at 49 players. There will be 30 open seats along with 19 VIP seats reserved by Aspers Casino and Poker Central. Players can reserve their seat through a deposit of £25,000 with a draw to be held before the event to determine the final tournament lineup.
For the first time in Poker Central tournament history, partypoker LIVE will be the headline sponsor of both events. Both events will feature notable names from partypoker LIVE's roster of sponsored pros.
New to PokerGO? Subscribe right now.