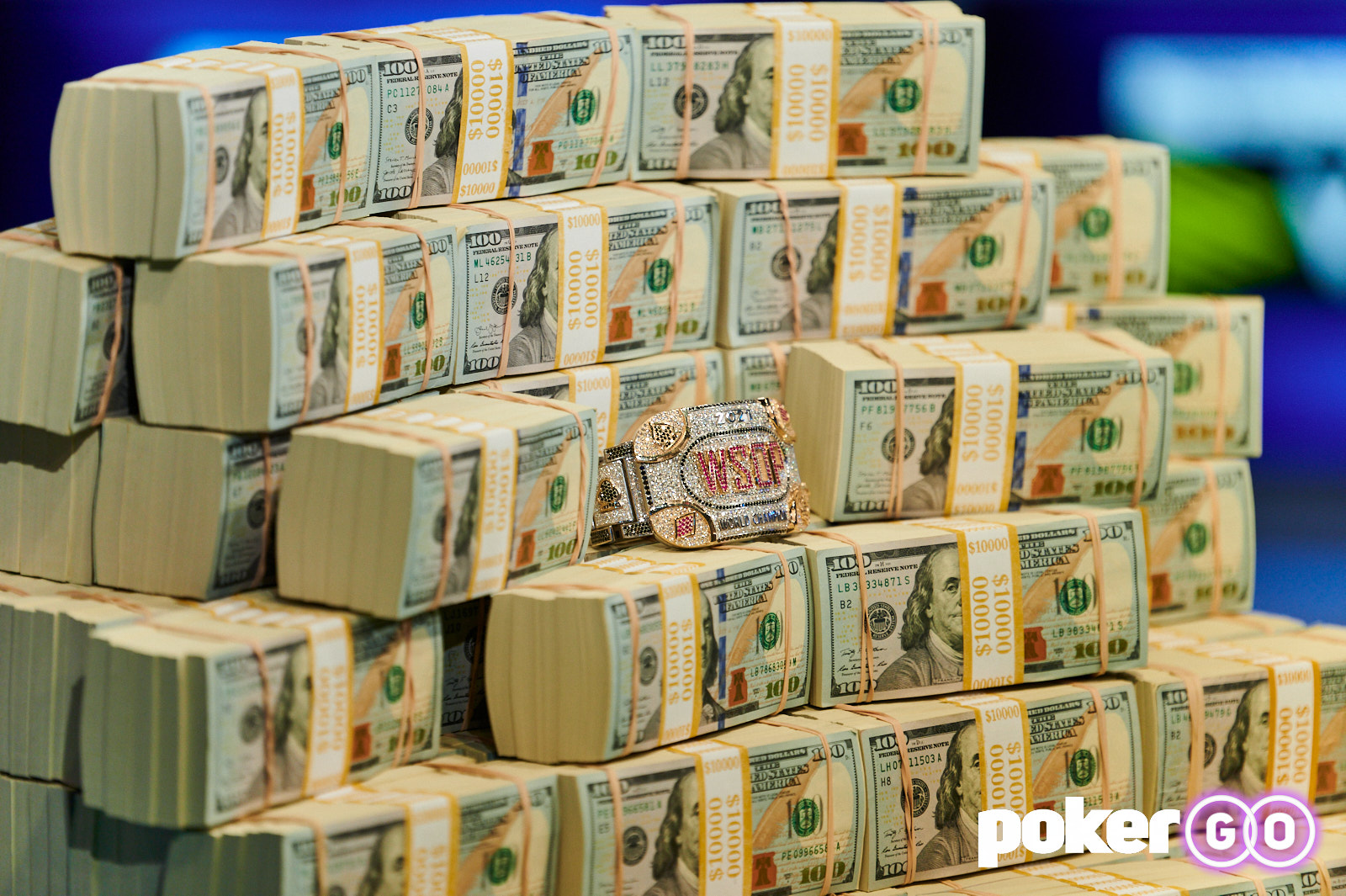 The 2021 World Series of Poker Main Event was one to remember. In the end, it was Germany's Koray Aldemir emerging victorious as the world champion for $8,000,000 in prize money. Aldemir's win was one that won't soon be forgotten, but we also can't forget about all of the tremendously memorable hands we witnessed along the way. Here are five of the most exciting hands from the 2021 WSOP Main Event.
For more great poker videos, make sure you subscribe to the PokerGO YouTube channel.
Chris Moneymaker Scores Big with Aces
The first hand we'll take a look at involves Chris Moneymaker and Bryan Reyes. With the blinds at 800/1,600 with a 1,600 big blind ante, Moneymaker opened the action with a raise to 3,500 in middle position. Eric Inderrieden called from the cutoff seat and then Reyes put in a reraise to 14,600 out of the big blind. Moneymaker four-bet to 40,500, Inderrieden folded, and Reyes called to see the flop.
The flop was queen-six-six rainbow and Reyes checked. Moneymaker bet 25,000 and Reyes called. The turn was a five and Reyes checked again. Moneymaker bet 65,000 and Reyes check-raised all in for 203,400. Moneymaker found a call and turned over pocket aces. Reyes had pocket kings. The river was a ten to give Moneymaker the big pot.
Quads Over Quads Crush Chang Liu's Dreams
Another absolutely crazy hand involved Ozgur Secilmis and Chang Liu on the main feature table of the 2021 WSOP Main Event. There was a five-way pot that came from a single raise preflop followed by four calls. After that, the five players checked the six-four-four flop and the six on the turn to see a five hit the river. There was no flush possible, but little did Liu know that his quads fours were beat by Secilmis' quad sixes.
On the river of the six-four-four-six-five board, Secilmis bet 55,000 into the pot of 62,500 and Liu raised to 225,000. Everyone else got out of the way before Secilmis reraised to put Liu all in. With 165,000 behind, Liu called to see the bad news that he would be eliminated after flopping quads nearing the money bubble.
Nicholas Rigby Bluffs Ronald Jensen Off Pocket Kings
Deep in the 2021 WSOP Main Event on Day 6, with the blinds at 60,000/120,000 with a 120,000 big blind ante, Ronald Jensen raised to 325,000 from the small blind holding pocket kings. Nicholas Rigby reraised from the big blind to 920,000 with three-deuce off suit (yes, you read that right). Jensen then made it 2,100,000 and Rigby made the call in position.
The flop came down ace-four-four with two spades. Jensen checked and Rigby immediately announced that he was all in to put Jensen to the test for his remaining 3,005,000. After some time in the tank, Jensen folded and Rigby showed him the bluff.
Huge Clash Between First and Second in Chips at Final Table
As if the three hands we've already posted weren't exciting enough, Koray Aldemir and Alejandro "Papo MC" Lococo played a massive pot out of nowhere at the 2021 WSOP Main Event final table. One of the main reasons why this hand was so crazy was because at the time seven players remained and Aldemir and Lococo were first and second in chips, respectively.
With the blinds at 500,000/1,000,000 with a 1,000,000 big blind ante, Lococo opened from under the gun plus one with a raise to 2,000,000 and Aldemir three-bet to 5,600,000 from the cutoff seat. Lococo called to see the flop fall jack-jack-nine with two clubs. Lococo checked, Aldemir bet 3,900,000, and Lococo called. The turn was the eight of hearts to put two hearts on the board in addition to the two clubs that were on the flop. After Lococo checked, Aldemir bet 11,400,000 and Lococo called. The river was an off-suit three and Lococo checked. The pot was 44,300,000 and Lococo had 46,100,000 in his stack. After some thought, Aldemir bet enough to put Lococo all in and the Argentinian freestyle rapper wasted little time in making the call. Aldemir showed two red nines for a full house and Lococo had two black tens for two pair.
Koray Aldemir Makes the Right Call To Win $8,000,000
The final hand we'll take a look at just so happens to be the final hand of the tournament. It's the one that saw Koray Aldemir become a world champion and win $8,000,000, but he had to make a tough call to come out on top. Here's how it went down.
George Holmes raised to 6,000,0000 on the button with the blinds at 1,200,000/2,400,000 with a 2,400,000 big blind ante. Aldemir made the call from the big blind and the dealer fanned a ten-seven-deuce flop with two hearts. Aldemir checked, Holmes bet 6,000,000, and Aldemir check-raised to 19,000,000. Holmes made the call. The turn was the king of spades to put two spades on the board. Aldemir led with a bet of 36,500,000 and Holmes called. The river was the nine of clubs and Aldemir checked with the pot at 125,400,000. Holmes went for it all, firing all in for 132,700,000 and his bet sent Aldemir into the tank. Eventually, Aldemir made the call with ten-seven of diamonds for two pair and he beat the king-queen that Holmes held for just one pair. Just like that, after an truly incredible hand and a world-class call from Aldemir, it was all over.
For more great World Series of Poker content, make sure you connect with PokerGO.com on Facebook, Twitter, and Instagram, plus become a subscriber to PokerGO.com. Use code "WSOP2021" for $20 off an annual subscription now!