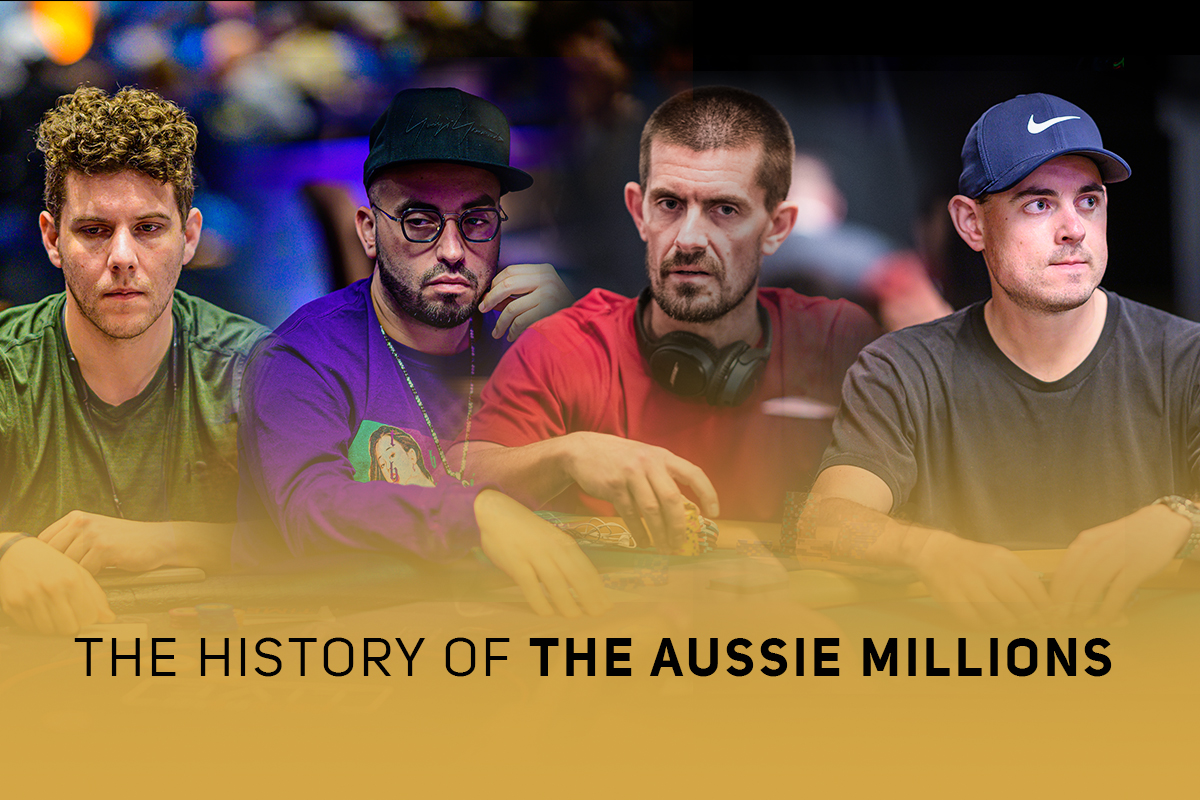 The Aussie Millions is an iconic part of poker history and is as popular with players today as it ever has been. Do you know your Aussie Millions history? From Gus Hansen to Toby Lewis, via some of the best players in the world, the history of Aussie Millions will fill you with excitement for the Main Event of 2020, which takes place this coming week.
THE INTRODUCTION OF A LEGENDARY EVENT
The first time poker took place at the Crown Casino was in 1997, with the first tournament in 1998. Called simply 'The Main Event', the first incarnation of the event cost just $1,000 to play and 74 players created a decent prize-pool of $74,000.
By the time it was called the Aussie Millions, 2001 saw 40 players enter, but each one of them had to stump up $5,000, with a $200,000 prize-pool coming before the Moneymaker Effect kicked poker prize-pools into the stratosphere. By that time, only England's Jason Gray (twice), U.S.A.'s Vince Oliver and the Slovakian player Emilia Garvenovak had reached the four final tables from countries other than Australia itself.
THE BIRTH OF THE 'AUSSIE MILLIONS'
By January of the year that Moneymaker won the WSOP Main Event in 2003, 122 players entered, and the event had more an International feel, despite another all-Aussie final. The first foreign winner of the Aussie Millions Main Event didn't arrive until Peter Costa from England won it in 2003 for a return of $394,870, with Hendon Mobsters and fellow Brits Ram Vaswani (6th for $67,692) and Joe Beevers (9th for $33,846) both making the final table, along with their fellow countryman Harry Demetriou, who finished in third place.
It would be another British player in Tony Bloom who won the Aussie Millions Main Event in 2004, banking $426,500. By the time that the now Brighton & Hove Albion chairman played the event, it was $10,000 to take part, and the same was true in 2007 when Gus Hansen won it, only this time it was for a huge $1.5 million. The final table saw six different nationalities represented across the seven players, including Ireland's Andy Black and U.S.A.'s Jimmy Fricke.
The History of the Aussie Millions Main Event
Year
Buy-in
Format
Entrants
Prize pool
Winner
Country
First Prize
1998
$1,000
Limit Hold'em
74
$74,000
Alex Horowitz
Australia
$25,900
1999
$1,000
Pot Limit Hold'em
109
$109,000
Milo Nadalin
Australia
$38,150
2000
$1,500
No Limit Hold'em
109
$173,500
Leo Boxell
Australia
$65,225
2001
$1,500
No Limit Hold'em
101
$151,500
Sam Korman
Australia
$53,025
2002
$5,000
No Limit Hold'em
66
$330,000
John Maver
Australia
$150,000
2003
$10,000
No Limit Hold'em
122
$1,220,000
Peter Costa
England
$394,870
2004
$10,000
No Limit Hold'em
133
$1,330,000
Tony Bloom
England
$426,500
2005
$10,000
No Limit Hold'em
263
$2,630,000
Jamil Dia
New Zealand
$1,000,000
2006
$10,000
No Limit Hold'em
418
$4,180,000
Lee Nelson
New Zealand
$1,295,800
2007
$10,000
No Limit Hold'em
747
$7,470,000
Gus Hansen
Denmark
$1,500,000
2008
$10,000
No Limit Hold'em
780
$7,758,500
Alexander Kostritsyn
Russia
$1,650,000
2009
$10,000
No Limit Hold'em
681
$6,810,000
Stewartt Scott
Australia
$2,000,000
2010
$10,000
No Limit Hold'em
746
$7,460,000
Tyron Krost
Australia
$2,000,000
2011
$10,000
No Limit Hold'em
721
$7,210,000
David Gorr
Australia
$2,000,000
2012
$10,000
No Limit Hold'em
659
$6,590,000
Oliver Speidel
Australia
$1,600,000
2013
$10,000
No Limit Hold'em
629
$6,290,000
Mervin Chan
Malaysia
$1,600,000
2014
$10,000
No Limit Hold'em
668
$6,680,000
Ami Barer
Canada
$1,600,000
2015
$10,000
No Limit Hold'em
648
$6,480,000
Manny Stavropoulos
Australia
$1,385,500
2016
$10,000
No Limit Hold'em
732
$7,320,000
Ari Engel
Canada
$1,600,000
2017
$10,000
No Limit Hold'em
725
$7,685,000
Shurane Vijayaram
Australia
$1,600,000
2018
$10,000
No Limit Hold'em
800
$8,000,000
Toby Lewis
England
$1,458,198
2019
$10,000
No Limit Hold'em
822
$8,220,000
Bryn Kenney
United States
$1,272,598
2020
$10,000
No Limit Hold'em
820
$8,200,000
RECORDS ARE BROKEN AS THE MILLIONS GROWS AND GROWS
The record field of 747 entries in 2007, each paying $10,000 to play saw a huge prize-pool of $747,000, but that grew in the 2008 version which saw Alexander Kostrtsyn win against Erik Seidel heads-up. The event had become a fixture on the poker calendar for players the world over, and when Tyron Krost cracked the $2 million mark for top prize in 2010, there were 746 buy-ins to the event.
In recent years, champions such as Oliver Spiedel, Ami Barer Manny Stavropoulos and Ari Engel have all collected on average $1.5 million. In 2017, Ben Heath went close, finishing second to Shurane Vijayaram, with Heath collecting a million and his heads-up opponent baking $1.6m. Toby Lewis was one of the most famous victors in Melbourne when he won just under $1.5 million in 2018, and last year saw Bryn Kenney win over $1.2m after making a deal with runner-up Mike Del Vecchio. Kenney, of course, had a spectacular year at the felt, becoming the leading player on the All-Time Money List.
THIS YEAR'S AUSSIE MILLIONS IS LIVE ON POKERGO
There's no better way to kick off the year than by enjoying the Aussie Millions followed by the Australian Poker Open and Super High Roller Bowl Australia, all of which take place over the coming three weeks. The structure of the Australian Open is slightly different from other events, preferring an eight-handed table right the way to the last 36, where it's six-max until a winner is crowned. There's no bracelet on offer, nor a trophy, but the prestigious ANTON Aussie Millions Championship Ring instead. It is one of the most coveted prizes in poker. Watch the Aussie Millions on PokerGO tonight. Check the Live Events tab for all PokerGO live events.
Want to watch the best live poker action available anywhere in the world? Subscribe to PokerGO today and get access to the best live streams, archive footage and original poker programs out there 24 hours a day, 7 days a week on demand.