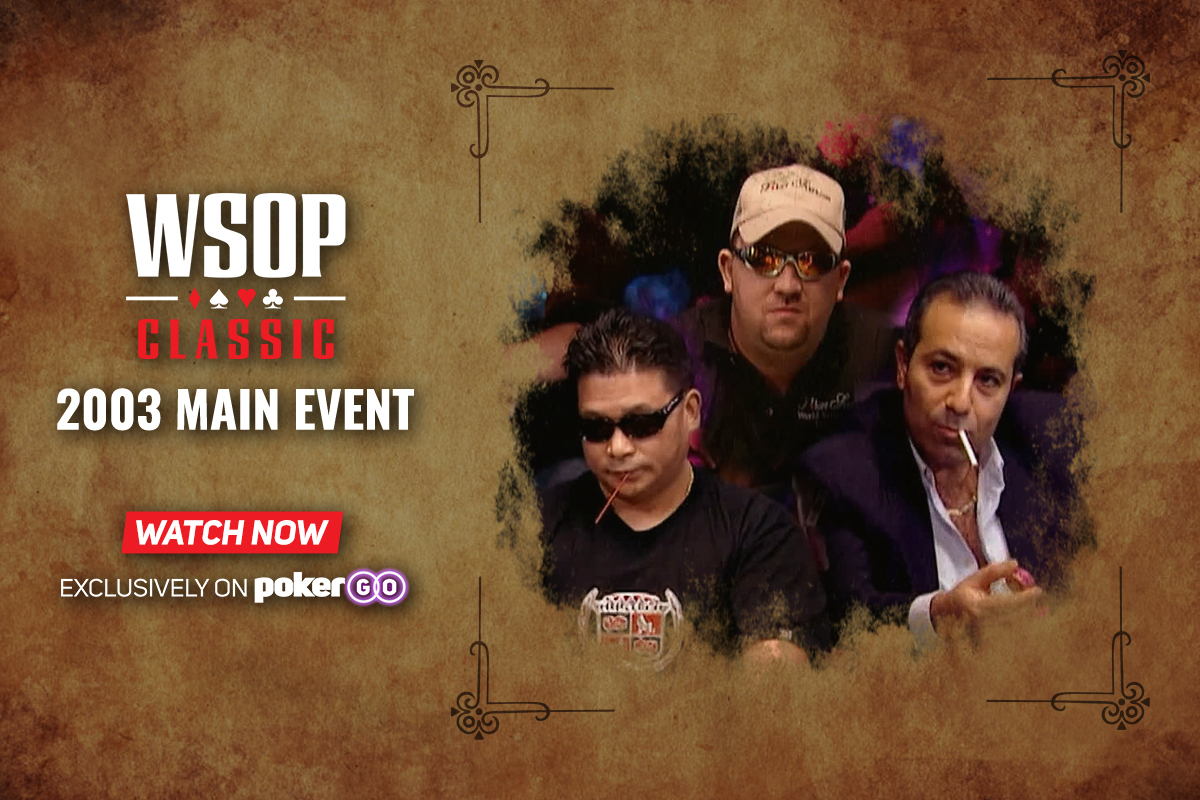 What if we told you that an accountant from Tennessee would single-handedly ignite the poker boom? What if we told you that his name was Moneymaker and it wasn't a typo or a joke played by someone actually named Morrison, Morales, or Monaghan? What if we told you that his win would kickstart an exponential rise in WSOP Main Event field sizes where there would be a ten-fold increase over the next three years?
Chris Moneymaker's improbable victory in the 2003 World Series of Poker Main Event changed poker forever.
After winning an online satellite for just $86 while working as an accountant, Moneymaker made the trip to the 2003 World Series of Poker to participate in the Main Event. He was just another hopeful in the 839-player field looking to drag a few pots, play with a few legends of the game, and take home a good story to tell his friends and family. The pots continued to be pushed his way as the legends began to fall.
Moneymaker navigated his way firstly into the money-paying top 63-places before finding himself at the final table alongside 1995 World Champion Dan Harrington and respected pros David Grey, Amir Vahedi, Jason Lester, and Sammy Farha. After five days of play battling some of the world's most talented poker players, Moneymaker would defeat Farha heads-up to win the WSOP bracelet and collect the $2.5 million first-place prize while being crowned the 2003 World Champion.
There is a big difference in taking a seat on Day 1 versus being one of the final few players remaining.
"The first two days I was just being really cautious and really careful," Moneymaker said to Remko Rinkema in the Run it Back with Chris Moneymaker – 2003 WSOP Main Event video. "I didn't know anyone in poker except for Johnny Chan, Doyle Brunson, and Phil Hellmuth."
"Survival. That was my whole attitude for the majority of the days. Just make it through the day. Every day I make it through the day I get closer to making significant money. I just tried to play really tight and really secure. Didn't really take too many chances I felt like everybody always had a better hand than me, or could out-read me or out-play me. So I was just really cautious for the first four days."
Poker players and fans around the world recall watching the 2003 WSOP Main Event on ESPN as the time they learned about the game of poker, and subsequently fell in love with it. ESPN filmed seven episodes of the 2003 WSOP Main Event with each episode focusing on the feature table and notable players remaining. Day 1 and 2 were highlighted by defending champion Robert Varkonyi, along with previous champions Doyle Brunson and Phil Hellmuth.
Day 3 action was split over two episodes, and part one captured 1987 and 1988 World Champion Johnny Chan on the feature table along with Howard Lederer and Moneymaker. On Run it Back with Chris Moneymaker – 2003 WSOP Main Event, Rinkema sits with Moneymaker and discusses the action from Day 3 and 4 of the 2003 WSOP Main Event. Drawing a table with Johnny Chan, Howard Lederer, and Paul Darden is intimidating. But throw in lights and cameras, and it takes it to a whole new level.
"This is the start of Day 3 and I'll remember this day because I was looking for my table and trying to find out where I was," Moneymaker said. "I had no idea. I looked all around the room for it and couldn't find it and I had to ask someone and I was told I was on the TV table. It's not what you want to hear. I didn't want to mess up."
"I had Johnny Chan at the table. So I was told to be careful of him and Howard Lederer. At the end of the day it was all about Johnny Chan. He was the guy that was in Rounders. He was the guy that I knew was a World Champion. These other guys weren't World Champions."
The fifth episode sees just 27 players return to the penultimate day of play, and action would begin with Hellmuth heading to the rail as play concludes with the final table set. The final two episodes would showcase the final table, and with part one highlighting hands involving Sammy Farha and Amir Vahedi, it would be the final episode where Moneymaker shines.
Awarded the "Most Memorable TV Hand" at the WSOP First Fifty Honors in 2019, Moneymaker made a river all-in bluff with king-high to prompt Farha to fold a pair of nines. That hand swung the momentum of the heads-up match into Moneymaker's favor, and on the final hand Farha would commit the last of chips with top pair against Moneymaker's bottom two pair. Moneymaker improved to a full house on the river and was crowned the 2003 WSOP Main Event champion.
The 2003 WSOP Main Event was broadcast on ESPN and is now available on PokerGO. Select your favorite episode from the overview below and start watching right now.
2003 WSOP Main Event Viewing Guide
Episode
Day
Featured Player/Episode Note
PokerGO Link
1
Day 1
Doyle Brunson and defending champion Robert Varkonyi
Link
2
Day 2
Phil Hellmuth, Sam Grizzle, and T.J. Cloutier
Link
3
Day 3 (Part 1)
Johnny Chan, Howard Lederer, and Chris Moneymaker
Link
4
Day 3 (Part 2)
Scotty Nguyen, Sammy Farha, and Phil Ivey
Link
5
Day 4
Final 27 players play down to the final table
Link
6
Final Table (Part 1)
Sammy Farha, Amir Vahedi, and Jason Lester
Link
7
Final Table (Part 2)
Chris Moneymaker, Sammy Farha, and Dan Harrington
Link
World Series of Poker Main Event coverage is available right now on PokerGO. Check out the WSOP Classic collection and watch the best moments from past Main Events including Johnny Chan's quest for a third title, the meteoric rise of Chris Moneymaker, and Joe Cada setting the record as youngest champion.