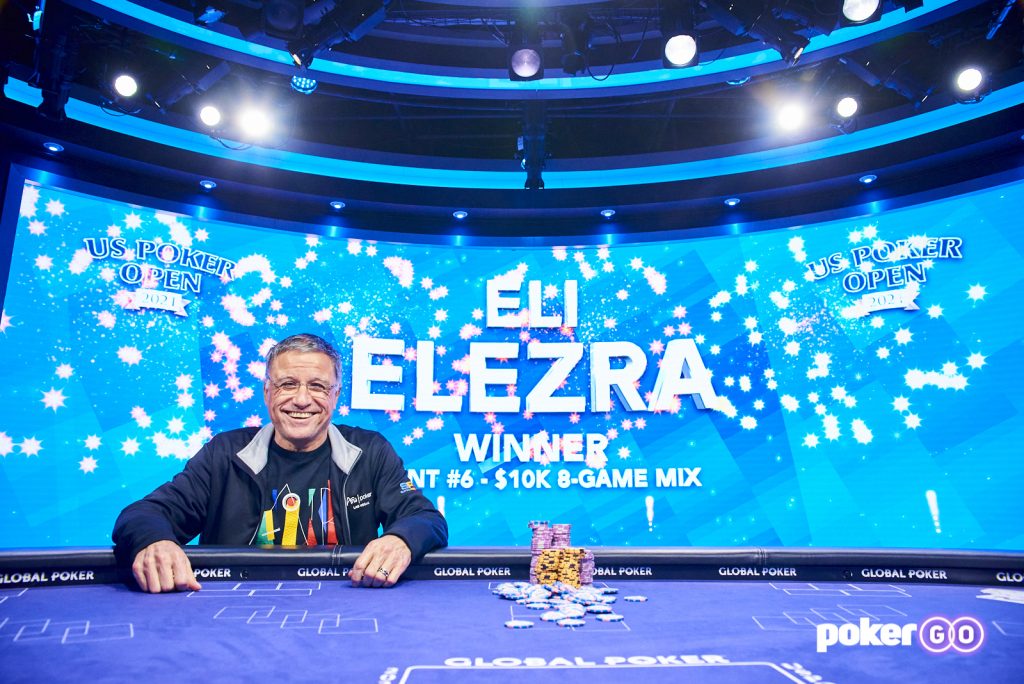 Eli Elezra outlasted a stacked field of 68 entrants that included Steve Zolotow and Daniel Negreanu at the final table to claim his first live tournament win since capturing his third career World Series of Poker bracelet in 2019. Elezra collected $183,600 for his win making this the fifth-biggest score of his tournament career.
The final table of this event started with seven players as David 'ODB' Baker held the overnight lead. That lead, however, lasted a mere minutes as he was knocked out on the fourth hand of play. First, Baker doubled up Negreanu before busting to Zolotow in a tough cooler that turned into a bad beat. Zolotow showed up with ace-king of hearts for his tournament life and hit running hearts to make a flush versus Baker's black aces.
After Baker's departure, Elezra picked up the pace and quickly chipped down both Nick Guagenti and Richard Sklar. Guagenti bubbled the PokerGO final table stream when he busted during Stud Hi-Lo against Elezra when he finished with just a pair of threes after missing a strong low draw versus Elezra's pair of fives.
Sklar had less than one big bet left when five-handed action started on the PokerGO stream but he mounted a nice comeback by winning a few all-ins right off the bat to avoid elimination.
Online poker legend and Bobby's Room regular Erik 'Erik123′ Sagstrom ultimately busted in fifth during Pot-Limit Omaha as he ended up all in with queen-queen-four-four with one suit versus Negreanu's ace-king-nine-three with one suit as well. Sagstrom called Negreanu's raise before the flop and bet pot to commit himself with just two big blinds behind on jack-nine-three with two diamonds. Sagstrom held diamonds and called all-in when Negreanu raised only to see the Hall of Famer's flopped two pair hold up.
During a round of No Limit Hold'em, Sklar found himself all in with eights versus Negreanu's ace-jack of hearts. The flop gave Negreanu a pair of jacks and Sklar did not manage to spike one of his remaining two outs to stay alive.
Despite starting the final table very strong, Negreanu himself ultimately fell in third place. During Pot-Limit Omaha, Negreanu called a pot-sized raise from Elezra holding ace-seven-five-five with two spades. Elezra held king-queen-jack-nine and the flop showed three-eight-three. Elezra put Negreanu all in and he called with just a pair of fives and some backdoor outs. The turn brought a seven to keep Negreanu in the lead but the queen of clubs on the river gave Elezra the win.
Elezra chipped away at Zolotow's stack before busting him during Stud Hi-Lo. On the final hand, Elezra took an aggressive approach which resulted in Zolotow being all-in on fifth street with equities running very close. Zolotow held split fives and Elezra a strong low draw, but a seven on sixth street turned the tables. Neither player improved on seventh street and Elezra's pair of sevens took the whole pot down.
The full event payouts are as follows.
U.S. Poker Open Event #6: $10,000 8-Game
Place
Name
Championship Points
Payout
1st
184
$183,600
2nd
136
$136,000
3rd
88
$88,400
4th
68
$68,000
5th
54
$54,400
6th
41
$40,800
7th
34
$34,000
8th
27
$27,200
9th
27
$27,200
10th
Alan Richardson
20
$20,400
The 2021 U.S. Poker Open continues right now as Event #7: $10,000 No Limit Hold'em is in full swing. Check out our Live Reporting right here and tune into the final table of that event at 1:00 pm PT on PokerGO. Here are the Top 10 of the Championship Standings.
U.S. Poker Open Leaderboard
Rank
Player
Points
Wins
Cashes
Earnings
1
Joe McKeehen
302
1
2
$302,200
2
Steve Zolotow
289
0
3
$289,000
3
Jake Daniels
219
1
1
$218,500
4
Joey Weissman
204
1
1
$204,000
5
Sam Soverel
195
1
2
$194,500
6
Dan Shak
186
0
2
$186,000
7
Eli Elezra
184
1
1
$183,600
8
John Riordan
182
1
2
$182,200
9
Barry Hutter
153
0
2
$152,500
10
Jordan Cristos
147
0
2
$147,000
The official final table chip counts are as follows. Please tune into the PokerGO live stream at 5:30pm ET to enjoy the conclusion of this event.
| Player | Chips | Change |
| --- | --- | --- |
| Steve Zolotow | 3,400,000 | -100,000 |
| Eli Elezra | 3,375,000 | 175,000 |
| Daniel Negreanu | 1,100,000 | -250,000 |
| Erik Sagstrom | 525,000 | -380,000 |
| Richard Sklar | 95,000 | -15,000 |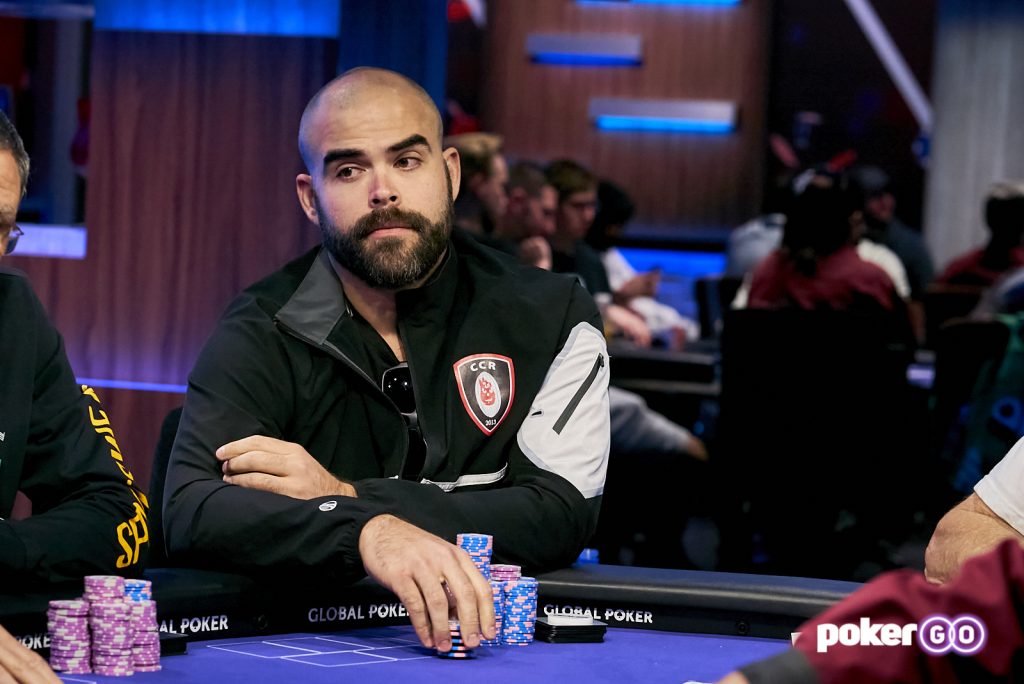 Stud Hi-Lo
Nick Guagenti had the bring-in with the
and the action folded to Eli Elezra who completed with the
showing. Guagenti made the call with less than a big bet behind and Elezra was dealt the
versus his
. Elezra bet and Guagenti called all in.
Nick Guagenti:
/
/

Eli Elezra:
/
/
Elezra scooped the pot and brought the field down to its final five. Live Reporting coverage will now halt as the PokerGO live stream gets underway at 5:30pm ET.
Limit Hold'em
Eli Elezra raised from the button to 100,000 and Richard Sklar called from the big blind. The flop brought out
and both players checked.
On the turn the
hit and Sklar lead out for 100,000 and Elezra quickly raised to 200,000.
Sklar called saying, "Make me broke," as the dealer put out the
. Sklar check-called another 100,000 and Elezra showed
for trips. Sklar showed
and was left with just 110,000 chips.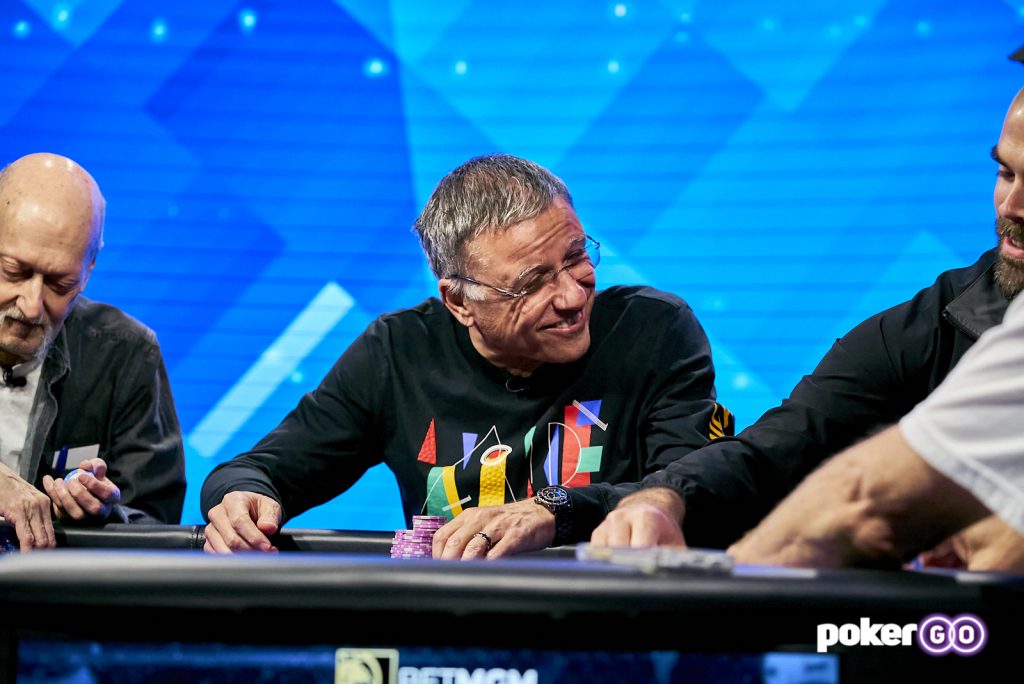 Limit Hold'em
Eli Elezra raised from the small blind and Nick Guagenti called from the big blind for 100,000. Elezra bet blind, looking away from the flop, as the dealer put out
. Guagenti called and Elezra bet dark again before the
hit on the turn.
Guagenti called again and, once more, Elezra bet blind before the
hit on the river. Guagenti called only to be shown
for two pair as he flashed his inferior two pair with
.
Level
Level 16
H.O.R.S.E. & 2-7 Triple Draw: 50,000/100,000 Limits NLH & PLO: 25,000/50,000/50,000 Blinds and Ante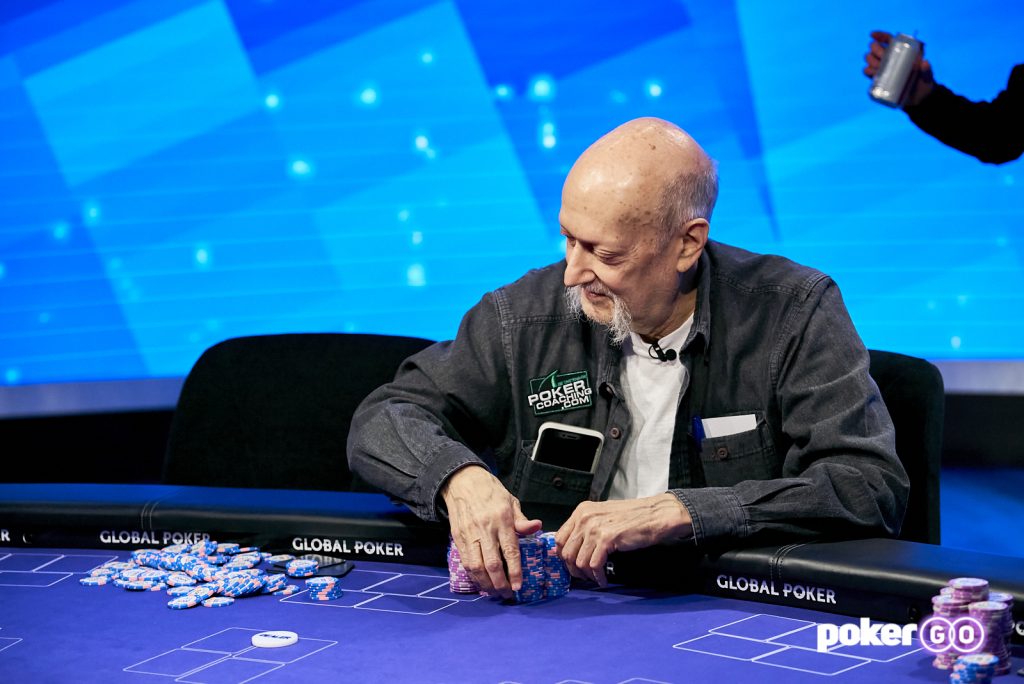 Limit Hold'em
Steve Zolotow raised to 80,000 and Nick Guagenti three-bet from the button to 120,000. Both blinds folded and Zolotow made the call. The flop brought out
and Zolotow check-called 40,000.
On the turn, the
hit, and Zolotow checked to Guagenti who bet 80,000 before quickly getting check-raised. Guagenti wasted no time and made the call and the board was completed with the
.
Zolotow quickly bet 80,000 and Guagenti went into the tank using three time-bank chips before folding
face-up.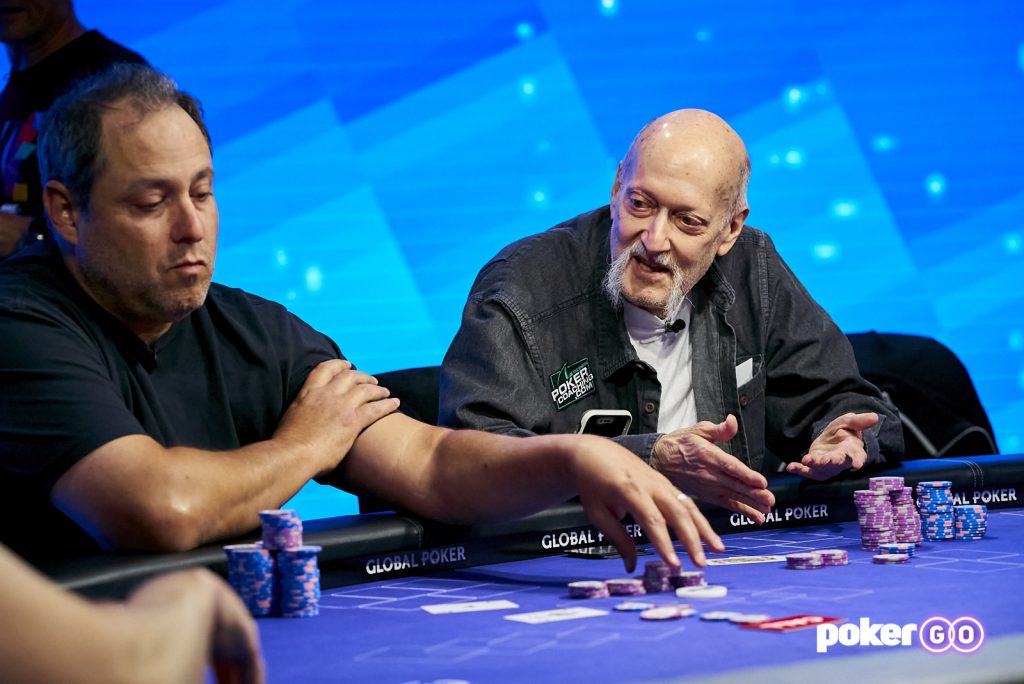 No Limit Hold'em
The start-of-the-day chip leader David 'ODB' Baker has been eliminated in epic fashion on the fourth hand of play as Steve Zolotow continues to soar at the 2021 U.S. Poker Open. The action folded to David 'ODB' Baker on the button who raised to 90,000 and Zolotow fought back from the small blind making it 270,000 to go.
Baker gave it little thought before sliding out 590,000 and Zolotow looked down at his stack before announcing "all in." Baker quickly called and the cards were turned on their backs.
Baker:

Zolotow:
The flop brought out
and Zolotow said, "Well, there's one heart," before the dealer put the
on the turn.
"And that's two," Zolotow continued as the tension rose.
The players at the table erupted in disbelief when the
hit the river as Zolotow hit his flush and sent Baker to the rail in seventh place.
No Limit Hold'em
Daniel Negreanu told us how the action folded to him in the small blind and he moved all-in for 680,000. David 'ODB' Baker made the call with ace-nine and Negreanu watched as his pocket sixes held up.
No Limit Hold'em
The first hand off the deck was immediately contested by three players as David 'ODB' Baker raised under the gun to 90,000 and received calls from both Eli Elezra and Daniel Negreanu, seated in the big blind. The flop brought out
and Negreanu checked before Baker continued for 75,000. Elezra quickly raised it up to 205,000 and both his opponents folded right away.
Meanwhile, short-stcked Richard Sklar arrived late and missed the first two hands of play.
You're all caught up!
No more pages to load